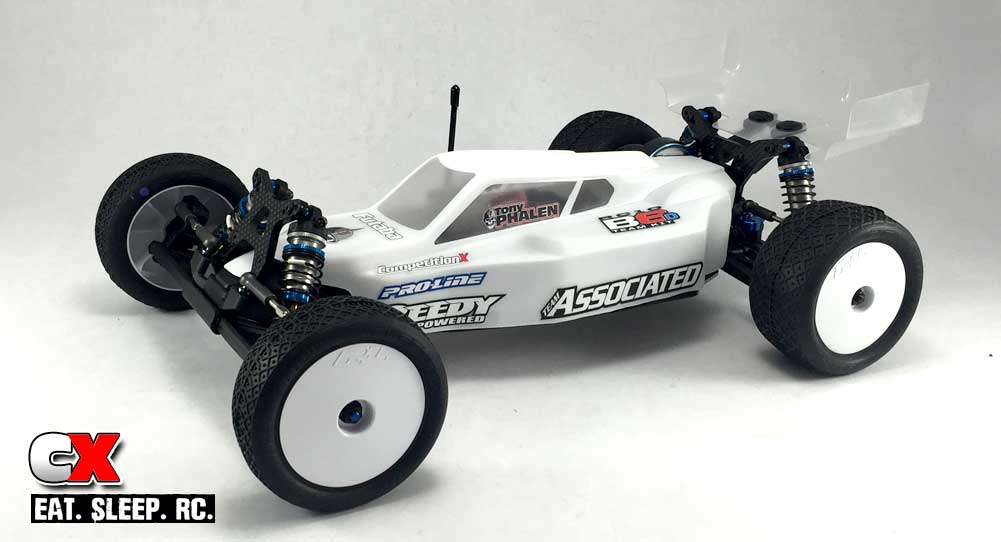 The B6D is Team Associated's next-gen competition 2WD buggy. It's seen some major updates over the B5 series and comes in two flavors; a carpet version (B6) and a dirt version (B6D). Both are similar in design but each has been optimized for their specific surface.
CompetitionX was lucky enough to get their hands on a B6D complete with a full Reedy setup. I'll also be installing a Futaba receiver so I can take control with my trusty 4PX transmitter.
So grab a drink and get your tools as we take this buggy from bags to build in this detailed online assembly.
We used the following parts in our build – click the links for more information:
• #90012 Team Associated B6D
• #27100 Reedy RS1206 Digital HV Hi-Speed Competition Servo
• #27002 Reedy Blackbox 800Z Competition Brushless ESC
• #254 Reedy Sonic 540-M3 Mach 2 17.5T Brushless Motor
• #322 Reedy 5300mAh Shorty LiPo Battery
• #FUTK4905 Futaba 4PX Transmitter
• #8239-17 Pro-Line Electron 2.2" 2WD MC Front Buggy Tires
• #8238-17 Pro-Line Electron 2.2" MC Rear Buggy Tires
• #2735-04 Pro-Line Velocity 2.2" Front Wheels
• #2735-04 Pro-Line Velocity 2.2" Rear Wheels
Team Associated B6D Build – Part 1 – Steering – Servo
Team Associated B6D Build – Part 2 – Front Suspension
Team Associated B6D Build – Part 3 – Rear Suspension Part 1
Team Associated B6D Build – Part 4 – Gearbox
Team Associated B6D Build – Part 5 – Rear Suspension Part 2
Team Associated B6D Build – Part 6 – Turnbuckles – Shock Towers
Team Associated B6D Build – Part 7 – Shocks
Team Associated B6D Build – Part 8 – Electronics