- Team Associated RC10BD6 2WD Buggy - Review -
This Buggy is Ready to Conquer!
With all the high-bite racing surfaces popping up, Team Associated's B5M has been at the forefront of some butt kicking at the local and National level all around the US. A lot of time and R&D has gone into that car with quite a few aftermarket upgrades appearing to make it handle better on these surfaces. In the background, however, Team Associated had been secretly working on a new car that incorporates alot of those modifications. This new ride would be announced as the B6 and B6D, a carpet and dirt version of the newest buggy from AE.
Since there's not alot of offroad carpet tracks in my area (actually, there aren't ANY), there was really no reason to get a B6, so I opted for the Team Associated B6D. This buggy is chock-full of updates and, in my opinion, has been fine-tuned to be a wonderful car both to build and work on. Let's get to the breakdown.
Specifics
Product: Team Associated RC10B6D
Part #: 90012
Price: $309.99
Recommended For: Beginner to Advanced Racers
Features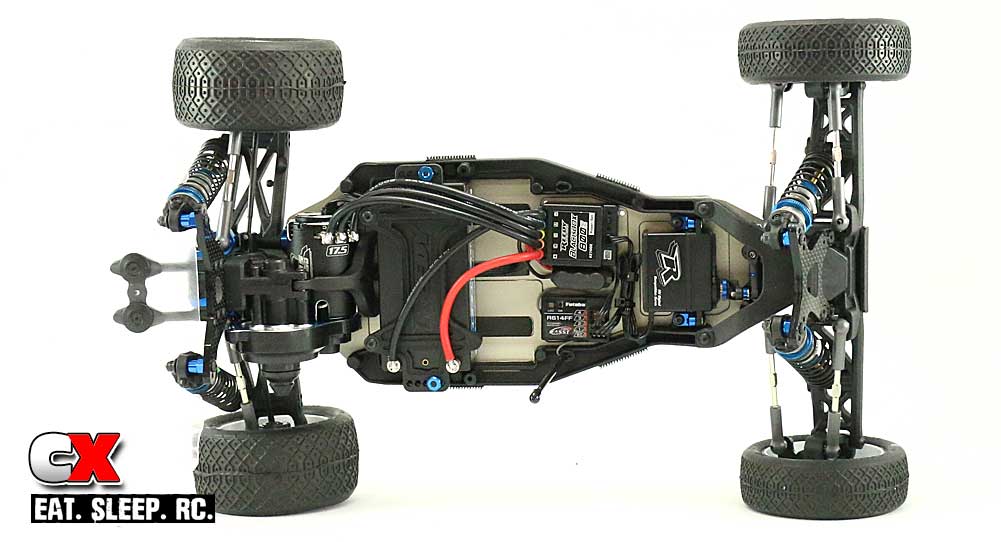 Chassis
The hard-anodized chassis on the B6D is all new – it's more streamlined than the B5M, comes with lightweight pockets already milled into it and has the kickup plate incorporated. The transmission 'hole' in the rear has been sealed up, and the B6D doesn't rely on a pair of chassis cradles to separate the electonics. Instead, a pair of low-profile side rails are now used, molded with pockets to reduce weight. This is a fantastic upgrade in itself as it allows much more room to mount your receiver, ESC and external capacitor (if your ESC uses it – like the Reedy 800z), as well as making wire routing a bit easier. The milled path down the middle of the chassis for the sensor wire is still included, however you may need to use a little double-sided tape to keep it in place. All the screw holes on the bottom are countersunk and AE has even included the additional holes needed to mount the Laydown Transmission Conversion and flat tuning weights.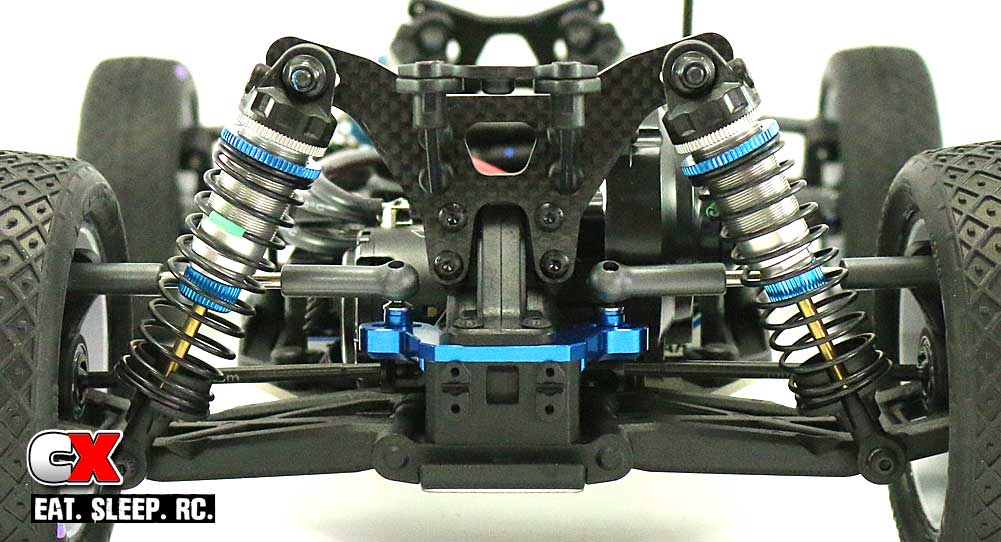 Suspension
The suspension on the B6D is, of course, top notch. Flat front suspension arms are now standard (with gull-wing arms optional) as are front and rear carbon fiber shock towers. The front bulkhead has been updated with a separate front ballstud mount and 'open design' top plate. The rear end has been tweaked a bit as well, turning the previous 1-piece rear tower into a separate gearbox brace/aluminum ballstud mount/carbon tower configuration. While there are a few more parts now, this system was much easier to build and quicker to tune. Another nice touch is the addition of an aluminum C-arm mount. This mount uses inserts to change both toe and anti-squat. With a total of 17 variations out of the box, that should keep you adventurist tuners occupied for awhile. Other updated features include shiny turnbuckles (more Factory than the black ones) and aluminum shock bushings. Finally, the B6D wouldn't be bad ass without a set of the Team's V2 Big Bore shocks on all four corners, adding excellent damping and loads of cush.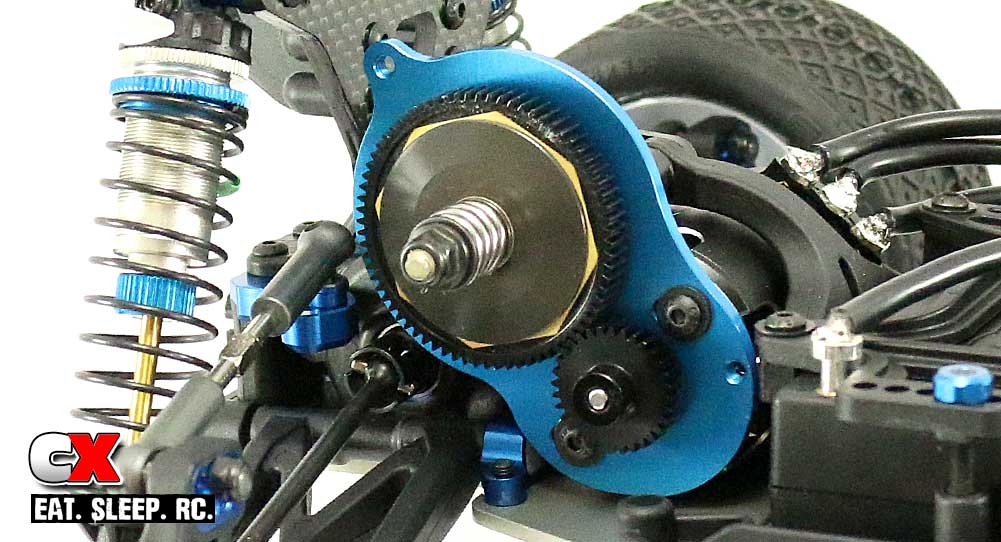 Drivetrain
Gone is the 4-gear transmission option; instead, the B6D comes equipped with a standup, 3-gear Stealth gearbox. Internally, this gearbox uses a lightweight aluminum top shaft, ball differential with carbide balls and rolls on a set of upgraded Factory Team ball bearings. Externally, a lightweight, FT motor plate is standard equipment as is the V2 Slipper Clutch system. Two spur gears are included – a 48P 72T and 78T – one for stock racing and one for modified. The entire transmission sits slightly rearward compared to the B5M and the motor mounts almost dead center in the chassis for better weight bias. Heavy duty rear axles transfer the power to aluminum, 12mm rear hexes. I'm happy to see that AE has replaced the steel front axles with a set of aluminum ones, however they offer another upgrade level for those that want the best; Factory Team titanium.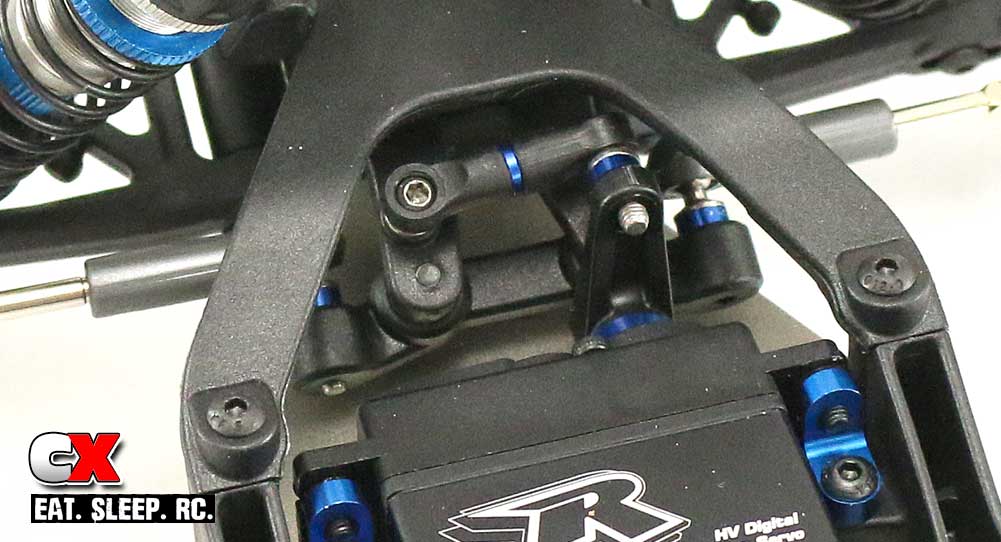 Steering
Team Associated has made smart use of the re-designed front end. The front bulkhead mounts under the chassis kickup tab, allowing the dual-bellcrank steering to be reversed to mount it as far forward as possible. This is a huge space saver which helps give more room for the electronics. Shiny turnbuckles extend out to the revamped, one-piece steering arms that use bolt-on Ackermann plates for tuning. The caster blocks are familiar and continue to use inserts to tune caster to your needs. A pair of hat bushings, 1 1mm and 1 2mm, allow easy adjustment of the axle height. I'm not sure why AE went away from the molded, 1-piece drag link in the B5M; I really liked that. Maybe there was a huge outcry for that blue spacer.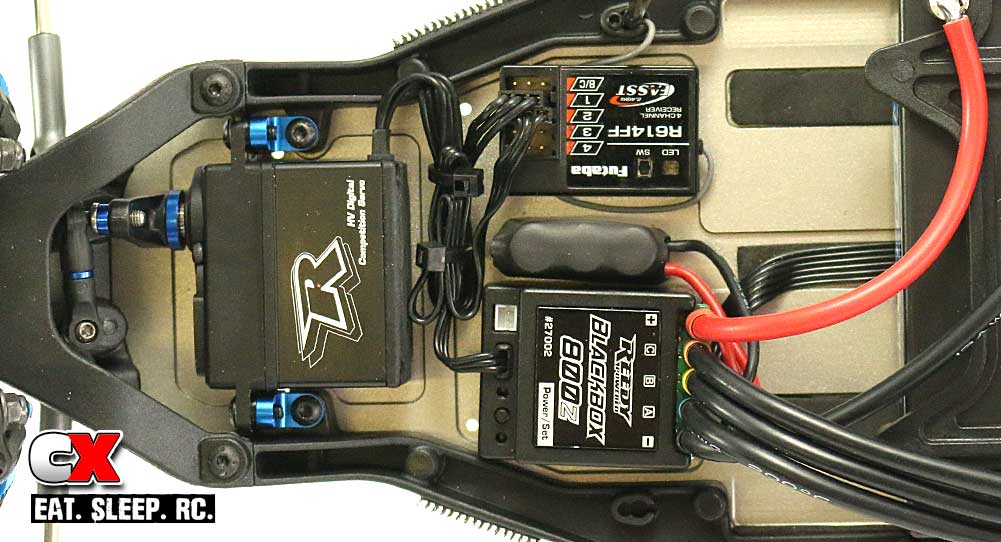 Electronics
One thing Team Associated is fantastic about is branding. When I get a car to review, they make sure to outfit it with all the support equipment they offer. For this test, I'll be using a variety of Reedy equipment to compliment this car; Reedy RS1206 Digital HV Hi-Speed Competition Servo, Reedy Blackbox 800Z Competition Brushless ESC, Reedy Sonic 540-M3 Mach 2 17.5T Brushless Motor and Reedy 5300mAh Shorty LiPo Battery. My trusty Futaba PX transmitter will be used to keep full control around the track.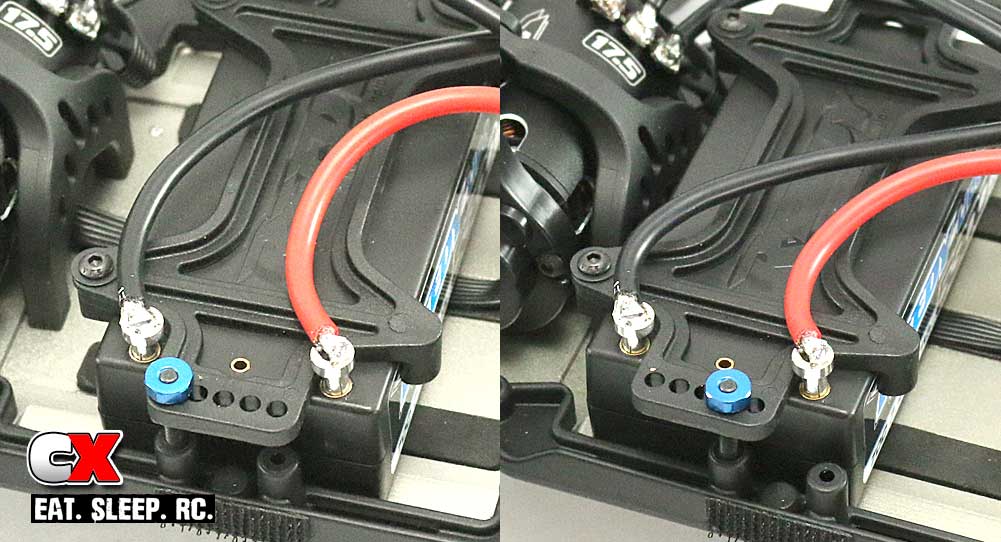 Battery Strap
The B6D's new battery holddown system is actually quite unique. Previously, you had to insert foam spacers in front and behind the battery to adjust it's forward/back positioning. This worked well but required a little patience each time you put the battery in. Now, just drop your battery into the car and use the keyed battery strap to adjust it's positioning. It's quite easy and works great, but what the heck is up with the baby-hand thumbscrews? I don't have huge hands, but on more than one occasion I said a bad word trying to install these. Thankfully, the larger thumbscrews from my B5M (part #91458) fit like a charm. They look a little funny but will work for now.
JConcepts Body and Wing
While the Team Associated B6M doesn't come with wheels or tires, it does come with a clear body and wing from JConcepts. This body is sleek and stylish and is inscribed with cut lines for both the standup 3-gear transmission and optional laydown transmission. On top of that, AE has opted to do away with the standard body-clip securing system and gone full Factory Team by including strips of Velcro. I love this feature and, in my opinion, helps streamline the overall look of the car. For those of you that want a lightweight version of this body, JConcepts has one available.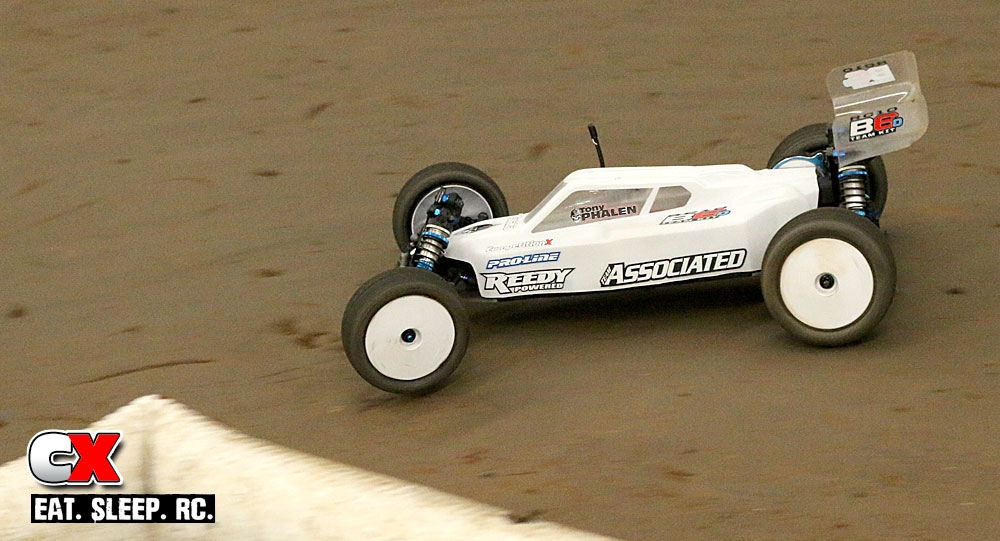 Performance
Prior to the release of the B6D, I spent quite a bit of time down at OCRC Raceway with my B5M, putting in quite a few laps, fine tuning the setup to eek every bit of performance out of it. It's safe to say I know the track pretty well, so testing this new buggy there was pretty much a no-brainer. The track is usually quite fast with jumps here and there, however this particular layout was a bit more technical (watch the video at the top of the article), making it crucial to perfect the racing lines to attain some fast laps. There were no worries about traction; OCRC uses a high-bite, clay surface that is continually watered throughout the day (via overhead misters). Good times!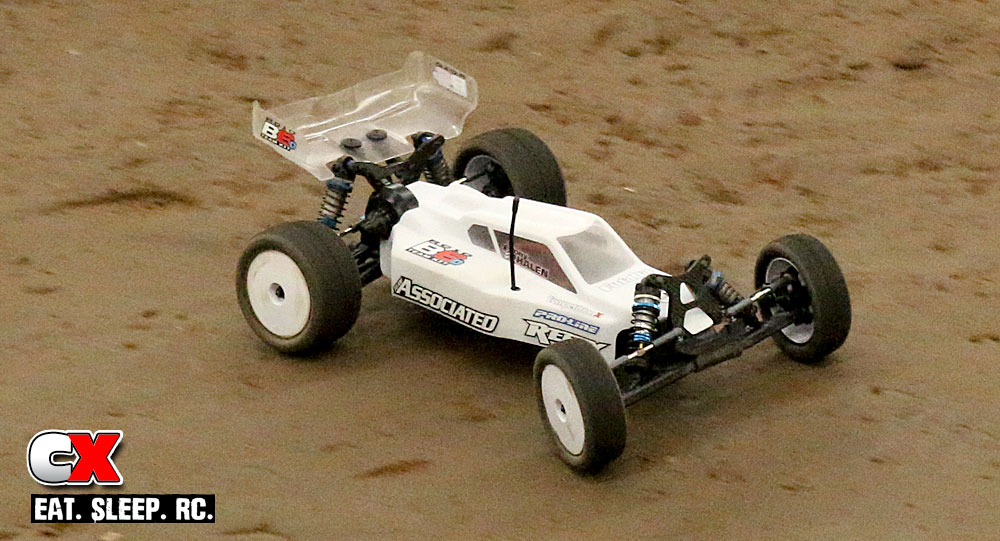 Speed and Braking
I set up the Reedy 800z ESC and 17.5T Mach 2 motor similar to my B5M with the timing set at 40°, however the manual states I should run a 31/69 gearing (5.79 FDR) for a stock motor. Well, since the B6D comes with a 72T and 78T spur gear, I had to recalculate the gearing using the closest spur I had; the 72T. I ended up with a 32/72, or a 5.85 FDR. That seemed pretty good, though, as the B6D had plenty of torque throughout the entire track to clear all the jumps. There's a triple jump in the middle of the track that the modified guys were clearing, not so easy with a stock motor. However, while most buggy drivers were going a bit wide to double-single it, I found that the B6D had enough forward traction to cut the corner alot closer to make the jump. That alone dropped my lap times by a tenth or two. I also found that, if I cut a good corner coming on the straight, I could retain enough momentum to easily keep up with the other buggies that might have been geared a tooth or two higher.
The brakes with the Reedy setup are exceptional. As with most 2WD vehicles I drive, I turn the brakes down to about 75% so I could actually use them without spinning out. There's only one or two places on this particular layout that I might use them, but when I do the car is very controllable.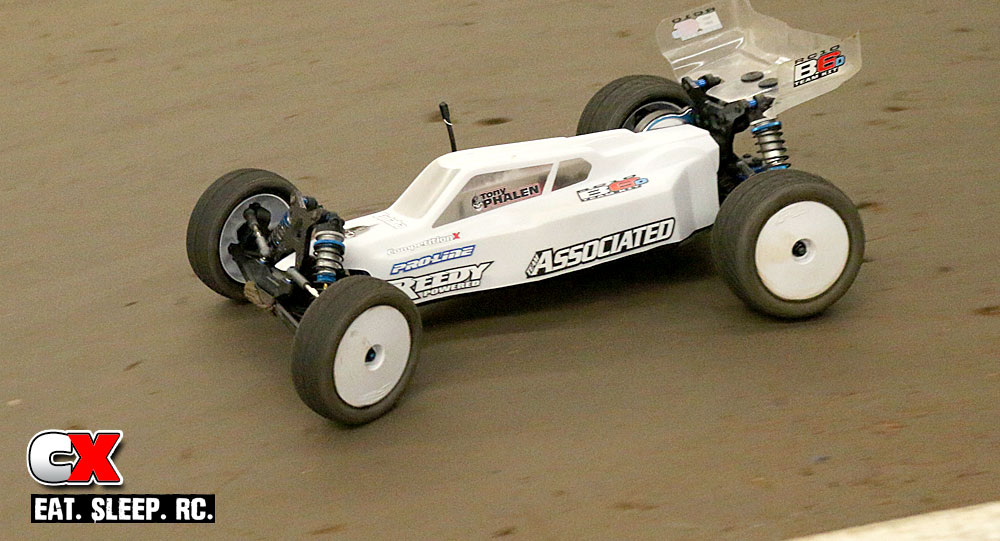 Steering and Handling
With the kit setup, the B6D is extremely planted around the track; almost too planted. I think the kit setup is a good compromise for both stock and modified racers, making it easy to drive but at the same time a bit numb. I like a nimble ride that switches directions quickly, but I didn't get that feeling right away. Thankfully, all that time spent with the B5M had me prepped for a little tuning, so after the first battery pack I pulled it in and changed a few things. I shortened the wheelbase, removed 2mm from both rear camber link ballstuds and moved the front shock mount to the outside hole on the arm. I also played around a bit with the battery positioning and, with each successive run, the car started feeling better and better. The steering improved quite a bit as did the car's rotation through the corners, resulting in faster and faster lap times. The car seems to be really easy on tires as well. I installed a fresh set of Pro-Line Electrons for the test and by day's end, they were still in fantastic condition. I really hate to say it, but after one day of running I was already 2-3 tenths faster than I was with my B5M.
On normal jumps, the B6D handles wonderfully on takeoff and landing. It's extremely consistent (as long as you are) so there's never any surprises when it leaves the ground. In-air attitude adjustments are easy to control, however I can only vouch for this on the smaller jumps; there was nothing really big on this particular layout that might cause an issue.
Durability and Maintenance
Crashes are going to happen, it's just part of the game. I had my fair share of bumps and bruises but thankfully can't report any breakage issues with the B6D. The front aluminum axles appear ok, suspension arms all check out and the body and wing are still intact. The one part that might give you an issue would be the front shock tower. It's made of carbon fiber and repeated crashes could knick or cause delamination. As much of a bummer as it is, that's just what happens with carbon fiber parts. Now, you could take a few moments while building the buggy to seal the edges of both towers (see our article on Prepping Carbon Fiber Parts) – it helps out alot and I highly recommend it.
Maintenance on this car should be very easy; it's design is well thought out and everything is accessible. I would keep an eye on any screws that go into aluminum (unless you used blue threadlocker during the build) as well as that front tower. I love the look of that carbon fiber but as I mentioned before, sealing at least the front one is a must-do!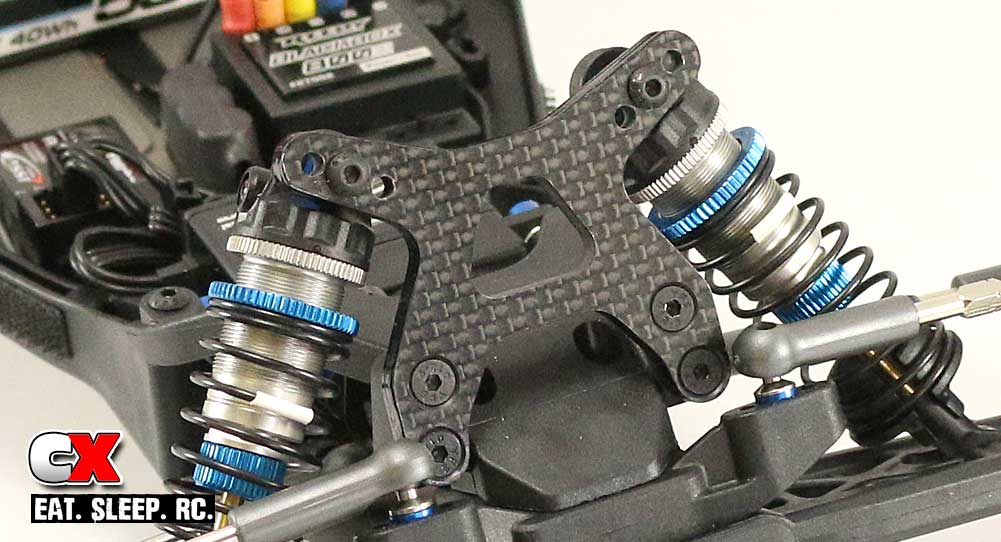 Tuning
The B6D is as pure-bred a racing car as they come and includes the entire A-Z book of tuning options; Ackermann, camber, caster, kickup, ride height, wheelbase … if I could think of a 'Z' tuning option, I'm sure this car would have it. With the new design, most of these options have also been simplified or made easier to access. That's the way it should be with a car of this caliber.
Additional
Spec Data
General
Scale: 1:10
Power Source: Electric
Length: Varies
Width: Varies
Wheelbase: 11.02? (280mm)
Weight: Varies
Steering
Steering: Dual bellcrank
Turnbuckles: Adjustable turnbuckles
Chassis
Type: Flat plate
Thickness: 2.5mm
Material: Hard-anodized aluminum
Drivetrain
Type: 2WD
Transmission: Single speed
Clutch: Factory Team V2 Slipper Clutch
Differentials: Ball diff
Bearings: 24, precision sealed
Gearing: 48P, optional pinion gears
Suspension
Type: 4-wheel independent
Camber: Adjustaable turnbuckles
Roll: Adjustable ballstud heights
Wheelbase: Hinge pin shims
Shocks: V2 12mm Big Bore threaded aluminum
Body, Wheels, Tires
Body: JConcepts clear body
Wing: JConcepts clear wing, screw mounted
Wheels: Not included
Wheel hex: 12mm hex
Tires: Not included
Pros
• Low, sleek styling
• Build is fantastic – goes together like a dream
• Chassis has lots of room for electronics
• Battery strap makes weight adjustment very easy
• Rear tower now a separate piece from rear chassis mount
• Carbon shock towers add a touch of Factory
• Lots of aluminum; front axles, rear hexes, rear ballstud mount and shock standoffs
• Aluminum C-arm mount with adjustable inserts are included
• Comes with the 3-gear transmission
• Extremely smooth V2 Big Bore shocks

Cons
• Battery strap thumb screws are way to small for normal fingers

Conclusion
This Buggy is Ready to Conquer! With all the high-bite racing surfaces popping up, Team Associated's B5M has been at the forefront of some butt kicking at the local and National level all around the US. A lot of time and R&D has gone into that car with quite a few aftermarket upgrades appearing to make it handle better on these surfaces. In the background, however, Team Associated had been secretly working on a new car that incorporates alot of those modifications. This new ride would be announced as the B6 and B6D, a carpet and dirt version of the…
Review Overview
Features - 10
Appearance - 9.5
Performance - Speed & Braking - 9.5
Performance - Steering and Handling - 9.5
Performance - Durability and Maintenance - 9
Performance - Tuning - 10
Overall Value - 10
| | |
| --- | --- |
| Bottom Line: I couldn't imagine a new buggy being better than the one I've spent quite a few hours tweaking for maximum performance, but I have to say that the Team Associated B6D is pretty lethal right from the get-go. I'm sure I've only scratched the surface with the tuning changes I've made so far ... that says a lot about its potential. I also have to give kudos for how well thought out it was and how well it went together. The A-Team has truly stepped up its game with this car; I expect you'll be hearing that alot in the months to come. | 9.6 |
Connect
Team Associated, www.RC10.com
Futaba, www.Futaba-RC.com
JConcepts, www.JConcepts.net
Pro-Line Racing, www.ProLineRacing.com
Reedy, www.ReedyPower.com
Don't forget to check out our full build article as well – from start to finish in detailed steps: Team Associated B6D Build.