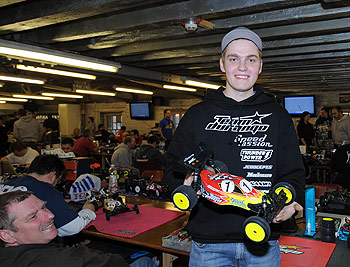 Jorn Neumann's TQ & winning Team Durango DEX210 used the standard chassis in mid motor 4-gear configuration. Jorn used the new gear differential with both cross shafts and 650cst shock oil inside.
Jorn is trying a new steering setup - with the links on the ackermann plate drilled further inboard to help pull the inside wheel firmly when cornering.
Jorn's car has a new steel option front axle for added strength and a prototype raised rear wing mount.