- Team Durango DEX210 - Craig Collinson - Chadderton Winter Series - Batley - 21.10.2012 -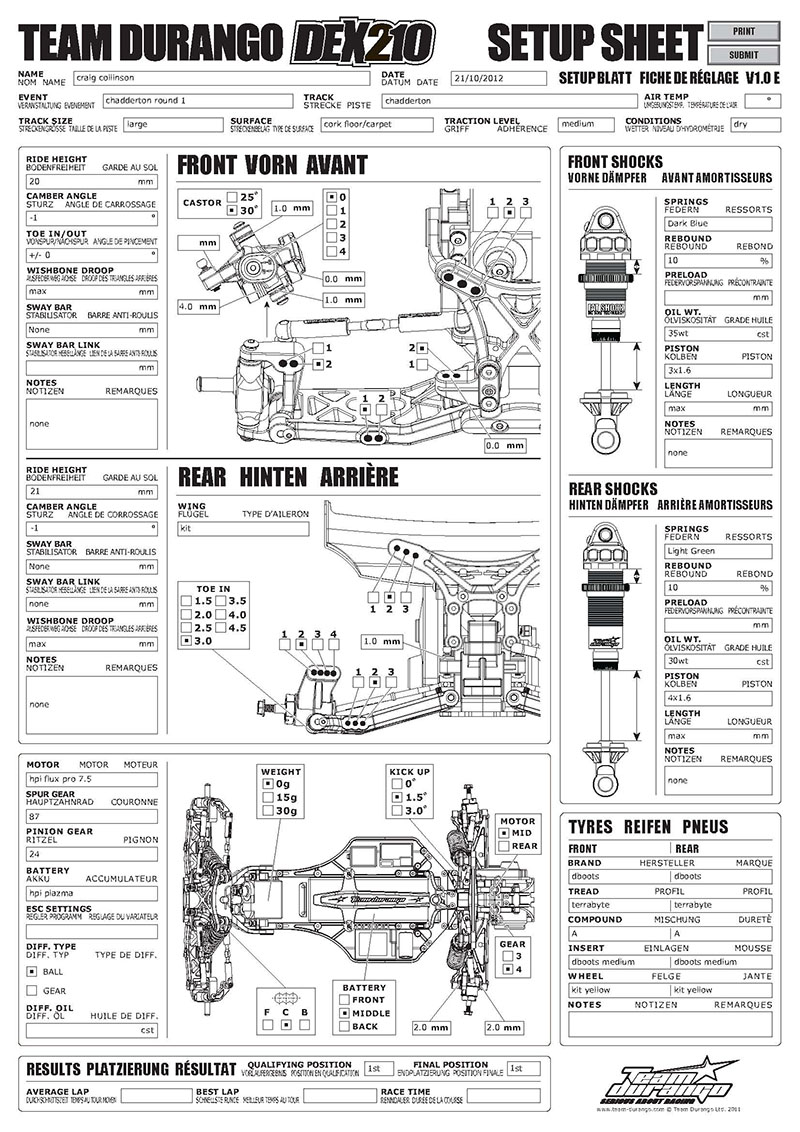 During the weekend of the 21st October, Batley Buggy Club in the UK hosted the first round of the Chadderton winter series, held at Radclyffe Athletics Centre.

The series has grown in popularity over the years, and this year has started off in the same way, with over 120 drivers in attendance. The series is run over six meetings with the best four results to count. Both 2wd and 4wd classes were run on the same day, which gave racers plenty of track time when competing in both classes.

Qualifying
Qualifying couldn't have gone much better for Team Durango racer Craig Collinson. Both his DEX210 and DEX410v3 were super dialled! In 2wd Craig took the TQ spot in three out of four rounds, only losing out in round two due to clipping a track marker. In 4wd Craig's DEX410v3 car was so easy to drive, allowing him to take TQ in all four rounds with no mistakes all day. To say Craig was happy with his Team Durango buggies and how qualifying went is an understatement. Craig felt 100% confident going into the A mains, sitting in pole position for both classes.

2wd final
The start of the A main was perfect, as the driver in second place crashed and caused a pile-up with the rest of the field. This gave Craig plenty of breathing space with nearly a quarter of a lap gap back to second place, after the first couple of laps. Craig didn't look back after that, and he went into cruise-control mode taking his DEX210 over the finish line for the win.

4wd final
The 4wd final got off to a clean start. After the first couple of laps the first three cars three broke-away from everyone else, making the final a three horse race. Craig knew from qualifying how much pace his DEX410v3 had, so as long as he made no mistakes he felt comfortable holding onto his lead. Gradually Craig pulled-away from second place, giving me just enough room to hold off any challenge. Not pushing the car too hard proved to be the right decision to make, as he crossed the line in first, giving him the perfect start to the series in both classes.

Dboots
A huge thanks needs to go to RC Disco for sponsoring the event with dBoots tyres. These are not the control tyre for the series, but are the tyre to run. I would say that well over 60% of drivers opted to use dBoots over any other brand. The 60% using them including myself; point proven!
Source: