- Team Associated RC12R5.2 - Olly Jefferies - BRCA Nationals Rd4 - Plymouth - 21.01.2012 -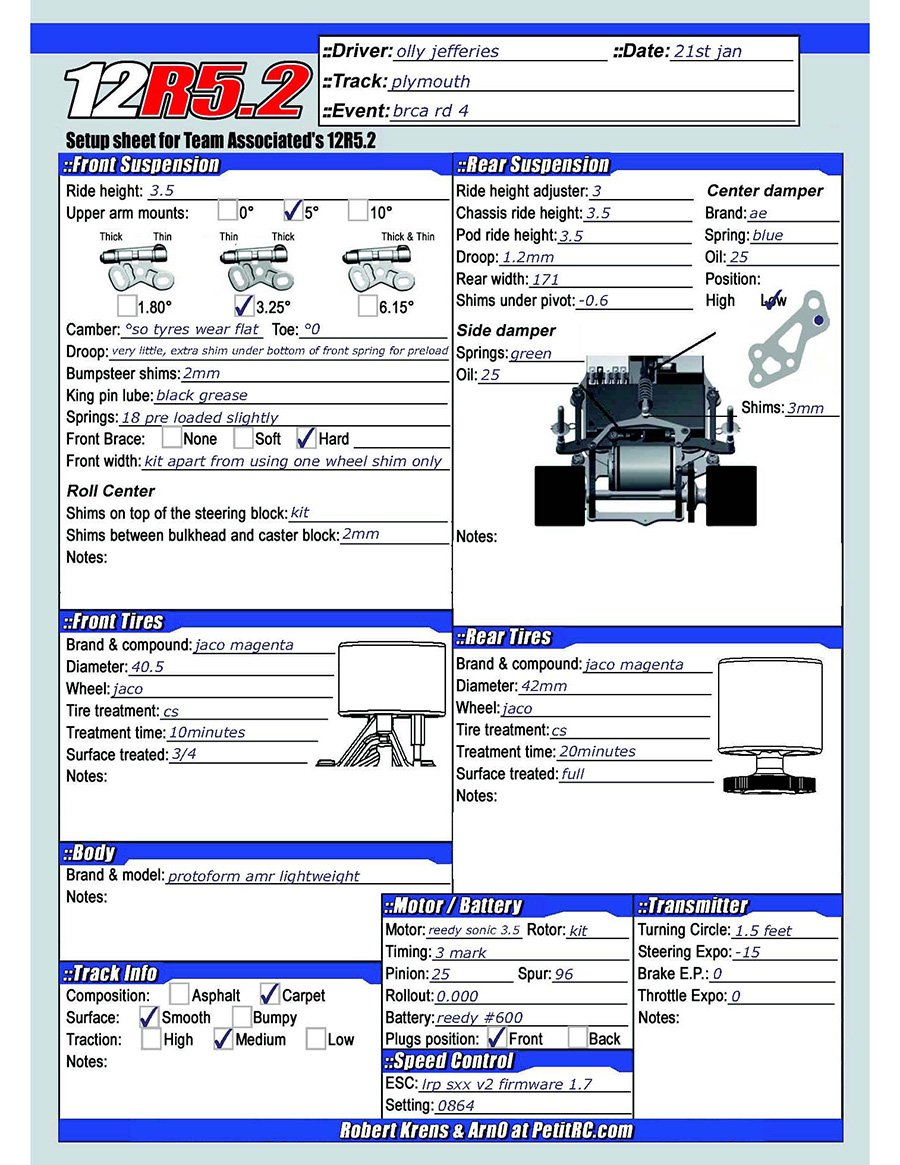 Juniors Star at Plymouth National
23/01/12

Associated/CML drivers Zak Smith and Kyle Gardner strut their stuff at the BRCA 1:12 National.

The 1:12 national series traveled to its furthest point South at the weekend with round four of the BRCA series, held at the popular Plymouth venue. The two day event followed the now familiar format of 10.5 on Saturday and modified on Sunday.

Coming in to round four Olly Jefferies led both classes and a good showing at Plymouth would put Olly in a strong position to take this year's title.

Olly's 12R5.1, now fitted with a Reedy motor, led the field on Saturday morning. It took Olly three rounds to get on to the pace and he held TQ going in to the last round. The final round was a close affair and after eight minutes Olly just stayed ahead to take TQ in front of Andy Griffiths and Dave Spashett, the top three covered by less than a second.

The Associated 12R5.1 has been dominant in qualifying at BRCA 1:2 Nationals and Olly's pole at Plymouth made it four TQ's in four stock rounds so far this season.

In only his second BRCA 1:12 national AE/CML team driver, Zak Smith, put in a strong drive to line up ninth in the A final. Zak had improved his time with every run and, during the final run of qualifying, put in a near perfect eight minutes to join Olly in the A final, quite an achievement for someone so new to this class of racing.

Another newcomer to the 1:12 scene is Associated Academy graduate Kyle Gardner. Kyle was also going well making the back of the B final at only his second BRCA stock national.

Everything was going to plan for Olly in the A final and with twenty seconds to go he was leading despite race long pressure from Andy Griffiths. Then, within sight of the finish, Olly ran wide and Andy squeezed through! In an effort to try and regain the position Olly pushed and made a crucial error which dropped him to fourth at the finish. Zak enjoyed his fist A final finishing in 9th place.

The result of the stock A final now leaves the title wide open. With two rounds to go there are a number of drivers capable of taking the series. Olly still leads the class overall but now needs strong performances at the final two rounds.


Sunday morning and a chance for Olly to make amends for his Saturday error. With modified motors now fitted, Olly's 12R5.1 was straight on the pace and was fastest in rounds one and two. In round three, Mark Stiles took over at the top and would deny Olly his run of TQ's at every stock and modified national so far this season.

Zak Smith showed that his pace from the previous day was no flash in the pan and once again he was consistently posting top ten times, leaving him seventh the on the grid for the A final. Kyle Gardner was also carrying on his good Saturday form and qualified third in the B final.

Zak and Kyle's performance over the two days was remarkable given their lack of 1:12 experience, both drivers showing maturity beyond their years in a competitive field of experienced 1:12 drivers.

In the A final Mark Stiles led away but following some set changes prior to the final Olly's car looked the class of the field and Mark was forced to defend from the start. Coming on to the straight Olly got a good drive off the corner but Mark didn't and Olly had to swerve off-line to avoid hitting the Serpent car. The result was catastrophic for Olly as his car hit a track marker and launched high into the air to then smash down on the track. By the time marshals returned the slightly second hand cart back to the track Olly was fourth, however a strong finish with the damaged car salvaged third for Olly.


"It was a tough two days, I only made two mistakes all weekend but they proved to be costly, nerveless I am still leading both classes of the championship and overall I felt both me and the car performed well over the race weekend, we are still the package to beat with the 12R5.1, Reedy motors and lipos, I cant fault the performance of the kit at all and it was good to see how many other drivers were also running the new Reedy motors. For me the highlight of the weekend was the performance of Kyle and Zak, its very rewarding to see our Academy bearing fruit in such a positive way, 1:12 is a very demanding class and both guys have adapted really quickly and have got on the pace remarkably quickly" Olly said.




Kyle had a great B final and finished an excellent third, behind Jason Butterfield, and long time AE driver Nigel Hale, Nigel showing he still has a good turn of pace with strong performances on both Saturday and Sunday. Being mid pack did not help Zak and he found himself on the wrong end of few mid field scraps finishing ninth.

Round five of both the stock and modified class takes place early in February at the Teesside track.
Source: