- Schumacher CAT K2 1/10th Competition 4WD -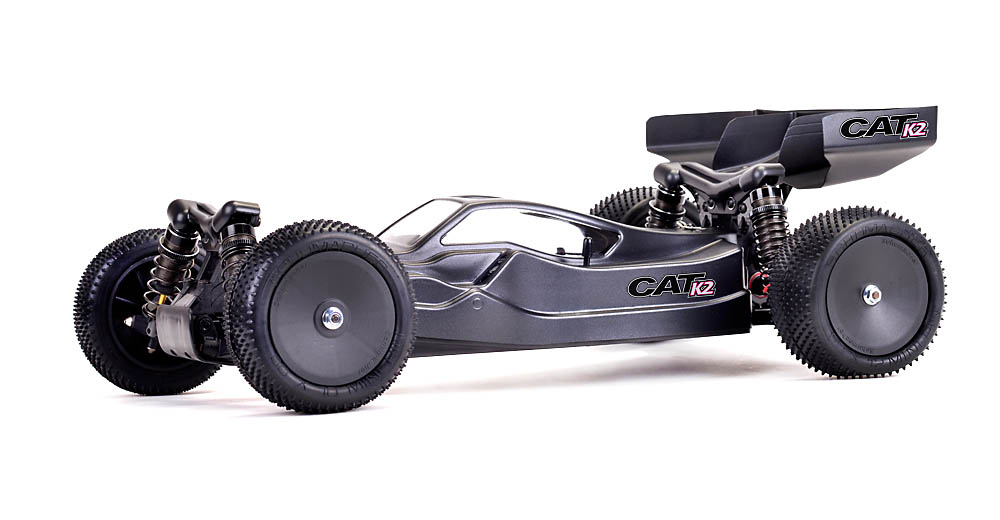 The CAT K2, is the latest 1/10th scale, 4WD, electric buggy from Schumacher Racing.
Moving forward from the 2015 EFRA Euros winning CAT K1 Aero, Schumachers internationally renowned R&D team have raised the bar yet again!
With modern track trends the CAT K2 is optimised for high and low grip conditions. With its longer, narrow chassis it is faster, more consistant and more versatile. Smoothing out the bumps and carrying more corner speed the CAT K2 is now the car to beat.

Designed by champions for champions! The CAT K2, sharper claws.
CAT K2 Specification
Power Source: ELECTRIC
Model Type: 4WD, OFF ROAD, COMPETITION
Length: 373mm
Wheelbase: 285mm
Width: 250mm
Equipment Needed

2 Channel Radio
Motor
Servo
Electric Speed Control
Tyres
Motor Pinion
2s Saddle Lipo Battery

Features
New - Alloy chassis side stiffeners.
New - Multiple battery fitting options. Saddle and shorty options.
New - Captive ball joints.
New - Reverse rotation, mid motor layout.
New - Split top decks for greater flex characteristics and easier maintainance.
New - Compact steering system for improved in-line weight placement with adjustable, dynamic ackerman.
New - Super consistent, industry leading QUAD pad, vented slipper with easy access and NEW Ultra Fine adjustment spring.
New - Optimised narrow chassis shape to improve roll stability. Improved ground clearance on roll.
New - Aerial mount.
New - Ultra low motor mount.
New - Rear pivot straps.
New - Battery thumb screws.
New - Transmission housings.
New - Longer wheelbase.
New - Centre-line motor position for lower polar moment.
New - Front yokes with adjustable roll centre heights.
New - Stronger outer rear hinge pin.
New - 2.5mm aluminium chassis.
New - 3.0mm aerospace grade carbon fibre top decks.
New - Moulded side pods for superb dirt protection.
New - Stronger front, inner hinge pins with new mounting system.
New - Easy access centre belt pulley.
New - Sleek, ultra narrow body shell.
New - Large "CLAW" high down force rear wing package.
Optimised 2 belt transmission with efficient low tension Bando belts running on large CNC machined pulleys.
Big bore shocks with big bore "CORE" springs, titanium nitride shafts, threaded collars and twin o-ring sealing.
Medium flex front suspension arms as standard.
Gear Differential with hardened steel gears and super hard outputs. Excellent Diff Life!
Optional ball diff available.
Strong steel universal driveshafts.
28 Rubber sealed, super precision ball bearings throughout.
Horizontally split transmission housings for easy diff access and maintenance.
Class leading suspension geometry with durable components and a huge range of optional alloy parts, offering adjustments to setup your CAT K2 to all track conditions.
Adjustable rear roll centres, inboard toe-in/toe-out, anti-squat and track width (using optional speed secret parts).
Adjustable front roll centres, rake angle and track width (using optional speed secret parts).
Strong, rigid 4mm aero space carbon fibre shock brackets.