- Team Associated RC8B3e Team Kit - Review -
TEXT & PHOTOS BY CARL HYNDMAN
PERFORMANCE TEST 1/8-SCALE 4WD ELECTRIC BUGGY | KIT
The Team's top-shelf nitro buggy goes electric for high-voltage performance

When Team Associated's all-new RC8B3 nitro buggy hit tracks (and our December 2015 issue), we knew it wouldn't be long before put the Team put the same refined design to work as an electric model. Fast-forward a few short months later, and the RC8B3e is here. Naturally, most of the RC8B3's features return unchanged for the new electric car, but the RC8B3e isn't merely an exercise in swapping engine mounts for a motor mount. This buggy went through its own rigorous development program to be optimized for electric power, and the RC8B3e makes no compromises. Let's take a look.


UPDATED UNIVERSAL DRIVEN TRIPLE GEAR-DIFF TRANSMISSION

Since the buggy uses an electric motor instead of a nitro engine, a few things were changed to handle the electric power. Instead of a brake pad system (braking is handled electronically), the center of the buggy is fitted with a milled blue-anodized motor mount that uses a sliding mechanism with setscrews to achieve gear mesh. From there the power is transferred to the front, center, and rear oil-filled gear differentials and then to all four wheels through steel universal joints. To reduce friction, Associated specs bearings that are smaller than typical for 1/8-scale buggies. Since tuning and maintenance of the front and rear gear differentials is common among racers, a clever design allows access to the gear diff assemblies by removing a small handful of screws.


The drivetrain's universal joints use a minimum of material to reduce rotating mass.


The oil-filled differentials are unchanged from the nitro car, but Associated has fine-tuned the way they are assembled for smoother operation.


Quick differential access makes it fast and easy to change diff fluid between rounds.


The motor mount is extra thick to resist flexing, and uses 4mm screws to secure the motor. Loosening the two button-head screws allows the motor to slide for gear mesh adjustment.

NITRO-PROVEN SUSPENSION

The RC8B3e's suspension is unaltered from the nitro car, and benefits from all the rigorous testing and development work that went into the RC8B3. Associated went with a pivot-ball system as it was found to have a greater tuning window for use in a wide variety of conditions. The bores in the front suspension arms for the pivot balls are reinforced by aluminum rings, and plastic pads in the pivot-ball retainers give the system smooth action. The upper arms can be repositioned on their hingepins with shims to set caster, while plastic inserts press into the machined aluminum lower hingepin blocks to tune arm angle. Steel turnbuckles handle the front toe and rear camber settings.

The shocks are what you'd expect in a top-level racing machine, with threaded 7075-T6 aluminum bodies, 16mm bores, titanium-nitrate-coated shafts, and rubber boots to keep the shafts clean. To prevent the shocks' lower mounting screws from loosening in action, screws aren't used at all. Instead, smooth pins secure the shocks and are held in place by setscrews.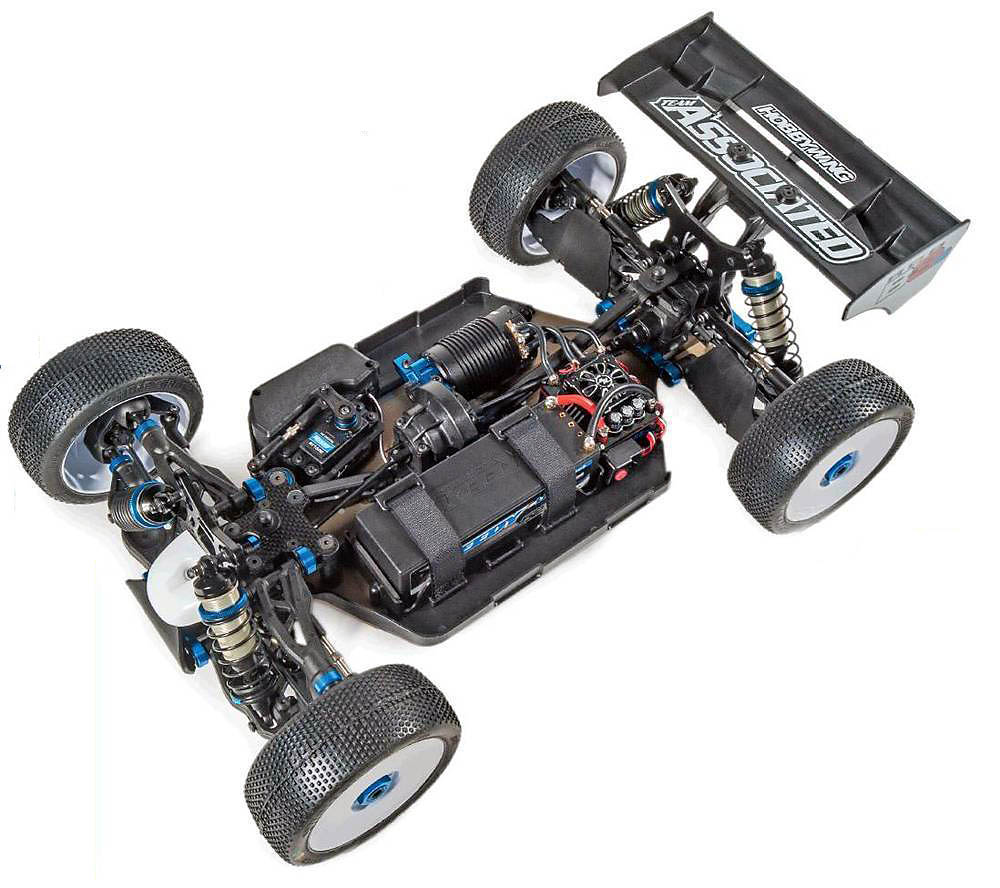 The big-bore shocks are up to current race specs with their 16mm 7075 aluminum bodies and 3.5mm TiN-coated shafts. Stiffer blue springs are spec'd for the e-car, and deep spring perches make sure the springs won't pop off the perch in action.

7075-T6 ALUMINUM MILLED AND HARD-ANODIZED CHASSIS

When 1/8-scale electric buggies first hit the market, they were generally crude Frankenbuggy conversions that merely added a few extra holes to the chassis to accommodate a motor and battery. The RC8B3e is the opposite, and uses a purpose-built 3mm 7075-T6 hard-anodized aluminum chassis with strategic milling for the electronics and battery to achieve a low center of gravity. The layout favors a forward weight bias for improved handling and uses radiused edges, front and rear plastic braces, and side plates to help with stiffness fore, aft and torsionally. The receiver is stowed in an enclosed box, and the steering links and steering servo share the same side as the motor. On the opposite side, the heavy weight of the battery offsets the electronic gear's mass. Foam spacers are supplied to fine-tune battery position and weight distribution.



The RC8B3e's 3mm 7075-T6 hard-anodized chassis is designed exclusively for electric power.






Team Associated went with a pivot-ball suspension for the RC8B3 and B3e, citing greater tuning versatility over C-hub designs.
BUILDING AND SETUP TIPS

DIFF FINE-TUNING
The early-production RC8B3e tested here had slightly notchy differentials when assembled per the manual. A supplement sheet with a revised gasket is included to address the problem if it appears. Build the diffs per the manual first; if the outdrives don't turn smoothly, use the revised gasket.

BEEF UP THE STEERING SYSTEM
The steering system uses a typical spring-loaded servo saver, but the included plastic servo horn is just not up to the rigors of 1/8-scale torque and abuse. Investing in an aftermarket aluminum servo horn will save you a headache or a racing DNF.

WING OPTIONS
A nice surprise was to see two wing mounts included in the kit. Instead of some weird contraption to significantly raise or lower the height of the wing, two sturdy molded plastic pieces can be used to help tune the wing aerodynamic effects. A higher wing mount will increase downforce and is most likely used in outdoor situations where grip is less.


BEHIND THE WHEEL

Once the Reedy 4S 5200mAh LiPo battery pack was fully peaked and strapped in, it was time to hit the dirt at OCRC Raceway in Huntington Beach, California. The famous indoor track recently went through a layout change, so the grip level wasn't as high as normal but still plenty enough to see what the buggy was capable of. I needed to break in the tires, so I ran it conservatively to do some endpoint settings, trim adjustment, etc. Once everything checked out, it was time to hit the track—I just couldn't contain my excitement. I slowly grabbed some throttle and brought the car up to speed and familiarized myself with its handling characteristics. Because of the inherent grip of the clay surface, I chose to run the wing with the lower mount and keep the higher one nearby if needed—a nice included feature. My first big impression was how easy the buggy was to drive. I first started out on Pro-Line Holeshots, but switched to Pro-Line Electron tires in clay compound, which seemed a better match for the conditions. They grabbed, squealed, and clawed, giving me great feedback and slot-car-style traction. The buggy wasn't twitchy or finicky, but easy to drive and stable while still maintaining quick entry and exit time in the corners. Acceleration was also snappy, and the lightweight drivetrain was starting to show its benefits. Yes, it does share many parts and geometry with its nitro sibling, but this buggy has its own handling characteristics and it felt more balanced and neutral. I attributed this to the blue springs, which are stiffer than what is supplied in the nitro kit and well matched to the car's weight. In general, the B3e had high corner speed and jumped with precision. In the technical areas, it transitioned quickly and snapped into line with authority. A powerful steering servo is essential to exploiting the car's handling capability, and the Reedy RT1508 Hi-Torque Competition servo I chose delivered with 165 oz.-in. of torque that made the steering response crisp and instantaneous. After a few batteries of running and a few minor tuning tweaks, I got more and more comfortable and confident. Back in the pits between charges, I took the time to dial in the HobbyWing speed control to my liking—increasing its drag brake and removing some push brake electronically. Pushing a car to its limits inevitably leads to a few crashes, which the B3e took mostly in stride. The only part to succumb was the plastic servo horn, which I replaced with an aluminum one.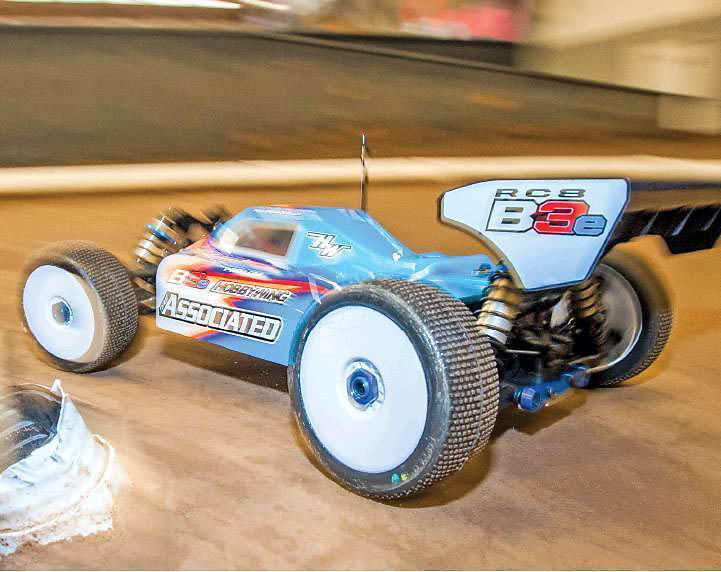 FINAL WORD
The RC8B3 nitro car enjoyed a long and rigorous development process, and that refinement put Team Associated well ahead to develop a competitive e-buggy. While the RC8B3e shares much of its parts list with the nitro buggy, it's no conversion. The weight distribution and power delivery of an electric car require different suspension settings, and Associated has tuned the car to suit. Where new parts were required to support electric power, Associated has stepped up with optimized designs, including a completely electric-specific chassis. Of course, all the best RC8B3 features are intact, including the pivot-ball suspension; easy diff access; and lightweight, free-spinning drivetrain. With winter upon us, it's easy to see the draw these big electric buggies have with their ability to make short work of indoor tracks, and when things warm up in spring and summer, the flexibility to hit big outdoor tracks is an exciting option for those looking to drive with the punch and power modern LiPo and brushless technology brings. The podium is calling, and the new RC8B3e is a potent contender.



TEST GEAR
HobbyWing Xerun XR8 Plus 150A Competition Brushless Speed Control

The new HobbyWing Xerun XR8 Plus brushless speed control is powerful, coming in at a rating of 150A. And racers will be glad to see that the BEC has a peak output current of up to 15A but can also be switched to an output voltage of 6 (default) or 7.2 volts. As in the past, the unit can be set up in Running mode for forward with brake, and forward with reverse/ brake. You can also adjust the system for Voltage cutoff, speed control and motor thermal protection, motor rotation, brake force, reverse force, punch level, drag brake, coast (a new feature designed to work with large motors that create a lot of inherent drag), neutral range, boost timing, turbo, and turbo delay.


The HobbyWing Xerun XR8 Plus is a powerful unit with a lot of tuning flexibility.
---
VEHICLE SPECS

Item no.: 80916
Scale: 1/8
Price: $540
Length: 19.2 in. (488mm)
Width: 12.0 in. (304mm)
Wheelbase: 12.8–13 in. (325–330mm)
Weight: 7 lb. 15.2 oz. (3,606g)

CHASSIS
Material: 3mm hard-anodized 7075-T6 aluminum
Type: Machined plate with side plastic-reinforced guards

SUSPENSION
Type (F/R): H-arm pivot-ball/H-arm with steel turnbuckle camber link
Inboard camber link positions (F/R): 1/6
Outboard camber link positions (F/R): Pivot-ball/2
Shock positions, towers (F/R): 3/3
Shock positions, arms (F/R): 2/2

SHOCKS
Bodies: Threaded aluminum
Bore: 16mm
Shafts: 3.5mm TiN coated alloy
Volume compensation: Bladder

DRIVETRAIN
Type/gear ratio: 4WD shaft with front, center, and rear geardiff/3.38:1
Spur gear/pinion: 46/13 (pinion not included)
Differentials: Sealed bevel gear
Driveshafts: Steel universal joint
Bearings: Metal and rubber-shielded

TEST GEAR (NOT INCLUDED)
Transmitter/receiver: Futaba 4PX/R3045B 4-Channel
Steering servo: Reedy RT1508 Hi-Torque Competition
Speed control: HobbyWing Xerun XR8 Plus 150A
Motor: Reedy Sonic 1512 2100Kv
Battery: Reedy 4S 5200mAh 55C LiPo
Tires and wheels: Pro-Line Holeshot X3 (soft) premounts on White V2 Velocity dish wheels


+
Easy-access front and rear diffs
Easily and highly adjustable pivot-ball suspension
Lightweight and free-spinning drivetrain
Two wing mounts with different heights included

-
Gear diffs need extra attention for smooth operation
No wheels or tires included

SOURCES
Cbuilt Designs cbuiltdesigns.com
Futaba futabarc.com
HobbyWing hobbywing.com
Pro-Line prolineracing.com
Reedy rc10.com
Team Associated teamassociated.com