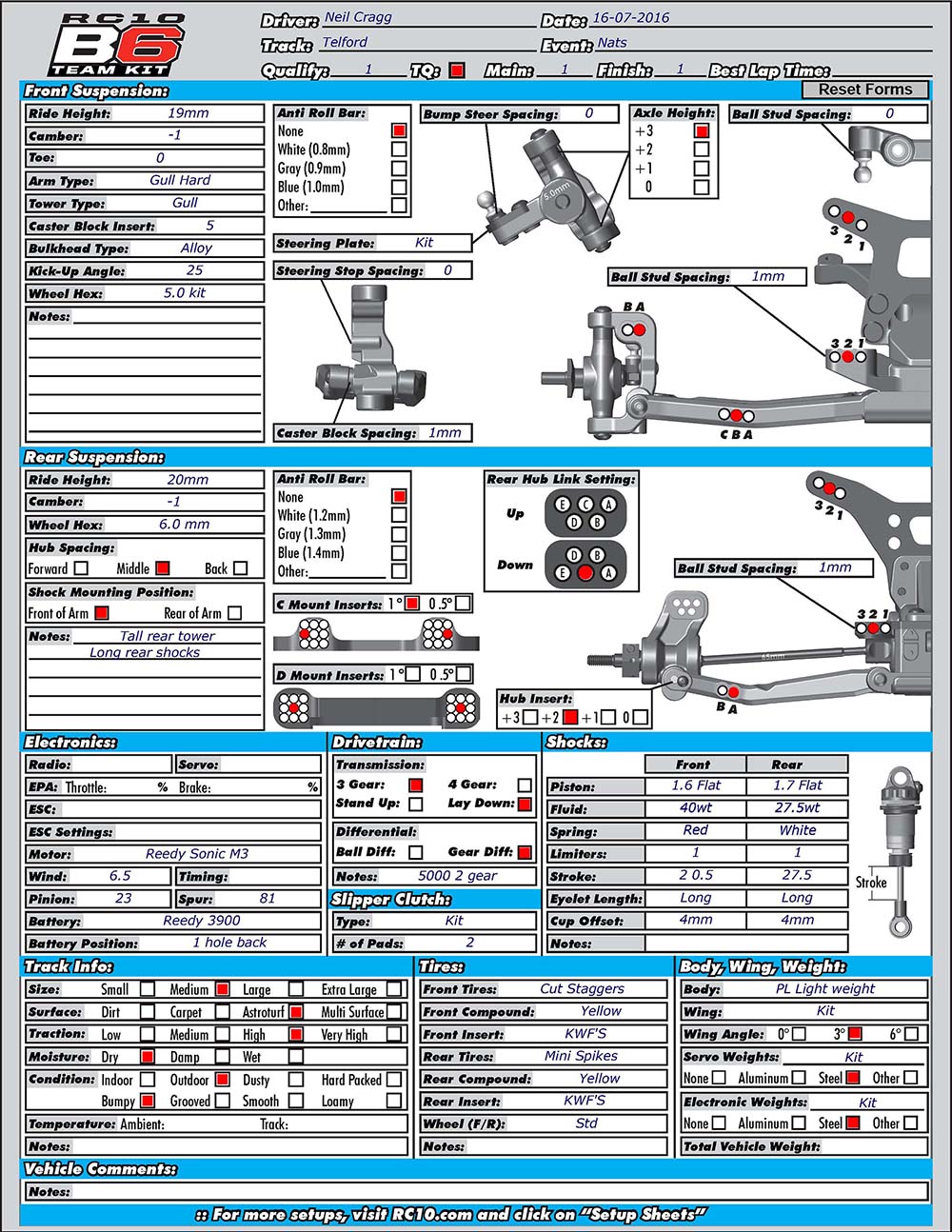 Race Report

2016 British Radio Car Association National Championship
Telford – July 16th (2wd) and 17th (4wd) – Round 4 of 5
Telford Model Car Club
The Telford club held a National event last year for the first time after the club got a new lease of life and enthusiasm.
Headed by experienced racer Tony Bishop, the club presented us with a good looking track, surroundings and facilities.
Let's go racing
Everything painted and prepared…..becoming normality for clubs to prepare this way for National events
2wd Event – Saturday
Weather
The weather was warm ish! Some drizzle in the air and forecast was rain mid day! (so all the smartphones said)
Qualifying
Round 1 was upon us really quickly and a close battle between Neil Cragg and Tom Yardy. The Schumacher car of Tom Yardy took the TQ. Lee Martin had some good last laps in his heat to take 2nd and Neil Cragg 3rd. All very close indeed. Simon Moss in at 4th which was really good as he hasn't been racing as much the last few weeks for various reasons. Danny McGee 5th .
12 near full heats and round 2 seemed to come round so quickly. Simon Moss was qualifying out of heat 10 so was going first out of the favourites for the event. He had a great run with many 21 sec laps but an unfortunate 4 sec error on one of the laps convinced him that he missed the opportunity of round 2 TQ. Lee Martin and Neil Cragg to come amongst others like Tom Yardy and Danny McGee all ready to snatch that top spot for the round. Tom Yardy would only achieve 5th in round. Lee Martin poor by his standards with only 4th in round. Simon was beginning to believe! Danny McGee got a 3rd in round. Neil Cragg was attacking the track with intent but in a controlled manner and didn't do as many 21 sec laps like Simon but his consistency was relentless lap after lap. It was going to be ever so close. I looked down at the screen and had to look twice to confirm to myself that in fact Neil set the identical time as Simon did 2 heats beforehand. Both with a 14/5m7.55. Wow! Doesn't get any better in any form of racing when it's really that close. T hey both score a 'zero' by the way.
Round 3 got under way and one could sense that Neil Cragg was on a high from his racing the week before where he managed a podium finish at the 1/8th European Championships. Good job!
He was driving beautifully and set another TQ for round 3. Danny McGee was the dark horse in this event as he came through and went 2nd in round. Tom Yardy with a 3rd, Craig Collinson with a 4th and Kevin Lee with a 5th in round.
Last round and it was a shootout between 3 guys for the honour of pole in the main A Final. Simon went first and set an OK time by his standards. Tom Yardy would attack the track as did Neil Cragg. Tom came through and TQed round 4 with a great time. Both Tom and Neil would be scoring 2 TQ rounds and it was all down to the fastest time. Tom set a time of 14/5m7.87 so by virtue of 0.28 of a sec Neil's time was just by the smallest margins quicker and he took pole for the main A Final. Tom would line up 2nd, Simon 3rd, Danny 4th, Lee martin 5th.
A Final 2wd Line-Up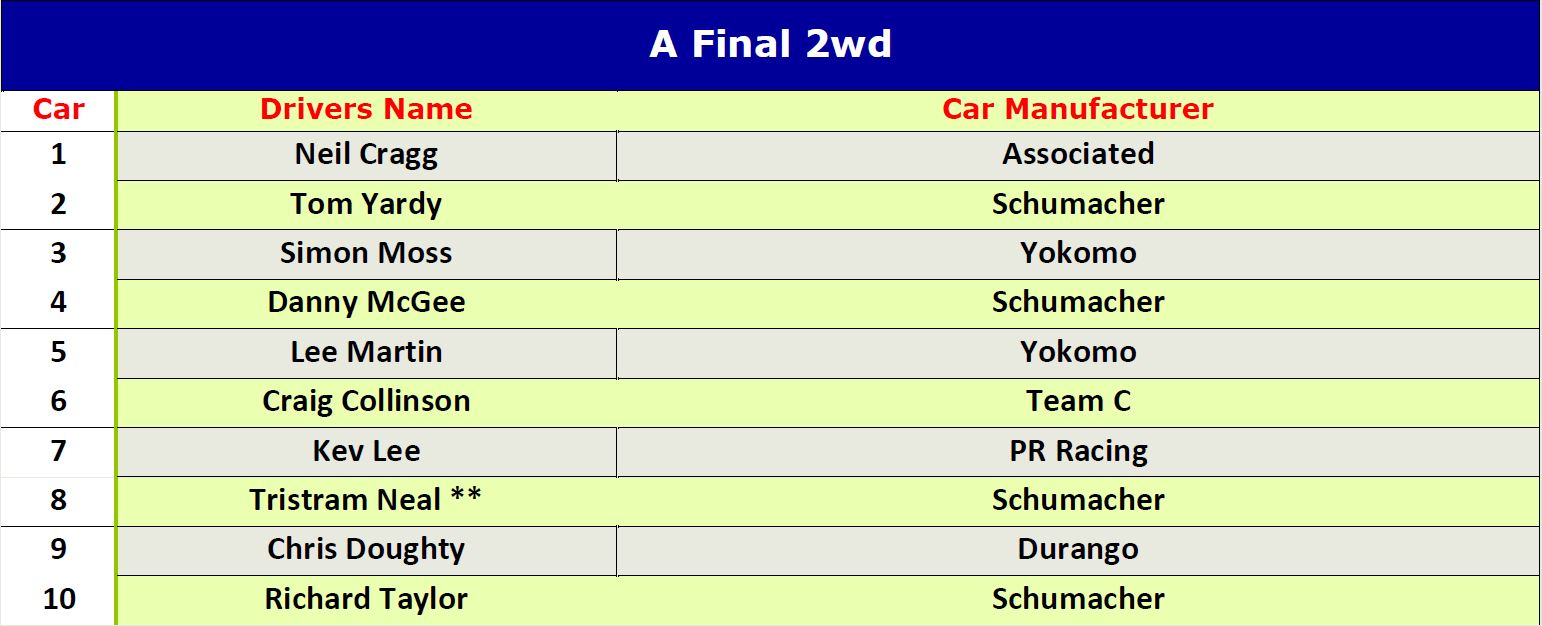 ** Tristram Neal makes his first ever National A Final – Well done Trish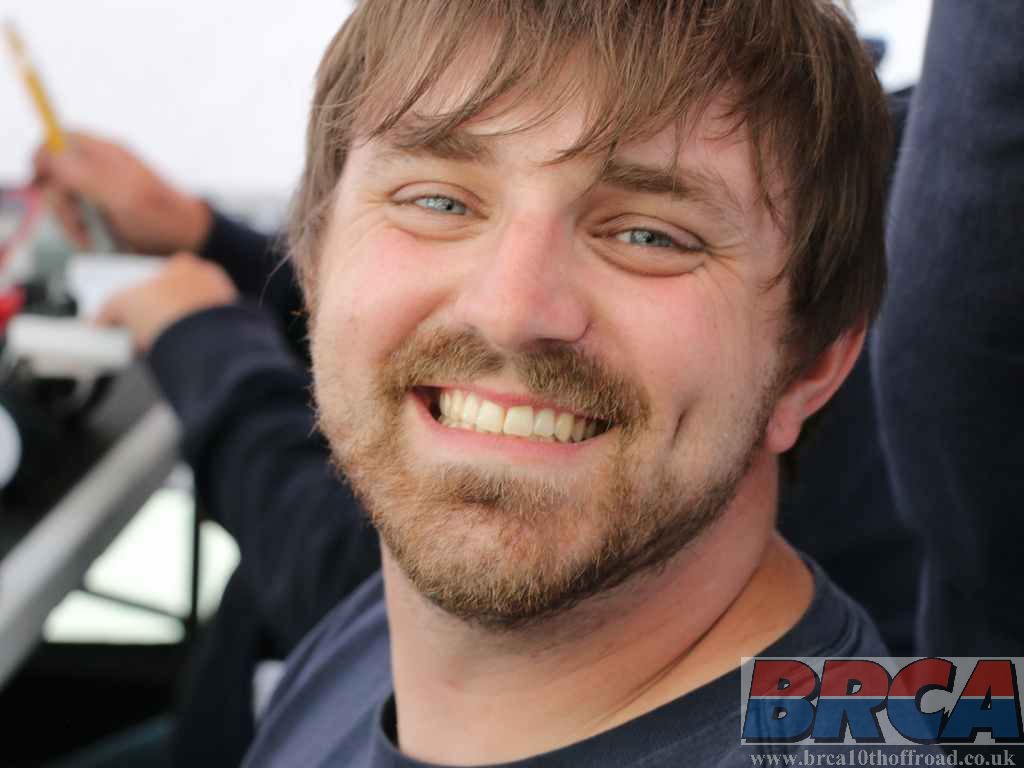 Neil Cragg

Tom Yardy

Simon Moss

Danny McGee

Lee Martin

Craig Collinson

Kev Lee

Tristram Neal

Chris Doughty

Richard Taylor
Finals Leg 1 A Main From the pole position Neil drove a great race and never let anyone get close too close. Tom also drove superbly too and closed the gap to under a second but didn't have a chance to make a move on Neil. Danny McGee was 3rd closely followed by Lee Martin. Fastest lap of leg 1 goes to Lee Martin 21.56.
L Final was won by Tyler Liddle
K Final was won by Matthew Peters
J Final was won by John Langley
I Final was won by Joseph Cockill
H Final was won by Gareth Stanton
Leg 2 A Main Leg 2 and as always everyone knows 2 wins and the honours are all done and dusted. Neil off to a flyer. Tom didn't challenge this leg and it was down to Simon Moss to take up the quest in hunting down Neil Cragg. Fast lap after fast lap but the consistency of the Associated man was to prevail at this event. Neil took another win and with that a 131 the highest score for an event. Simon Moss 2nd in the leg, Danny 3rd. Fastest lap in leg 2 goes to Simon Moss 21.49.
G Final was won by Nathan Ralls
F Final was won by Chris Moody
E Final was won by Chris Delves
D Final was won by Allan O'Brien
C Final was won by Ben Jemison
B Final was won by Chris Lake
Leg 3 A main Neil already won the event and was racing for the bragging rights of the fastest lap of the meeting. He threw it at the track with nothing to lose! A few errors by the winner let Simon Moss through to go on and take leg 3 win. Neil Cragg chasing him down in 2nd with Lee Martin in at 3rd. Great racing all round but the bragging rights for the fastest lap will go to Neil Cragg on a 21.44
Full overall results below
A Final 2wd Result after 3 legs