- Team Associated B6 - Fitting a B5 Series Differential -

Hey guys, lots of people have asked about fitting B5 series diffs in a B6 platform. The Mip Matt MIP guys have put together 2 supplements. I am trying to get some parts for my personal car to post pics (or maybe Matt will beat me to it) but the general idea is that the B6 diff case is widened, and the wider B6 hinge pins require axles/CVA to be shifted inwards.

For diffs: Add the thin 10mm ID shims (1 each side) to the diff before the outdrive bearings. B5 series uses no shims.

For MIP Pucks/Rollers bones and AE axles: When running the B6 pivot, it's recommended to shim the CVA axle in to keep the bones from popping out. Pull the axle out of the hub and install a 6mm shim and 10mm shim onto the axle as shown, then install into the hub with cross pin and hex on the outside like normal. B5 series uses no shims.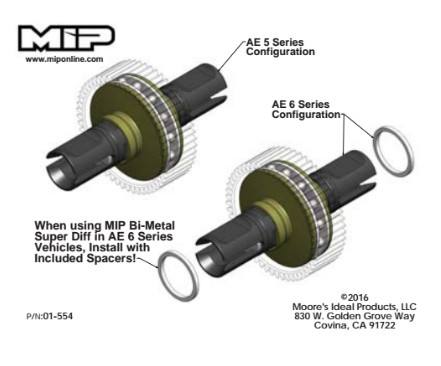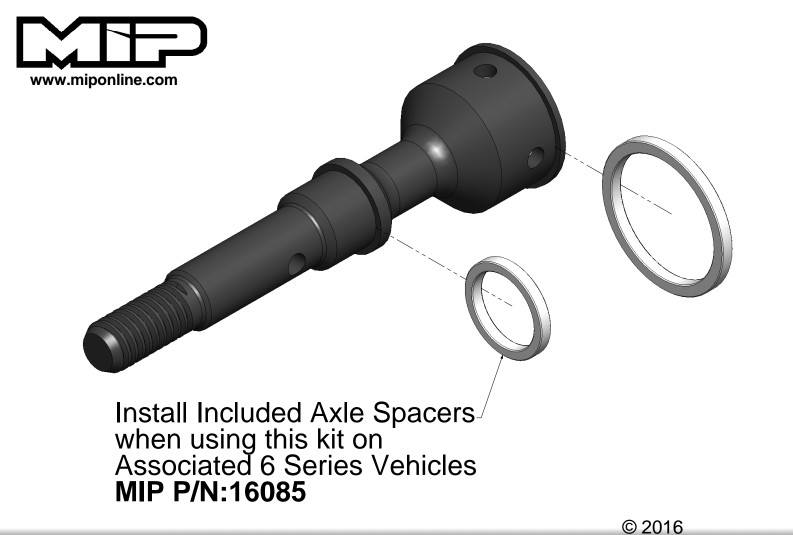 Also, if you already have a MIP diff system in your B5 and you want to use it in the new B6, MIP does offer a shim kit that will allow you to install it into the newer car. Read below.

MIP Pucks/Rollers Spacer Conversion Kit For AE B5 To B6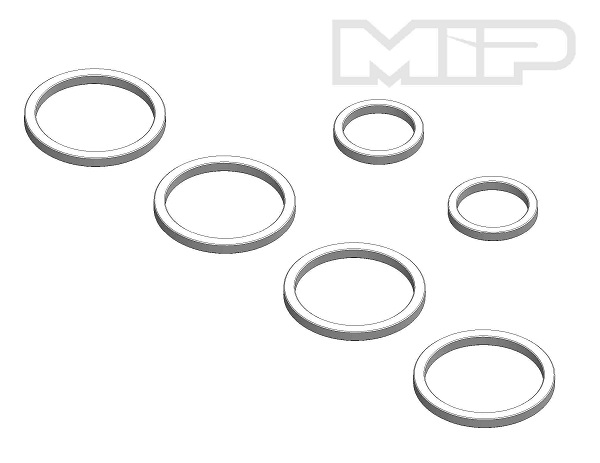 The Team Associated B6/B6D is all the rage right now, but there are still so many customers that have an MIP B5 Puck™/Roller kit (soon going to B6), so it would be a shame for those kits to now become obsolete; fortunately MIP has a quick, easy, and inexpensive solution for you. Introducing #16085 MIP Spacer Conversion Kit, this pack includes a total of six – 7075 Aluminum spacers to effectively transform your MIP B5 Puck™/Roller kit into a B6 kit instantly, so for less than 10 dollars this kit is truly a no brainier! For all the customers out there that do not have a B5 MIP Puck™ kit, simply pick up our new #16080 MIP Pucks™ 17.5 Drive System or soon to be release #16060 MIP Roller Pucks™, Bi-Metal Drive System for AE B6/B5 (end of July). These kits will work for both your new B6 and if you have hankering to trick out your B5, it will also work for it as well. Buy MIP, Go 100% USA!
Includes:
MIP Confetti Sticker (1), MIP Supplement Inst (1), MIP Inst Sheet (1), 10x12x1mm MIP Diff Spacer (4), 6x8x1mm MIP Axle Spacer (2)
Compatibility:
Team Associated B5/B6 vehicles
#16085 – $9.00