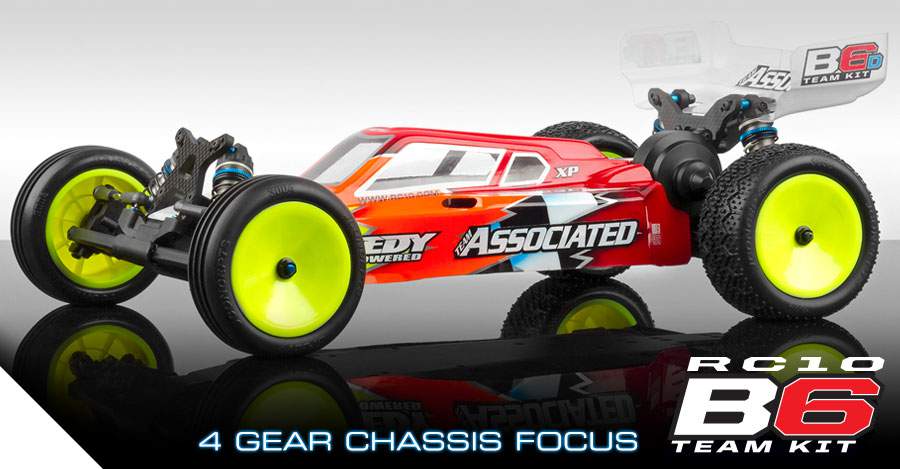 This Factory Spotlight highlights the versatility of the B6D platform and features the body of Team Associated Engineer and Team Driver, Kody Numedahl. The car has been configured with the optional 4-gear transmission, with the body cut out to suit that application. With such a wide variety of track conditions in today's 2WD off-road racing, having the options to change motor configurations is key. Throughout this spotlight we'll highlight some of the features the team uses when maximum rear grip is desired.

Items required to convert a 3-gear standup to a 4-gear:
- #91711 Gear cover, x1
- #91714 Motor Plate, x1
- #91707 Gear Box, x1
- #91132 Idler Shaft, x1
- #91717 Idler Gear (29T), x1
- #91560 FT Bearings, 5x10x4 mm, x1
Front End
The B6D kit standard setup is with the spindles in the 0 height location. When changing this location, a bump steer washer adjustment is required. When the spindle is all the way down like in the image shown here, 2mm of bump steer washers are required. Through our testing, the team has found that for every 1mm the spindle is raised, 1/2mm of bump steer washers need to be removed. To get this fine adjustment, the team uses #4617 Front Bulkhead Shims that come with 1/2mm, 1mm and 2mm washers.

Learn More:
- #4617 Front Bulkhead Shims

Rear End
For the most part, when 4-gear transmissions are used the track is outdoors and has less grip than indoor clay tracks. A good choice for these loose and loamy conditions is the JConcepts 3D in green compound. Additionally, due to the exposed elements in outdoor racing, using theti-nitride coated shock shafts is applicable. This reduces the chance of contaminants corroding the shocks. Speaking of shocks, this car has the optional #91666 Long Rear Shock Tower and #91482 31mm Shock Bodies installed. This creates more volume for the shock to absorb the rough conditions that are usually seen in outdoor racing. However, it does raise the center of gravity, which can increase the potential of traction rolling.

Learn More!
- #91482 12x31mm V2 Shock Bodies
- #91666 B6 Rear Shock Tower (Long)
- #91615 3x21mm Shock Shafts (V2), TiN
- #91619 3x27.5mm Shock Shafts (V2), TiN
Inside Front End
A traditional ribbed front tire frames this photo featuring the inside of the B6D. Looking closely you'll see that use of the plastic steering rack, bellcrank and servo horn. This combo provides a neutral steering feel that absorbs some of the inconsistencies in the track that the car has to absorb.

Learn More:
- #91667 B6 Steering Assembly
- #9180 Servo Horns, molded
Inside Rear End
Here you can really see the detail of the 4-gear transmission. With the additional idler gear stacked at the very top of the transmission case, the motor is moved as close to the rear axle as possible. The second idler gear also changes the direction of the whole drivetrain, which is why the motor is now on the opposite side of the car as compared to a 3-gear transmission. The gyroscopic effect of the motor in this configuration also aids in controlling weight movement to promote more rear-end grip.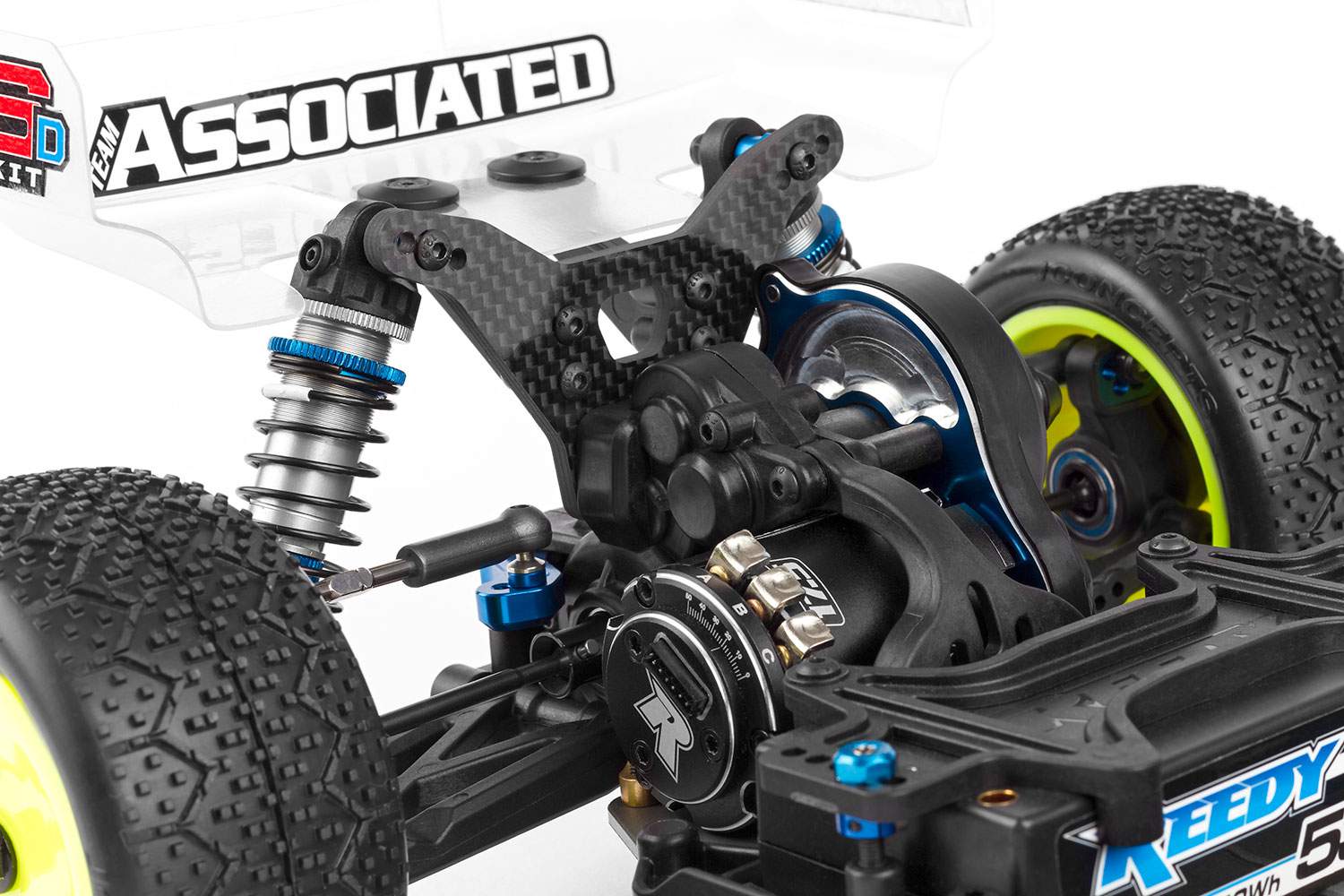 Main Chassis
This view really highlights how far back the weight can get in either of the stand-up configurations. Having the weight centered over the rear axle promotes more rear grip, which is usually key in lower grip track conditions. Additionally, removing weight from the front end helps the front end "skip" over the bumps, so you'll notice none of the chassis weight inserts are installed and a plastic front bulkhead is used.

Learn More:
- #91656 B6 Bulkhead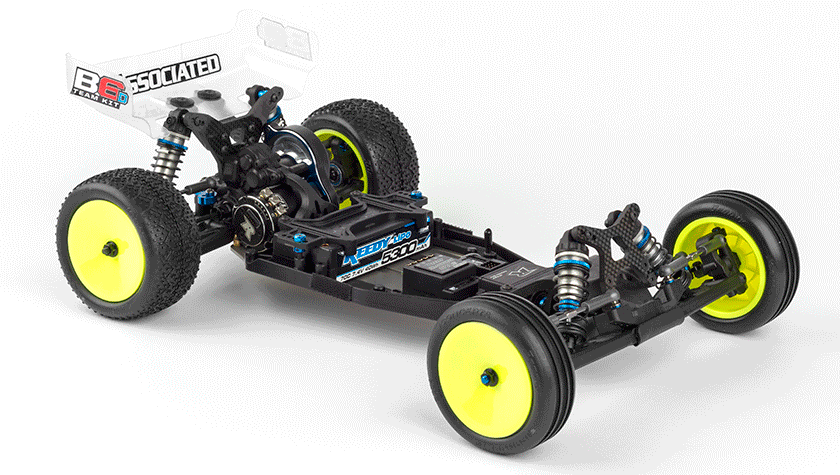 Body, Wing, and Tires
With three transmission options offered for the B6 platform, racers just choose the appropriate trim lines that will fit the kit body to the 4-gear transmission option. The body fits nice and tight to keep the elements out while protecting the key components inside. Most outdoor events still utilize ribbed front tires and a spikey rear tire to cut through the combination of loose top soil, hard packed clay and everything in between.