It has been rightfully called "miniature Formula 1" and has proven to be a class at the pinnacle of RC car racing. Fractions of a second separate the world's best 1/12 pancar drivers. With simpler designs compared to larger touring cars, attention to detail is paramount, and XRAY is second to none in its evolution of a small, agile, and super-fast car that is destined for the Winners Circle.
To the untrained eye, the new XRAY X12 may at first glance seem a simple and traditional design, but it's upon closer inspect that the details and engineering marvels shine through. With unparalleled experience and innovation in its team, XRAY has achieved a state of pancar perfection with the X12 by focusing on strategically-planned refinements to create a car that is easy to drive, work on, and adjust.
Direct feedback from factory team drivers, as well as customers from around the world, allowed the XRAY factory to turn a concept into reality… this is what we do best at XRAY.
Designed in virtual reality using the world's most sophisticated CAD tools, and manufactured using the world's best machining and molding machinery, the X12 achieves a level of premium perfection in all details that is second to none. All parts are purpose-designed and manufactured by XRAY, so all parts fit and work perfectly together.
In a world where overly-complicated designs hinder rather than enhance, the X12 stands alone and ahead as the best performing out-of-the-box racer.
See it. Feel it. Drive it.
Back-2-Back
Having been with XRAY since I started racing, I know first-hand the total commitment of the entire XRAY team - R&D, racing team, support team, everyone - when it comes to their ongoing dedication to continually improve their products and bring the absolute best performance, service, and support to the world. I have won many Junior European titles and XRAY has won many European Championships in other classes, but this year XRAY stands at the top in the 1/12 class again, with the well-deserved achievement of being back-to-back European Champions. I thank XRAY for their belief in me, and the support they have given me. I am very proud to bring home these victories for our team.
When I won the first EC title in Scandiano, Italy in 2014, I was happy to get acknowledgement for the hard work that we had put into the development of the X12 platform. What made me even more proud was to repeat this success and to bring home the European Champion title again at the recent 2015 European Championship that was held in my home court, the Hudy Racing Arena. Step by step we have refined this car, and as we come closer to perfection, the new updates certainly contribute to that vision.
I am happy to present to you the all-new X12 – a result of the dedication and hard work of the entire XRAY team to bring performance and reliability to a pinnacle. The new X12 showcases all our latest developments, refinements, and experiences wrapped up in a back-to-back European Championship winning platform. Let the new X12 take you to the front of the pack and the top of the podium!
ALEXANDER HAGBERG
EUROPEAN CHAMPION 2014 & 2015
Winning Heritage.
Team XRAY continues its winning streak at major international & national races all around the world! Just recently, Team XRAY added another European Champion and USA Champion titles to the already impressive list of achievements, which includes dozens of national titles from around the world, from the USA National Championship, and multiple wins at other famous races such as IIC, Snowbirds, and many others. Be part of one of the most successful racing teams in the world!
XRAY X12 Platform.
Legendary XRAY premium design, workmanship & material quality and unmatched attention to the finest details result in a state of perfection achieved by well thought-out refinements to create a car that is easy to drive, work on, and adjust.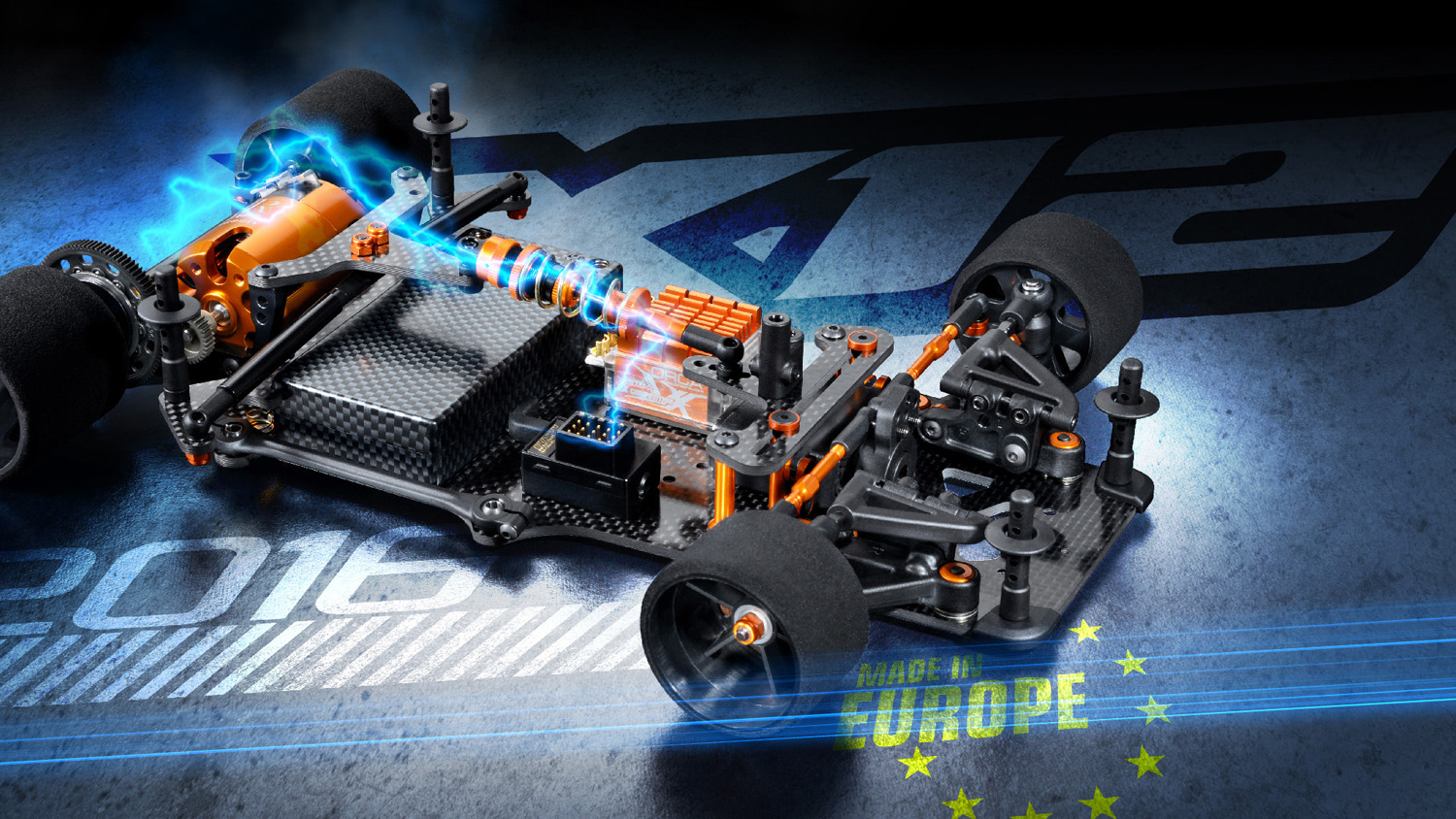 From unique HUDY Spring Steel™, through the world's strongest Swiss 7075 T6 aluminum, along with XRAY's own secret composite mixtures, to the premium high grade graphite materials… everything is exclusive and premium on the X12. Using premium European exclusive materials crafted by XRAY's engineering artists using the state of the art German, Italian, and Swiss CNC machines, the X12 is a blend of only the world's finest.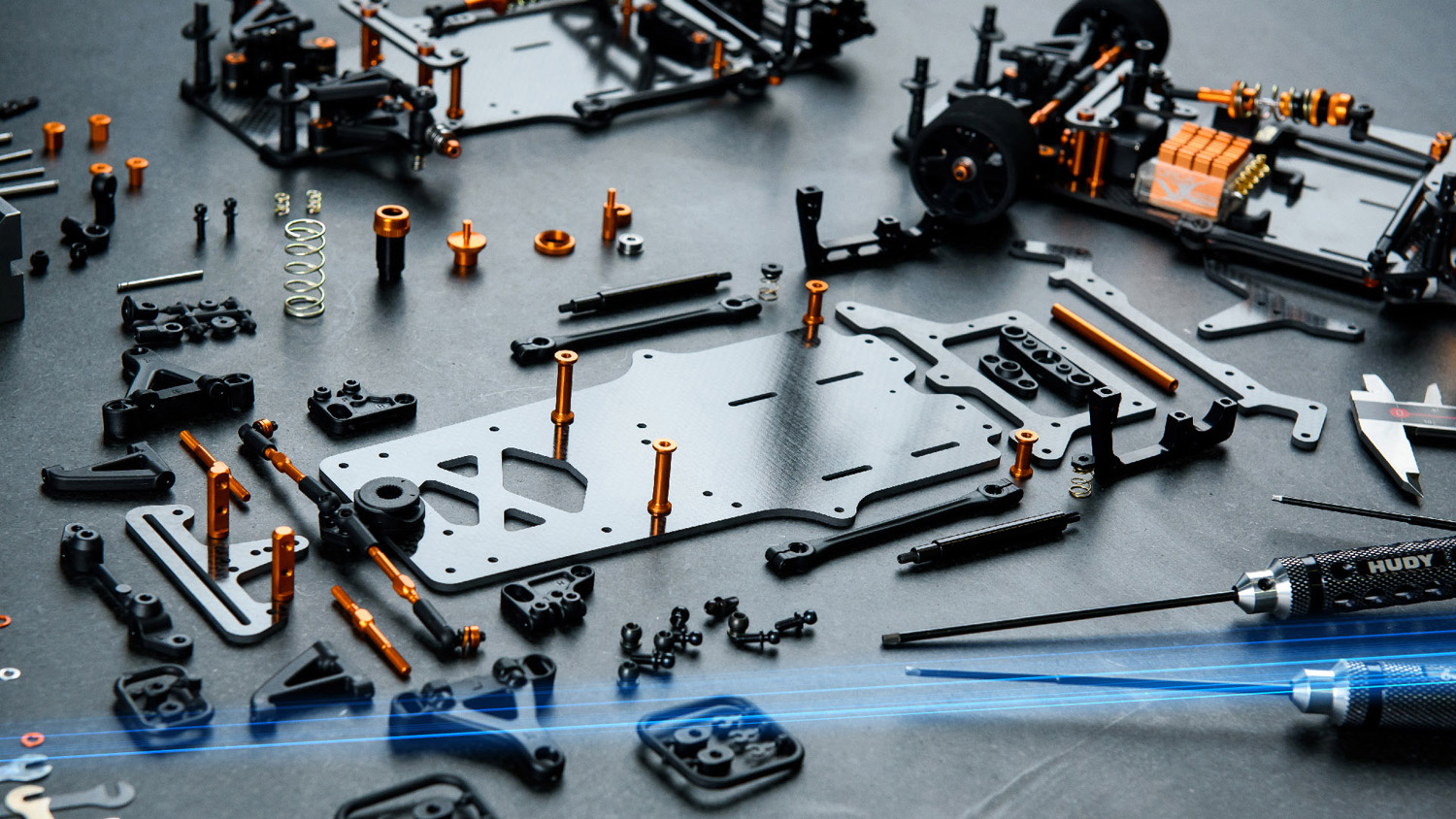 2016 All-New

All-new chassis
All-new chassis flex
All-new optimized pod link positions
All-new rear pod plate
All-new adjustable servo system
All-new floating servo mount
All-new weight balance adjustment
All-new center shock position adjustment
All-new rear bulkhead
All-new rear bulkhead upper clamps
All-new ultra-low CG of rear suspension
All-new lighter rear bulkhead brace
All-new adjustable rear ride height
All-new ride height adjustment shims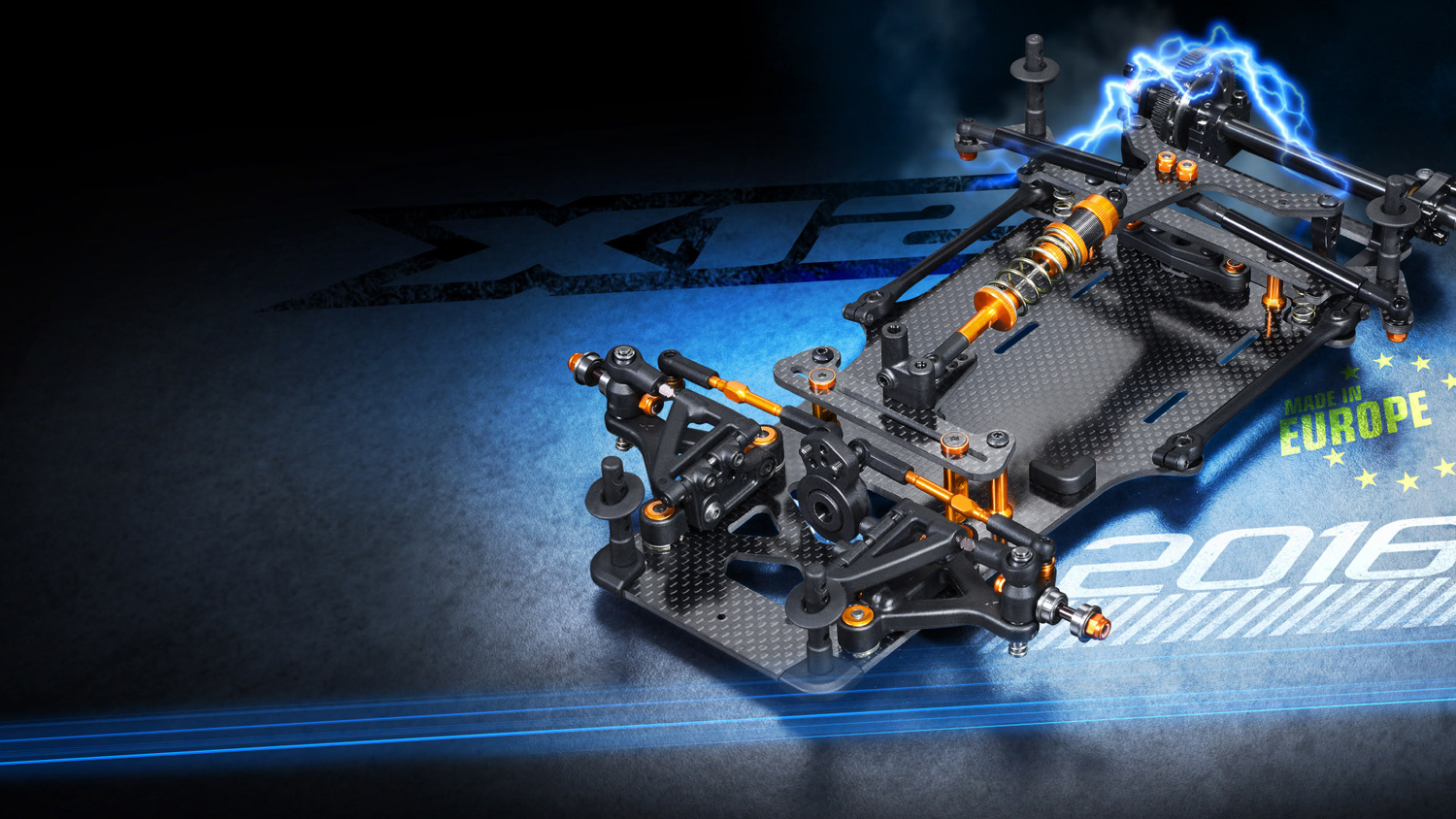 Chassis.

The new chassis was updated to fit the new fully-adjustable servo mount. The front chassis cutouts were updated to allow for increased chassis flex, allowing the car to generate more traction. The rear of the chassis features wider positions for the pod links, helping to increase the stability of the car. Additional chassis features include holes for composite battery backstops to eliminate battery movement when inline battery alignment is used.

CNC-machined from custom-manufactured 2.5mm high-grade graphite material with a specially-designed compound for carpet racing and asphalt racing, the X12 handles ideally on either indoor or outdoor tracks, on either carpet or asphalt.

The chassis is the central backbone of the car. All main components attach to the rear pod suspension, which is directly connected via chassis links.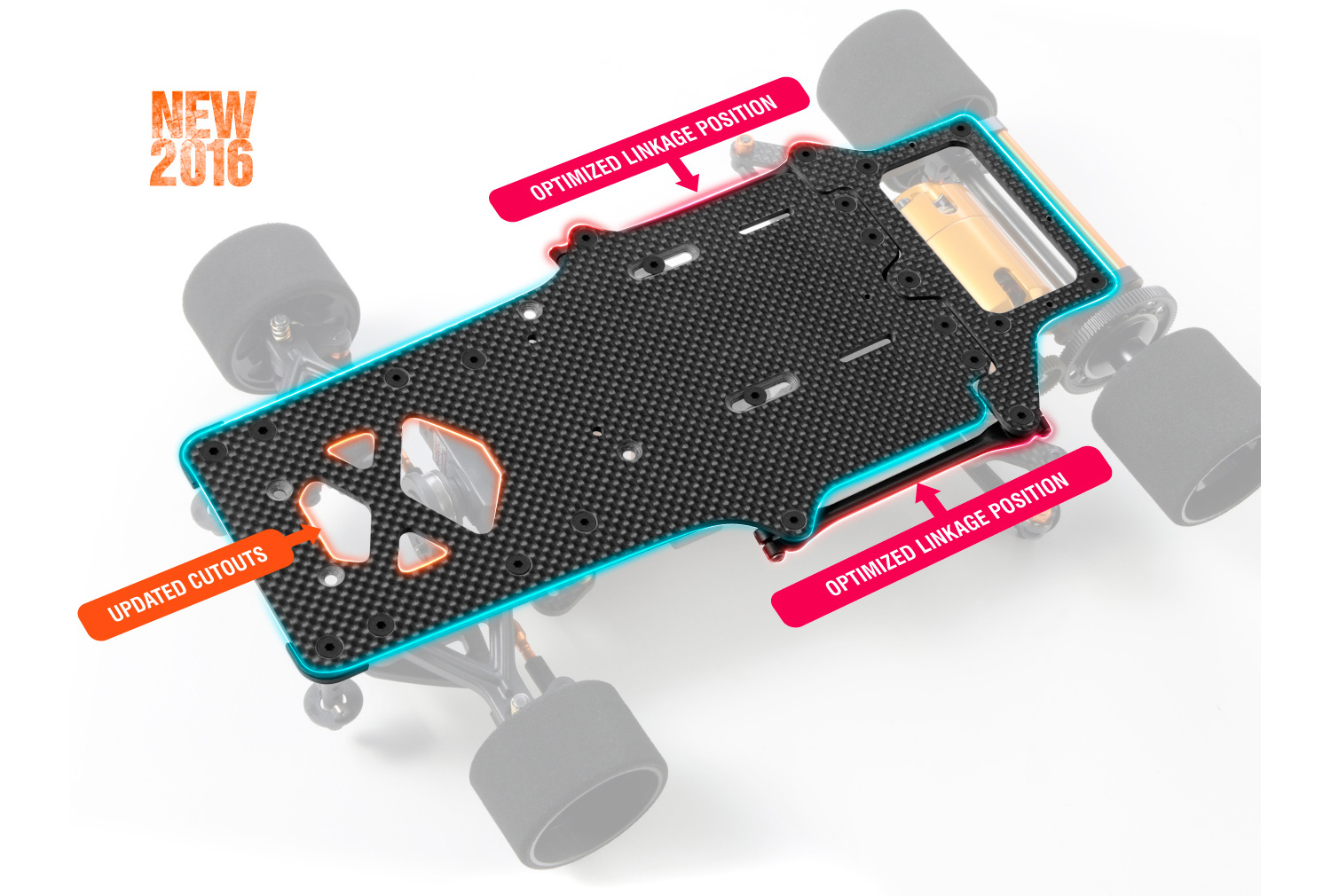 Pod Plate.

The entire rear suspension is mounted on a premium-quality graphite pod plate that works independently of the chassis. The design of the new pod plate was updated to work with the new aluminum rear bulkheads, as well as setting the rear pod links wider for more stability.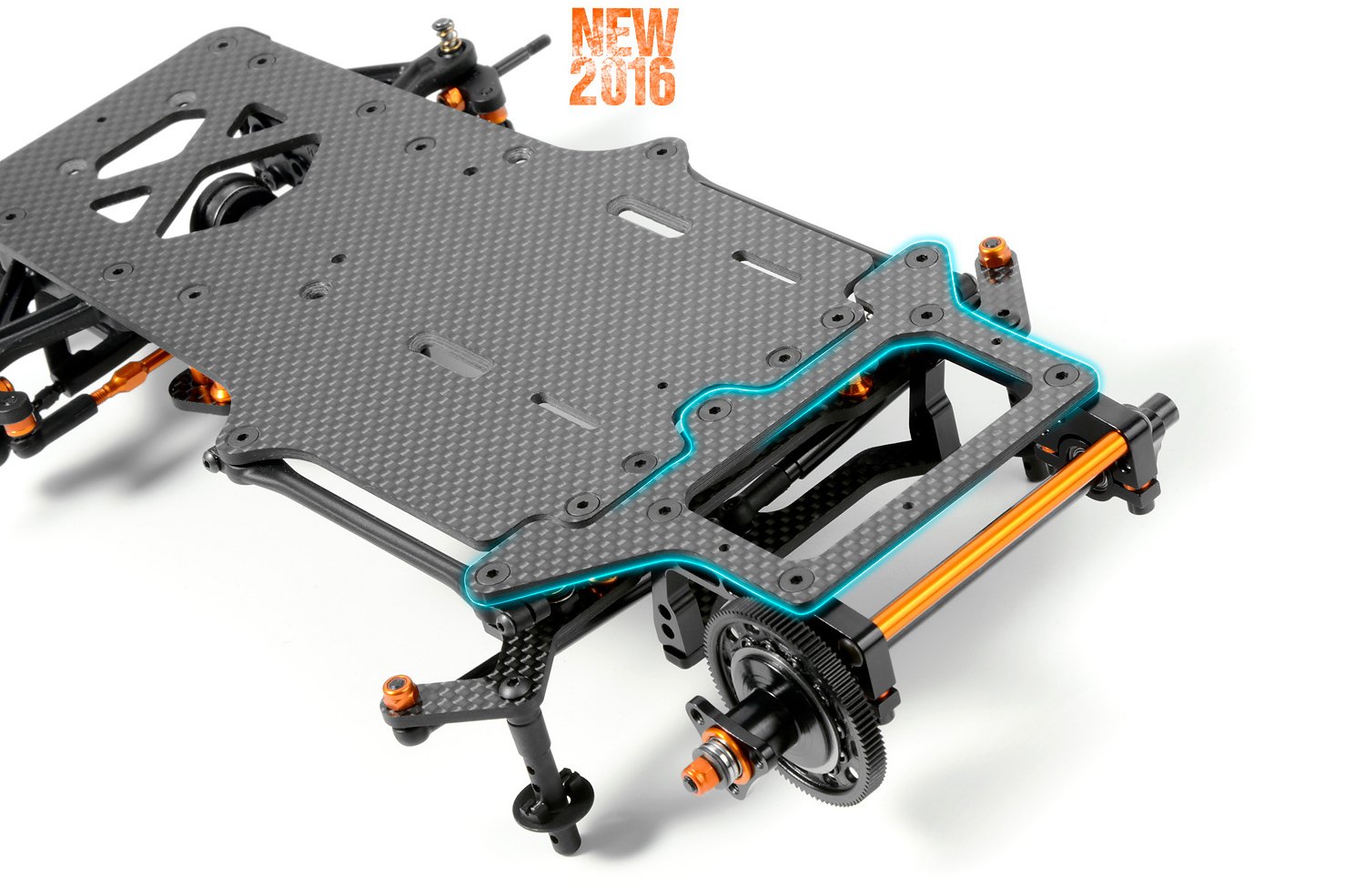 Servo Mount.

New unique & innovative fully-adjustable servo mount allows easy adjustment of the servo position. The servo is attached to independent mounts that are inserted in a groove on the front upper plate. Depending on the size of your servo, you can now easily install and adjust the servo and its position to the center of the chassis. By changing the orientation of the servo, you can adjust the weight balance of the car.

The floating servo does not touch the chassis, so it eliminates unwanted tweak and also allows you to adjust any servo to the centerline of the chassis. Smart and easy.

The optimal position of the servo depends on the weight of the electronics. If the car is heavier on the right side, a left-side servo position is used… and vice versa.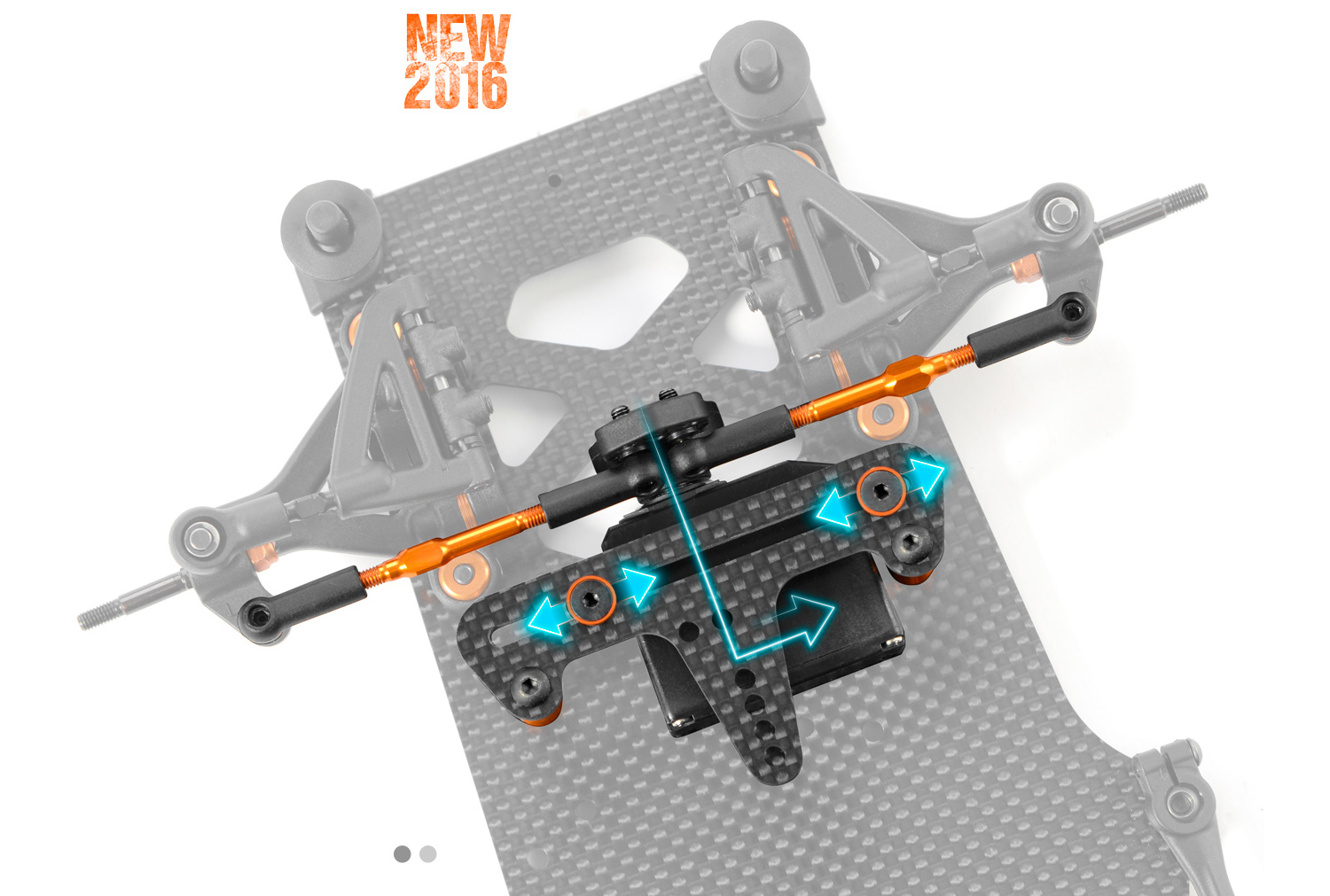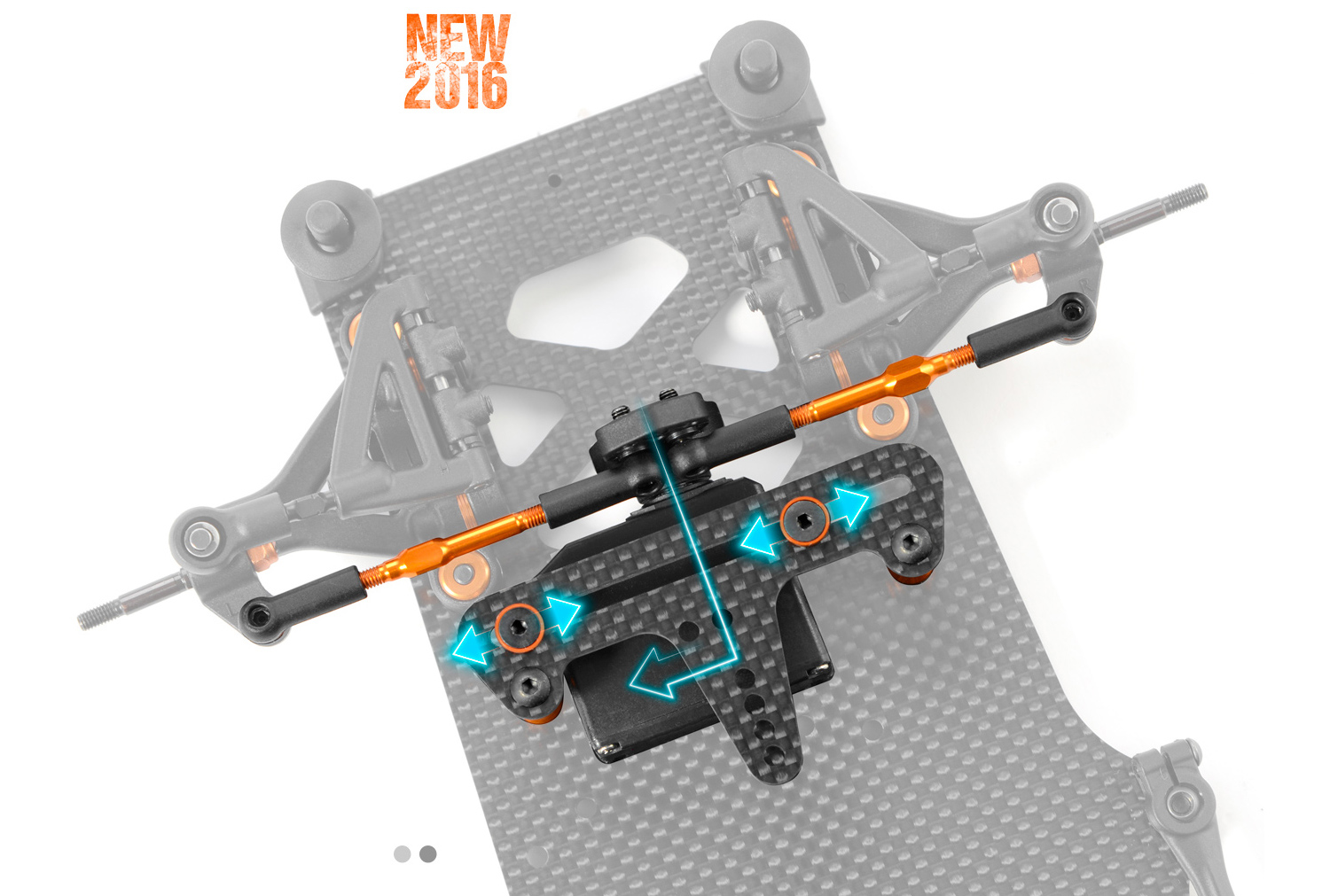 Center Shock Position Adjustment.

New unique & innovative center shock position adjustment allows using various positions on the front upper graphite plate to adjust the shock position and the length of the shock. By using a longer or shorter shock, the damping and steering characteristics can be changed.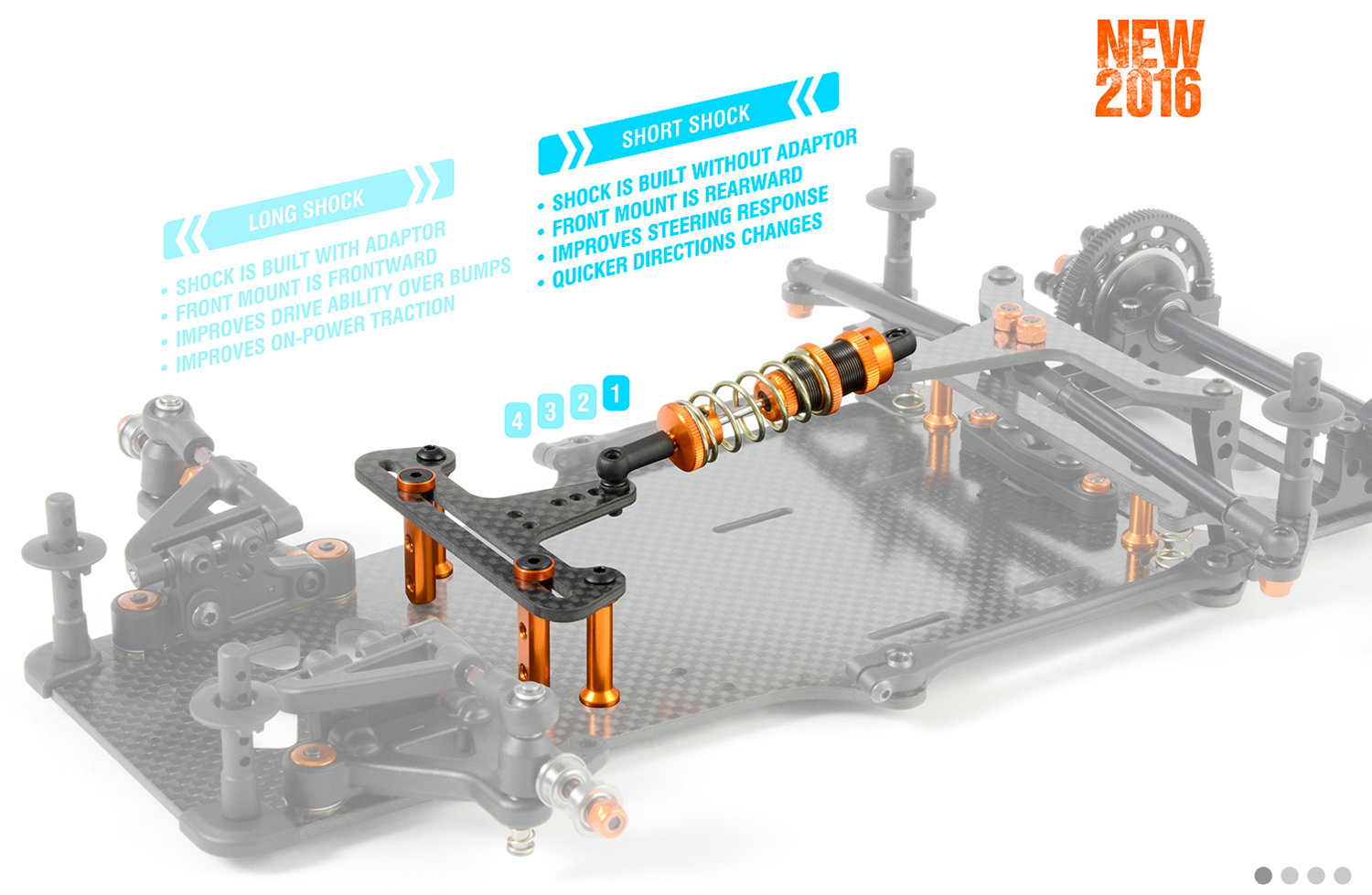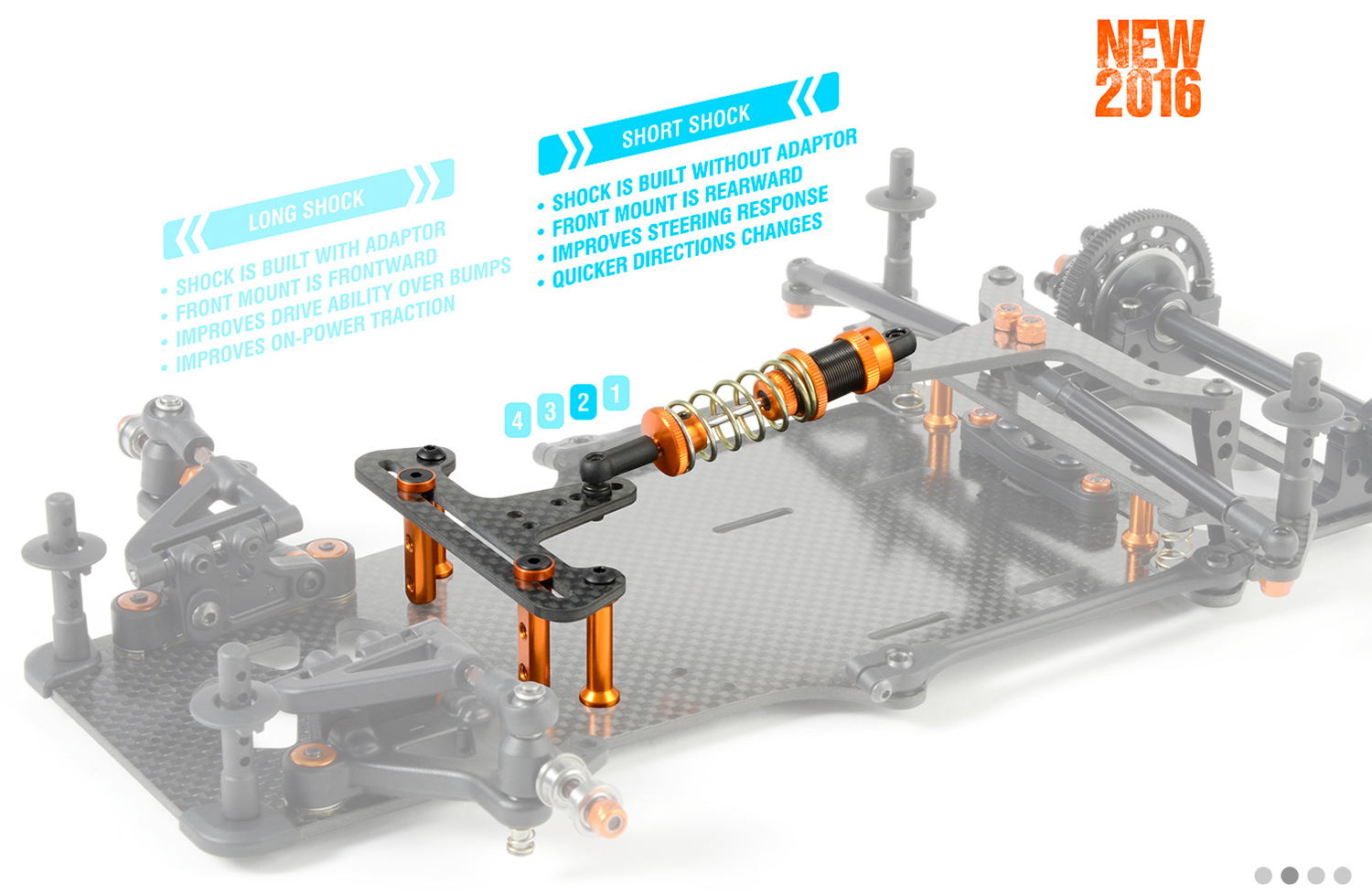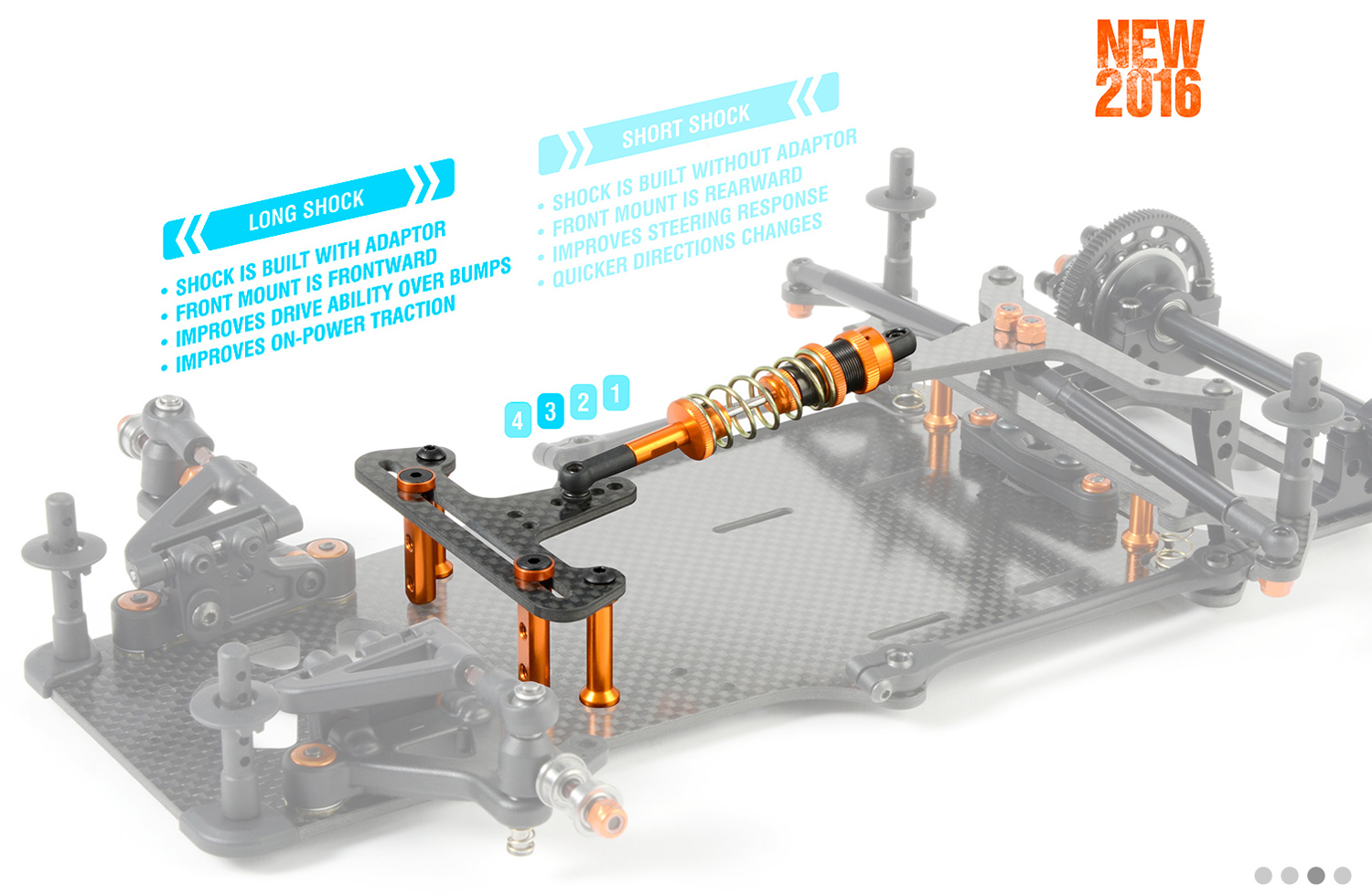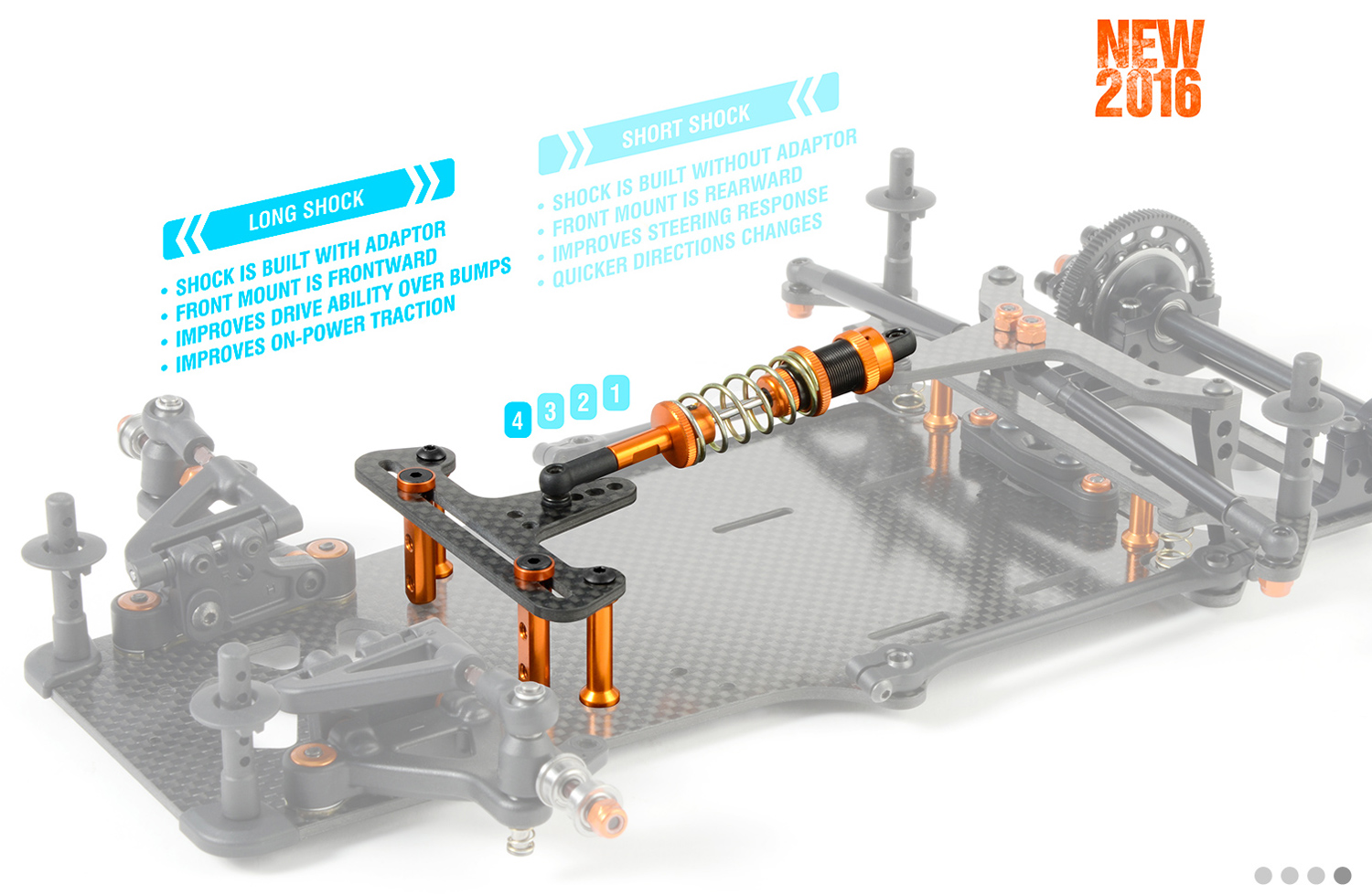 Rear Suspension.

The rear suspension undergone significant changes and improvements including all-new rear pod plate, bulkheads, upper clamps, alu bulkhead brace, rear pod links position and the way how the ride height is adjusted. The conventional rear pod is adjustable via pivot-ball links, providing extremely easy assembly and tuning while being very effective and giving the highest competitive performance.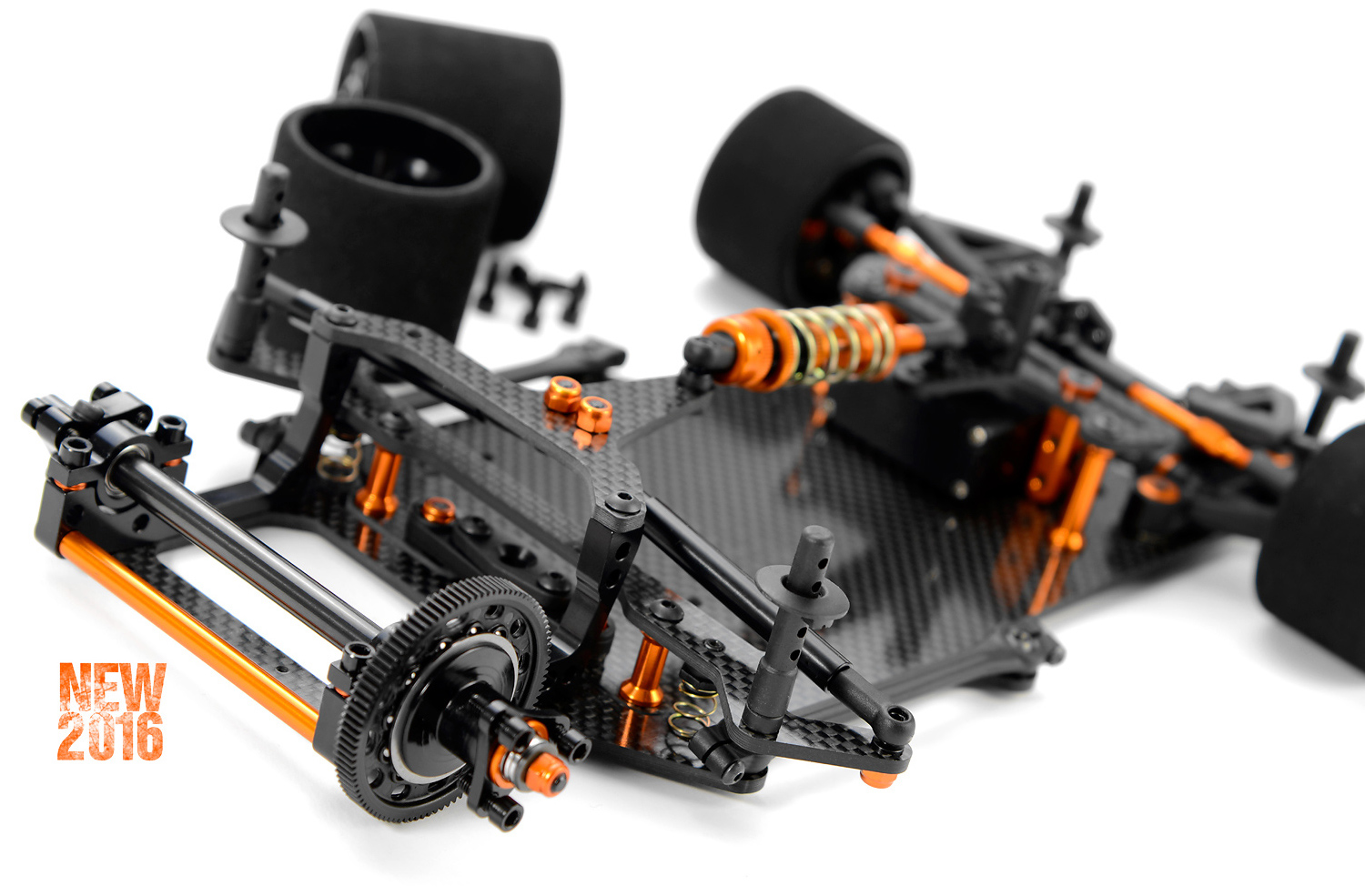 Alu Bulkheads.

All-new unique rear alu bulkheads and all-new rear upper bulkhead clamps allow for ultra-low CG of the rear suspension. The tiny rear bulkheads including the upper bulkhead clamps are significantly lower and lighter, CNC-machined from premium extra-hard Swiss 7075 T6 aluminum and additionally black coated for long life and stylish look.

The rear alu bulkhead brace has a new updated design as well to fit the new bulkheads.
Rear Ride Height.

The all-new alu bulkheads allow for very quick & easy ride height adjustment. No more hassle to dismount the car to change the rear ride height! The included ride height shims are inserted between the bulkhead and upper bulkhead clamp to alter the ride height. Smart & easy.

The new method for ride height adjustment allows ultra-fine adjustment by 0.25mm increments, in comparison to the previous 0.5mm increments using eccentric bushings.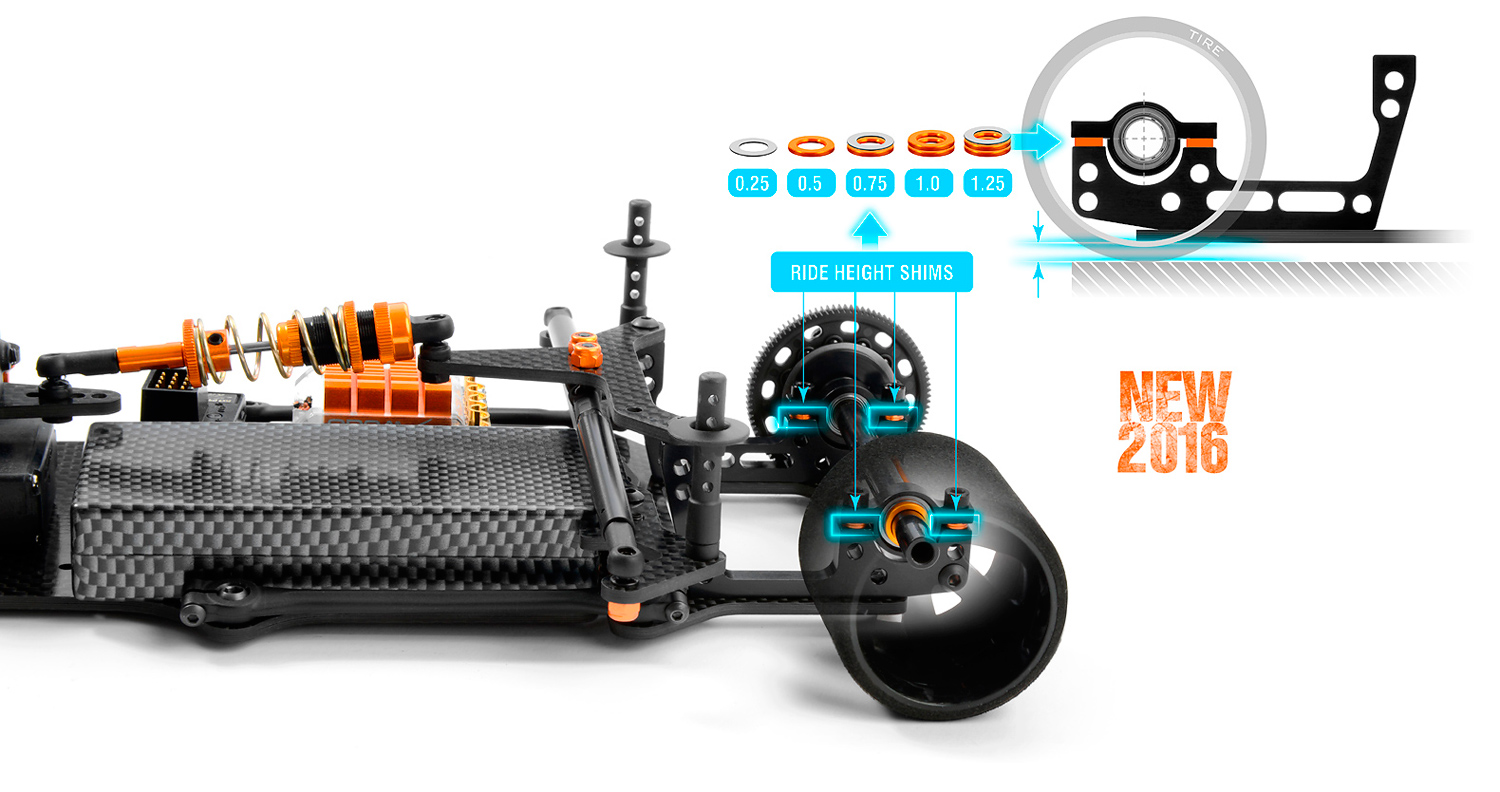 Front Suspension.

Strong, simple, yet refined front suspension made from strong, lightweight, self-developed composite material. Reactive caster settings available using 2.5°, 5.0° or 7.5° eccentric bushings. Tiny yet strong HUDY Spring Steel™ upper pivot balls ensure smooth, bind-free operation, while composite lower pivot balls allow the front suspension to operate even more smoothly. Fast & easy adjustment of front caster, track-width, bump steer, roll center and ride height via included shims and clips.




Steering Block.

Excess play in the steering block was removed to improve steering response.




Kingpins.

Super-smooth, hardened steel kingpins provide the foundation for the front suspension.

Wheel Axles.
Ultra-precise wheel axles CNC-machined from premium HUDY Spring Steel™ are additionally hardened and hand ground for precision fitment.

Adjustable Turnbuckles.
Front upper 3mm adjustable HUDY Spring Steel™ camber turnbuckles are lightweight yet can withstand hard impacts, with precision threading to ensure fine camber adjustment. Steering linkages are made from adjustable 4mm turnbuckles manufactured from lightweight aluminum.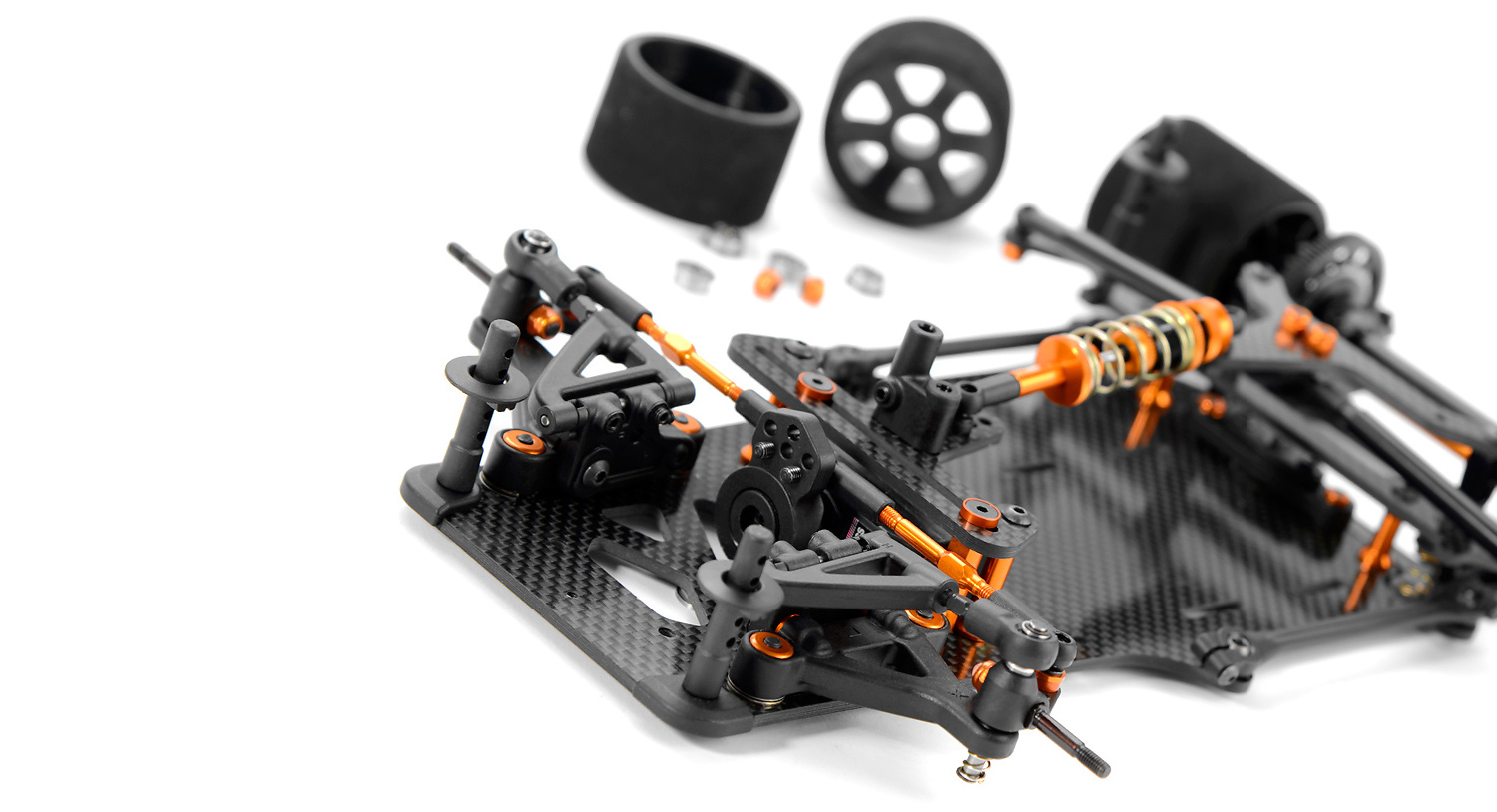 Reactive Caster.

Reactive caster is easily adjustable by using easy-to-change eccentric bushings of 2.5°, 5.0° or 7.5° (included). Reactive caster is used to adjust the amount of caster change when the front end of the car is compressing (diving) or decompressing (rising).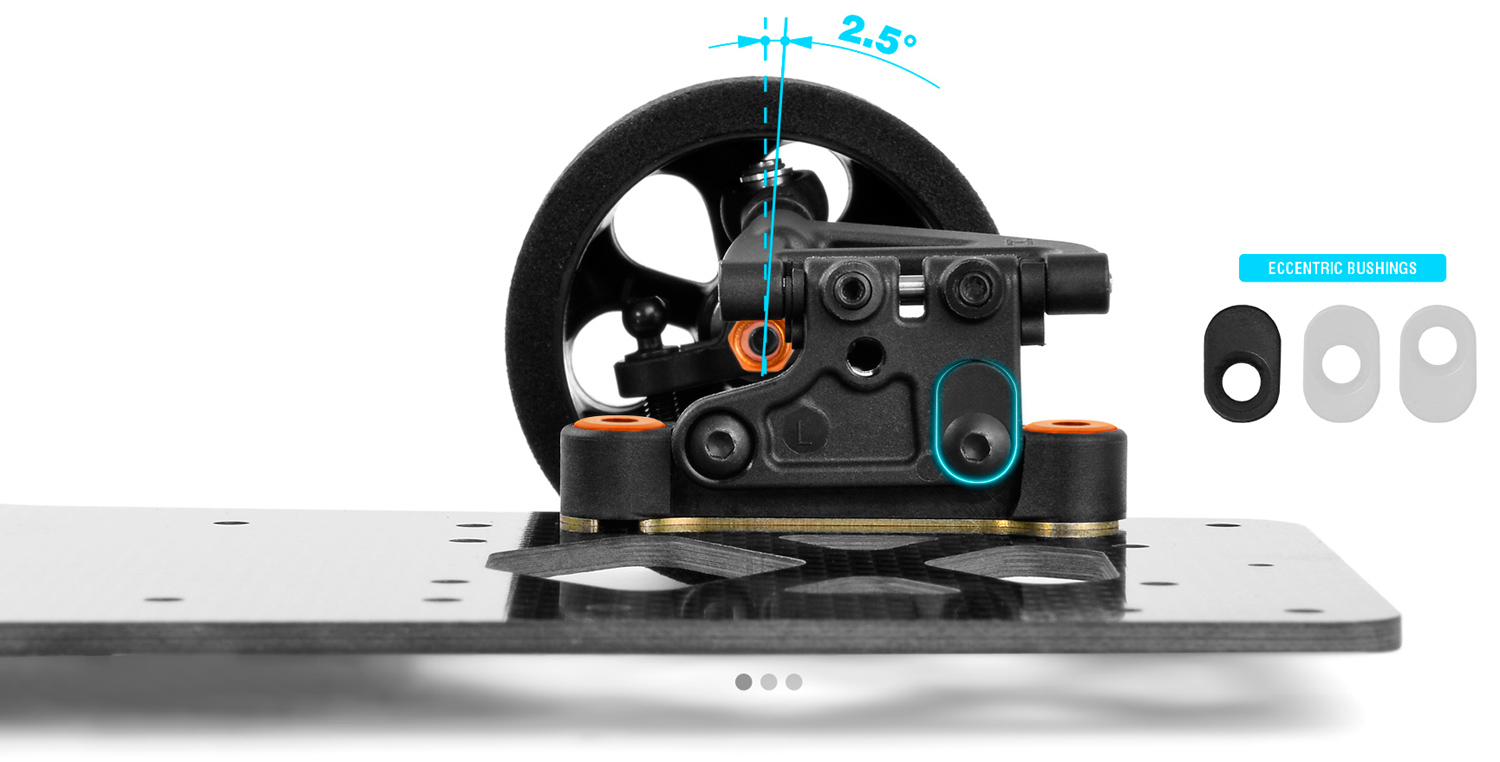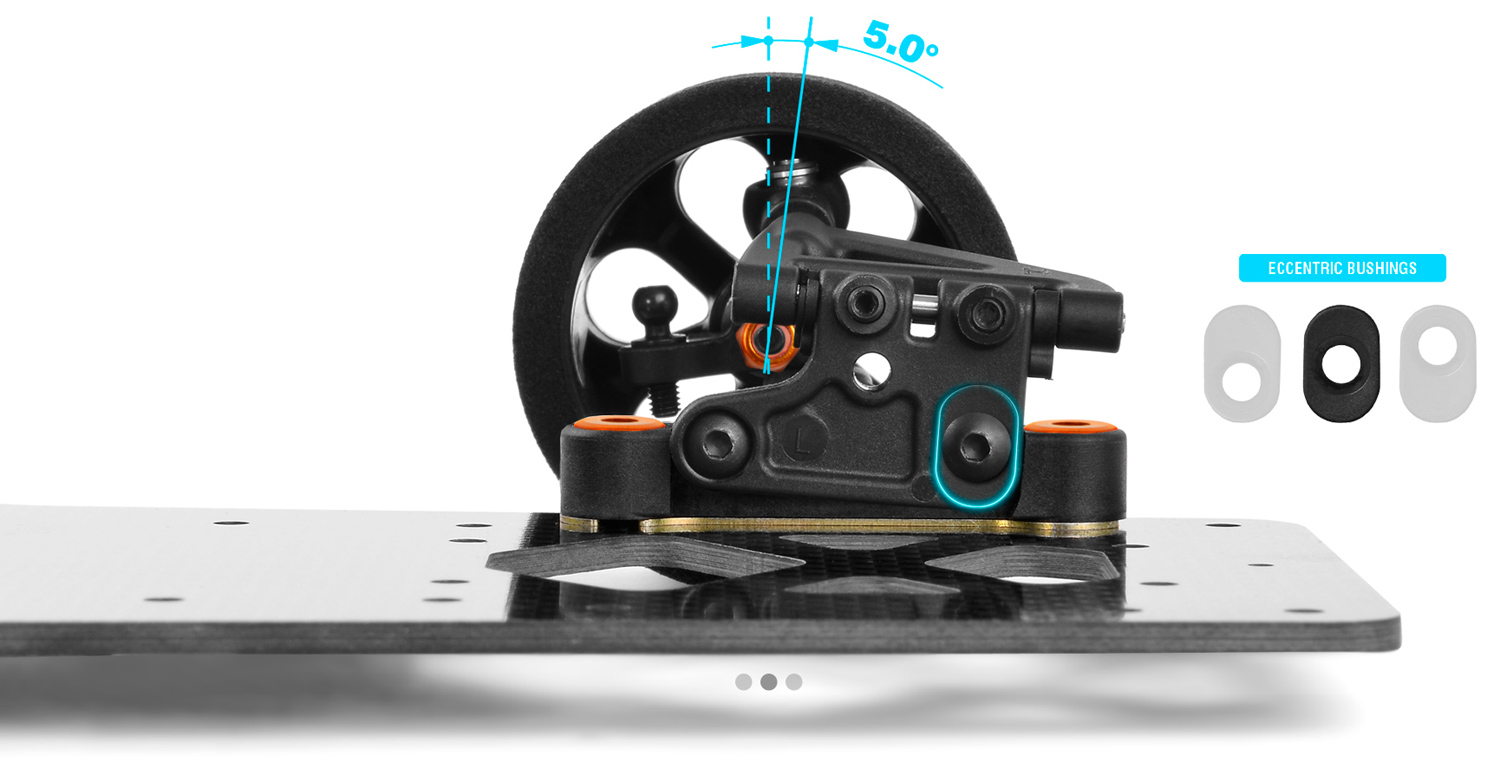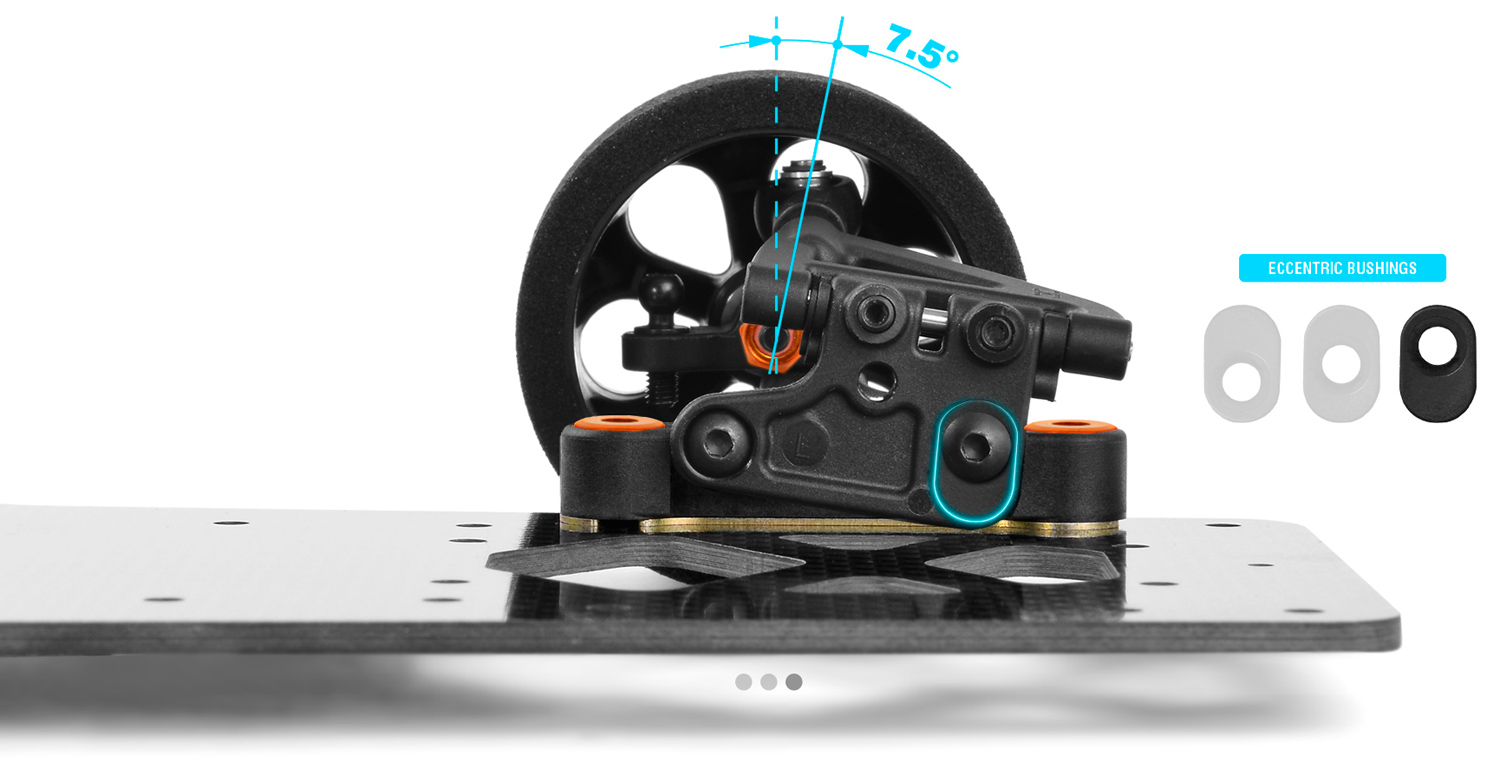 Track-Width Adjustment.

The lower suspension arms feature smart eccentric aluminum inserts which allow quick & easy changing and setting up of track-width depending on track conditions. Optional aluminum 0.5mm and 1.0mm eccentrics are used to set the track-width either narrower or wider.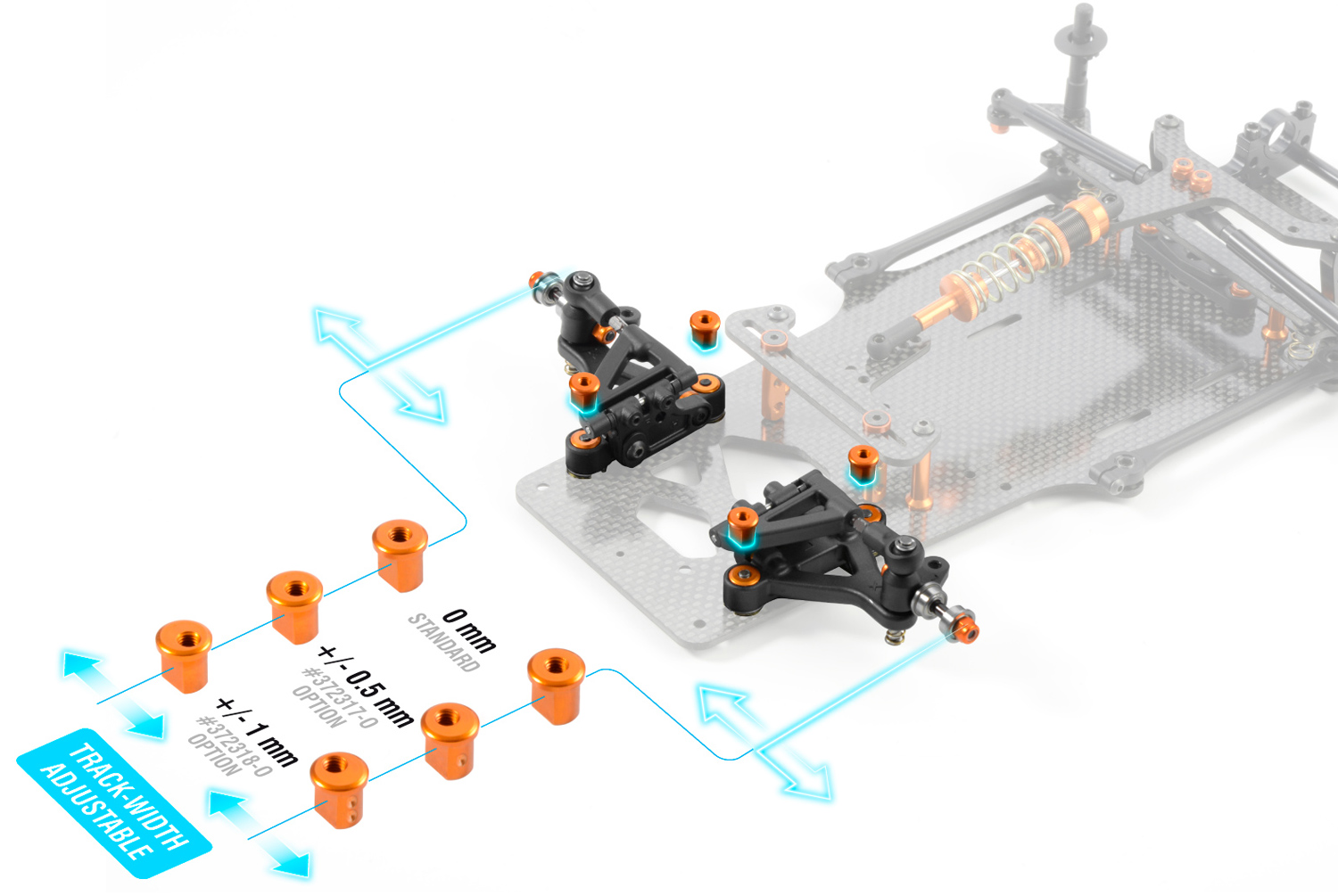 Ride Height Shims.

The front suspension uses ride height adjustment shims for very quick, precise, and hassle-free ride height adjustment depending on track conditions. The set of 0.2, 0.4, and 0.6mm ride height adjustment shims are included for fine tuning.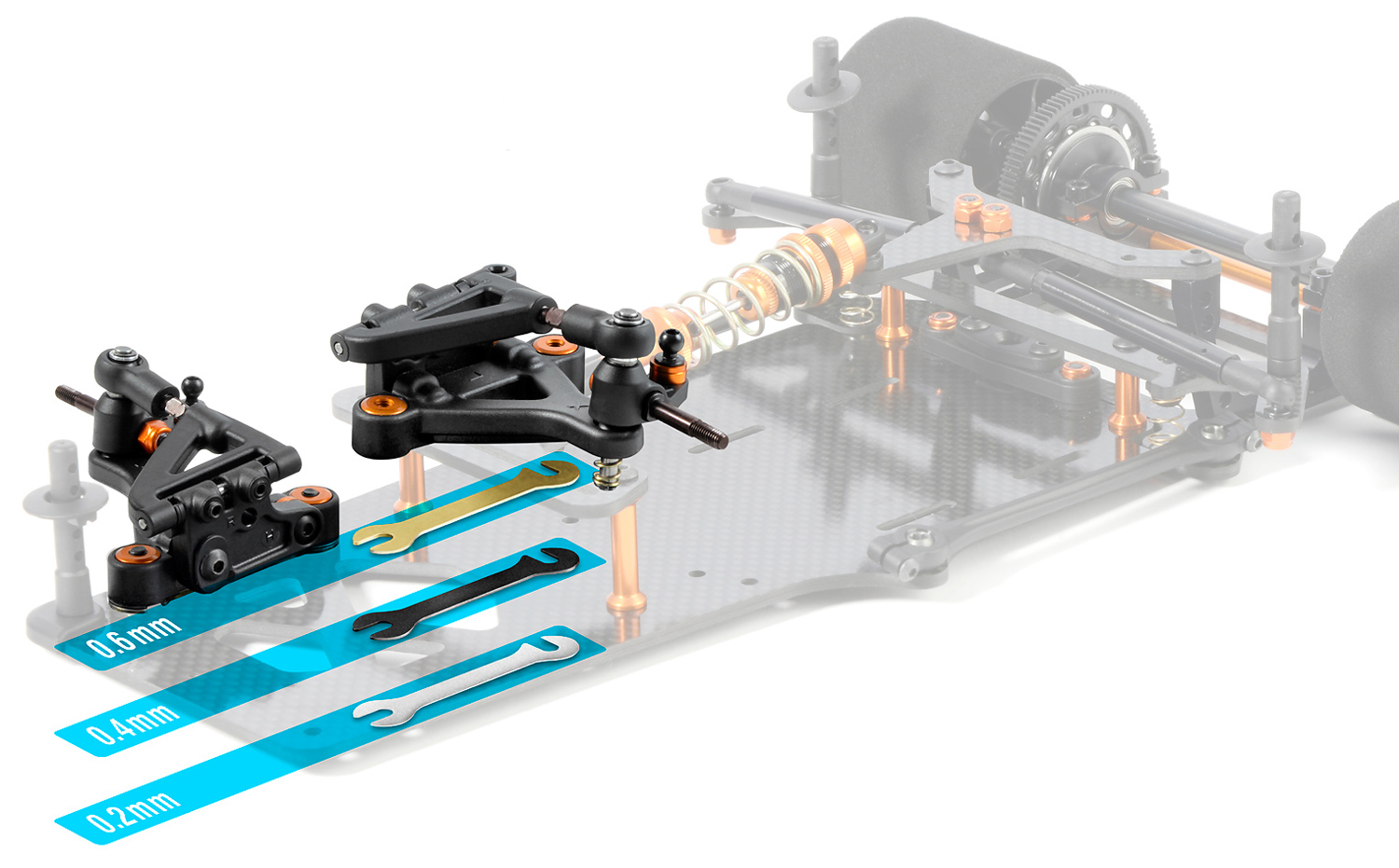 Upper Arm Position Adjustment Shims.

The upper arm shims allow for moving the front upper arm mount together with the upper arm more out from the lower arm, thus generating less camber gain and making the car easier to drive. With more shims, less camber gain is generated, reducing initial steering and giving less "twitchiness."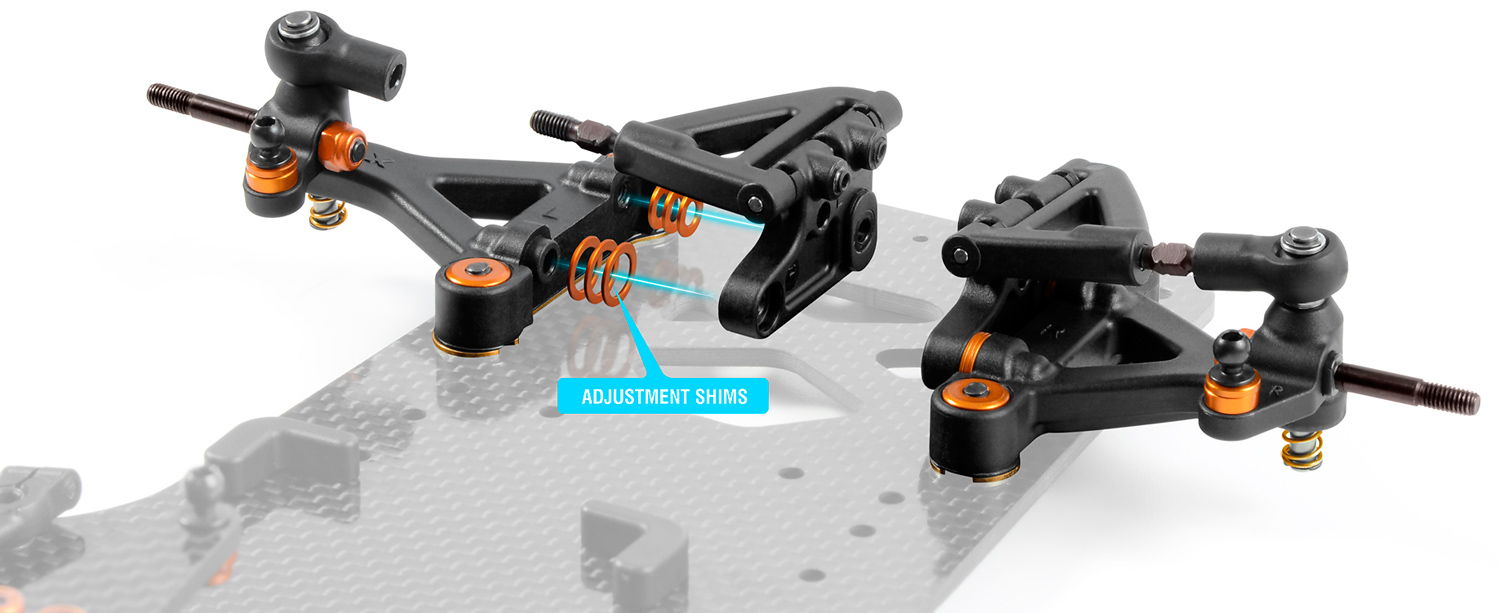 Bump Steer Shims.

3mm shims are included for the steering block to make the car easier to drive under high-traction conditions.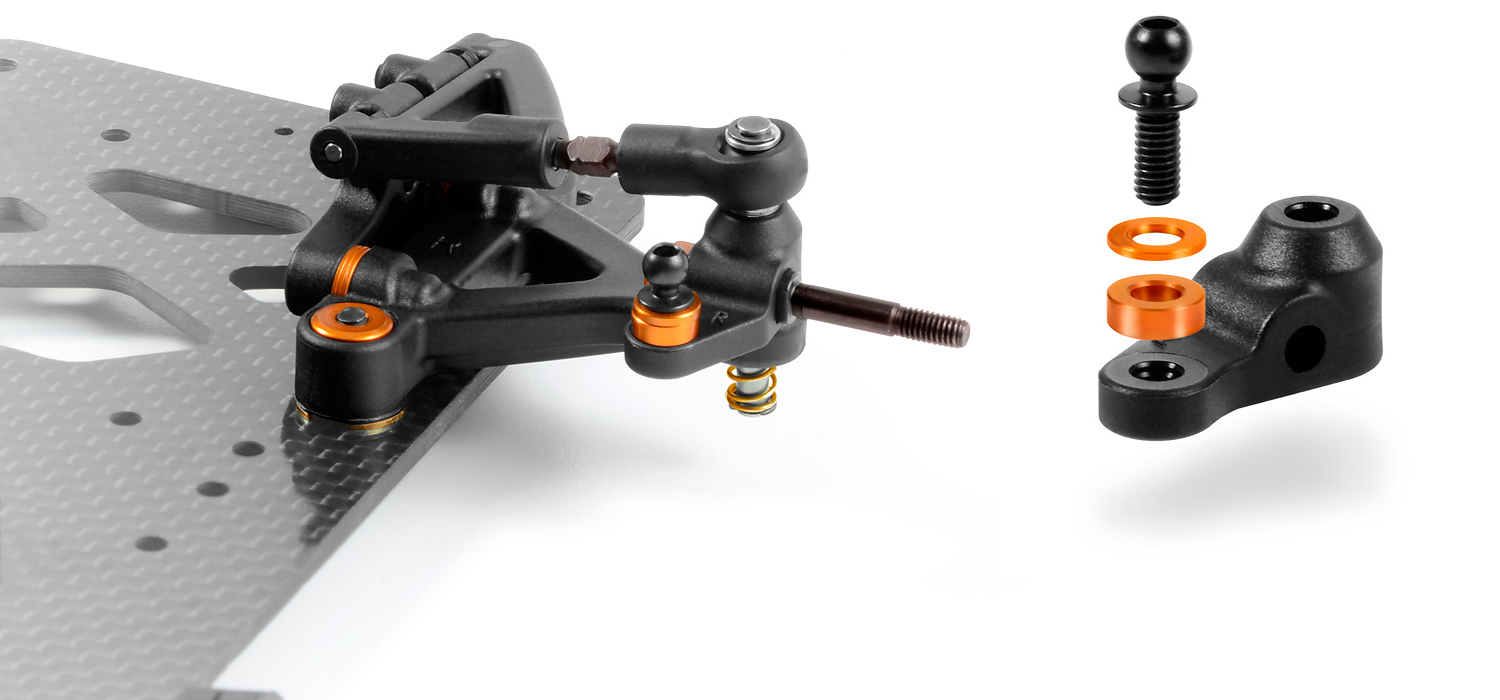 Premium Composite Parts.

All composite parts are manufactured by XRAY using premium self-developed composite mixtures which guarantee sufficient flex of the suspension parts, while being hard enough to withstand hard impacts.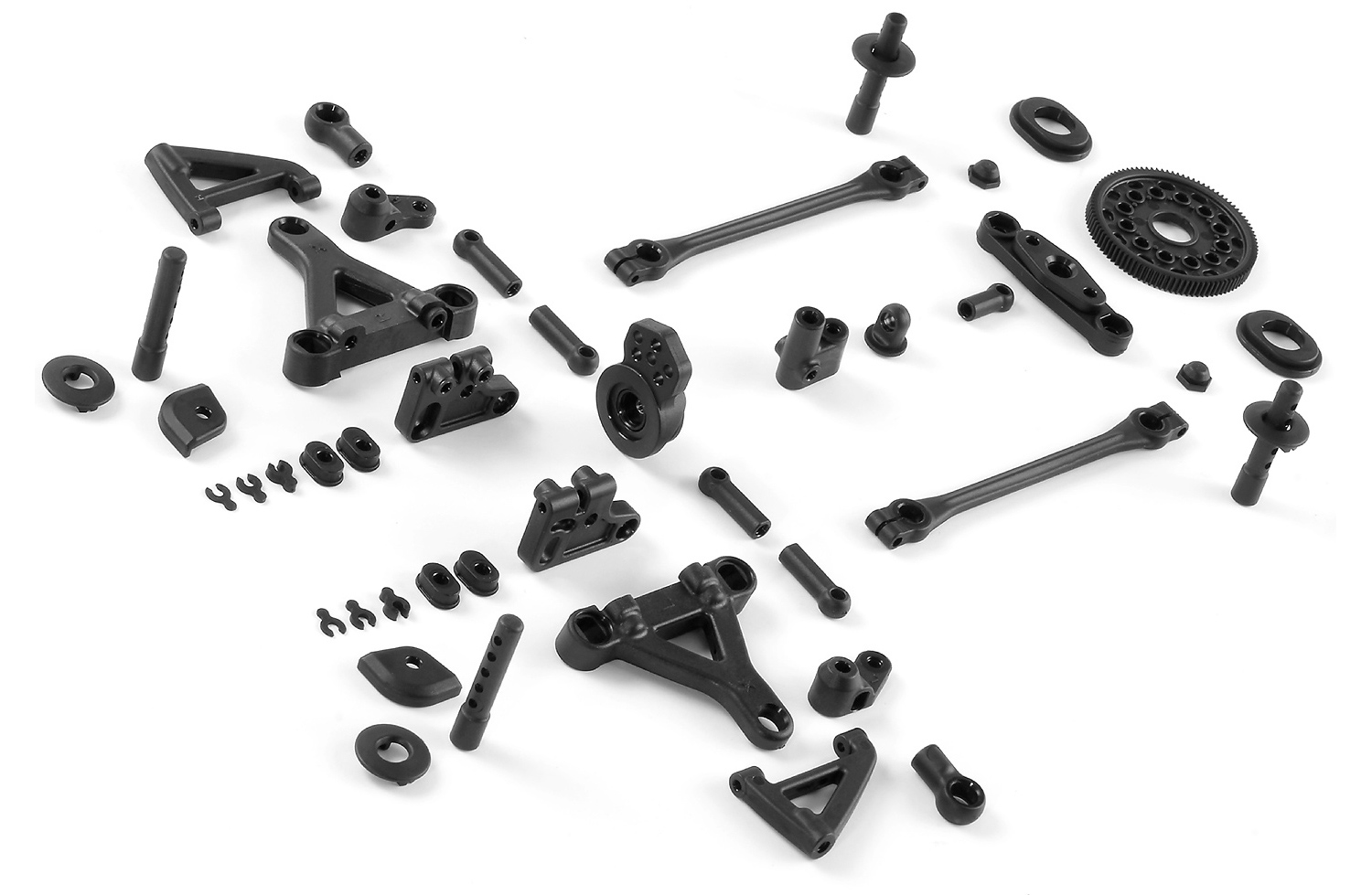 Pivot Balls.

High-precision, HUDY Spring Steel™ upper pivot balls and composite lower pivot balls ensure smooth & precise movement of the front suspension.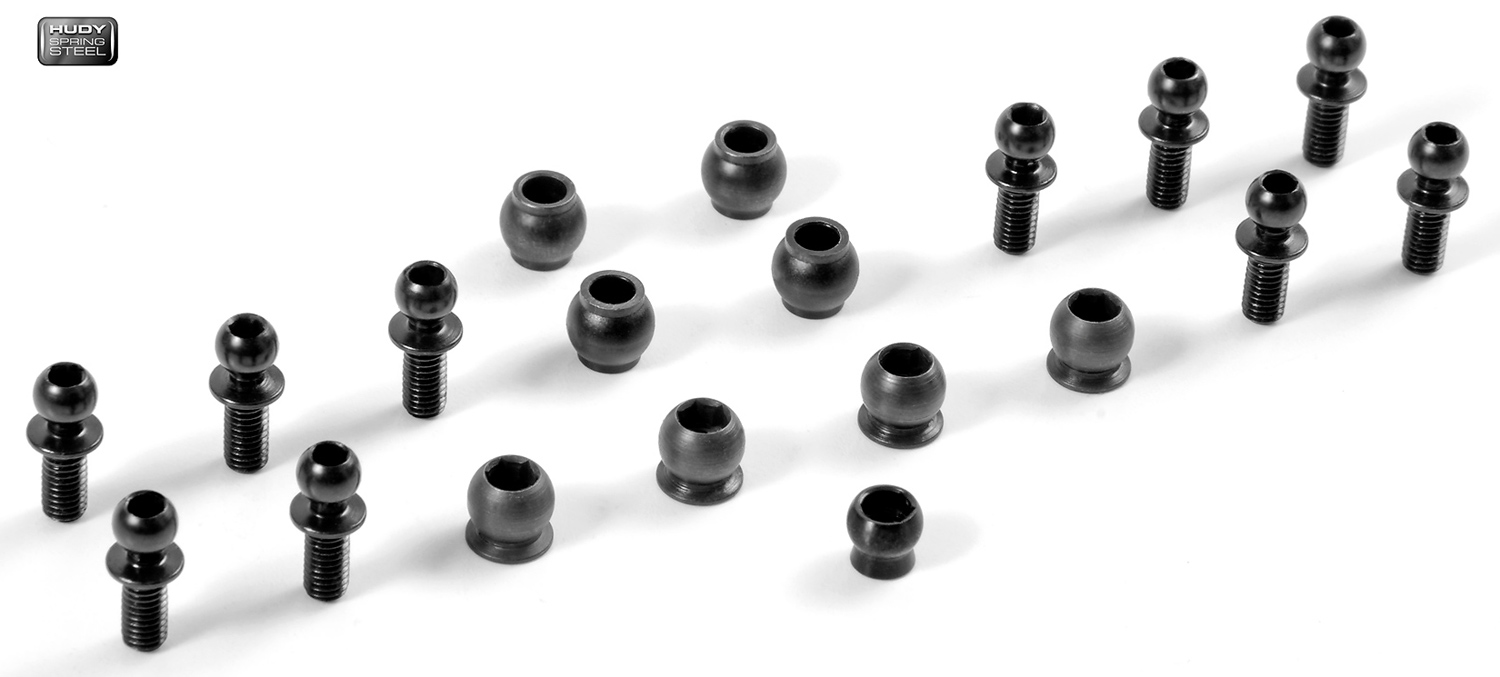 Adjustable Ackermann.

The quick adjustable Ackermann positions can be adjusted by adding/removing shims between the servo and servo mounting posts. The composite shims included in the kit come in three different sizes: 3x6x1, 3x6x2, 3x6x3. Ackermann influences the steering of the car, and therefore it is important to make it an adjustable feature.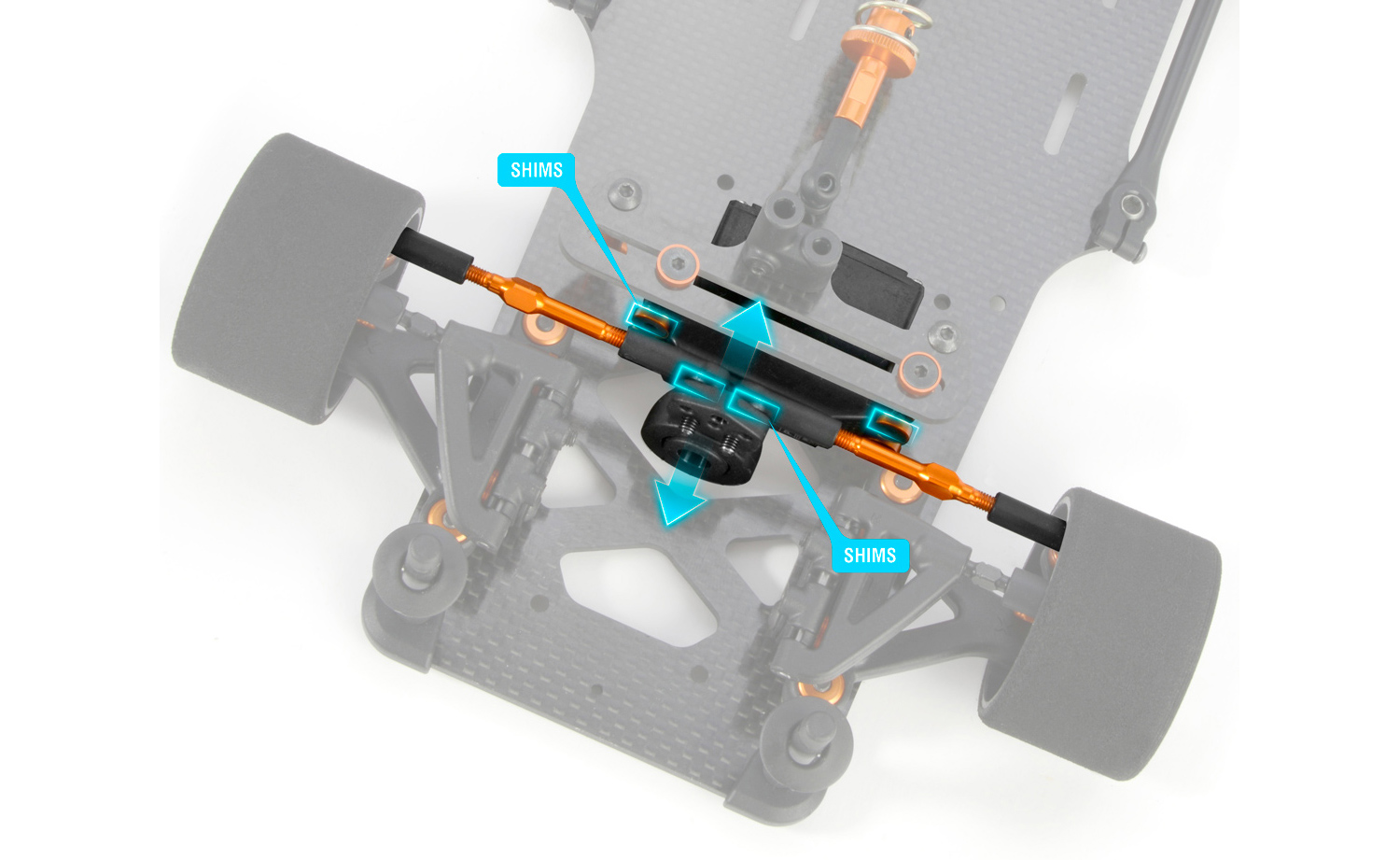 Servo Saver.

Tiny yet robust servo saver protects the servo from impact damage. Easy Ackermann adjustment is made via shims mounted below steering block pivot balls.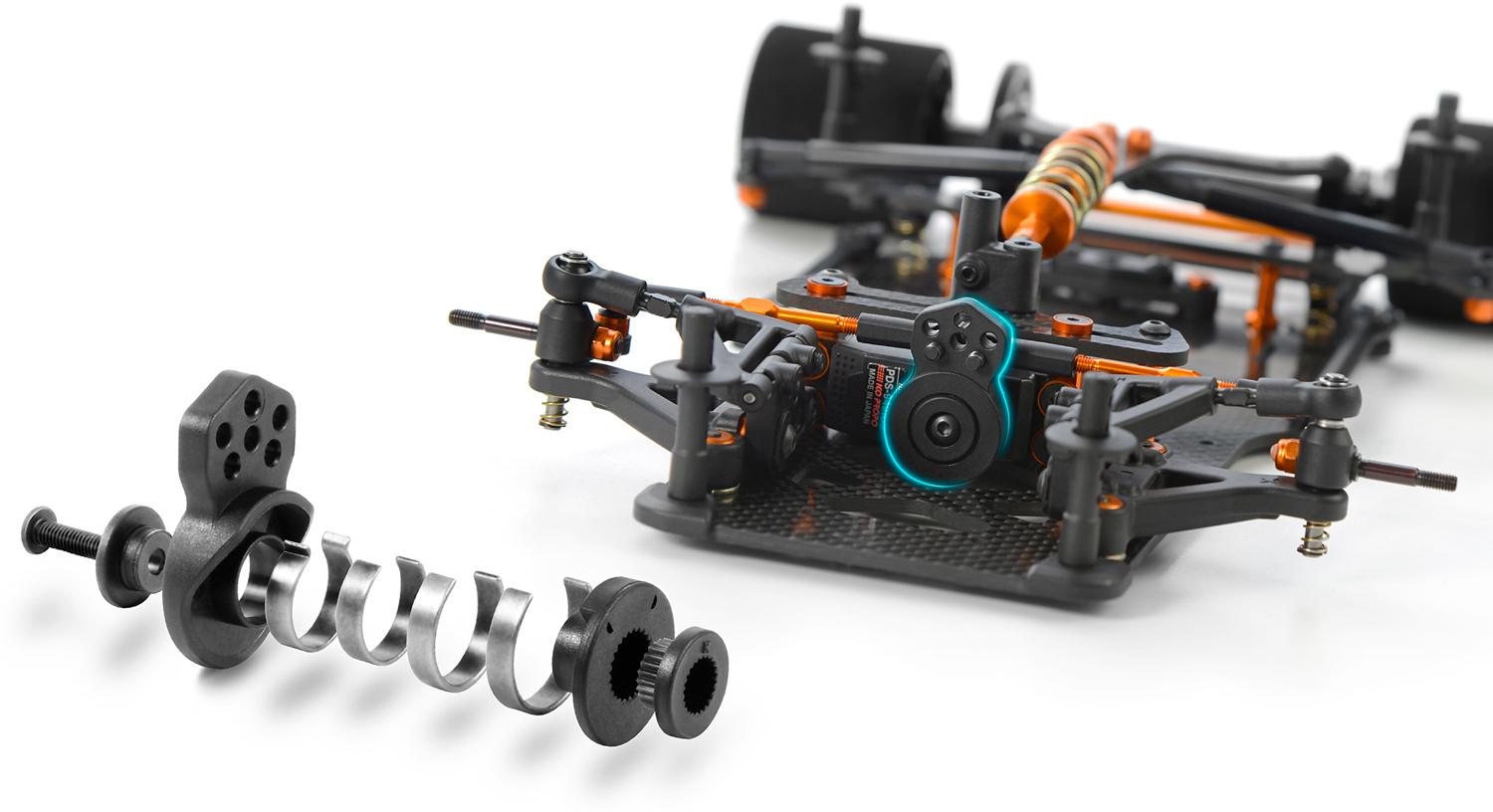 Micro Shock Absorber.

XRAY micro shock has a scaled-down design from its "big brother" counterpart in XRAY's successful touring car platform. The fully-adjustable shock features an aluminum shock body that is hard-anodized for ultra durability. The fine-threaded shock body allows for quick and easy shock spring preload adjustment. Tiny, thin shock membrane gives smooth dampening characteristics, and a super-soft silicone shock O-ring gives super-smooth operation while preventing oil leakage. The ultra-finely finished shock shaft with precise-molded composite shock piston ensures optimum shock oil flow and smooth shock absorber action. A simple yet smart shock construction allows for quick and easy shock-length adjustment for rear pod downstop adjustment.

Shock adaptor.

The shock adaptor allows for quick & easy changes to the shock position. Using the adaptor allows for the new forward shock mounting position, and when the adaptor is removed the standard rearward position is used.

The number of holes in shock piston were changed from 2 to 1 for improved on-power steering.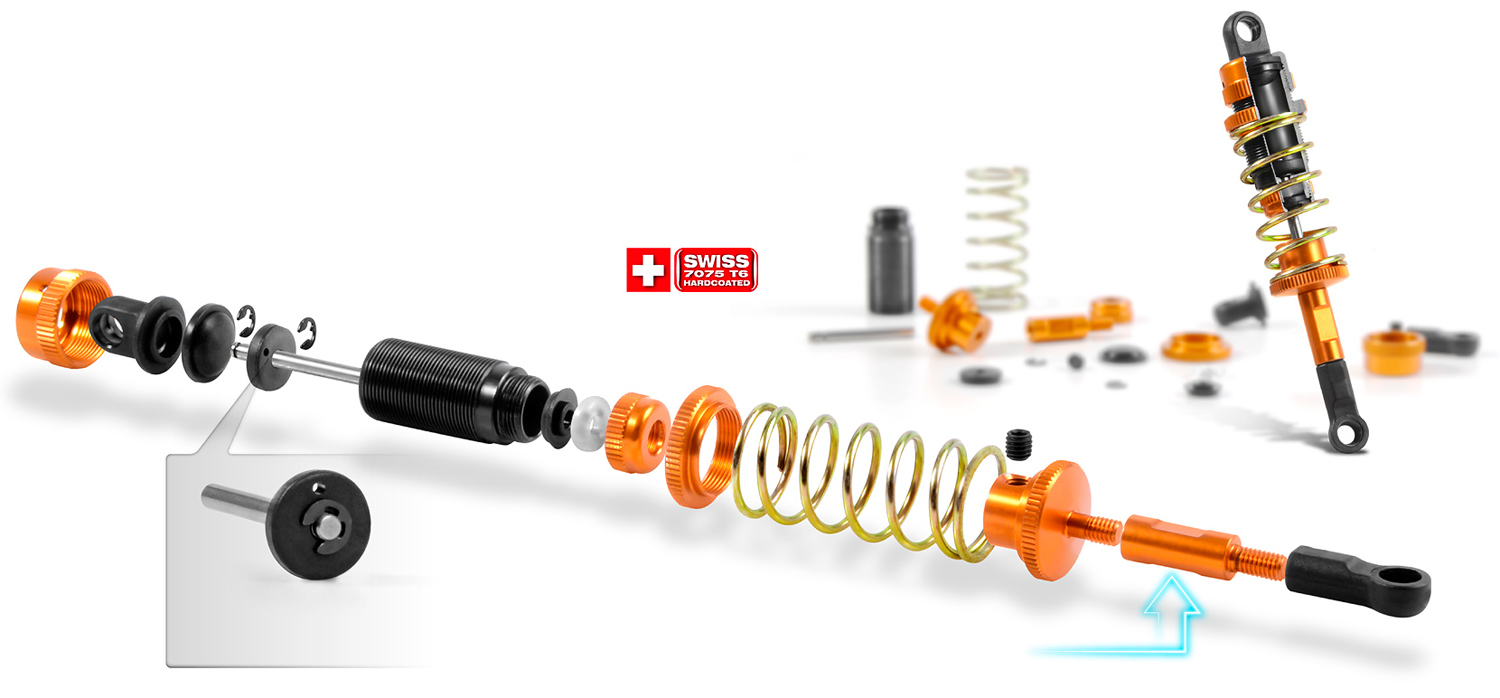 Centralized Shock Mount.

The front center shock mount was completely redesigned for the X12 platform. The entire platform was moved from the side to the absolute center of the chassis. The rigid centrally-mounted shock mount prevents tweak and significantly improves side-to-side stability.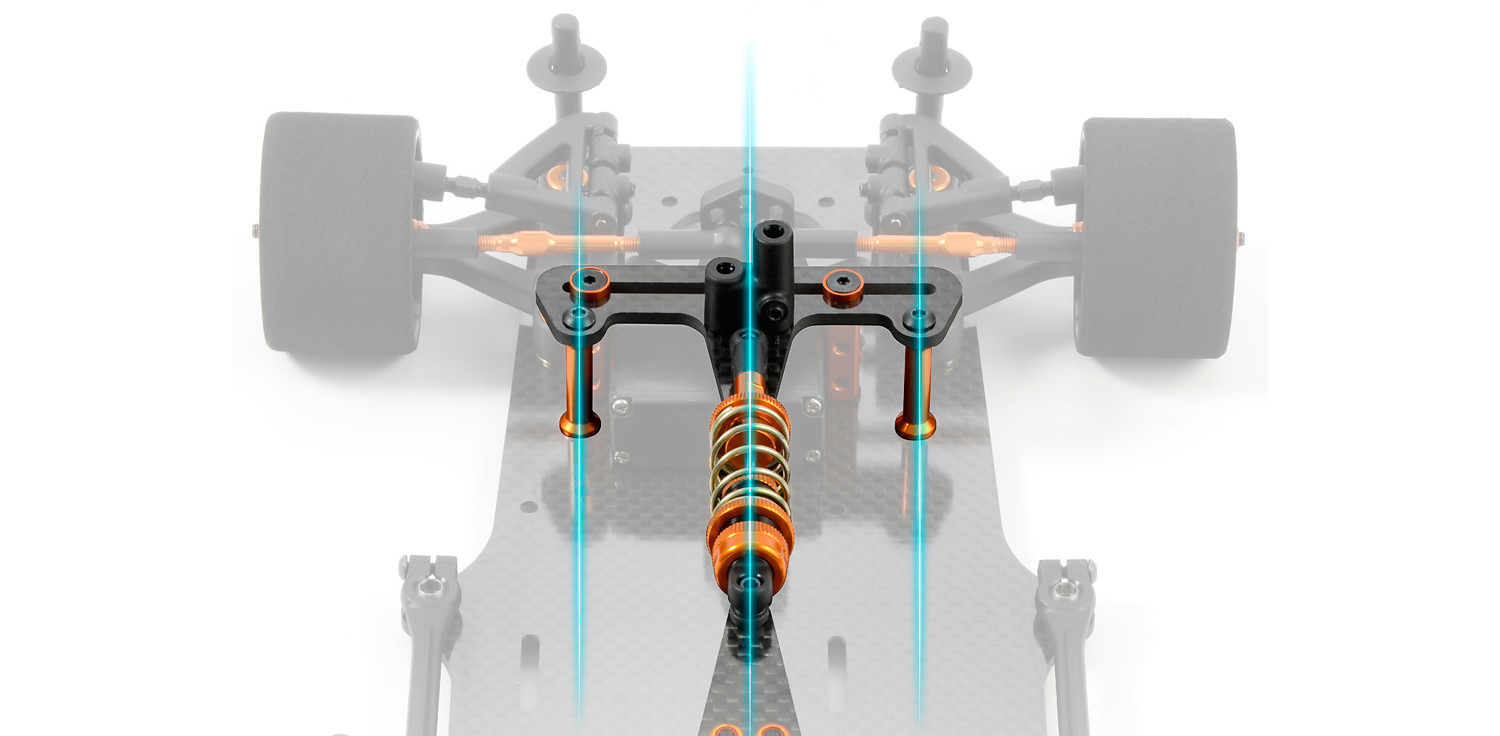 Weight Balance.

As part of the chassis design, weight balance was thoroughly redesigned and improved on the X12 platform.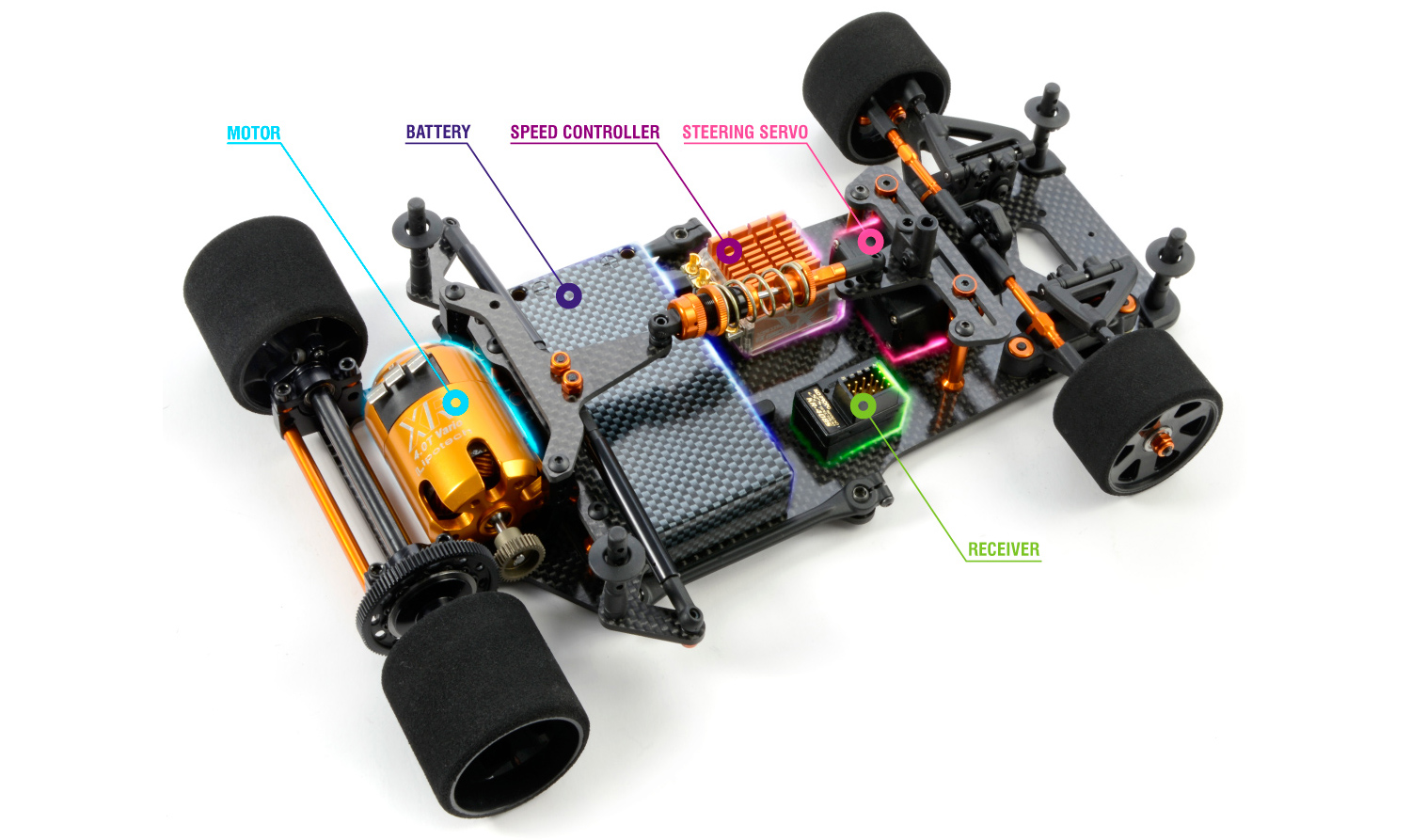 Battery Placement.

The position of the battery placement in the chassis has a significant influence on weight balance adjustment. To offer instant and comfortable weight balance adjustment - depending on various track conditions - the battery placement can be quickly changed from inline to cross-chassis. Smart and handy - an all-new unique feature and system.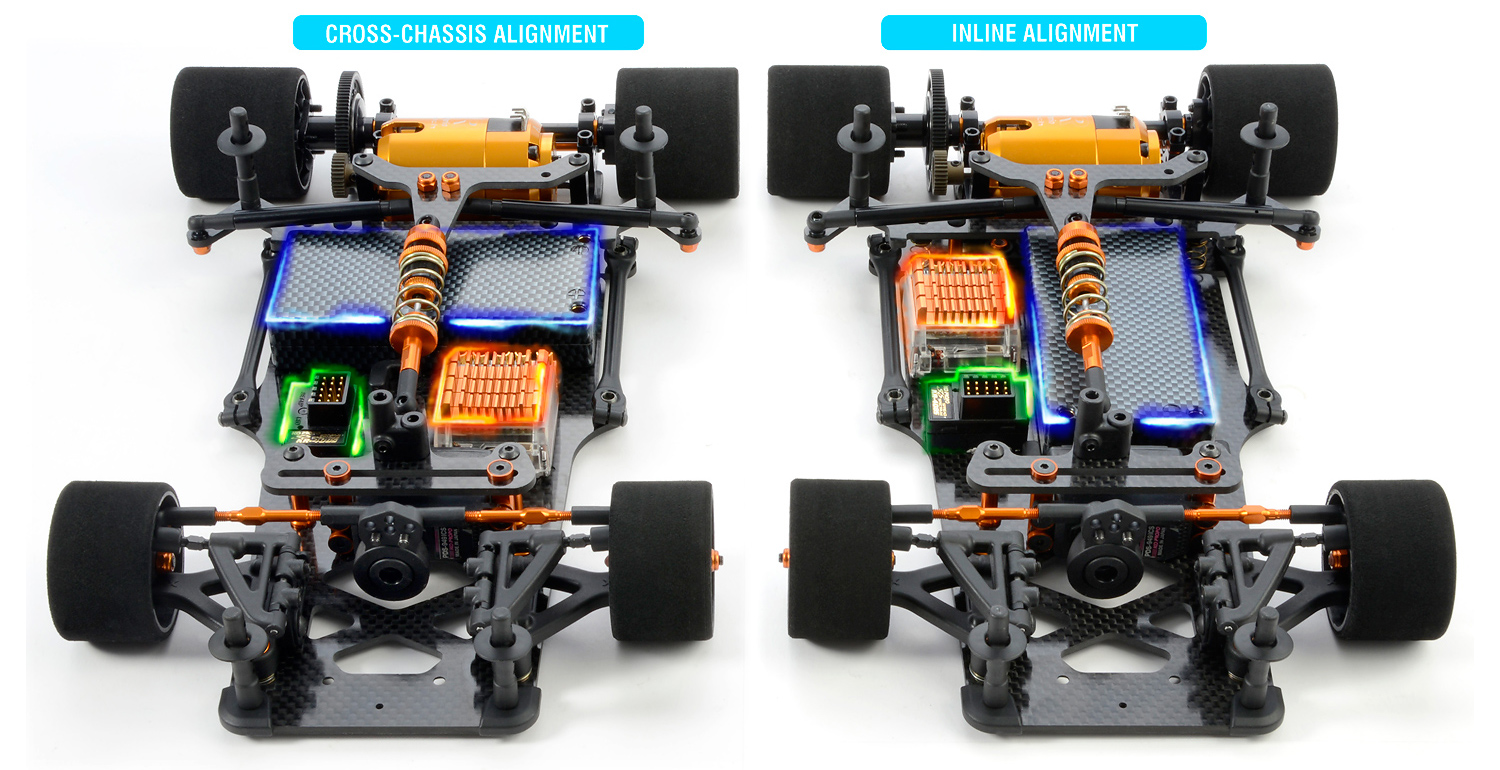 Composite Battery Backstops.

Included composite battery backstops eliminate battery movement when the inline alignment battery configuration is used.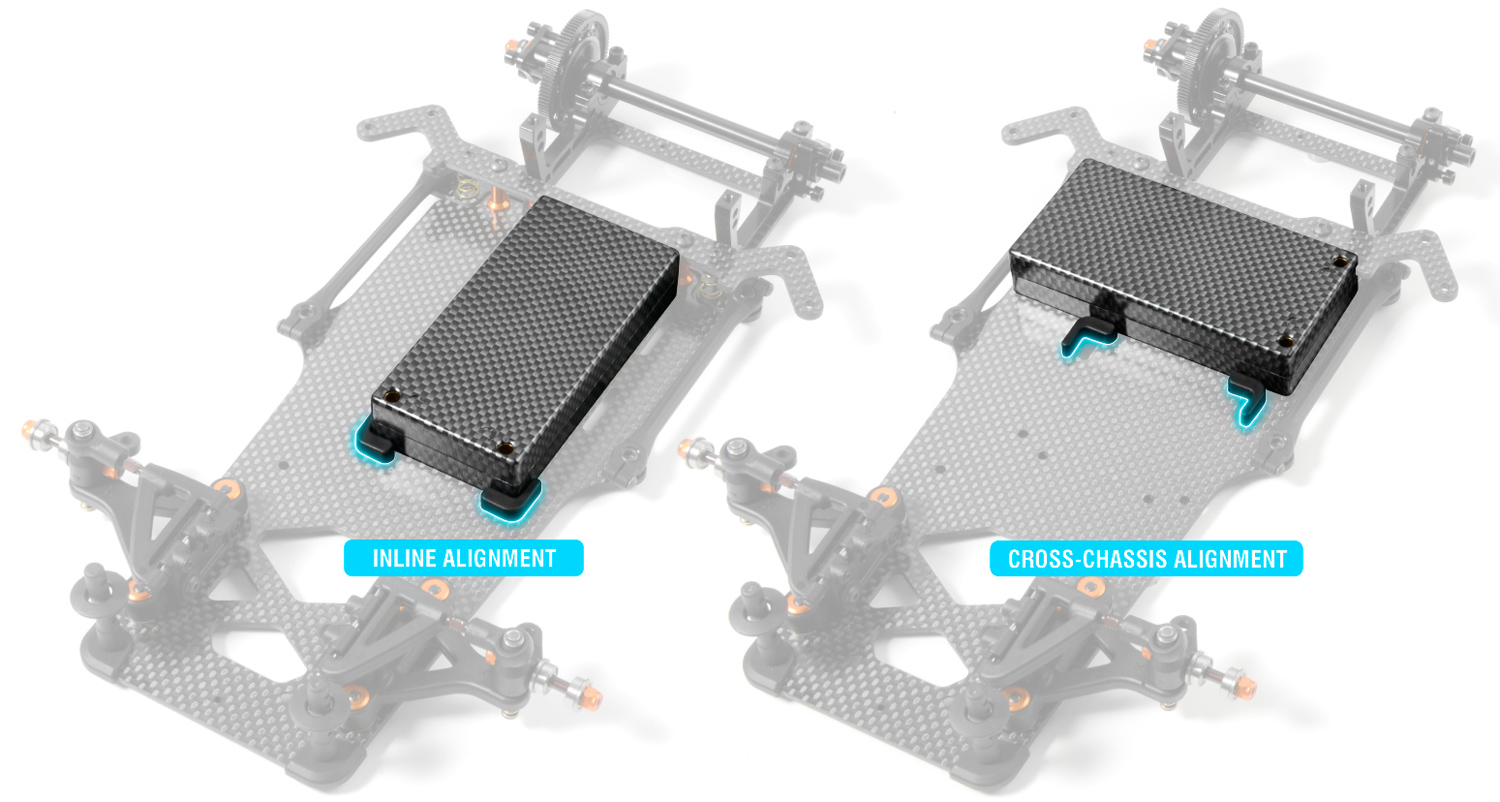 Rear Link Brace.

The graphite rear link brace holds the side tubes as well as the side springs and body posts, and works as the backstop for the battery pack.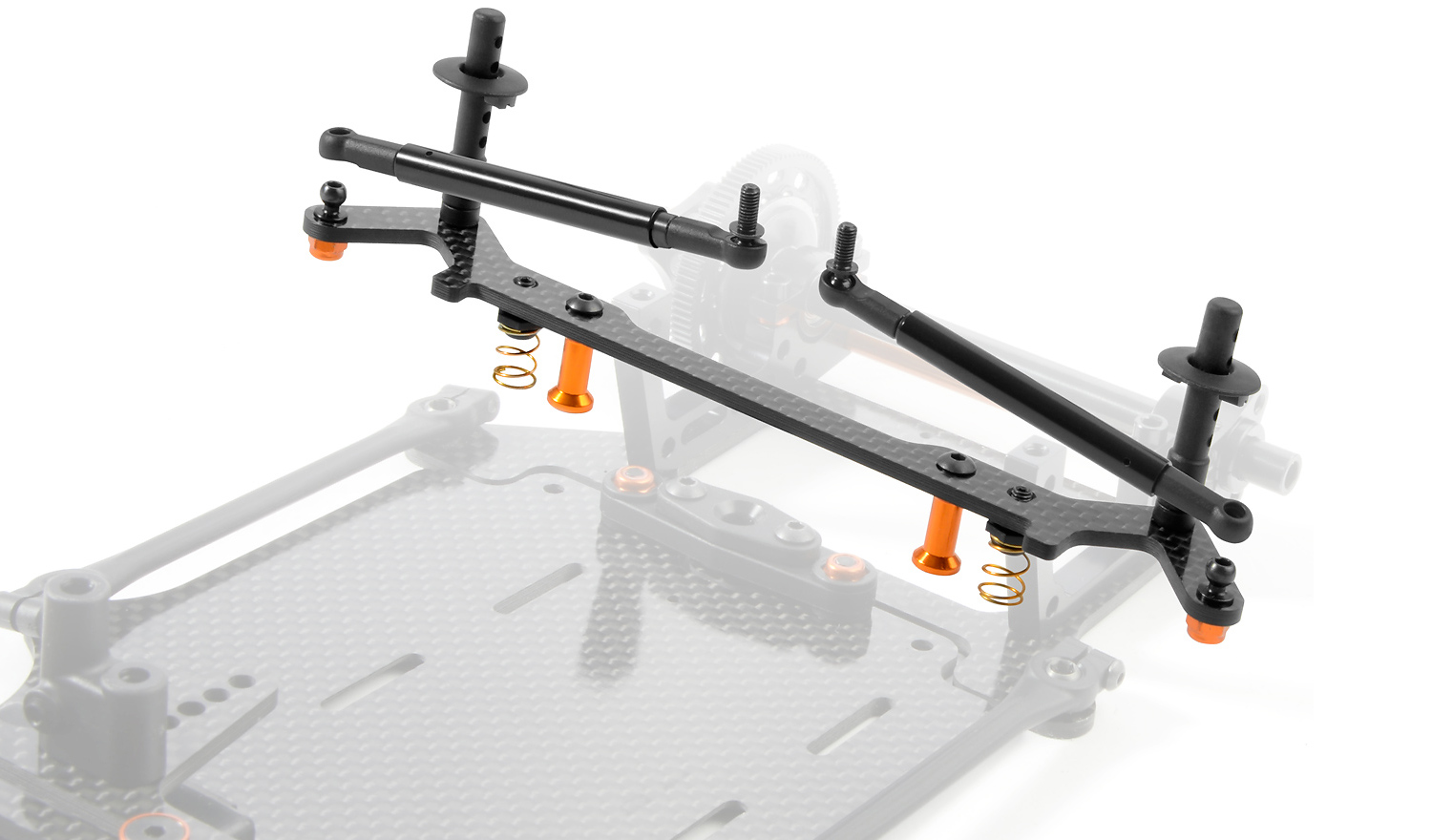 Side Tubes.

Lateral damping side tubes provide ultra-smooth side damping, making the car easier to drive and easier to work on. The outer aluminum tube and inner Delrin® tube operate ultra-smoothly.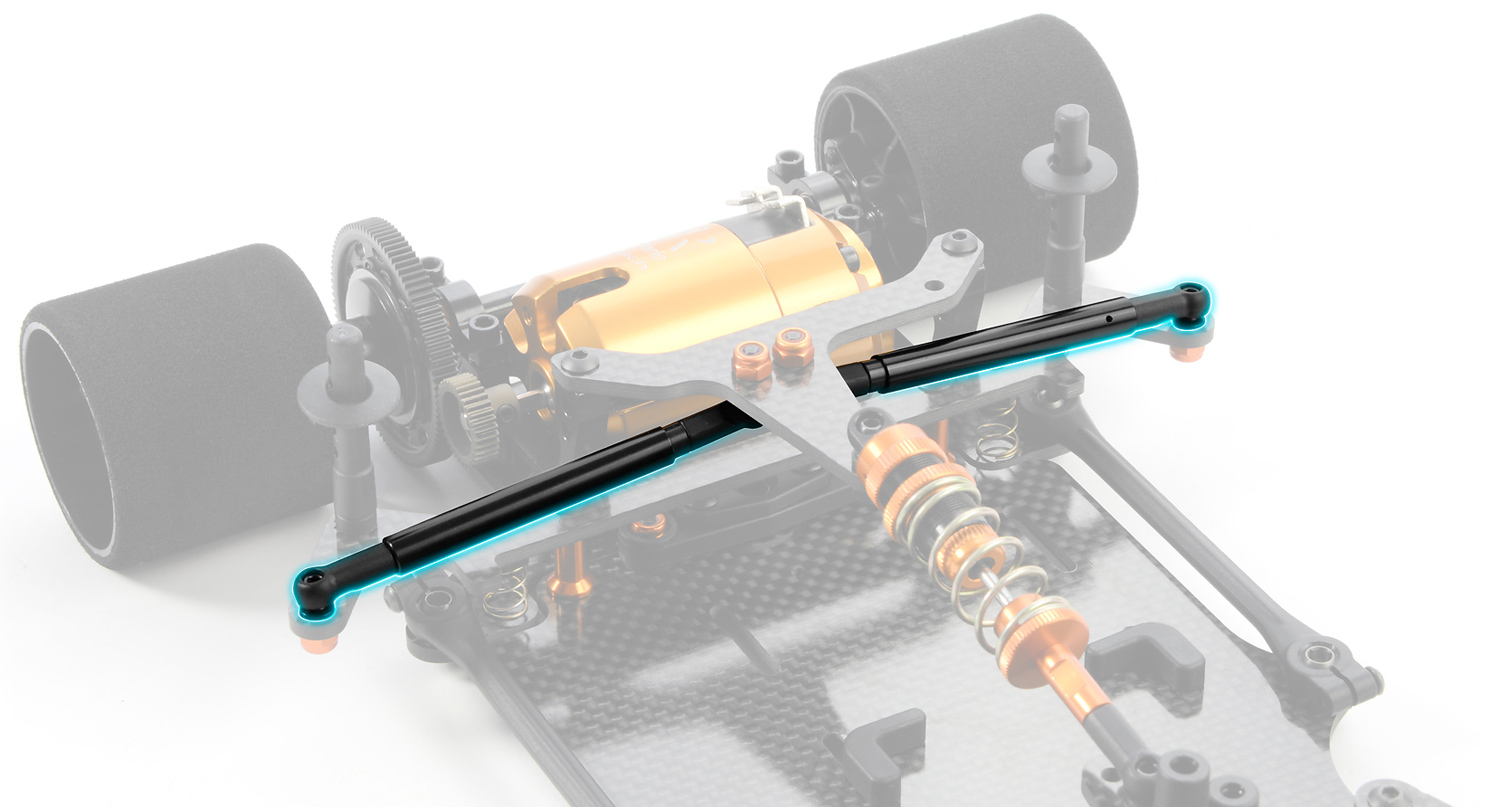 Rear Link Pod Upper Plate.

Rear link pod upper plate includes a hole so the optional side shock can be mounted. The advantage of using the side shock is that it provides more traction in low-to-medium traction conditions.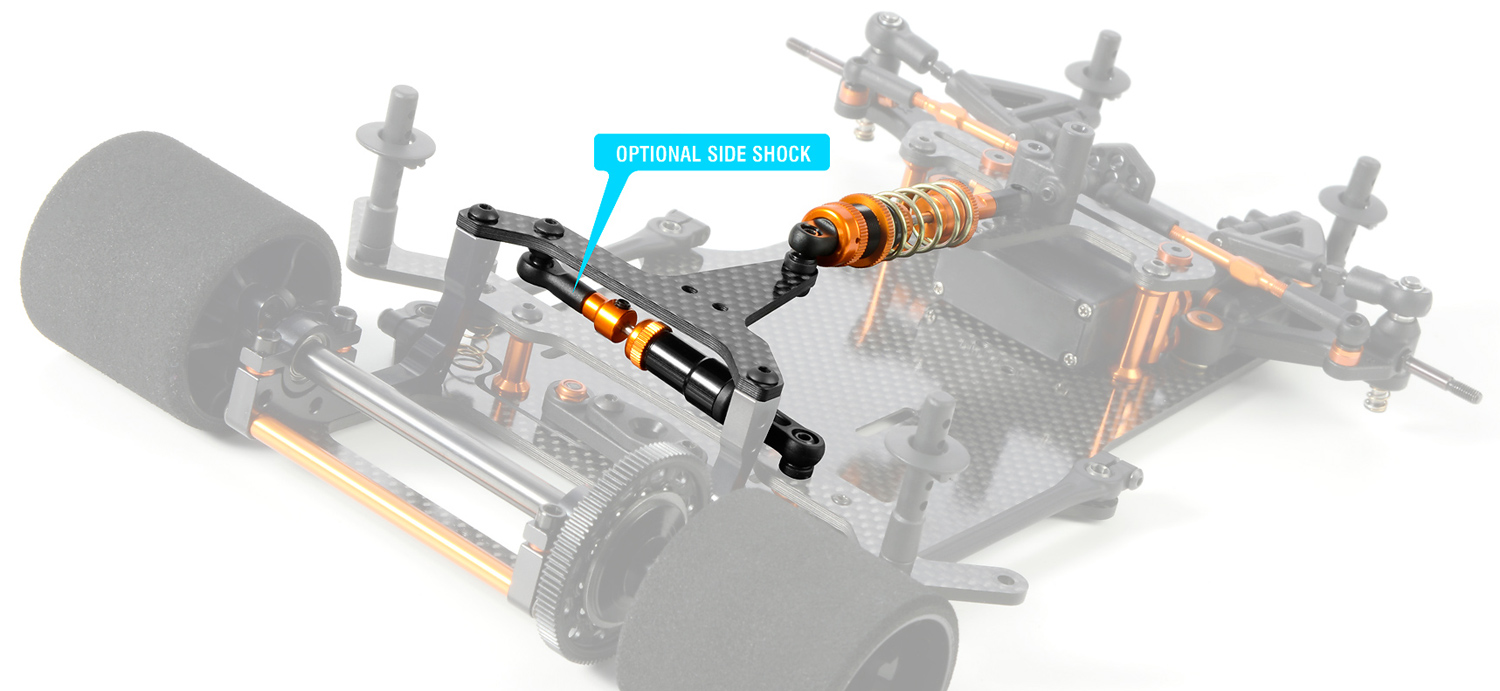 Composite Upper & Lower Pivot Brace.

The composite upper & lower pivot brace were redesigned to allow the pivot ball be to lowered by 0.5mm so as to lower the roll center of the car. Lower roll center provides more rear traction and stabilizes the rear of the car.
Pod Pivot Ball.

The pivot ball is smaller to save the weight, which is very important in 1/12 class. The pivot ball has an internal thread so the locking nut mounted on the top is not used any more. This saves weight but also allows for greater side movement of the whole rear pod.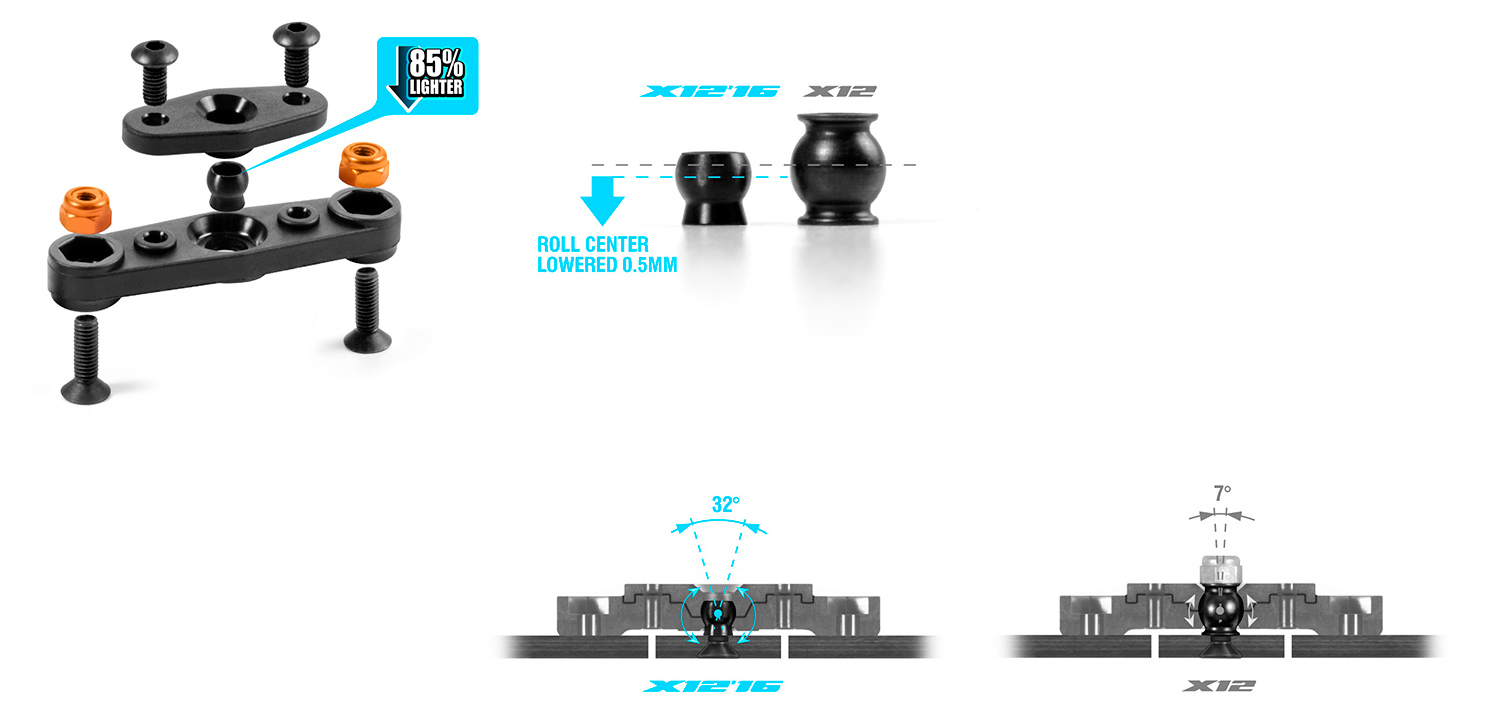 Side Springs.

Side springs are placed directly on the chassis for smooth and precise movement.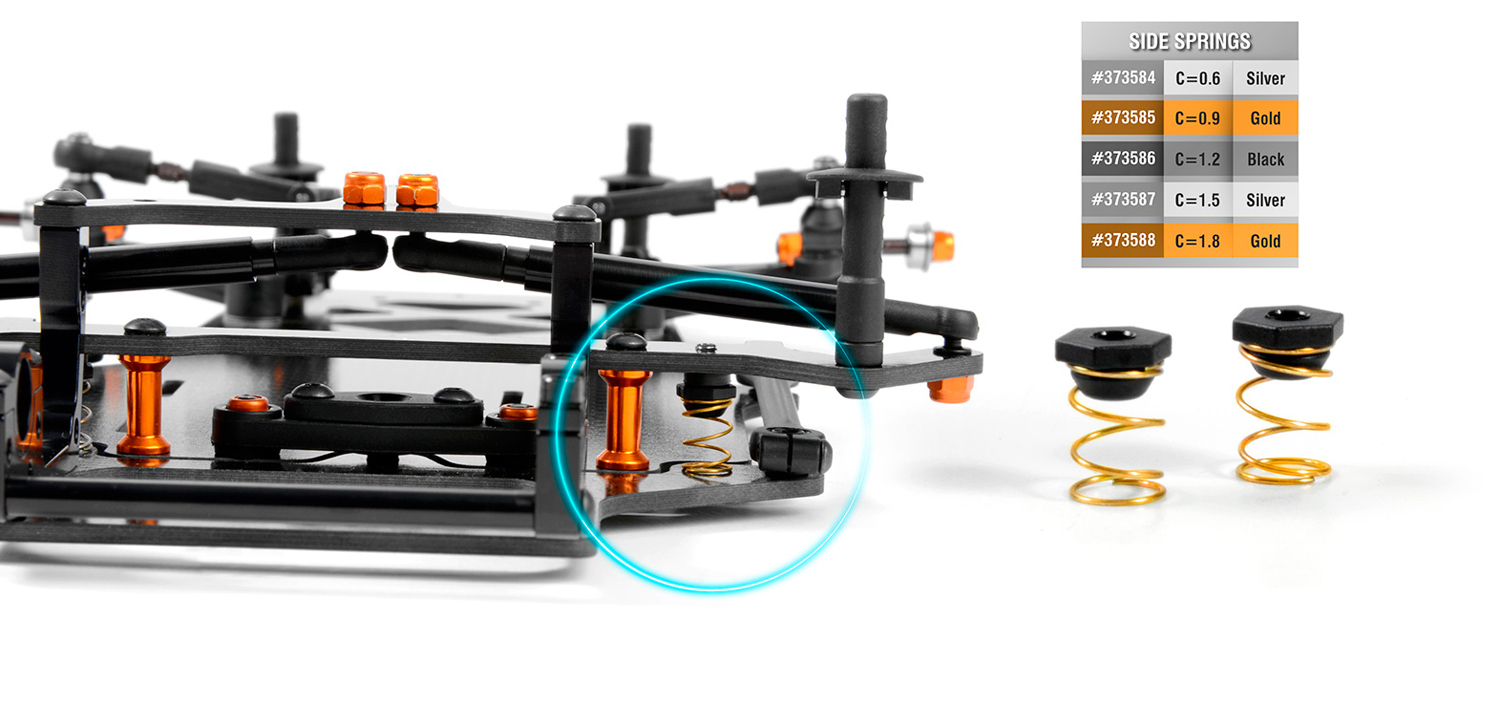 Motor Access.

The open-top design of the rear pod left-side bulkhead provides super-easy motor top access. The rear pod accommodates all motors.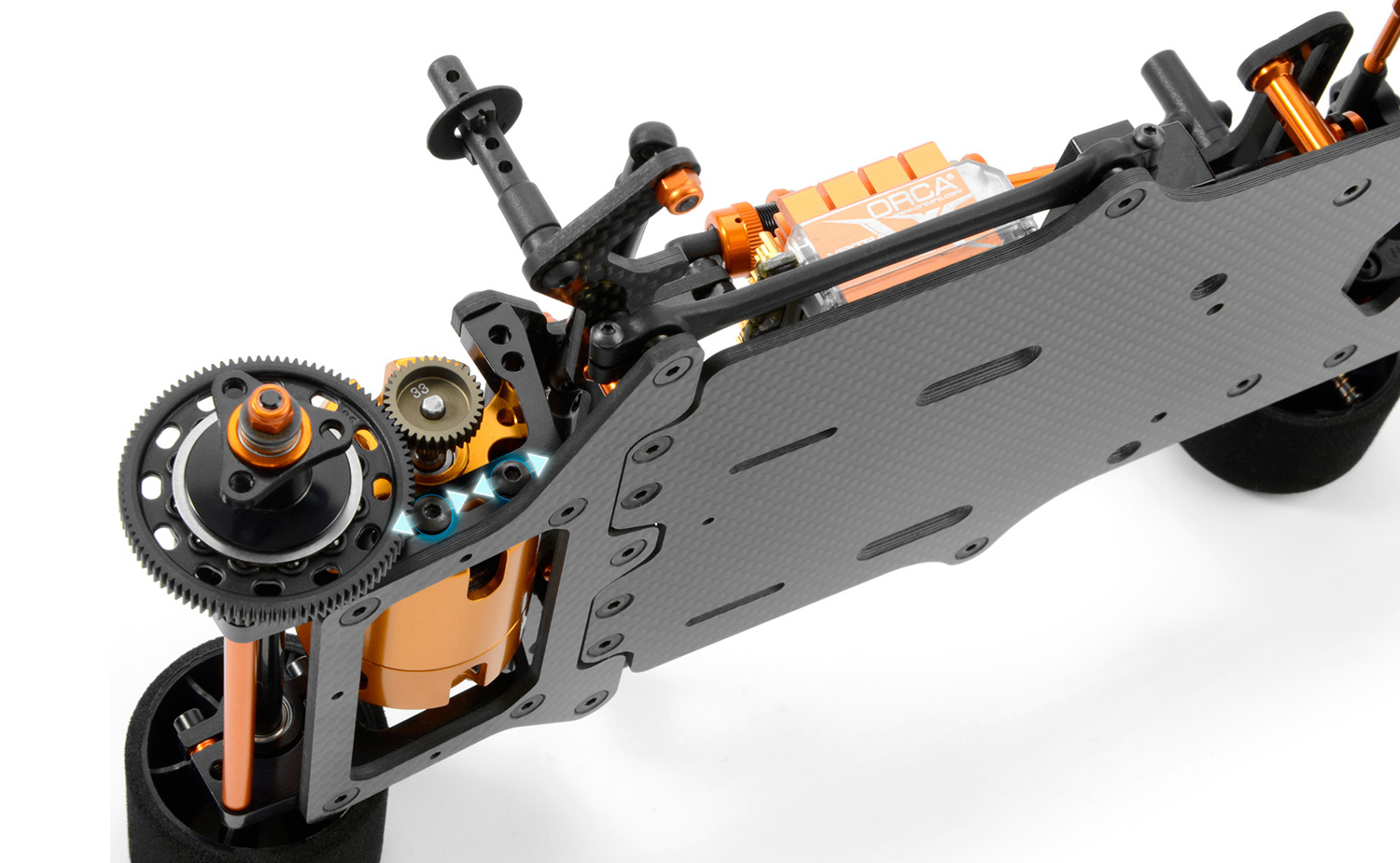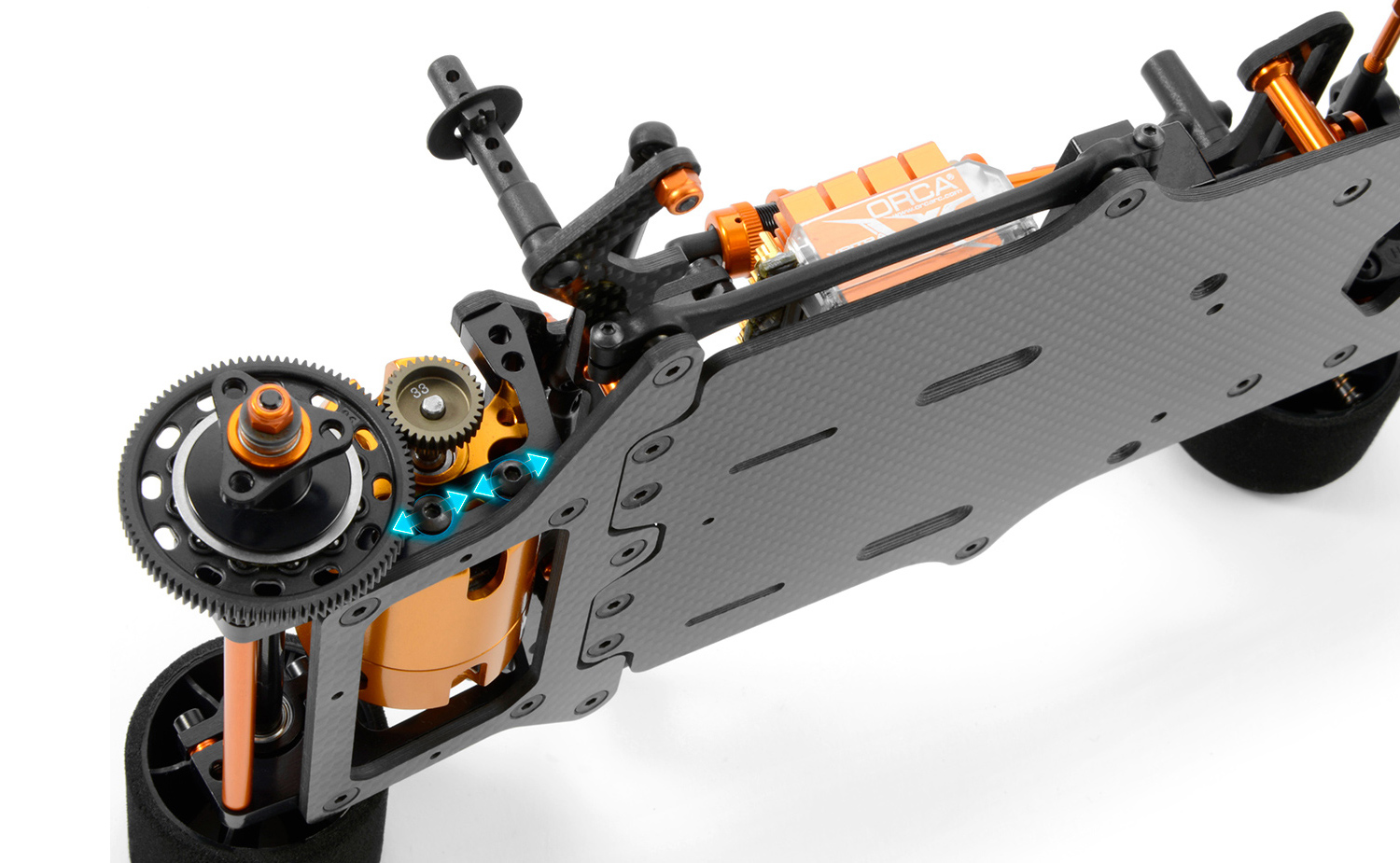 Rear Axle.

The ultra-strong lightweight steel axle is used to provide maximum reliability even in the serious crashes. The rear differential features high-grade precision carbide balls for spur gear, hardened and precision-ground D-steel shims, and premium carbide axial thrust-bearing.

Spur Gear.

Precision-molded spur gear are made from XRAY's exclusive composite material, ensuring true running, super-quiet operation, and robustness for handling powerful motors. A range of optional spur gears for fine tuning is available.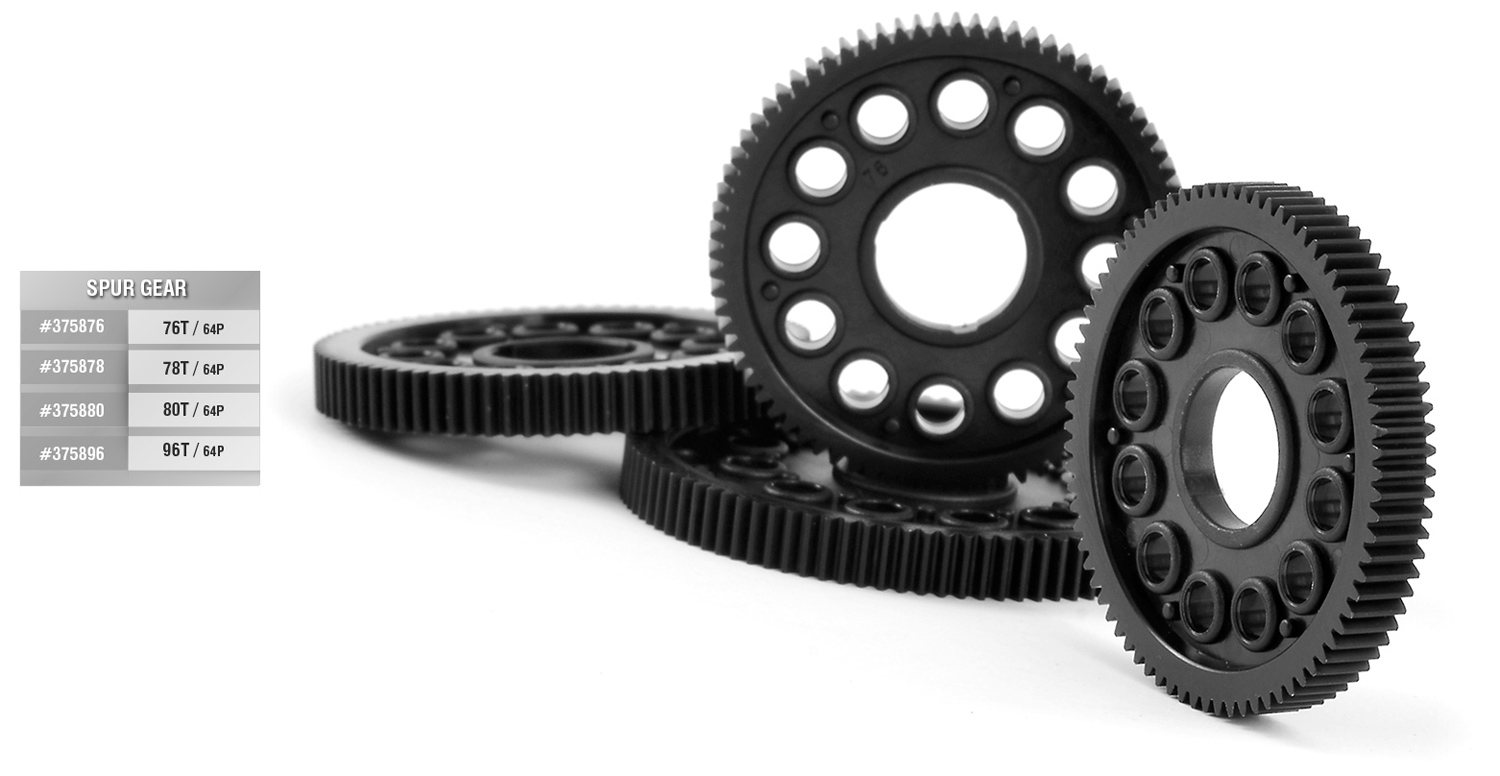 Alu Rear Hubs.

Aluminum rear hubs are machined from lightweight aircraft aluminum, specially lightened and black-coated for stylish looks. The rear left aluminum wheel hub features a center-balanced clamping mounting system, ensuring secure mounting while eliminating vibration and run-out.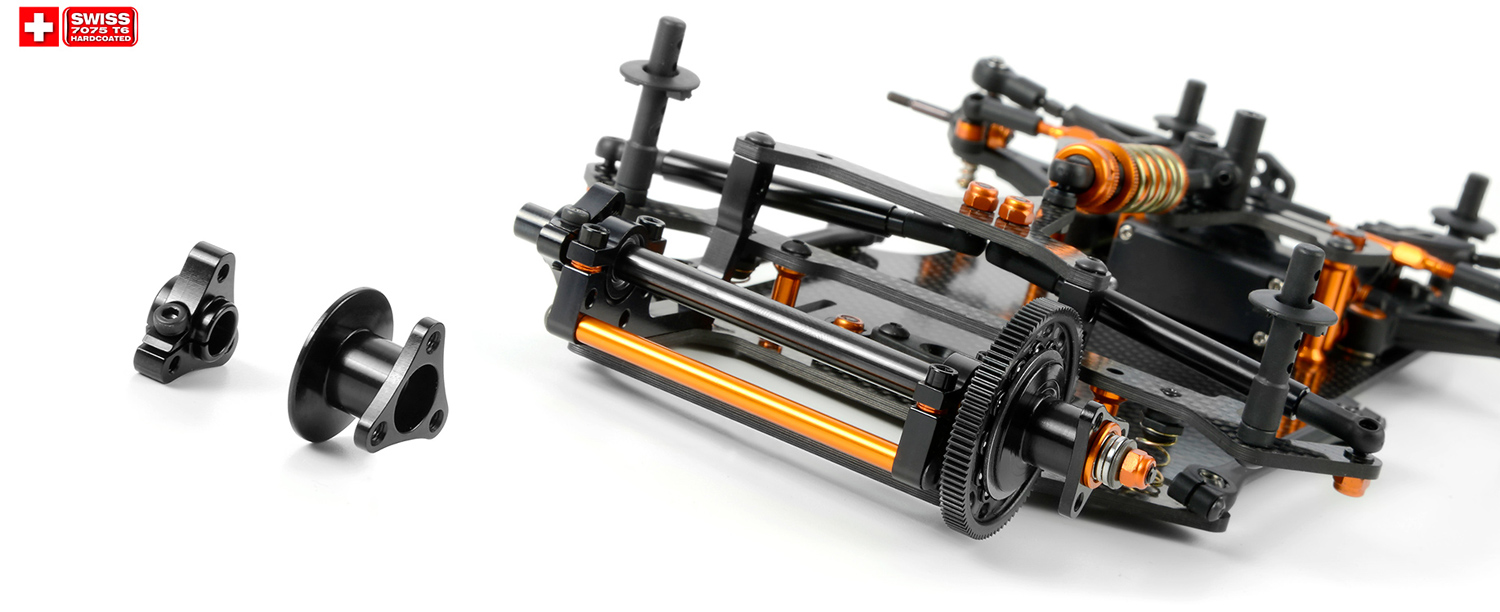 Antenna Mount.

A tiny lightweight antenna mount secures the lightweight yet strong molded fiberglass rollover antenna.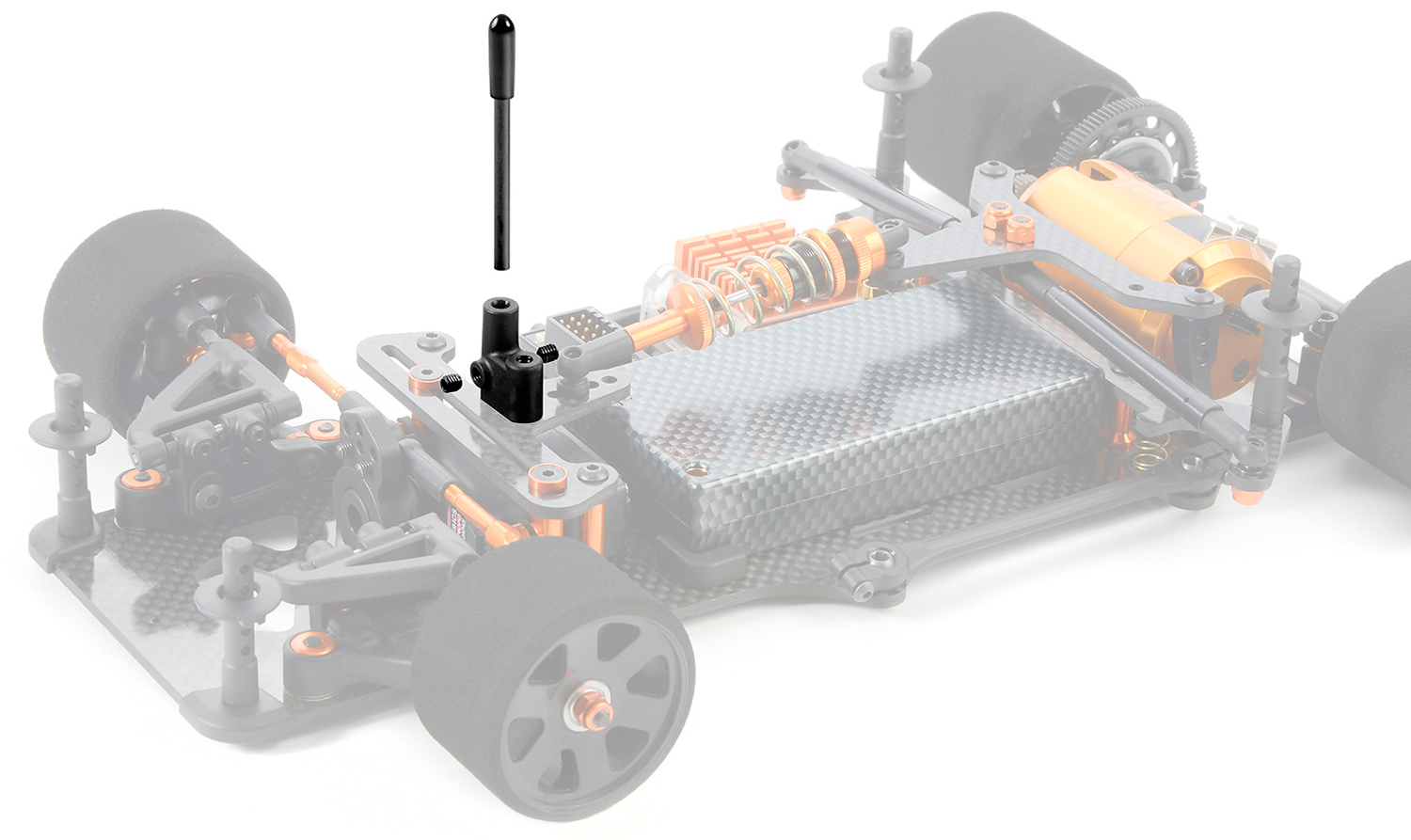 Front Chassis Protection.

Composite front chassis protectors provide protection where the car needs it most… in the front corners of chassis where damage may occur from racing impacts.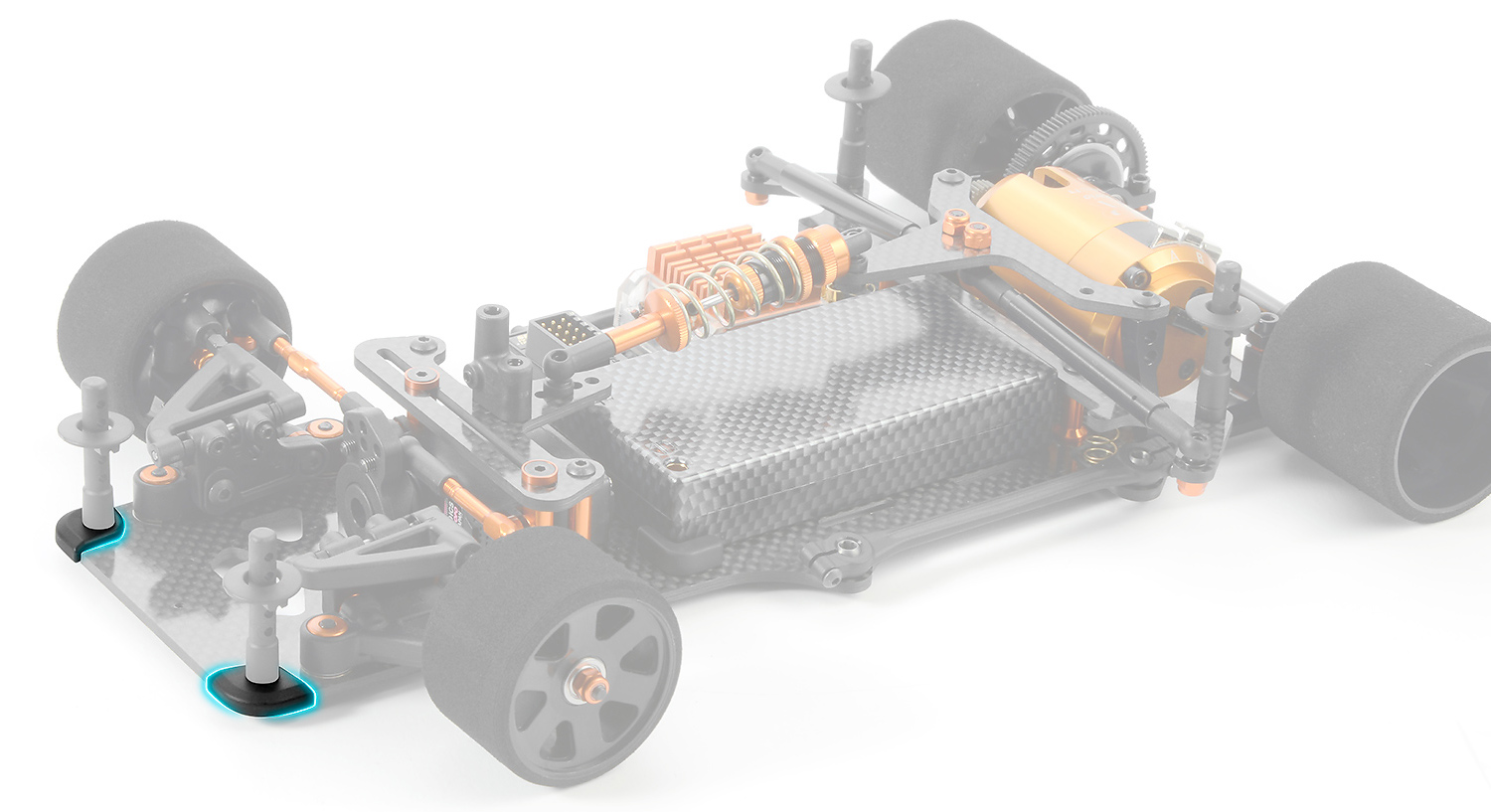 Adjustable Body Posts.

Robust body posts with fully-adjustable body holders; optional super-fine +1 or +2mm body backstops available optionally for even more super-fine body height adjustment.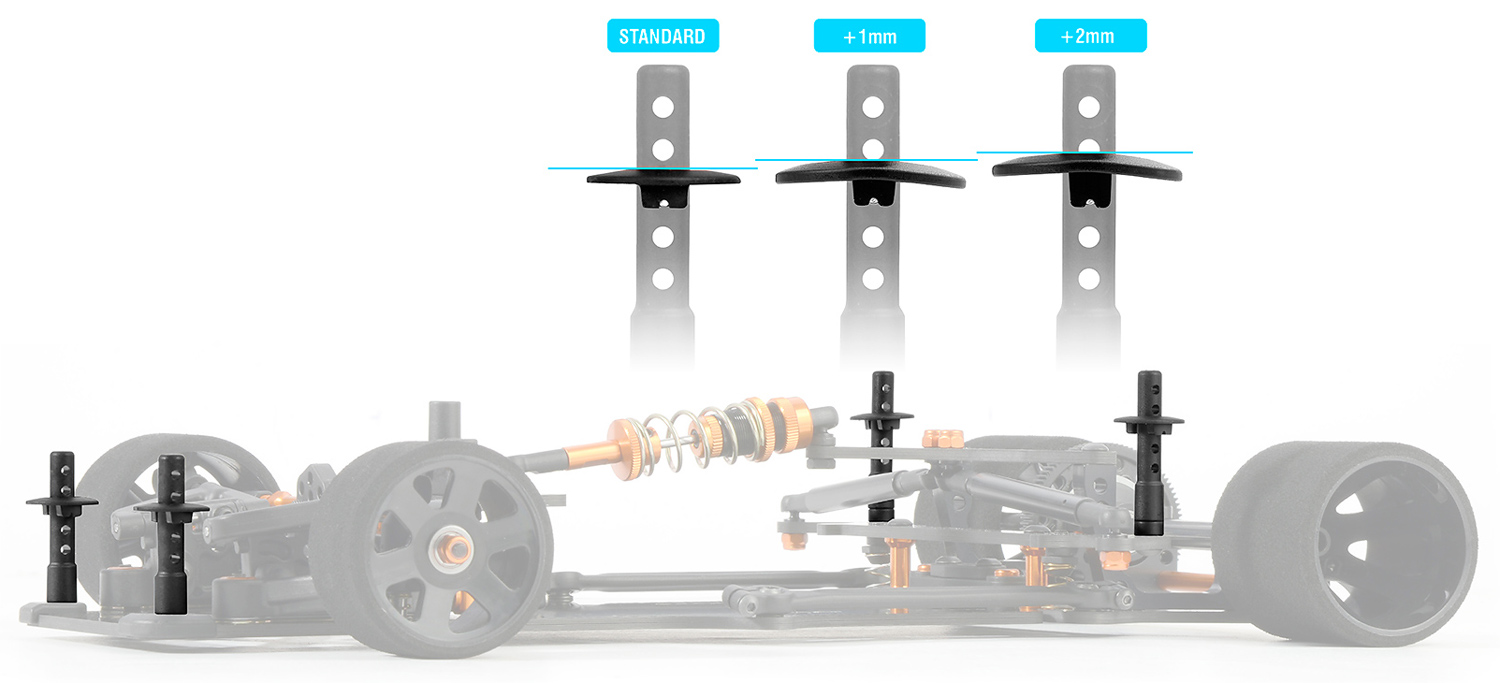 Silicone Oils.

XRAY Premium Silicone Oils are manufactured in Europe by a specialized premium silicone oil manufacturer; these new oils were exclusively created for XRAY. Each batch of premium oil is laboratory tested and calibrated to ensure the highest possible consistency and quality batch-to-batch. Based on the industry-standard cSt rating, the new line of oils will be easy to identify, adjust, and feel.

When following any setup sheets by XRAY or XRAY team drivers, you can be sure that the oils you will get for your car will be exactly same as used by the factory racing team, thus ensuring very exacting setups and handling of the car.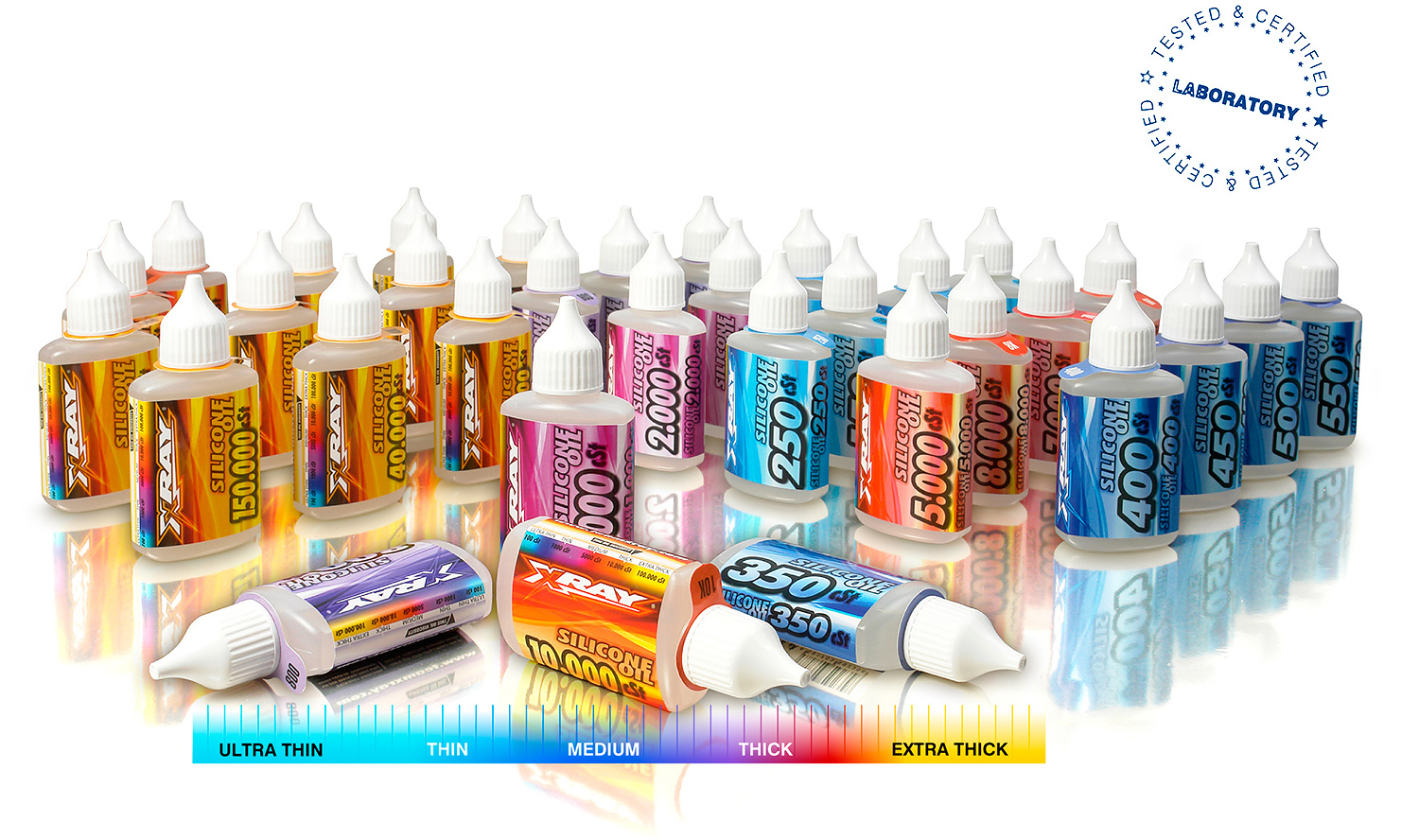 Premium & Exclusive Materials.

The X12 is luxury model racing car and as such features only the finest, most premium materials: premium woven graphite - exclusive top-secret HUDY Spring Steel™ - high grade Swiss 7075 T6 - high-tensile heat-treated steel and aircraft aluminum - and XRAY's self-developed and formulated composite compounds. All is premium and unique on the X12.
Fully Adjustable.

Fully adjustable front camber, camber rise, caster, reactive caster, toe, and Ackermann; front & rear track-width; bump steer; front & rear ride height; front & rear springs; rear shock damping & spring; pod damping;pod weight balance; battery position; servo position and chassis tweak.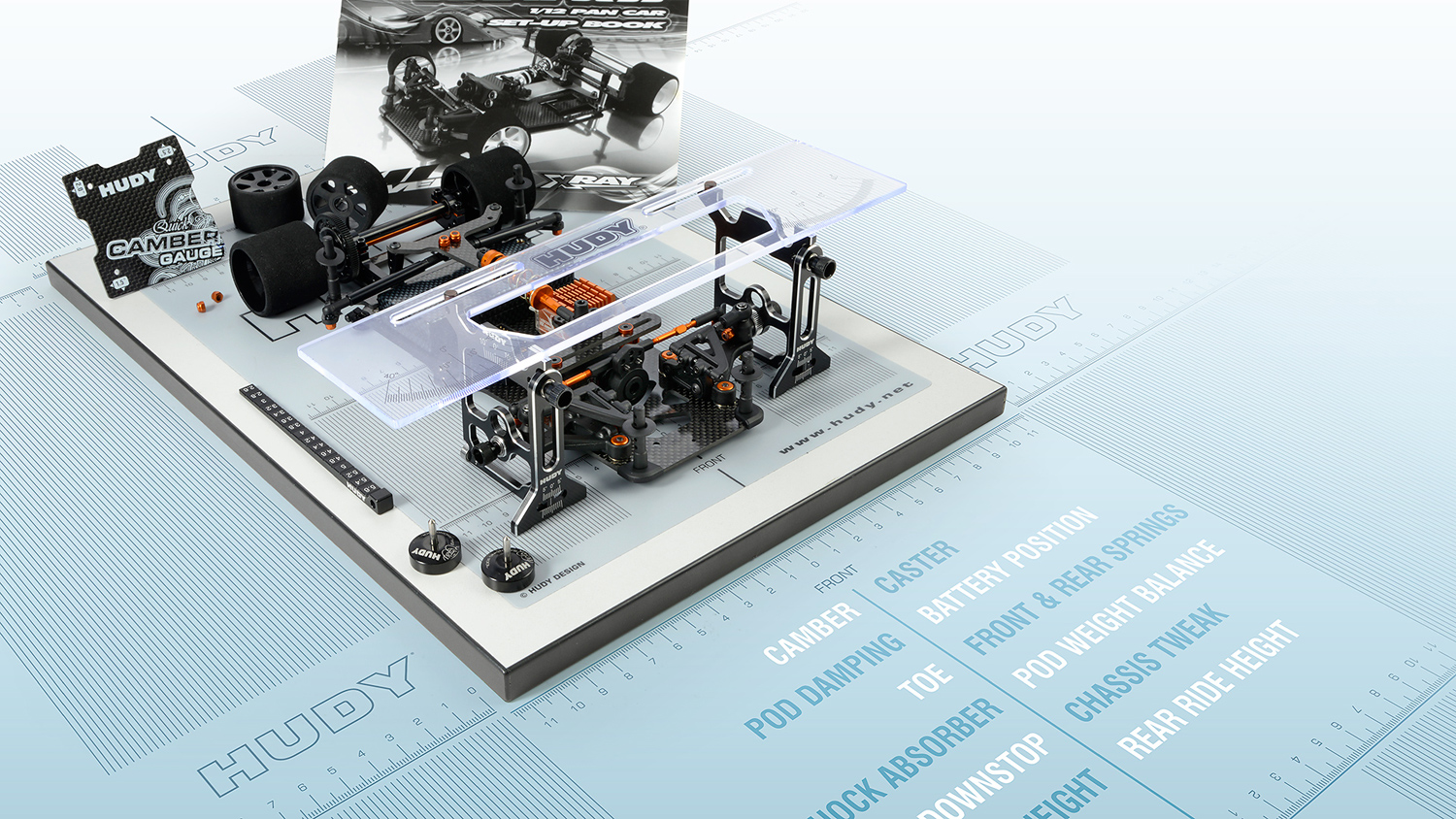 Chassis Weight Balance Adjustment.

Chassis and rear pod features pre-drilled centerline holes for optimum weight balance adjustment using HUDY Balancing Tool #107880.
2016 All-new Specs

All-new chassis
All-new chassis flex
All-new optimized pod link positions
All-new rear pod plate
All-new adjustable servo system
All-new floating servo mount
All-new weight balance adjustment
All-new center shock position adjustment
All-new rear bulkheads
All-new rear upper clamps for ball-bearing
All-new ultra-low CG of rear suspension
All-new lighter rear bulkhead brace
All-new adjustable rear ride height
All-new ride height adjustment shims

General

XRAY 1/12 pan-car with authentic 100% self-developed XRAY parts, designed and manufactured parts by XRAY in Europe
Legendary XRAY premium design, workmanship & material quality and unmatched attention to the finest details
Simple yet effective and proven design, well thought-out details, unmatched precision of all small details
High-competition design with focus on ultra-low weight, resulting in super-lightweight construction
Optimized for indoor carpet racing as well as outdoor asphalt racing

Chassis

New CNC-machined chassis from stiff custom-manufactured 2.5mm high-grade graphite material with specially-designed compound for carpet and asphalt racing
Chassis has ideal stiffness for excellent handling while still being flexible enough to generate grip
Chassis & rear pod feature pre-drilled centerline holes for optimum weight balance adjustment using HUDY Balancing Tool #107880
Composite front chassis protectors protect the front of the chassis
Chassis includes holes for composite battery backstops
Body posts with fully-adjustable body holders; optional super-fine +1 or +2mm body backstops available for even better body height adjustment
Tiny, lightweight antenna mount secures lightweight yet strong molded fiberglass rollover antenna
Chassis design allows either horizontal or vertical battery placement

Front suspension

High-competition, fully-adjustable front suspension with super-clean design of all composite suspension parts
Front lower & upper arms and steering blocks made from hard material to make the car easier to drive and give smoother steering
Shims included for adjusting upper arm position
Precision steering block for more precise steering
Bumpsteer shims for improved steering
Lower suspension arms feature smart eccentric aluminum inserts for quick & easy track-width adjustment
Optional aluminum 0.5mm and 1.0mm eccentrics for setting track width
Ride height adjustment shims for quick, precise, and hassle-free ride height adjustment for various track conditions. Set of 0.2, 0.4, and 0.6mm ride height adjustment shims are included.
Quick & easy front caster adjustment via included clips
All composite parts manufactured by XRAY using premium self-developed composite mixtures which guarantee ideal flex of the suspension parts yet hard enough to withstand heavy crashes
Reactive caster adjustment (preset 2.5°, 5.0° or 7.5°) via easy-to-change eccentric bushings
Ultra-precise wheel axles CNC-machined from premium HUDY Spring Steel™ additionally hardened and hand ground for precision fitment
High-precision, HUDY Spring Steel™ upper pivot balls ensure super-fine movement of front suspension
Composite lower pivot balls for smooth front suspension movement
Lightweight front upper 3mm adjustable HUDY Spring Steel™ camber turnbuckles can withstand heavy crashes

Steering

Unique adjustable servo mount can accommodate all types of 1/12 servos, and allows adjustment of servo to chassis centerline
Floating servo does not touch chassis, eliminating unwanted tweak
Super-tiny yet robust steering blocks with specially-designed axles prevent axle spinning while tightening the wheel locknuts
Pivoting front suspension has super-smooth hardened steel kingpins supported by soft springs. Optional medium, hard, and extra-hard suspension springs available.
Tiny yet robust servo saver with easy Ackermann adjustment via included shims
4-spring servo saver for precise, smooth steering
Specially-designed narrow composite ball joints
Adjustable, super-lightweight Swiss 7075 T6 aluminum turnbuckles

Rear pod

Compact, ultra-lightweight narrow rear pod comprised of high-strength aluminum bulkheads, rear aluminum brace, and strong high-grade 2.5mm graphite plates
Unique alu bulkheads and upper bulkhead clamp are CNC-machined from premium extra-hard Swiss 7075 T6 aluminum, additionally black coated for long life & stylish look
Light, small pod pivot ball decreases the weight of moving parts and increases the movement range of the rear pod plate
Optimized rear pod link positions
Rear pod upper plate includes mounting hole for optional side shock (for different damping characteristics)
Premium-grade graphite upper deck provides solid attachment for shock absorber to rear pod
Premium graphite rear link brace holds the side tubes as well as side springs and body posts, as also acts as battery backstop
Super-easy motor top access
Rear pod accommodates all motors
NEW ride height shims for ultra-fine rear ride height adjustment
Rear differential features high-grade precision carbide balls (for spur gear), hardened and precision-ground steel D- shims, and premium carbide 3x8mm axial thrustbearing
Ultra-strong hollow rear axle
Precision-molded spur gear made from XRAY's exclusive composite material, ensuring true running, super-quiet operation, super lightness and robustness for handling powerful motors
Alu rear hubs machined from lightweight aircraft aluminum, specially lightened and black-coated for stylish look
Lightweight rear wheel mounting screws for reduced rotating weight
Alu rear left wheel hub with center-balanced clamping mounting system, ensures secure mounting while eliminating vibration and run-out
Easy rear track-width adjustment via included shims
Rear body posts are mounted to the chassis via a wide independently-mounted graphite holder, ensuring body downforce is properly transferred to the chassis
Rear pod weight balance can be easily adjusted via shims between motor and bulkhead
Straight side springs have more consistent and smoother compression for better out-of corner exiting and reduced traction rolling

Shock

XRAY micro shock with similar design to its "big brother" counterpart in XRAY's successful T4 touring car platform
Centralized shock absorber position
2 frontward, 2 rearward shock position options
Fully-adjustable shock with hard-anodized aluminum shock body for superior durability, and additionally black-coated for stylish look
Fine-threaded shock body for quick & easy shock spring preload adjustment
Tiny, thin shock membrane gives super-smooth damping characteristics
Super-soft silicone shock O-ring for smooth operation, and improved sealing
Ultra-finely finished shock shaft with precise-molded composite shock piston ensures optimal oil flow and smooth shock absorber action
Simple yet smart shock construction allows for quick & easy shock-length adjustment for downstop
Shock position adjustment via shimming of mounting ball studs
Rear pod side balance controlled by side tubes which give equalized lateral damping in both directions while eliminating unwanted rebound
Rigid centrally-mounted shock mount prevents tweak, and significantly improves lateral stability
1-hole piston for improved damping characteristics
Shock length adaptor is included to alter shock length

Assembly & support

Highest quality composite parts ensure super-precise fitment, easy assembly, and smooth operation of all parts
Premium 3D full-color Instruction Manual
Exclusive Virtual Online Setup Sheet database with thousands of set-up sheets for race tracks around the world
Premium, unmatched XRAY online support

Adjustment possibilities

Front camber, caster, and toe
Front & rear track-width
Front, center, and rear ride height
Front springs
Central shock absorber length & position
Downstops
Pod damping
Bumpsteer
Weight balance
Ackermann
Front brace stiffness
Differential setting
Servo position

Dimensions

Class: 1/12 electric pan car
Width: Adjustable 167mm +/- 2mm front, 169mm rear
Length: 264 mm (varies depending on rear tires used)
Wheelbase: 201+/- 0.5mm
Weight: 202 g
Ready-to-run weight: 840 g - incl. BL system (varies depending on equipment used)

Chassis

Chassis: 2.5mm carbon fiber, CNC machined
Body: Not included, uses 1/12 pan car type

Drivetrain

Type: 2WD direct drive to rear axle
Rear Axle: Steel shaft with ball differential
Primary: Spur / pinion
Bearings: High-speed ball-bearings (10)

Suspension

Front: Spring-supported, kingpin-style front suspension with composite upper & lower suspension arms and steering blocks
Rear: Articulating rear motor POD adjustable via pivot-ball links, controlled by rear shock absorber
Rear Shock: Central adjustable oil-filled shock absorber

Geometry

Ride Height: Adjustable front + rear
Camber: Adjustable front
Front Caster (Static): 1–14.5° static adjustable static caster
Front Caster (Reactive): 2.5–7.5° adjustable reactive caster
Track-width: Adjustable front and rear
Toe: Adjustable front
Downstop: Adjustable rear
Ackermann: Adjustable with shims
Steering: Direct linkage between steering servo saver and steering blocks
Balance: Front/rear weight balance adjustable via battery position

Other

Wheels: Not included
Tires: Not included
Instructions: Full-color instruction manual
Set-up Book: Printed version not included. Latest full-color Set-up Book (16 pages) can be downloaded from XRAY website. Set-up Book shows previous XRAY models in photographs contained within it, however the methodology and set-up theory are the same for all 1/12 pan cars

Packaging: Carton box with vinyl bags containing parts
Additionally included: HUDY Diff Grease, Authentication Certificate, parts list & exploded view, decals, oils
Not included: Motor, batteries, speed controller, tires, body, steering servo, radio equipment, tools