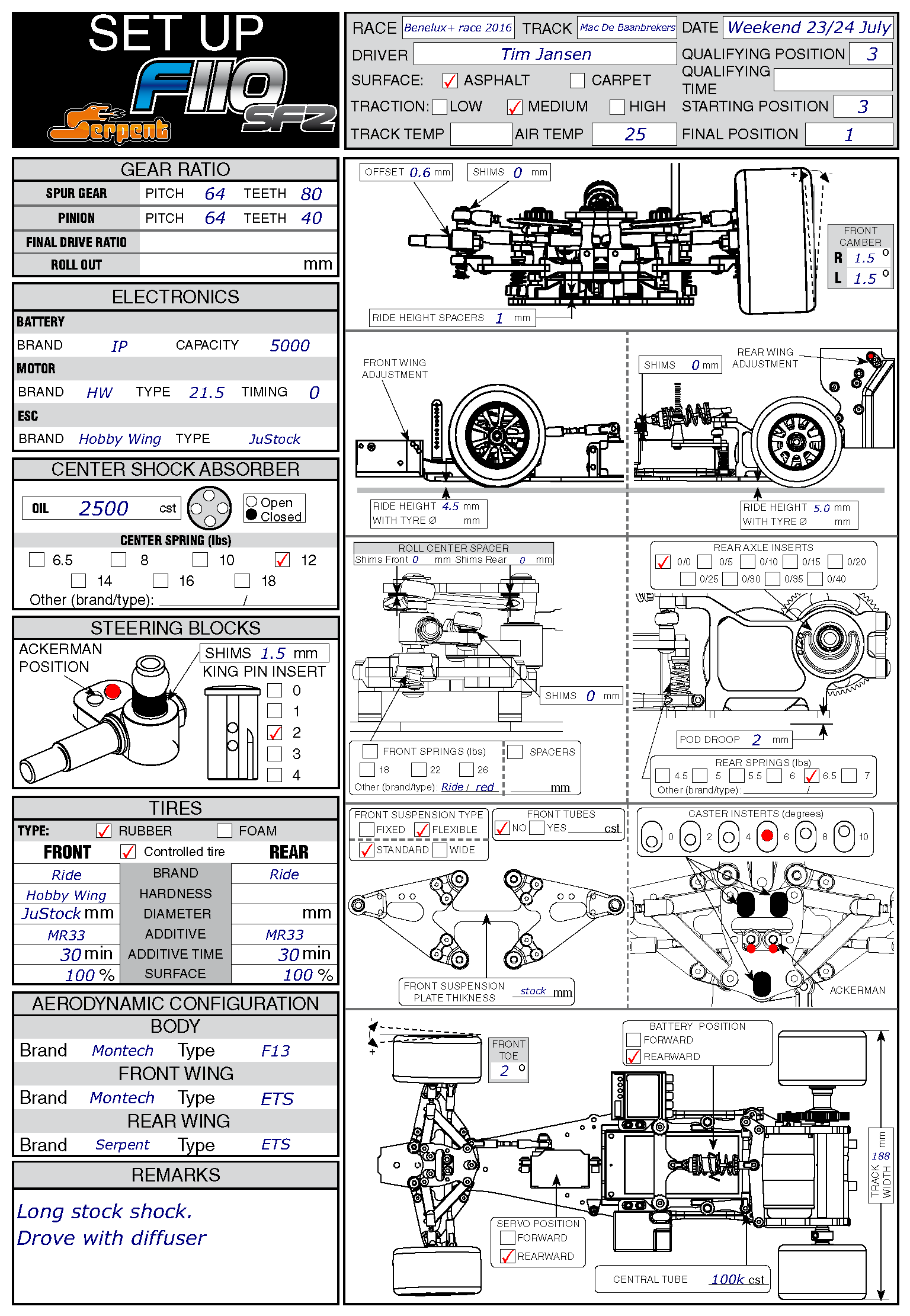 In the weekend of 23/24 July we've had the Benelux+ race at the beautiful track of MAC de Baanbrekers in Rucphen (NL). Looking at the weather forecasts it was going to be a sunny and hot weekend.

The track was already open on Friday for some free practise. Practise was used by a good number of drivers! This year I drove in the F1 class. Good number of entries with 25 people showing up to race. This class was raced with 21.5turns blinky. Race was on Ride tyres and we all had 1 set to race on for the whole race.

On the Saturday we had 1heat of practise and thereafter there was a reseating for the qualifications.

I could manage to get P5 after the practise so I could start with the top 10 in qualifying. There were 4 rounds of qualifying planned on the Saturday. Steve managed to get a P1 in the first 3 rounds of the qualification. Patrick was on a solid P2 with 3 P2 runs. I was on a nice P4 with 3x P4. In Q4 Steve sat out. Patrick would take P1 and I could get a P2. That meant that I was only 1 point behind the number 3.

On Sunday we would have 1 more round of qualifying and then 3 finals with best 2 count.

In the last round of qualifying Patrick and Steve both sat out. Because of that I had an opportunity to take P1 in qualifying and I did. So after qualifications it was Serpent on P1,2 and 3! Serpent top3.

In the finals it was clear that we 3 could drive away from the rest of the field. It was a nice fight between Steve, Patrick and me for the first 3 spots. In Final 1 Patrick and Steve unlucky got in touch with each other and I could drive away from them. That would result in a P1 for me in the first final. Steve came in 2nd and Patrick 4th.

Final2 we had a great start and we could drive away from the field. It was a nice battle first between Patrick and Steve and in the last part of the final I had a nice battle with Patrick. We came in as we started. Steve on P1 and Patrick in 2ndand myself in 3rd.

Final3 we started again very nice. Resulting in pulling a little bit away from the rest of the field. Early way in the final Steve had a problem and got out of the track. Patrick would take over the lead in the final. Half way the final I got passed Patrick and we would have a nice battle till the end. Resulting in myself P1 and Patrick 2nd this final.

Overall I was on P1! Steve would get P2 and Patrick P3. That means a whole Serpent podium! Car was working great and the fastest this weekend! Thanks to Serpent for that great car!

Also big thanks to the whole organisation for this very nice race!