Vital Stats
Age: 32
Height: 6'9"
College: Virginia Union
Years in NBA: 11
Years in RC: 11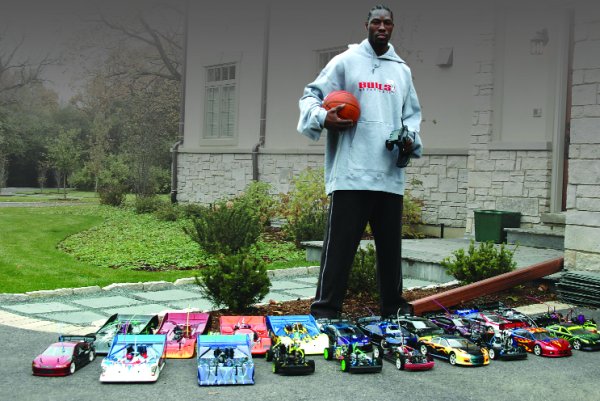 Even if you don't follow NBA basketball that closely, you've seen Ben Wallace's face on ESPN, on the cover of an X-Box basketball game, or inside one of the many magazines covering Ben's rapid rise to stardom. Ben Wallace is a three-time NBA All-Star, multiple-time Defensive Player of the Year, and an avid RC collector and racer. Yes, you read that right; Ben Wallace's RC collection of nearly 150 cars makes even the R/C Car magazine office look barren.
Ben's love of RC began during his first year of pro basketball, nearly eleven years ago. Coming from a big family, where he is one of eleven siblings—seven brothers and three sisters, plus Ben—Ben willed and worked himself into NBA basketball stardom after being passed over completely in the NBA draft.
RC to Ben Wallace
I've always been a big fan of RC cars, like the really good ones, I mean. A long time ago, one of my nephews had a Radio Shack monster truck that I had fun driving one day just playing around. Then my wife's brother had a friend doing the real hobby RC cars, and before I knew it, my wife got me my first nitro car for a birthday gift.
Over time I've collected hundreds of RC cars. I've wanted to give some of them away or sell some of them, but my wife won't let me get rid of them. She says they may be collector's items some day, so I'm hanging on to all of them.
Right now I have roughly between 130-150 RC cars. I have so many that I have my own room in my house for my cars. I had an RC room when I lived in Detroit, but it wasn't the biggest room in the house; I got the leftover room.
When I first got into racing, I just liked speeding my on-road cars down the straightaways. The speed was addictive. Then I started learning the cars, learning to set up the suspension for a certain track. I learned how to set up a car and racing became a lot more fun because I could tune the car to make it do what I wanted.
Nowadays I race all the time in the summers during my off-seasons. I'm to the point now where I can put my car on any track and adjust my car to suit the track. It took some time to learn how to do that.
RC guys are very cool and laid back. When I first went out, everyone was super cool and always helping me get my cars tuned in. I was worried that I'd walk in and everyone would act funny because I play in the NBA or ask for tons of autographs or something, but the RC crowd is cool. Everyone just shows up, races and has a good time and treats everyone the same.
I've trained all my life to play basketball, so I'm not nervous when I play basketball, but it's nerve-wracking to race RC cars. I'm more nervous racing in a big RC race than I am in any basketball game. RC racing is new to me; one bad turn and you can take yourself out. All it takes is one bad mistake and you're done.
I'm into every RC class, but I'm best at Electric On-Road Touring Car racing. I really like on-road racing. I'm pretty good at 1/8-scale On-Road, but it's the speed that worries me most because you can total your car really quickly. Nitro Touring Car is fun too but there are just so many things to adjust to make the car just right.
1/8-scale On-Road is top dog to me. When I go race 1/8 on-road I'll go with a couple of cars, one for racing and one as a backup. I love 1/8 on-road because you get to drag race down the straights, and the cars handle better than any R/C car out there. There's nothing like the sound, smell and speed of 1/8 on-road racing.
I'm sometimes a little too competitive for my own good. RC racing tests my nerves. My main thing is to try to stay calm and stay busy on the track. Mainly, I just try to stay off the walls.
There are a couple of guys in the NBA that are into RC. Rasheed Wallace is one that's really into it. Chris Whitney is another, he and I were into it when I was in Washington playing there.
My first car ever was a Corally that Robbie Michaels at Superior Hobbies sold me when I played in Orlando. Rob has taken care of me and makes sure I know when the good stuff comes into his shop so I can buy what I need. When I moved, I called up Rob and told him I wanted some Mugen carrying bags to move my stuff. He was like, "So you need two or three bags?" and I said, "No, more like 15 of them."
I just do my own thing with my RC's. I like wrenching on my cars. I've built all of my cars myself, and they all have gear in them ready to go. When I first started I tried to do it all myself so I would learn. The guys at Superior Hobbies helped me learn what was what, though.
I'll wrench all night before a race to get my cars ready. I like having my cars ready to go, and I always take two or three cars to the track when I race, in case one breaks. They all have engines broken-in and ready to go.
When my wife and I move houses, we have to have a paved driveway out front, and I need a pretty good straightaway out there to test my cars' speed. Any time we move, I make sure we have a good paved road or driveway for my R/C cars to run on.
I eventually want to open up a hobby shop and track back in Virginia. I already have the land for building on. It'll be a full service hobby shop with an on-road track and lots of parts. I want to have an outdoor track too, for racing.