- Yokomo YZ-2 - Review -

PERFORMANCE TEST 1/10-SCALE 2WD BUGGY | KIT
Yokomo targets the IFMAR Worlds with a high-grip performer

WORDS & PHOTOS BY CARL HYNDMAN




Yokomo is entrenched within RC racing history as a brand that defined 4WD electric off-road competition. From 1985 to 1997, Yokomo won six of the period's seven IFMAR 4WD Electric Worlds titles with legends Gil Losi Jr., Masami Hirosaka, Cliff Lett, and Mark Pavidis wheeling for the iconic brand. Yokomo is less known for its 2WD buggies, but that may well change with the release of the YZ-2 and the potential for Yokomo's first-ever Worlds win in 2WD competition. The 2015 IFMAR Electric Off-Road World Championships will take place at the Yatabe Arena in Japan—Yokomo's home track—and Amain.com/Yokomo driver Atsushi Hara is a genuine threat as a two-time IFMAR World Champ (1/10 Electric Touring 2000, 1/8 Nitro Buggy 2008). With the YZ-2, Yokomo has created a special buggy to handle the unusual, extremely high-bite conditions expected from the 2015 Worlds' Astroturf track surface. The car is a dedicated mid-motor configuration with an aggressively laid-down transmission and forward weight-bias meant to reduce the chance of traction-rolling and improve stability. The YZ-2 has already created quite a buzz among serious off-road electric racers and now we get to see what Yokomo's Worlds-weapon can really do.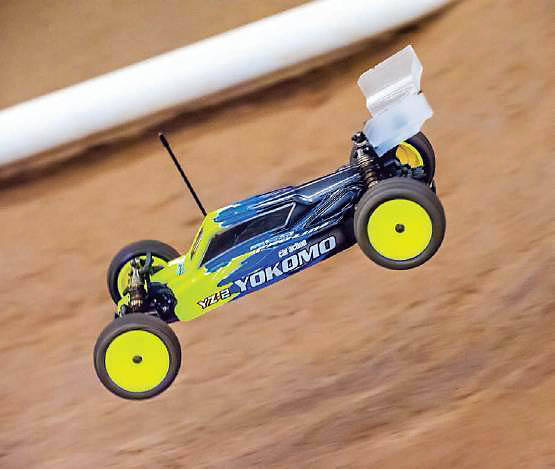 LAYDOWN GEAR-DIFF TRANSMISSION

The Yokomo YZ-2 is meant to excel on tracks with high traction, and its most notable design features toward that goal are its transmission and motor placement. The transmission's four internal gears are laid down rather than stacked, which gives the gearbox a very low profile and lowers the car's center of gravity. It also pushes the motor closer toward the center of the chassis, which shifts weight toward the front making handling quick and responsive at the expense of rear traction—at least on paper. The YZ-2's high-grip theme is also revealed in Yokomo's spec choice for the differential, which omits a ball diff in favor of a gasket- and o-ring sealed gear differential that arrives pre-filled with 3,000 weight silicone oil. The gear diff affords extra tuning capability and forward punch compared to a ball diff. If you want a ball diff for better traction on looser surfaces, Yokomo offers one as an option. CV-type drive-shafts and a conventional dual-pad slipper clutch with an 80-tooth 48-pitch spur gear complete the drivetrain. Team Associated spur gears (among other brands) will fit the YZ-2, and the CVs have snap-rings that surround the joints, so a loose setscrew won't result in a tossed pin.
| | |
| --- | --- |
| The transmission uses a 4-gear design with everything laid down near the chassis. The kit comes with a geardiff and it can be filled with varying thicknesses of silicone oil to tune it further. | The slipper assembly is a familiar 2-pad design and accepts Associated-style spur gears. |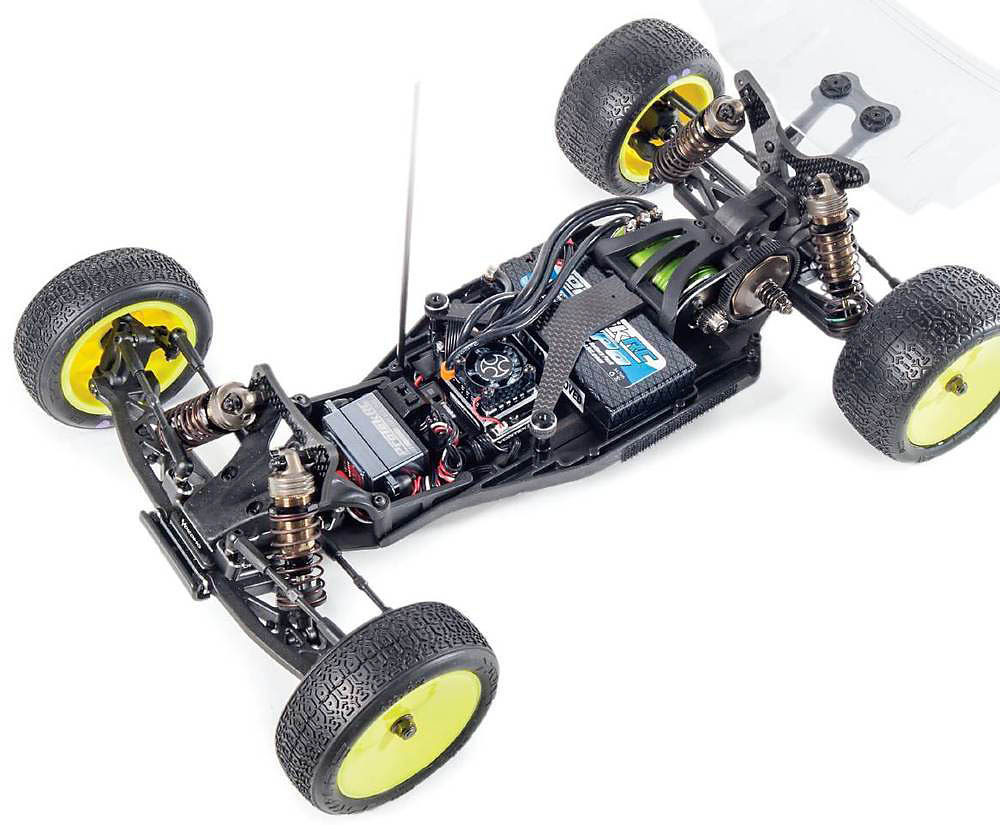 The chassis can be configured a number of ways depending on your battery choice and weight bias preference.




UNIQUE STEERING GEOMETRY
The front of the buggy incorporates a "backward," dual-bellcrank steering rack. The design is meant to provide "more direct steering response," the YZ-2 was indeed extremely responsive on the track. In addition to the unique configuration, the bellcranks' machined aluminum construction no doubt contributes to the right-now steering feel. There's no slop in the bearing-supported parts, and the aluminum assures the bellcranks are flex-free. To set Ackerman, spacers are installed beneath the tie-rods' ball studs.



7075 ALUMINUM MILLED AND HARD ANODIZED CHASSIS

The chassis follows the same trends as many current top-level racers, but leaves room for tuning with weight bias. The main chassis plate is milled from 7075 aluminum and hard-anodized, and features radiused edges and plastic side plates to increase stiffness. The battery compartment fits large "square" or saddle-pack LiPo packs, and "shorty" packs can be installed inline or across the chassis' width. Even full-size stick packs can be used with some leftover room to move the pack and adjust weight distribution. Depending on the battery setup you choose, the speed control may be installed on the chassis itself on top of the carbon-fiber battery hold-down. I opted to run a shorty pack across the chassis and all the way back, which allowed the speed control and receiver to be mounted on the chassis for a lower center of gravity.




The "backward" dual-bellcrank steering is machined from aluminum and turns on ball bearings for precise and slop-free steering.

EXTRA-ADJUSTABLE SUSPENSION

The YZ-2's suspension components have excellent fit and finish and tighter tolerances that can be felt on the track, and the car is extremely adjustable. Rear toe and anti-squat is set via inserts in the aluminum hingepin blocks, and the front skid angles can be set to 0, 2.5, or 5 degrees using bushings in front hub carriers. Roll center is adjustable both by selecting different mounting positions for the camber links' vertical ball studs, and by raising and lowering the studs with spacers. Users can also swap out the 30° front kickup plate for an optional 25° version. The front arms are flat and symmetrical, so a spare arm can be installed as a right or a left. Yokomo also offers "gullwing" arms as an option to further tune steering and suspension feel.

The YZ-2 follows the current "big bore" trend with its 12mm threaded shock bodies. The shocks are hard-coated and have dual X-ring seals, and Yokomo supplies tools that make it easy to hold the shock bodies and seal caps to properly tighten them. The shocks are an emulsion design (no bladder), and the top caps have bleed holes so it's easy to fill the shocks properly. The kit comes with plastic caps, but I installed Yokomo's optional aluminum caps. The shocks mount to thick 3mm graphite shock towers, and Yokomo includes a spacer for the rear tower that allows it to be shifted rearward so the shocks can be mounted on the rear of the arms if desired—though the manual does not explain under what track conditions you would want to do so, or what the benefit is to the rear-mount position.

Left: The 12mm big-bore shocks are an emulsion design and feature threaded, hard-anodized bodies.

Right: The YZ-2 suspension provides a wide range of precise tuning options and the big-bore shocks provide exceptional feel and damping. The kit comes with steel turnbuckles and screws; aftermarket titanium hardware is shown here.


TEST GEAR EcoPower

Sling Shot 17.5T Stock Motor

EcoPower's Sling Shot 17.5T sensored brushless motor is designed to take on competitive stock racing with a budget-friendly price. Featuring a 12.5mm torque rotor, dual sensor ports, adjustable timing, dual ball bearings and six air vents, this motor packs in a lot of value making it a great option for those looking to race stock or in ROAR-sanctioned events. On the track I found the motor to be leaning more toward the higher RPM range and a drop in pinion teeth is recommended to help find the sweet spot. Geared properly, the Sling Shot is competitive in top-level racing conditions.

BEHIND THE WHEEL

OCRC in Huntington Beach is my go-to for race car testing. The high-traction surface and large layout is a good challenge for any 1/10 scale competition vehicle and gave me a good indication of what to expect from the YZ-2 on modern tracks common in North America. Though OCRC does not reach the grip levels of Astroturf or carpet, it does make tires squeal and traction can get high enough for racers to consider running slicks. I set the ride height for 24mm all around and I also adjusted camber to negative one, sauced the tires, and topped off the ProTek RC shorty pack. After the tires came in and the shakedown laps were performed, the YZ-2 started to show its potential. It launched fast out of each corner and carried tons of corner speed. Not just fast corner speed, but in and out of the corner faster than just about any other 2WD buggy I've driven. But, it did come at some expense. The lightning corner speed translates in to twitchy and overly aggressive handling and a high level of concentration is needed to navigate laps consistently. Back in the pits I adjusted the Ackermann by adding an inner 10mm shim and stood the front shocks up one hole on the shock tower. I also went stiffer on the springs and thickened the oil in the shocks on all four corners to help tame this beast. The YZ-2's list of tuning features is long and can be intimidating at the same time, especially since the manual offers no help or advice. These changes helped a bit, but the back end was still dumping and turning "squares" through the corners and sweepers. This could be attributed to the gear diff, but tuning it requires disassembly to change the silicone oil (an externally-adjustable ball diff is available as an option). The buggy responds to diff tuning well, but access to the rear transmission means removing a lot of screws. This is a small price to pay for the benefits of the low-CG transmission and the buggy is obviously aimed at experienced racers with a fairly high level of proficiency and tuning knowledge. High traction surfaces definitely let you know about any handling features and the cab-forward body gives it even more precise handling. In the air, the buggy responded well to throttle and brake inputs to help it fly with control. Landings were solid and the shocks felt plush as their big-bore bodies aided in handling the quick direction changes and technical obstacles.
FINAL WORD Yokomo has delivered a buggy that may be very specific to high-bite conditions, but as high-grip surfaces including Astroturf become more common, the compromises made by Yokomo for high-traction handling are in synch with the latest developments in 1/10 scale off-road competition. The YZ-2's low-CG transmission and forward motor placement make the buggy ultra-aggressive, but also provide extremely fast corner speed for those who have the skills. It's a plus for experienced drivers, but for newer or less skilled pilots, the YZ-2 will likely be a handful. The YZ-2 is a serious car for serious drivers. It handles like nothing else, and with factory pilots like Atsushi Hara at the wheel, a 2WD podium for Yokomo at the 2015 IFMAR Electric Off-Road Championships is a real possibility.

+
+ LiPo battery size and placement options
+ Very low center of gravity
+ Plush 12mm big-bore shocks
+ Extremely fast corner speed

-
- Not for beginners, requires skill to operate and tune proficiently
- Would like to see ball diff for greater tuning versatility

SOURCES

Yokomo, ProTek RC, and EcoPower distributed by AMain.com
Pro-Line ProLineRacing.com
Futaba Futaba-RC.com
Stiky Liks facebook.com/stikyliks.rcpainting



VEHICLE SPECS

- Item no.: YOKB-YZ2
- Scale: 1/10
- Price: $350
- Weight as tested: 3 lb., 7.2 oz, (1565g)

CHASSIS

- Material: Hard-anodized 7075-T6 Aluminum
- Type: Machined plate

SUSPENSION

- Type: H-arm with steel turnbuckle camber link
- Inboard camber link positions (F/R): 3/3
- Outboard camber link positions (F/R): 2/6
- Shock positions, towers (F/R): 3/3
- Shock positions, arms (F/R): 2/3

SHOCKS

- Bodies: Threaded aluminum
- Bore: 12mm
- Shafts: 3mm Steel
- Volume compensation: Emulsion

DRIVETRAIN

- Type: 2WD enclosed gearbox
- Spur gear/pinion: 80/not included
- Slipper Clutch: Dual-pad
- Differential: Sealed bevel gear
- Driveshafts: Steel CV type
- Bearings: Metal-shielded ball

TEST GEAR (NOT INCLUDED)

- Transmitter/receiver: Futaba 4PX / R3045B 4-Channel
- Steering servo: ProTek RC PTK-160T
- Speed Control: Orion Vortex R10.1 Pro
- Motor: EcoPower Sling Shot 17.5T Sensored Stock
- Battery: ProTek RC 2S Supreme Power 100C 4700mAh 7.4V Shorty LiPo
- Tires: Pro-Line Ion 2.2" MC compound