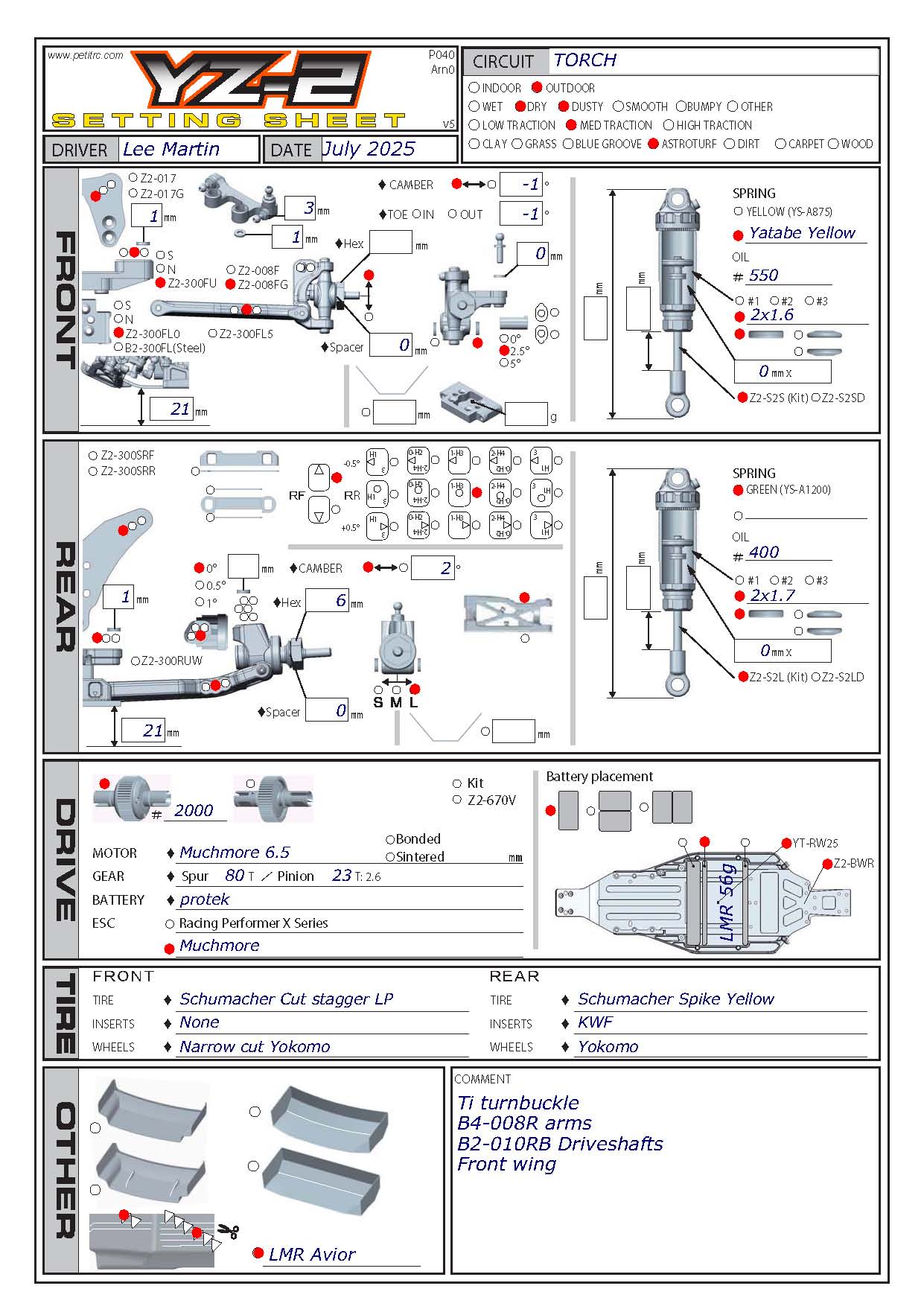 The Club and Track TORCH.
Titchfield Off Road Club Hampshire has been established since 1979. The club formally had a much smaller venue in Titchfield and really only catered for Sunday club racing. The late Ron Winter were strong followers of the club. You may recognise the initials RW as in RW Racing, world famous for pinions and spur gears and still going very strong in the RC industry. Committee members like Julian Mallard that have been on the TORCH personnel list for decades make this club solid as they come. Just on a personal note that certainly not many would know, Titchfield club in its original venue was the first club I visited to race back in 1981. How things have moved on since then :-) As many of you know, Stephen Brown is the chairman of the club and as a top level racer himself, he wanted to build the club up to be one of the best in the UK. Speaking to him personally he strives to hold prestigious events for the very best racers to compete at but at the same time building the club to have some of the best facilities for every level driver to also enjoy through the seasons. The club moved to the current venue in the Botley area some years ago, where they have spent every penny and more to build and build to get to where they are now. Unquestionably now a National standard club that presents us with a track that the racers just seem to love. They introduced a large jump at last year's National event and this year they added a double jump and a smaller kicker type jump too. The other features like the table top moved to another area of the track as did the large jump and they laid out a totally new track design to make the National weekend as neutral as possible. Mr Brown had his hoover out, hoovering the track and as barking mad as that sounds and is, the track looked totally immaculate. The new track layout was long and very fast and with the incorporated jump sections, certainly another different great test for the competitors.
The drivers are ready; the organisers are ready; so let's race!
2WD Event – Saturday
Drivers Briefing
Paul Worsley our chairman always introduces the personnel running the meeting and as always updates everyone to what's happening in the big world of RC. This was a straight forward drivers meeting with no complications. Grant Fribbens was the race director.
Practice
Everyone should be in tune with how practice is run, especially if you have been reading the reporting of the Nationals. 2 practice sessions at 3 minutes each and all in heat order. Today they squeezed the second run to 3 1/2 minutes. More please I hear you all shouting!! There were some TORCH committee members on marshal duty as well as some of the racers staying on to help. Grant the race director conducted the practice sessions and it all run like clockwork.
Round 1
The weather was certainly looking good and with most in t-shirt and shorts attire, we were all ready. As you all know I try to highlight one or two drivers for each event as its recognised they either go really well at a particular venue or it's their home track. This time round it's an easy pick. Stephen Brown is very quick at TORCH. Last year he made the B final and it doesn't take a mathematician to know he would like the main A Final under his belt. Let's see!
Other drivers making a showing this weekend that really stiffened up the competition to even further depth of field; Richard Barton, passed winner of Nationals, David Burton, another National winner as well as a visitor from abroad. Michal Orlowski the young rising star driving for Schumacher, recently won an EOS event and last year's European A finalist, made a visit all the way from Poland to race with us. Certainly would be interesting. Welcome Michal :-) It was the experienced Neil Cragg that would set a blistering first round score to go no.1 in round 1. Simon Moss with his new chassis sponsor 2nd, Lee Martin his boss in 3rd, Craig Collinson 4th, Nathan Waters looked quick to take 5th, David me old fruit Poulter 6th, young Jack Neil 7th, Kev Lee the warrior 8th and Lloyd Storey and Tom Yardy 9th and 10th. Steven Brown 14th
Round 2
The weather never a factor, sunshine breaking through and it was lovely.
Elliott Boots was in the earlier heats along with me and Michal Orlowski. We all had a good run with Elliott setting the pace to go top at the time. Neil Cragg again with another good time took the 2nd round TQ on a quick 11 lap pace with Lee Martin just 0.54 behind. Tom Yardy in at 3rd, Craig Collinson for Team C another good run for 4th, Rebecca (sorry – LOL) in at 5th, Richard Lowe making a showing in at 6th in round, Lloyd Storey 7th, Elliott Boots 8th, Iain Mellish 9th and Danny McGee 10th. Tony Evdoka 12th with Michal Orlowshi 13th. Brown 20th.
Round 3
Bang on cue its one of the most successful UK 10th drivers ever. Multiple British Champion, multiple European Champion and passed World Champion Neil Cragg stepped up to take round 3 and set the fastest time of the day too. In doing so, secured the pole position for the 2wd A final. Cockers in 2nd, Lee in 3rd, Tom Yardy 4th, Lowe in at 5th, McGee 6th, Waters 7th, Steve Brown a great run for 8th, Boots 9th and John Spencer 10th. Craig Maher our photographer and Serpent driver 22nd :-)
Round 4
Last chance saloon for some. There were a lot of people that could actually make the A Final. More than normal I would say. Simon Moss had a 2 scoring and no back up at this stage. Danny wasn't sure; he needed something to go with a 6th in round 3. Kev Lee had an 8 scoring from round 1 so more than possible. Lloyd Storey with a 7th and a 9th really needed another low single figure as 16 wouldn't be enough. David Poulter with a 6th and no back up, Jack Neal had a 7th on the board with no back up, Steven Brown with an 8th needing a very low number but that was possible also with Ian Mellish with an 11th scoring and myself with a 12th scoring. One thing is for sure, not everyone can make an A final. At the end it panned out like this. Elliott Boots set the fastest time for round 4 only 0.09 of a sec off Craggy's fastest time of the day set in the previous round. Lee in at 2nd, Tom Yardy 3rd, Cockers 4th, Craig 5th, Danny with a 6th to get in there, Kev 7th but was to be BQ, Nathan Waters 8th but was already in with a 5th and 7th, Greg Williams 9th in this round but that was only good enough for 15th overall, 10th in round was Simon Moss to back up his 2nd in round 1 and put himself 8th on the grid. They say Nationals are hard and they should be and they are :-)
A Final 2wd Line-Up
| | |
| --- | --- |
| 1. Neil Cragg | Associated |
| 2. Lee Martin | Yokomo |
| 3. Tom Cockerill | Yokomo |
| 4. Tom Yardy | Associated |
| 5. Elliott Boots | Kyosho |
| 6. Craig Collinson | Team C |
| 7. Richard Lowe | Hot Bodies |
| 8. Simon Moss | Yokomo |
| 9. Nathan Waters | Schumacher |
| 10. Danny McGee | Schumacher |
Finals
Leg 1 A Main
Neil Cragg led them off and we thought it would be just like a train going round but the top 3 were running at such a pace they very quickly broke away from the chasing pack. Neil, Lee and Tom were very much on par too. Extremely similar lap times were being posted. Lee Martin took the win from Neil Cragg and Tom in 3rd. Craig, 4th, Nathan 5th, Si 6th, Tom Y 7th, Richard 8th, Elliott 9th and Danny 10th
K Final was won by David O'Brien
J Final was won by Paul Tapsell
I Final was won by Alex Johns
H Final was won by Ben Jemison
Leg 2 A Main
Leg 2 got under way right on schedule.
An early mistake by Neil let Lee get ahead and to be honest there was no other result than Lee winning from there on in. Lee did what he does best and kept the buggy right side up to just stroke it home to take leg 2 and the win. Neil 2nd again and Tom 3rd again. Elliott with a better run in 4th, Tom Y 5th, Danny 6th, Richard 7th, Craig 8th, Nathan 9th and Simon 10th.
G Final was won by Scott Follington
F Final was won by Mathew Dodd
E Final was won by Chris Delves
D Final was won by Ellis Stafford
C Final was won by Jack Neal
B Final was won by Lloyd Storey

Leg 3 A main
The meeting was all tied up by Lee as he won the first 2 legs. Now for the podium positions.
Off we went and Neil in control but once again the smallest of mistakes gave Lee the lead with Tom moving into 2nd and Neil down to 3rd. Out of the blue and more or less instantaneously Lee seemed to make an error that gave Tom the lead. Of course this was panning out just nicely for the Yokomo boys because if Tom could win this leg he would be 2nd at the meeting demoting Neil to third. Certainly would tighten up the Championship too, right down to a single point between Neil and Lee. Lee didn't need to overtake Tom and didn't. Tom drove a perfect race for himself it has to be said and took leg 3 and 2nd overall. Lee 2nd in the race, Neil 3rd, Craig 4th, Elliott 5th, Danny 6th, Nathan 7th, Richard 8th, Tom Y 9th and Si 10th.
RESULTS – 2WD MAIN A-FINAL
1st Lee Martin
Yokomo
2nd Tom Cockerill
Yokomo
3rd Neil Cragg
Associated
4th Craig Collinson
Team C
5th Elliott Boots
Kyosho
6th Tom Yardy
Associated
7th Nathan Waters
Schumacher
8th Danny McGee
Schumacher
9th Richard Lowe
Hot Bodies
10th Simon Moss
Yokomo
OTHER 2WD RESULTS
Top F2
Elliott Boots
Top F3
Richard Barton
Top F4
Dan Austin
Top F5
Tom Robertson
Top U13
Ben Pugh


Team TORCH – Great infrastructure at the TORCH club – everything run to perfection
4WD Event – Sunday
The track
The TORCH crew had it all figured out and they quickly moved a few hoses around and re-pinned everything and the left hand side of the track was transformed to a different layout. Good job. Fast flowing and certainly interesting over the smaller inside table top – precise driving would be prevailing for sure!
Drivers briefing
Paul did the drivers briefing – No major announcements.
Practice
The weather looked rubbish the day before – some competitors were talking wet tyres and talking different combinations and all sorts. It changed through the night though and by first practice it was all over. The threat of rain was gone and the shorts were out once more! Maybe we would have been better off with rain J
Some tried the 4wd cars with stagger ribs up front, some with 2 row studs, some with slim 2wd tyres and even some with the original full fronted 4wd fronts. Very similar story to other tracks like EPR, Telford and so on!
Round 1
If everyone remembers, I started the last 4wd report with making statements about old men driving fast and being V40 with grey hair. Yes he was at it again in round 1. Ellis 'Big E' Stafford driving his TLR 22-4 set a great pace for everyone to attack. Only yesterday's winner could beat it though. Lee took the round, Ellis 2nd, Simon Moss 3rd, Michal Orlowski having a much better day to go 4th, Rebecca in at 5th, Neil Cragg 6th, Elliott Boots 7th, Craig Collinson 8th, Richard Lowe 9th and Tom Yardy 10th.
Round 2
Lee Martin went top again going 3 secs quicker than his round 1 time. Elliott Boots making a move to go 2nd in round and Big E 3rd in round securing his spot in the main A Final. Si Moss also securing his A final with a 4th in round, Michal Orlowshi also as a 4th and 5th is very rarely not made an A final. Jack Neal in 6th, Tom Yardy 7th, Nathan Waters 8th, Danny McGee 9th and Craig Collinson 10th.
Round 3
Round 3 was a much tighter affair. Lee took it by 0.72 from Craggy that was just 0.94 quicker than Boots. Elliott now secured his A final spot. Orlowski another solid 4th, Yardy 5th, Stafford 6th, Collinson 7th, Lowe in 8th, Waters 9th and Cockers 10th.
Round 4
Elliott Boots set an amazing time of 12/305.19 that was to be the target for all to beat. They came, they tried but no one got even close to it. It was the fastest in round 4 and the fastest time of the day. Neil got 2nd in round to secure 3rd on the grid, Tom Yardy with his best run to secure 6th, Nathan 4th to secure 8th, Craig 5th to secure 9th, Michal 6th and he was to line up 7th, Jack Neal went 7th in round to secure the 10th spot, Simon Moss 8th in round to line up 5th on the grid, Lee 9th in round but he already had TQ, Tom Cockerill in 10th in round but that was only good enough for BQ
A Final 4wd Line-Up
| | |
| --- | --- |
| 1. Lee Martin | Yokomo |
| 2. Elliott Boots | Kyosho |
| 3. Neil Cragg | Associated |
| 4. Ellis Stafford | TLR |
| 5. Simon Moss | Yokomo |
| 6. Tom Yardy | Associated |
| 7. Michal Orlowski | Schumacher |
| 8. Nathan Waters | Schumacher |
| 9. Craig Collinson | Team C |
| 10. Jack Neal | Schumacher |
Leg 1 A Main
What excitement would we have. Lee started from pole and was put under pressure from Elliott straight away. Lee had a champions roll and that's all that was needed for Elliott to shoot his Kyosho into the lead. It looked around the half way distance that Elliott was actually pulling away a little until Lee got his head done and did some of the quickest laps of the meeting to catch up with Elliott. Elliott did the same and these 2 were the only ones doing 24s laps although Neil in 3rd on a 25 dead. Last lap and Lee tapped Elliott trying to get by and instantly stopped to give the advantage back and they went off again. Elliott's car seemed to be on the wrong line down the straight and suddenly tumbled flat out into the RudeBits banner at the end of the straight. Lee was through and with only a few more corners, Lee won the first leg from Elliott, Neil in 3rd, Si in 4th, Tom Y in 5th, Craig 6th, Ellis 7th, Michal 8th, Nathan and Jack in 9th and 10th
J Finals was won by Paul Knight
I Finals was won by Stuart Hurley
H Final was won by James Evans
G Final was won by Stuart Rand
Leg 2 A Main
Leg 2 was a great race too. Lee led them off again, Elliott pilling on the pressure from word go and did some amazing laps but after only 4 laps had a failure and had to drop out. Neil took the final by the neck and somehow Lee made an error and Neil was away. Lee was catching or Neil was crusing, either or, it finished with Neil taking it and Lee 2nd. 3 guys now can win it. Tom Yardy in 3rd, Ellis 4th, Nathan 5th, Jack 6th, Micjal 7th, Craig 8th, Si and Elliott 9th and 10th.
F Final was won by Steven Pierce
E Final was won by Allan O'Brien
D Finals was won by Chris Delves
C Final was won by Chris Rowcliffe
B Final was won by Tom 'Rebecca' Cockerill
At this stage I have to congratulate Tom 'Rebecca' Cockerill on being a great sport. He was giving out a load of banter on the microphone.
Just before the B final the drivers made him slip on the ladies dress and race with it. He did exactly that to everyone's laughs and amusements.
She absolutely drove beautifully, not making a single error, and went on to win the B Final. Well done Rebecca :-)
Leg 3 A Main
So everyone was ready, so off we go. Only 3 laps in and it wasn't meant to be for Elliott as he retired with another mechanical failure. It was all up to Lee and Neil to fight it out for the win. Neil made an error and like I've reported before, Lee doesn't make any errors when he is out in front on his own. He just kept it on its wheels and cruised round (fast may I add) to take the win and the meeting. Neil came in 2nd to take 2nd in the meeting. Si Moss took 3rd to put his new ride on the podium first time out. Ellis was 4th, Michal 5th, Tom Y 6th, Nathan 7th, Craig 8th and Jack 9th with Elliott 10th after his third lap retirement.
RESULTS – 4WD MAIN A-FINAL
1st Lee Martin
Yokomo
2nd Neil Cragg
Associated
3rd Simon Moss
Yokomo
4th Tom Yardy
Associated
5th Ellis Stafford
TLR
6th Michal Orlowski
Schumacher
7th Elliott Boots
Kyosho
8th Nathan Waters
Schumacher
9th Craig Collinson
Team C
10th Jack Neal
Schumacher
OTHER 4WD RESULTS
Top F2
Elliott Boots
Top F3
Ross Nicholson
Top F4
Tom Bate
Top F5
Michal Orlowski
Top U13
Jack Hirst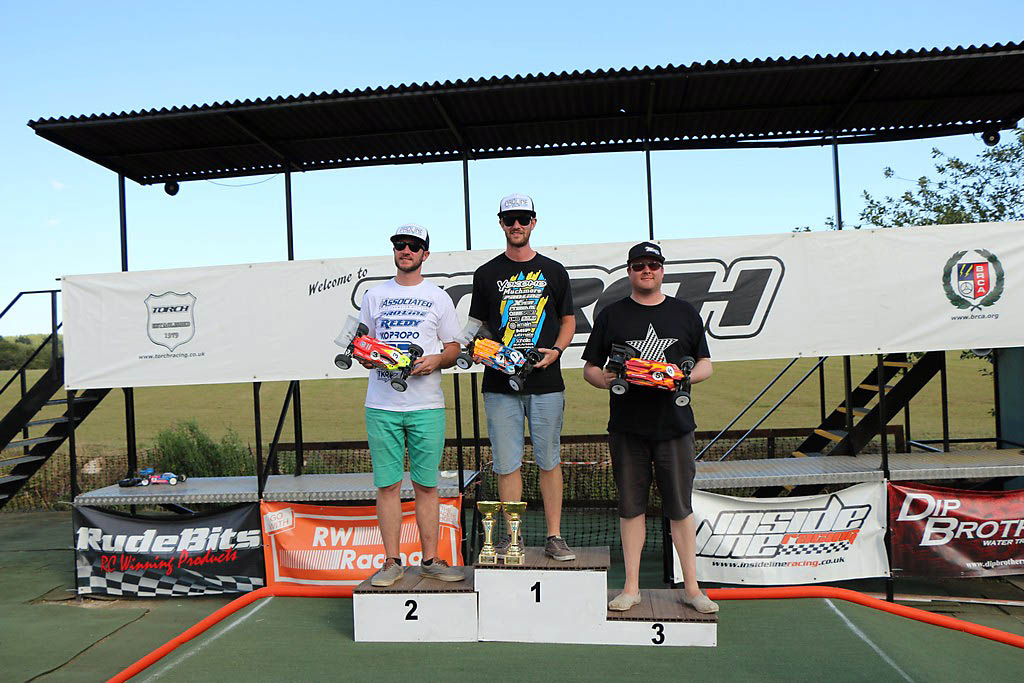 Results – 4wd Lee Martin the win from Neil Cragg and Simon Moss

Lee Martin – 2015 British 4wd Champion Elect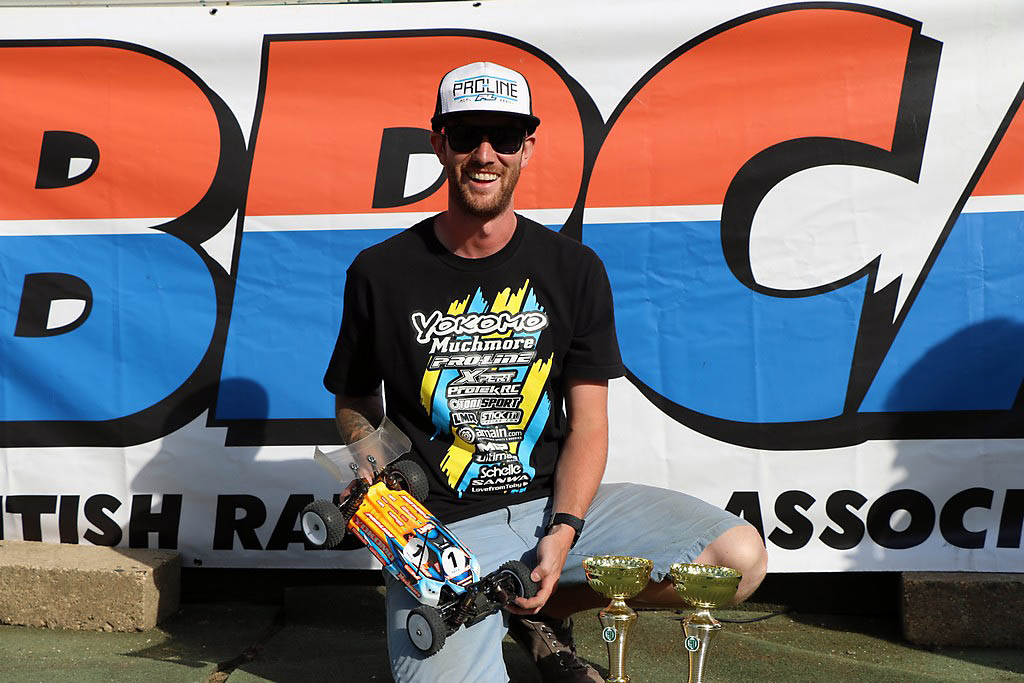 With this latest win at the TORCH venue and with only one round to go, there is no one that can catch Lee Martin for the 4wd Championship. Congrats Lee :-) Here is Lee, his car and with his family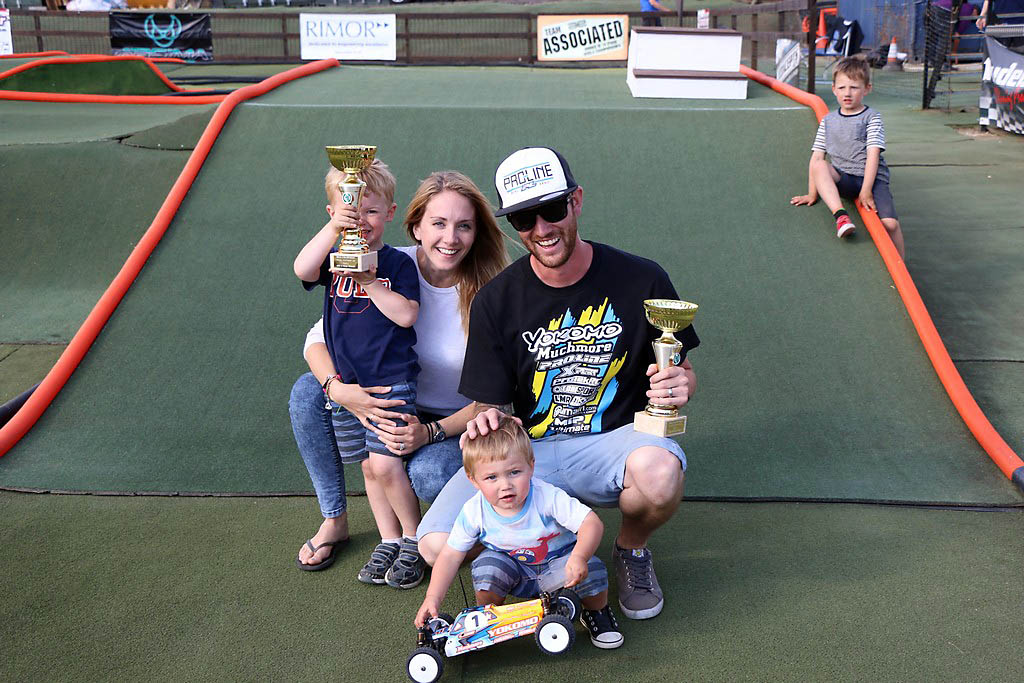 Some updated statistics
At this stage with the current numbers in attendance.
Predicted F1 drivers in 2wd will be 34
Predicted F1 drivers in 4wd will be 30
Overall prediction for drivers obtaining a F1 licence is 36

Conclusion
The TORCH club once again have put out an immaculate track that can be raced but at the same time needed the finesse of being fast as well as precise. New toilet block is spot on and just what was needed for the club. The personnel at scrutineering did a super job and actually checked everything the way it should be done. I must admit from a personal perspective, I am not sure the positioning of scrutineering is in the right place or maybe the tent is a little too big for that area. It's a nothing comment but may need reviewing to free up space for the drivers waiting to go up the rostrum. Everything else has to be applauded though; everything at hand, personnel when needed and everything like clockwork. Thanks TORCH for a great meeting.
Again let's not forget the BRCA personnel headed by Paul Worsley the chairman, Stuart Whyman the timekeeper, John Cockill head referee, Tom Yardy driver's rep and all the others that contribute so much, yet again did an amazing job. Thanks to them also.
Last round is at Stotfold Model Car Club on the 29th and 30th of August. I already know that we have some spaces so get in touch now to experience the finale of the British Championship. Send us an email and get yourself booked in. Just do it. J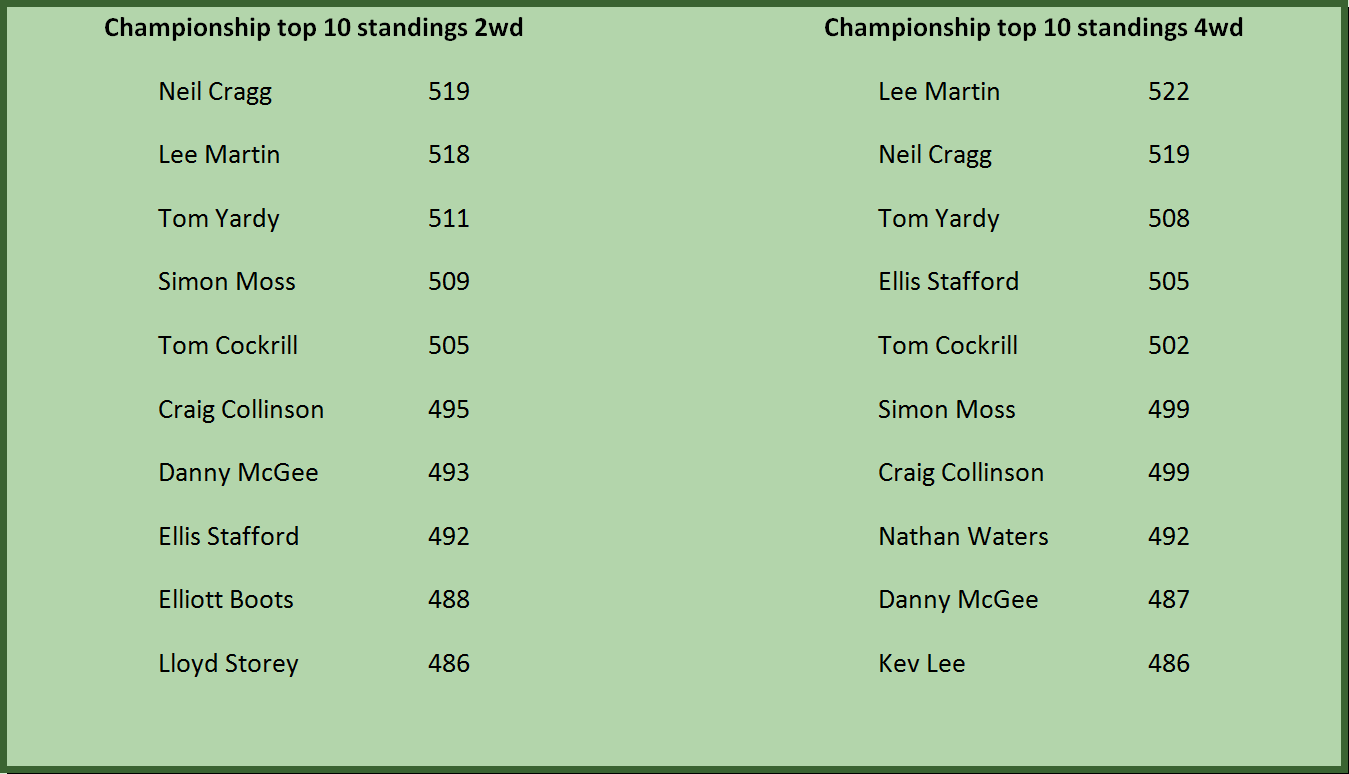 Click to see the full gallery of 2WD.
Click to see the full gallery of 4WD.