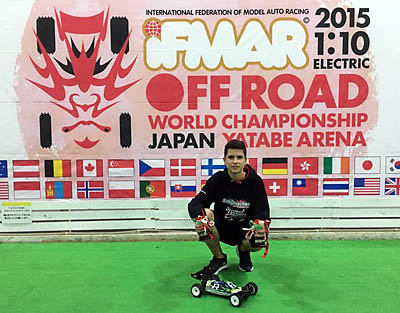 So the 2015 Worlds is done, and what a great week it was for the Schumacher team. 14 year old Michal Orlowski took the fight of the Schumacher brand to the best drivers in the world and came out with some excellent results.
In 2WD Michal rana standardproduction Cougar KF2 with the low grip configuration and made the A final qualifying in 8th and finishing in 9th. Michals car was one of the few production cars in the A final, many of the teams had brought various prototypes to the event, most not allowing photo's to be taken of the cars. Michals car was stock, with the addition of the low grip option which is included in the kit. The guys went down the route of our typical UK astro set up with a few small tweaks to suit the Worlds track.
On to the 4WD and Michal along with Ben Jemison, Olivier De Montfumat and Brett Birch all ran new prototypes of the CAT K2. All the drivers fared well with the new car but it was Michal again showing an excellent performance getting up to 2nd overall in qualifying. The car was extremely fast and very easy to drive enabling Michal to put in some very consistent runs on the difficult track. Learning with the new car all the time Michal and his father along with Schumacher R&D engineer Trish Neal got the car working great. The finals were tough for Michal and the pressure put on from the hard chasing pack, Michal had a good leg 2 finishing second and a 6th in leg 1 after a couple of mistakes. This gave him 4th overall, just off the podium, an exceptional performance for the youngstar and from the new CAT K2.
Michal was one of only 4 drivers to make both the 2WD and 4WD A main, showing both cars excellent performance and consistency.
Not only did the team have excellent results, the Worlds was also run on Schumacher control tyres, which went a little under the radar in the press. This was in no doubt because they ran perfectly throughout the event, we didn't hear one complaint from the drivers on the quality or consistency of the tyres, very unusual for an event of this size but not unusual if you choose the best tyre!
More info on the new CAT K2 will be available in the next few days,and we are hoping to have the car available in a few week's time. Keep checking the Schumacher website and RC press for full details.
Congratulations to Michal, Ben, Olivier and Brett on an excellent IFMAR Worlds performance!