- Schumacher CAT K1 - Tom Cockerill - Winter Series - Silverstone - 08.12.2012 -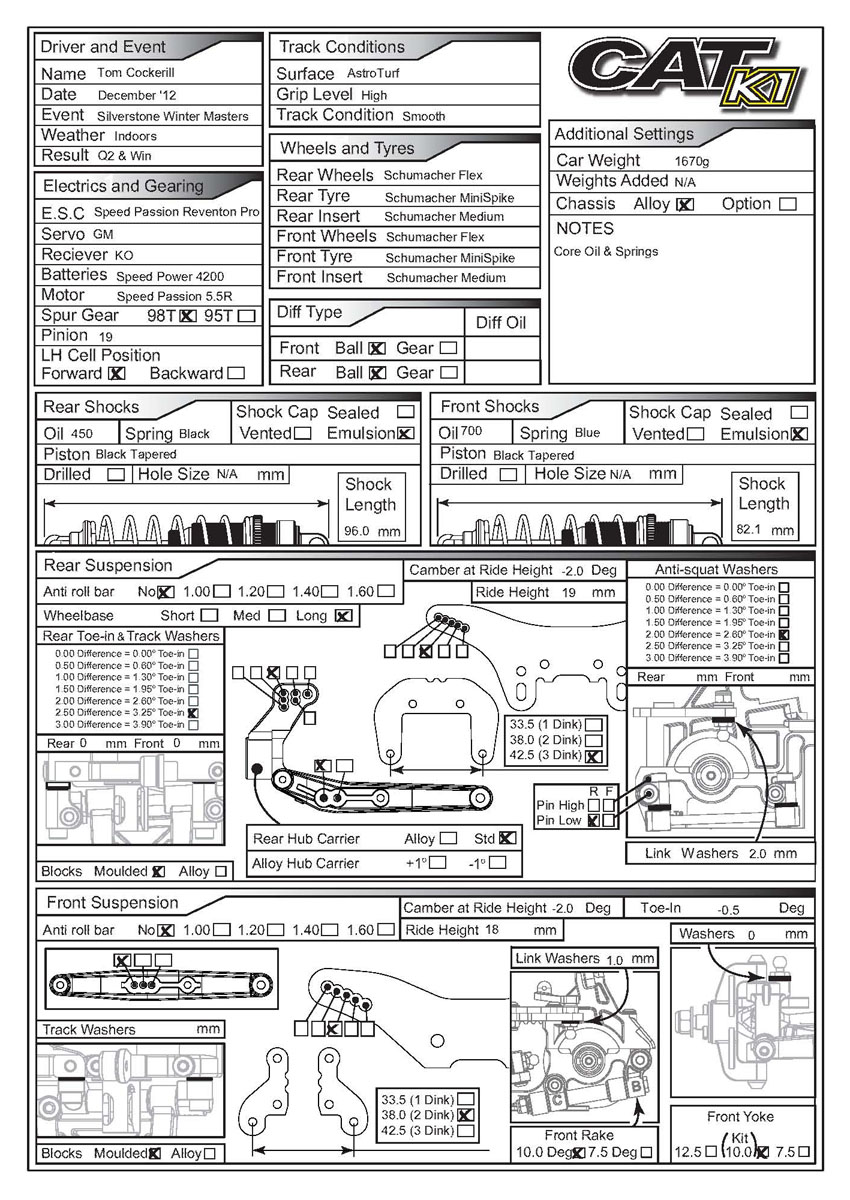 This weekend was the 3rd Round of the Silverstone Winter Series. Itís proving a popular series with 120 entries across 2wd and 4wd and a heat of Short Course. The club had laid out an excellent track with plenty of jumps and 2 slippery floor sections, combined with the high grip AstroTurf made for an interesting and challenging track. The event would also be the debut meeting for the New CAT K1.

All eyes were on 4wd as Team Drivers Simon Moss, Tom Cockerill and Matt Owen would debut the new car. Round 1 of qualifying saw a dominant display by Simon, to take the round, with Tom and Matt backing him up in 2nd and 3rd. Simon would prove almost untouchable in qualifying, also taking rounds 2 and 4, only been beaten in Round 3 by Tom by a mere 0.02s! Matt would line up 3rd on the grid, making it the three K1ís 1-2-3 on the grid.

In the final all eyes were on the front two, as Simon led Tom round, never more than 0.5s between them over the first 3 minutes. At about the 3 minute mark, Simon got a run up to the jump slightly wrong, and Tom went for an over the top move, that didnít quite come off. This gave Simon a 1 second lead, which would eventually be lost after he made a mistake. Tom took the lead from here and kept it to the end, giving the K1 a debut win, backed up with Matt Owen in 3rd place.

The team had many drivers present in 2wd, with 5 of them making the A final, including 4 in the top 5. Tom Cockerill dominated Qualifying, taking the first 3 rounds in convincing style. Lloyd Storey would take the 4th and final round closely followed by Simon Moss who lined up 2nd and 3rd on the grid respectively and John Spencer 5th.

The final started out very cleanly with all drivers getting away without mistakes. Tom would lead off from the front and pull out a couple of second lead, as drivers behind him made small errors on the fast paced track. Tom looked to have the final wrapped up, until a mistake on the last corner of the last lap would give up the lead to Tom Yardy leaving him to finish 2nd and Simon Moss 3rd.

All in all a great weekend for the team and a fantastic event from the Silverstone crew.
Source: