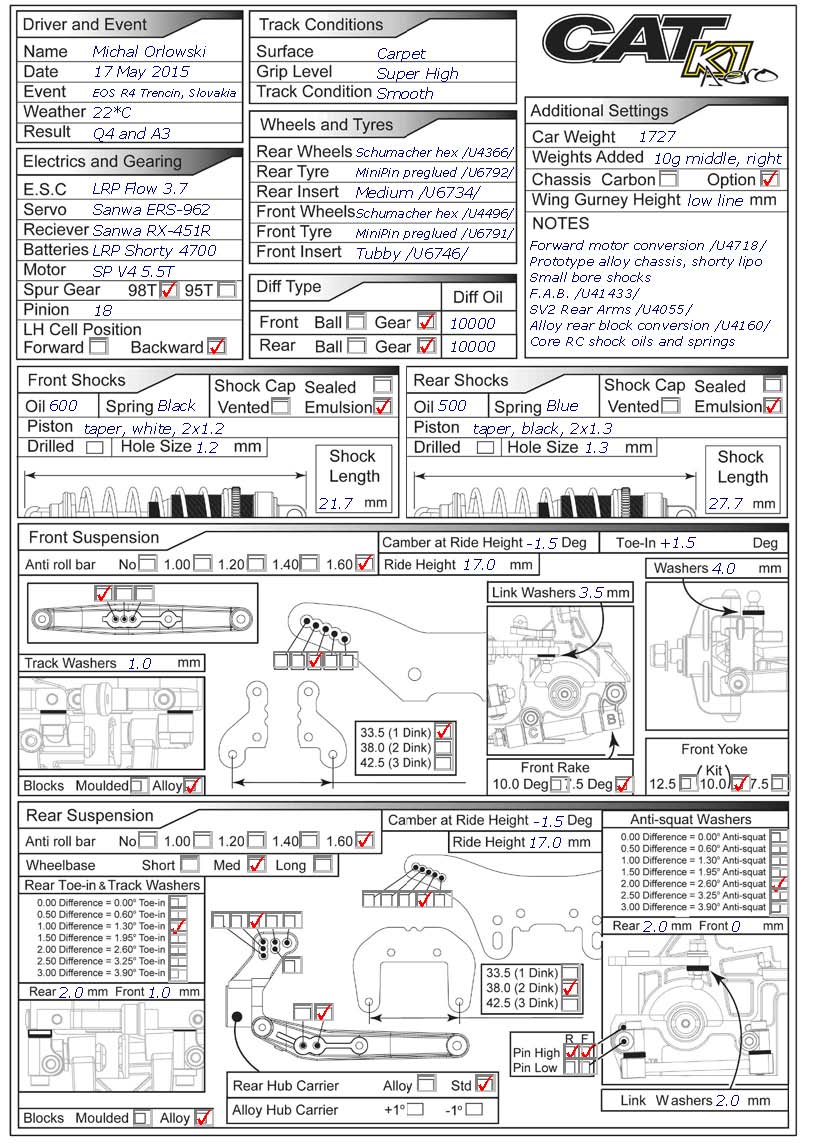 Chassis: Schumacher CAT K1 Aero
Motor: Speed Passion 5.5
ESC: LRP
Batteries: LRP 4700mah
Radio/Servo: Sanwa

Remarks: Schumacherís Polish star Michal Orlowski, winner of the 2WD encounter at the EOS season finale, would also claim a podium in the 4WD class with an interesting version of the CAT K1 Aero. Equipped with a forward motor conversion they buggy also features a prototype aluminum chassis for the high bite conditions. He was also using a front adjustable brake kit that allows for a fine tuning brake bias setup.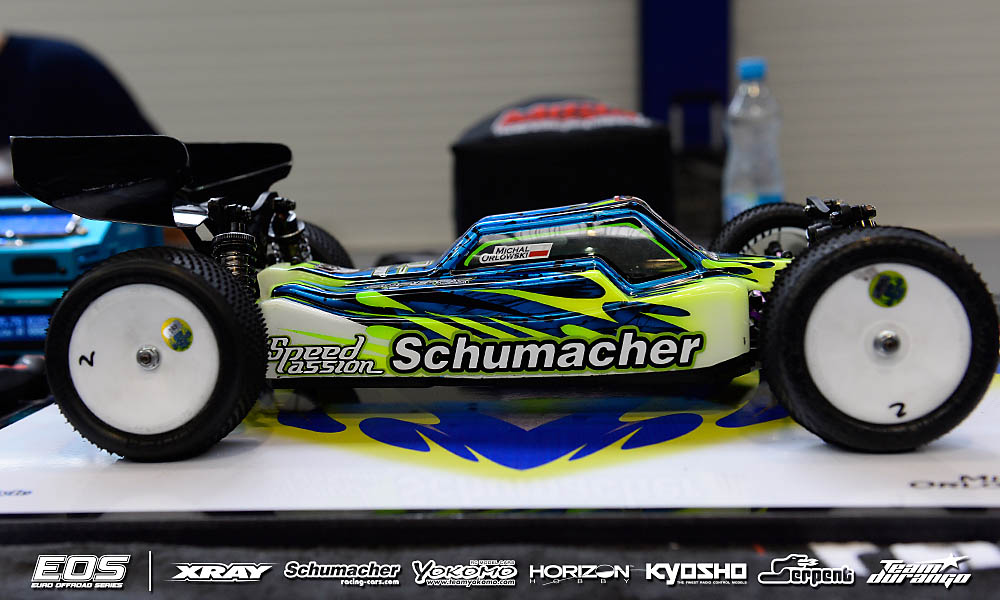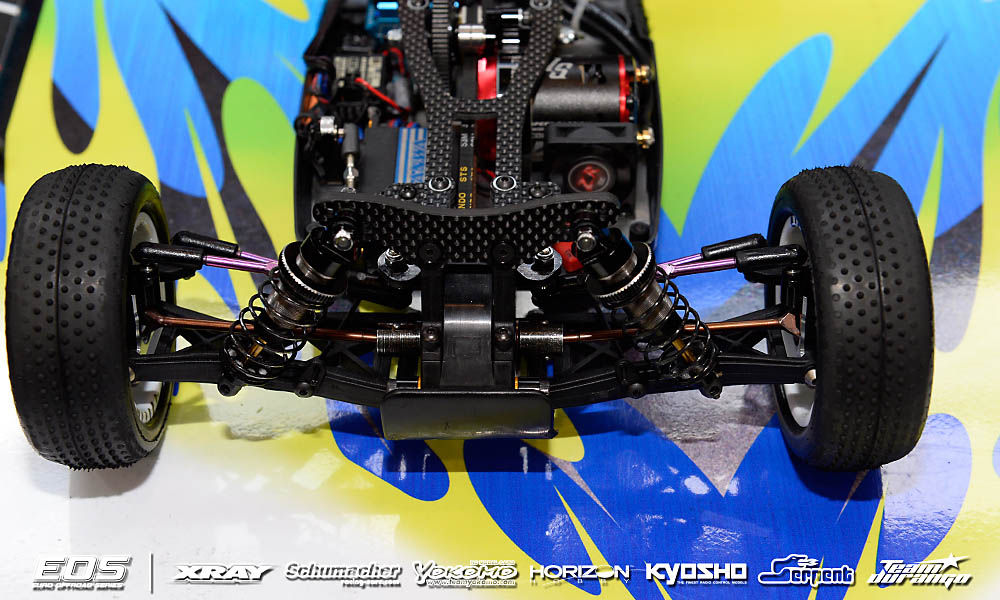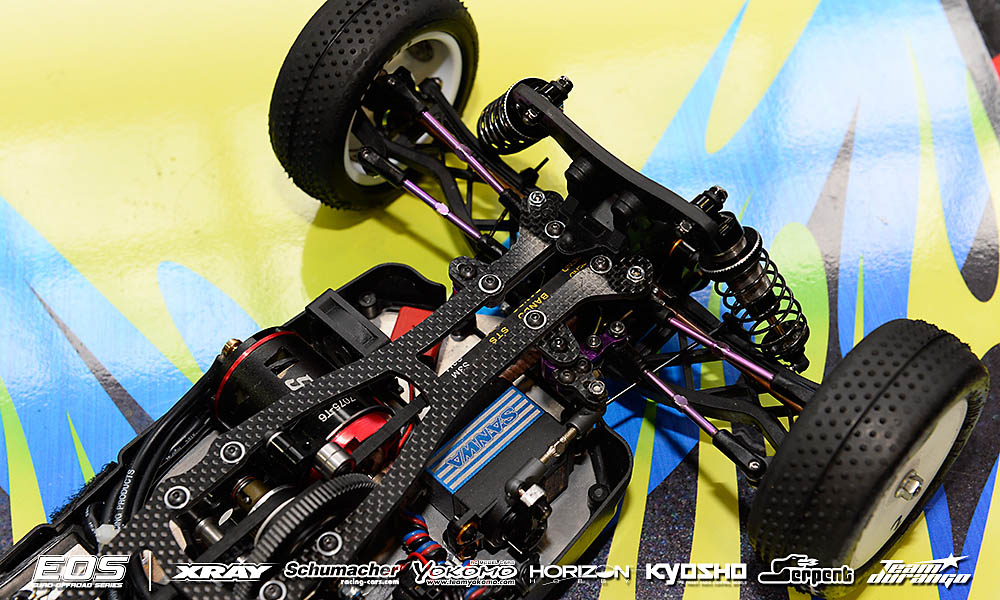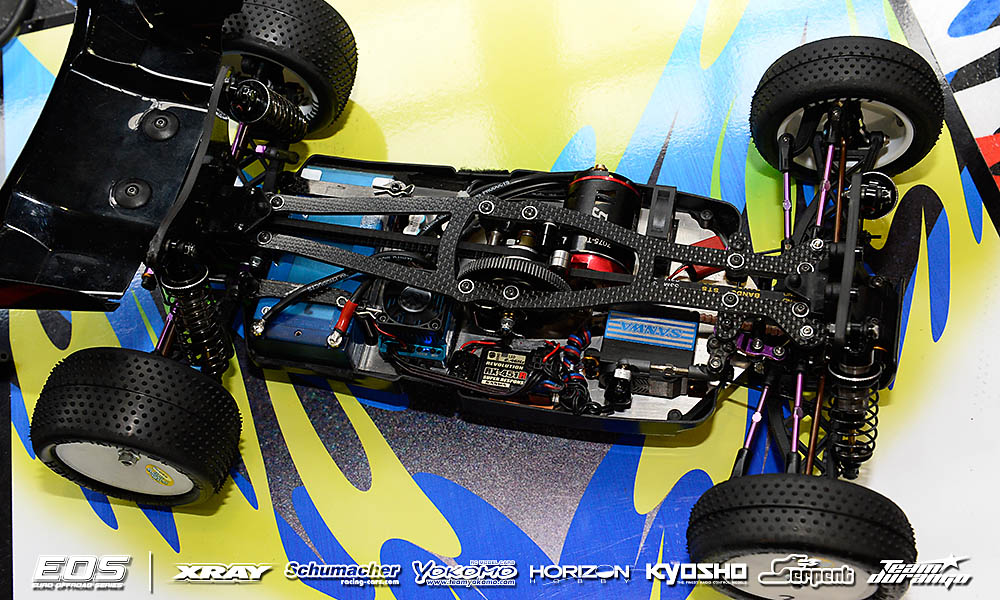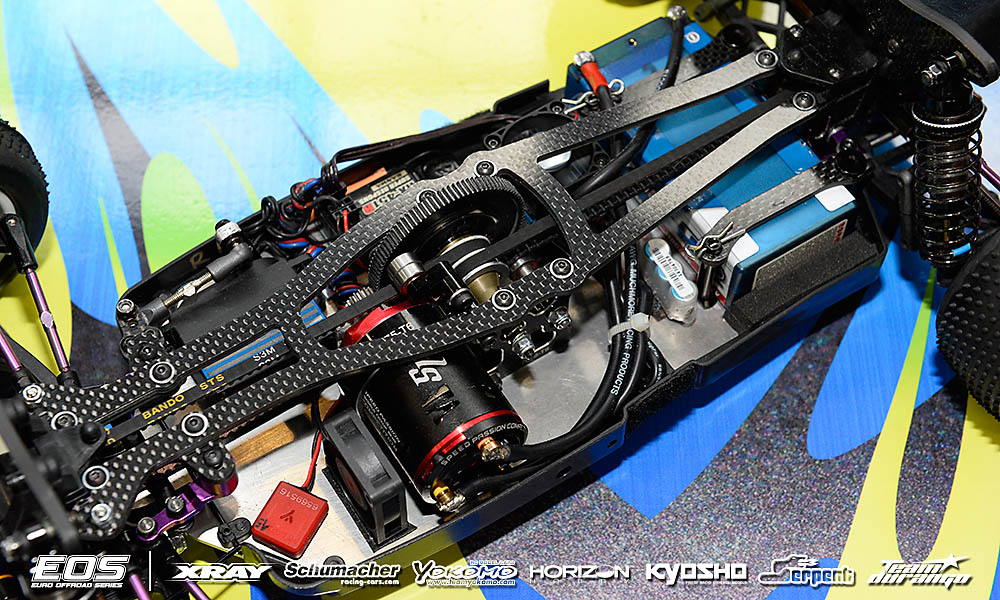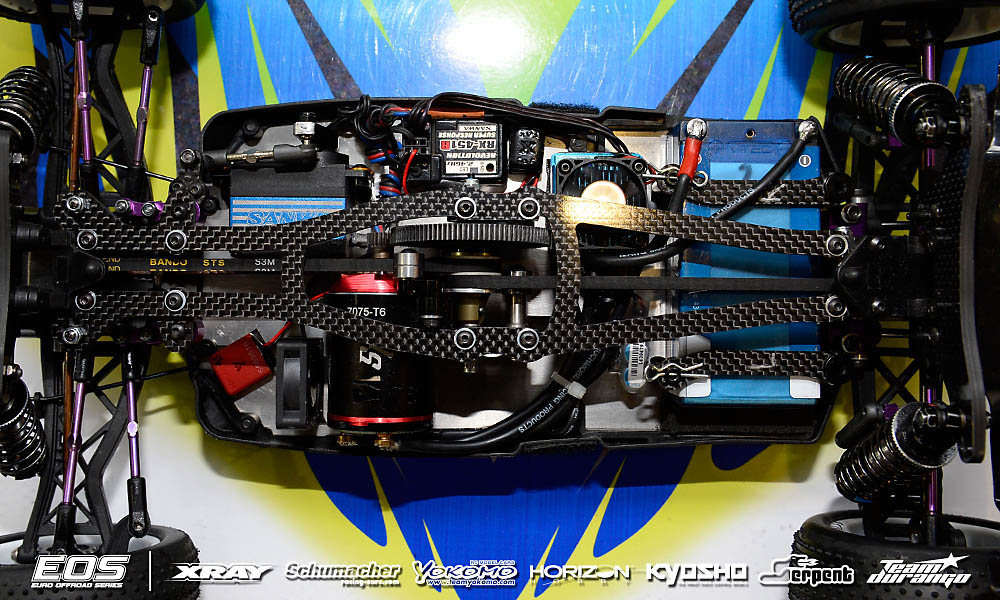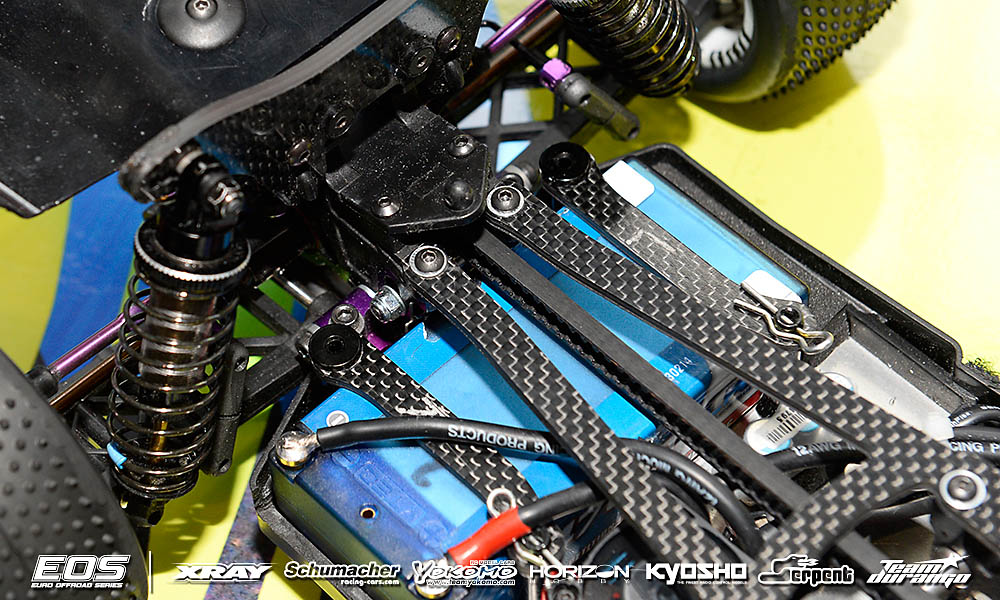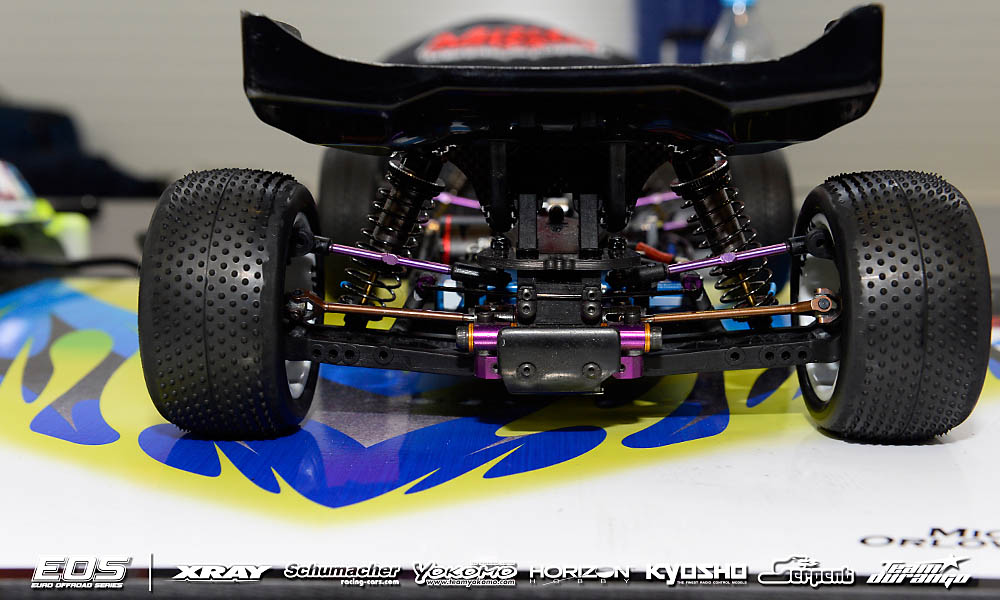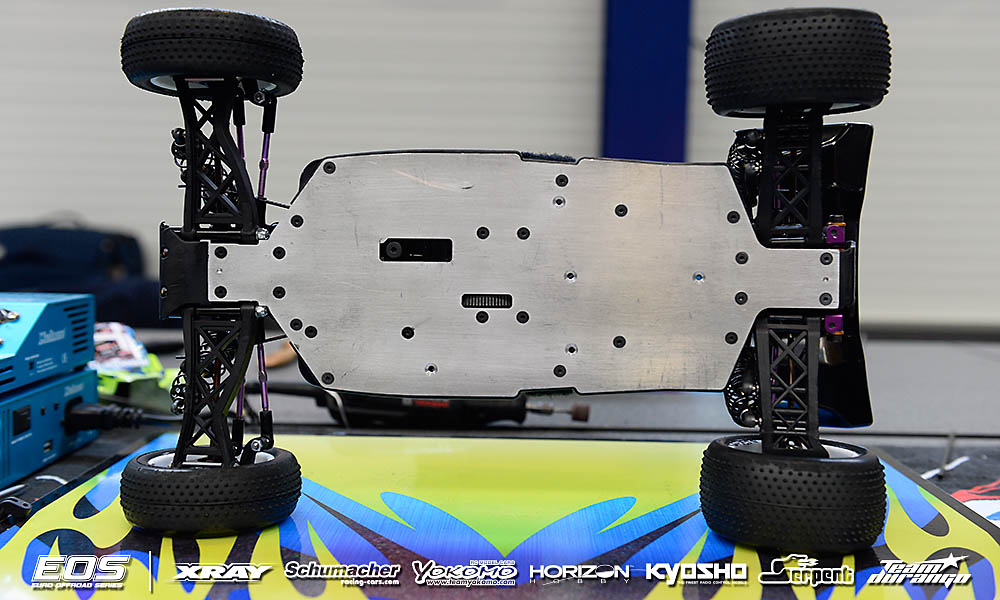 Over the weekend the Euro Off Road Series (EOS) took place in Trencin, Slovakia. This was the 4th and final round of the 2014/2015 Series organized by Scotty Ernst and Uwe Rheinard. At the end of the 4th year we had some great success from our Schumacher drivers.
The event was held at the Hudy Racing Arena with a new high grip carpet which worked perfectly with the Schumacher Minipin control tyre.

From the start of practice Schumacher drivers Michal Orlowski, Simon Moss and Peter Pinisch with their KF2s and were showing great pace in 2WD.
The qualifying went well for them with Michal taking a fantastic TQ ahead of many World class driver. Simon Qualifyied a solid 8th and Peter just missed out on the A main but was in the top of the B final.

The finals went ahead and with some flawless driving Michal was able to bring the car home in the top spot after two legs taking the meeting victory and his firm major win. This fantastic result gave Michal 2nd place on the overall championship. Simon Moss managed to end up a place ahead from where he started with some difficult incidents in the finals but a 7th was a great finish. In the overall championship Simon Took the 5th spot and went home happy as he had only completed 3 rounds.

4WD was something special to watch on this super high grip surface, some of the drivers commenting it was like 1/12th scale with Jumps! Michal easily made A final in 4th position behind Martin Bayer, Lee Martin and Naoto Matsukura.
The finals were great to watch and Michal managed to work his way up the grid securing 3rd overall. So a double podium for the young 13 year old which put him 4th overall in the championship.

A great result from the team and a great finish to the championship.