The final round of the current Schumacher Indoor Masters Series was held at Worksop this past weekend.
A fantastic entry once again of 154 competitors showed just how popular this series is these days.
As always the qualifying format was round by round, with the best 2 results to count towards the final and grid position.
In 2wd it was Danny McGee in fine form, taking TQ and to line up on pole position, ahead of Richard Lowe and Mitchell Fiddling.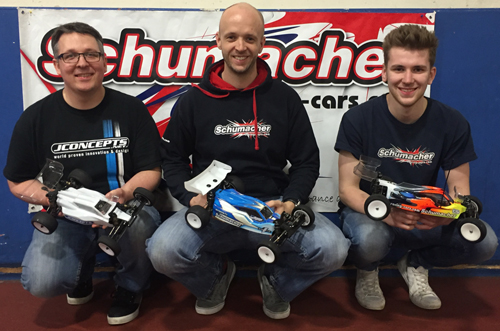 In the 4wd class it was Richard Lowe who managed to take TQ, this would line him up on pole, just ahead of Craig Collinson and James Helliwell.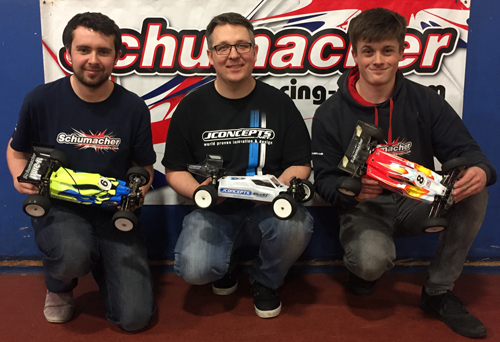 Here are the A Final results and the photos of the top 3 in each class:
2wd A Final
1 Danny McGee
2 Richard Lowe
3 Mitchell Fiddling
4 Craig Collinson
5 Ben Jemison
6 Eugene Galley
7 David Hall
8 Chris Pattinson
9 Edward Callan
10 James Helliwell
11 Greg Williams
Here is the video from the 2wd A Final:
4wd A Final
1 Richard Lowe
2 Greg Williams
3 Jack Neal
4 Danny McGee
5 Steven Pierce
6 James Helliwell
7 Craig Collinson
8 Edward Callan
9 Chris Pattinson
10 Ben Smith
11 James Hart
Here is the video from the 4wd A Final:
After the racing had finished, we did the trophy presentation for the top 10 in each class and also the top 3 juniors in each class.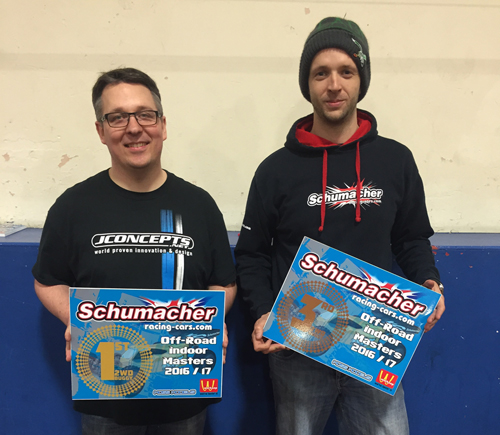 This was followed by the huge end of the series raffle, with prizes kindly donated by Schumacher Racing, Moss Models and Dremel.
Here are some photos of the lucky winners from the raffle! Well done to all.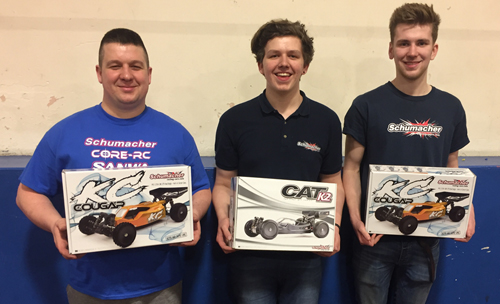 Full results from the event and the final Championship positions can all be found here:
So this concludes yet another brilliant race series by the team from Worksop radio car club. A huge thank you to each and everyone of the
drivers that have raced at the events and also to all of the Worksop team for all of their hard work throughout the series.
Thoughts now move to the next Worksop series for the guys, the race dates are already confirmed so make a note in your calendar if you would like to attend any.
Worksop Schumacher Off Road Masters Series 2017-18 confirmed race dates:
Round 1 - Sunday 1st October 2017
Round 2 - Sunday 5th November 2017
Round 3 - Sunday 26th November 2017
Round 4 - Sunday 7th January 2018
Round 5 - Sunday 28th January 2018
Round 6 - Sunday 11th February 2018
Round 7 - Sunday 18th March 2018
We hope you have all enjoyed the series and we look forward to seeing you at the next one.