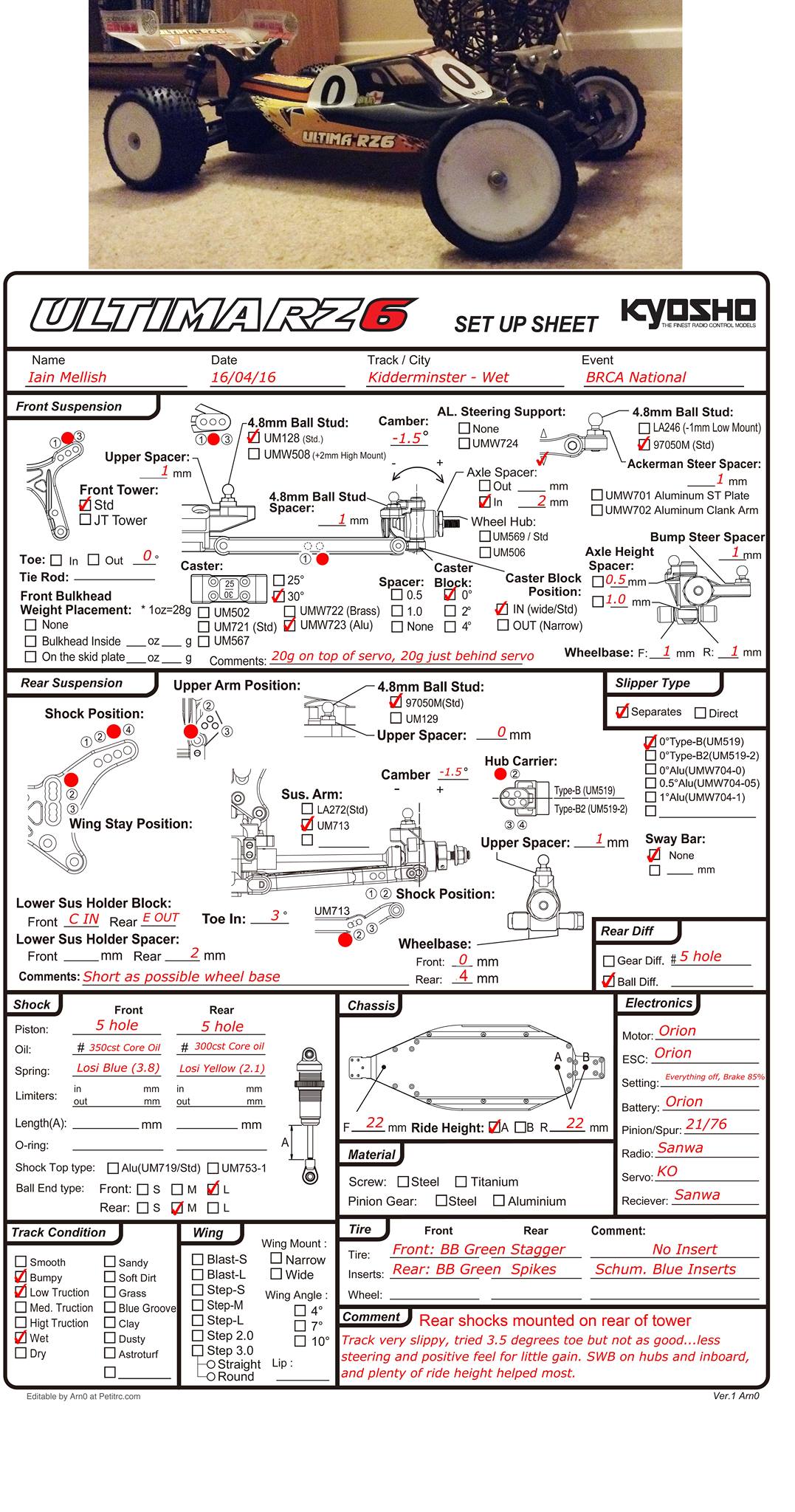 So this weekend was the first 1/10th offroad national of the season and PBM Racing team driver Iain Mellish and his faithful mechanic Dad Gordon 'G Speed' Mellish headed off to Kiddy with the new Kyosho RZ6 fresh from its' debut run victory at last week's Mid East 2wd regional opener. Optimism was high but the weather forecast was doing all it could to dampen (quite literally) team spirits. Below is Iain's report of the day and from us all at PBM Racing we'd like to say a huge congratulations to both Iain and Gordon for a fantastic result. Next up for Iain is the Mid East regional at Broxtowe on April 30th/May 1st, Iain and all of the PBM Racing team will be in attendance so pop on over for a chat.

Iain's report:

Kidderminster 2wd National

Saturday 16th April saw the BRCA National series get underway at an initially very cold, very wet, and super slippery Kidderminster track….what else did we expect!

The event happened to also be the first National, and only the second ever appearance (under the control of my thumbs anyway) of Kyosho's new RZ6 2wd World Championship car.

The RZ6 is a shaft driven, forward motor car akin to the previous platforms of Team C's TM2, David Burtons DB2, and rather more recently the new Durango, all of which are well suited to the high bite tracks in Europe, and the UK in particular.

Of course, in the dry, Kidderminster can be classed as one of these high grip circuits, but anyone who has ever raced around Kidderminster in the wet will vouch that the track provides anything but these conditions…we could go as far as saying that in the wet, Kidderminster provides the least amounts of grip on the National calendar.

Having kept a keen eye on the weather forecast through the week it was rather depressing to see the forecast slowly degenerate into conditions that saw us battling through snow storms and torrential rain to finally arrive at the (flooded) track and then get stuck in the mud as we slid our way into the pits.

If history and common sense had taught us anything, it was that these forward motor contraptions were certainly not suited to this kind of weather…indeed, we had attempted to race a TM2 in the same conditions (bar the snow) a few years previous, but certainly with no success and if we had not been buoyed by the previous weeks performance of the new RZ6 in low grip conditions, then we would have surely seen sense and bolted the trusty RB6 together in time for practice. As it was, we wanted to find out just how well the car was capable of performing in (hopefully) the worst conditions we will see all year. As we were in heat 12 I stood and watched as cars in prior heats struggled to get to grips with the, well, lack of grip! We left the RZ6 set up the same as we had it for Grantham and hoped for the best and were pleasantly surprised to say the least.

The car felt so predictable (bar one spot on a corner through a paved section) that I felt comfortable with it almost straight away. It generated just enough initial feel under acceleration to give me confidence to feed in more throttle with no unpredictable sliding out. Through the many off camber corners and undulations on the track the car did what I wanted it to with no under steer, it was very nicely balanced, and it was good to be catching up and passing (although only practice) some very good drivers.

Having had such a positive first practice we wanted to make a few changes to see if any improvements could be found. We decided to go up on the toe in from 3 to 3.5 degrees and also took the weight off from the servo. I was feeling pretty confident that the car would be even better, but instead found that the extra toe in upset the overall balance, it didn't give the 'exponentially' expected added forward bite I was hoping for and it also sacrificed the nice, liner feel of the steering that the car previously had. It wasn't terrible, I could still circulate without error but it just wasn't as easy, or as fast, to drive.

For round one we reverted back to our first practice setup but this time went to short wheel base both at the hub and at the inboard position. We ran Ballistic Buggy staggers in green compound on the front and Ballistic Buggy green spikes on the rear. The small changes to the wheel base proved significant, it gave that extra forward and side bite we were hoping to gain from the extra toe in from practice two without sacrificing any steering. It was great to be on the pace throughout the race and even better to end up with an 8th in round.

With conditions slowly improving, but not significantly, we decided to keep the same set-up for round two; this time putting on some new rear tyres was the only change. The track was quicker, and so was the car. Having started off 4th on the stagger we quickly homed in on some of the cars in front and I felt considerable time was lost holding back in trying not to collide with them over a number of laps, unfortunately I couldn't find a way past and after one lap where I got slightly off line a few times I lost a few meters on track which wasn't regained. Although a bit disappointed thinking about what could have been we were still happy to come away with another 8th in round, and with it a definite B final spot.

Round three was a difficult one to judge, the track was now getting faster and faster the later the round went on and I think I missed the boat in altering the set-up accordingly. Before the race I lowered the ride height a bit, but it was too little too late. The track was now suited for a much drier set-up and the car felt really edgy and difficult to drive with any consistency. I remember thinking half way through that I wished I had changed to a medium wheel base, I didn't feel comfortable and this led to one or two errors which required marshalling. Although it was our worst round, it still had the pace to claim 15th overall.

Our scores so far had left us precariously positioned as we were in a group of four or five drivers who were fighting it out for one or two top ten spots. Having missed out on an A final at the same track a few years a go by literally a blink of an eye I was determined not to let the same happen thing happen again. I had a good idea of what I wanted to do with the setup so we got to work.

The first thing we changed to suit the now grippy conditions was to change the shock oils and springs. We changed the front oil from 350cst to 450cst and went up from Losi Blue springs to their Black option. We also went up on the rear shock oils from 300cst to 350cst and from Losi yellow to Losi pink springs. I also wanted the car to be less edgy to drive, and having remembered thinking about the wheel base during the race we changed the hub position to a medium wheel base In hope that it would smooth the quick chicane sections out. The final changes were to lower the ride height to 19.5mm and bolting on a new pair of green compound Ballistic spikes for the rear of the car and some uncut Schumacher yellow staggered ribs for the front.

Having had a poor round in the best yet conditions in round three we had to start from further back on the stagger again. However, the changes to the set-up worked a treat and having been running between second and third through the entire race we were looking good for fourth in round…until the last lap. Going into the hairpin at the end of the parallel straight I got tagged from behind and ended up spinning and facing the wrong way. Luckily I didn't need marshalling but valuable seconds had been lost and we had to settle (still brilliant!) for a sixth in round.

It was an anxious wait to hear where we had qualified but once it was announced we had claimed that 10th spot we were delighted. The car was brilliant all day. It is so easy and predictable to drive in all the conditions Kidderminster could throw at it and the nice thing is that it is receptive to the changes you make. We didn't make many changes to the car through the finals apart from some new tyres but we did try to get rid of some more of the edgy-ness from the car by going to a long wheel base. Upon reflection I wished I had thought to remove the 1mm spacer from the front of the 'flipped' steering arm as I think that this would have calmed the car down just that bit more around neutral and resulted in less stone apexes being hit…but hindsight is a wonderful thing, and we hopefully have many more chances to try all these things out!

I think everyone there would have been forgiven for assuming that the car would be on a hiding to nothing given the conditions it was faced with, but it just gets on with the job and then lets you know when it wants something changing to make it better…. it feels a bit like cheating really!

We've had a lot of cars over the years but this one takes away the need to fill the boot of your car with cars suited for differing grip levels and that's a massive bonus in the current market. We have only ran the car twice now, and I may still be floating around somewhere cloud 75…or cloud cuckoo land, after Saturday's result, but it has already propelled itself into one of my favourite ever cars….and there are still improvements to be made!