- Kyosho RB6 - Joe Pillars - Dave'S RC - Portland - 08.06.2014 -

Front:
35wt Losi Oil/Losi 55 Pistons/Pink Spring/Medium Shock End Used
Outside location on tower / Outside location on arm (front shock shaft length exposed 20.5mm)
Middle on bulkhead with 1mm shim under ballstud / 1mm shim under casterblock ballstud
Casterblocks spaced in middle position on the arm
Spindle in Upper Position / No bump steer spacers used
Ackerman bar ran in standard position as in the Manual / No ball stud spacers used
Caster Inserts and RB6 Front Axles used the same as in the Manual
25 with no spacer

Rear:
27.5wt Losi Oil/Losi 55 Pistons/White Spring/Short Shock End Used
1 hole out on tower / Middle hole on RB5 arm UM521-1 (rear shock shaft length exposed was 27mm)
Outside on bulkhead with 2mm shim under ballstud / 2mm shim under ballstud in back/outside hole on .5 degree aluminum hubs
Hubs spaced in middle position on the arm
Wide plastic front and rear suspension mounts

Ride Height: 25mm front and 24mm rear

Team Orion Shorty 4000mah Battery used spaced back in standard direction with ESC located in front location by Servo.

Joe Pillars Tires Used:
Front: AKA Super Soft 3-Ribs with Red Foam
Rear: AKA Super Soft Impacts with Red Foam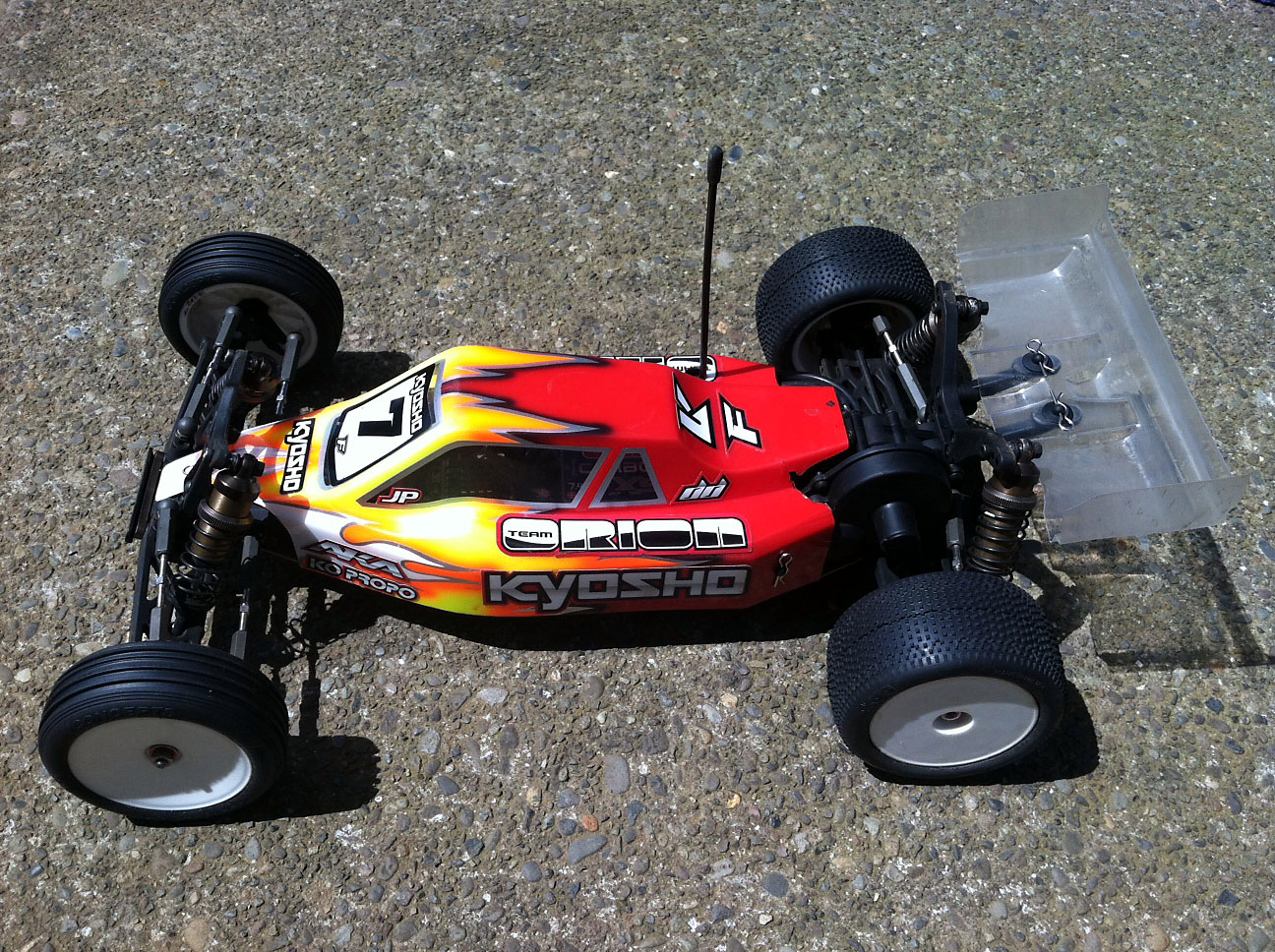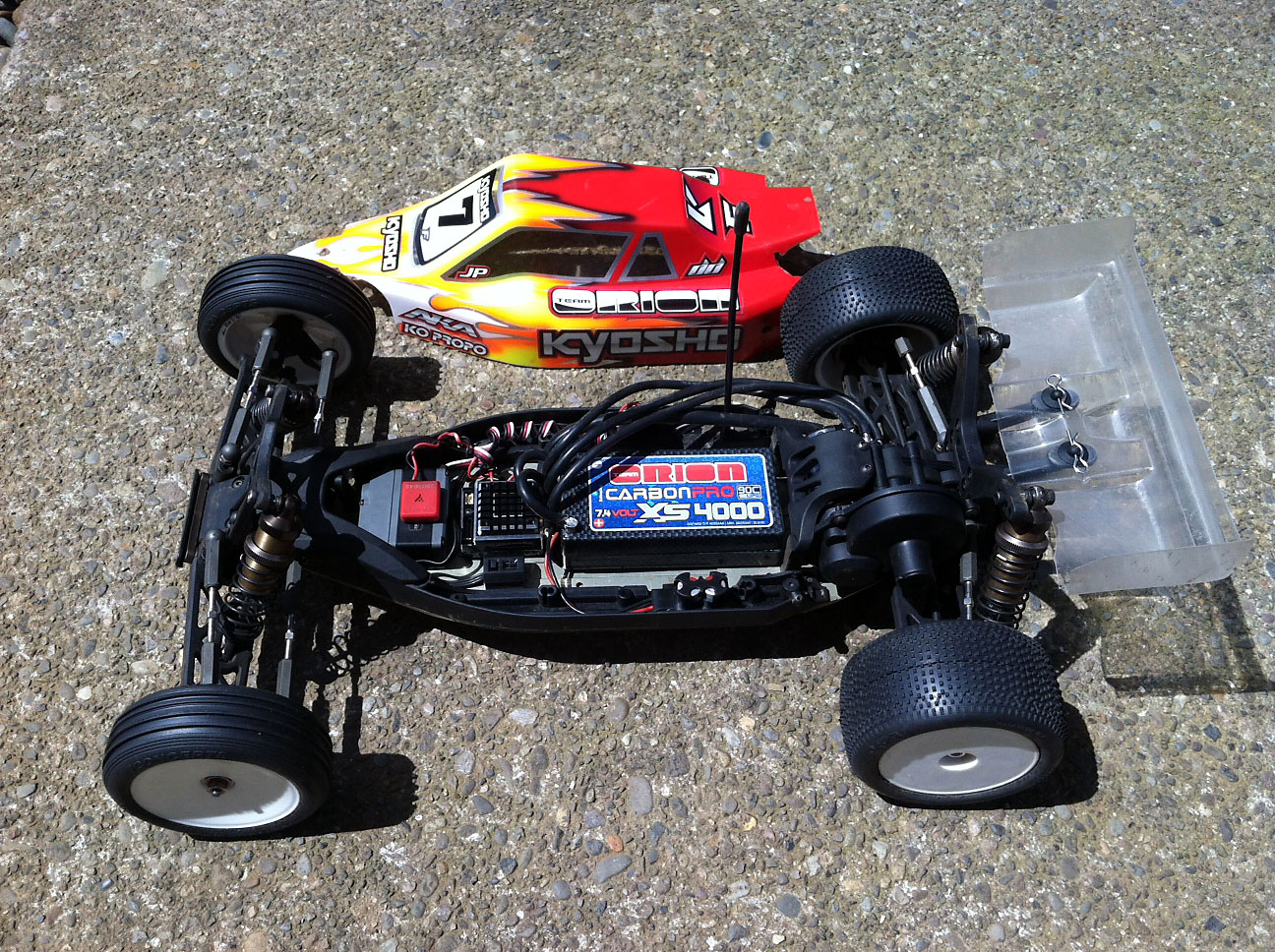 How long until mid motor is here to stay for all tracks?

Yesterday at our local outside track here outside Portland, we had something interesting happen. Both Mod buggy and 13.5 stadium truck were TQ'd by mod motor vehicles. Not too crazy except that the track was loose packed dirt. Very loose in fact.

In mod buggy we are lucky to have Kyosho/Orion team manager Joe Pillars race and live locally. JP showed up with his car mid motor and he was testing stuff all morning. The rest of us had changed our rigs over to rear motor, because that's what you do at Daves RC Tracks Joe was proving us all wrong, as he was so much faster than the rest of the pack. We have some great racers at the track too. Now I know a large part of it was driver skill and experience, but JP was trying all sorts of different things. Trying to see what would work and what wouldn't. He won A1 and then had a small bobble and took a close 2nd in A2. All the while looking like he was as fast if not faster than all the other rear motor cars. I was watching to see where it was better and worse comparing the two. The front of the track has a section of 5 jumps. You can double- triple, triple- double or doube-double-single depending on your driving style. This is where his mid motor car was just eating up the rear motor cars. On all of the jumps, the mid motor was jumping flat and under control, where some of the rear motors were doing the rear end kick on some of the jumps. There was a small straight that it looked like the mid motor just put the power down in comparison. I could see he struggled in a couple of the tight S curves where it looked like it pushed a bit in comparison to the rear.

In 13.5 truck Team Durango driver Keith Whetsell did the same thing. He seemed to just be a tad faster than the rear motor trucks. In the mains, bad luck hit Keith as he broke out in the first A and then a badly timed crash on the last lap of A2 gave him a second place.

Watching this got me thinking. Are we just scratching the surface of what a mid motor can do? In the US this is all new to us, but in Europe they have been racing mid motor for years. XFactory has been racing for years and local Justin Gilkison has always seemed to make the A in races where mid shouldn't work.

Watching Joe work in the pit next to me and talking to him about it gave a lot of insight. There is going to be a lot of testing to be done obviously, but I do think this is the wave of the future. Just logically to me a balanced car should be faster than an unbalanced car. Now obviously we are talking about a light RC car on dirt, but most real cars are faster mid motor and balanced. JP took all the rear weight off the back of his mid, and he said it made it way better. To me this was counterintuitive to what you would think. Then again this is coming from a rear motor history. More traction more weight on the back. At some point we are going to have to just say rear is the past and move forward I would think. I might be wrong, but then again I might be right.

We all know what rear motor can do and kind of have it's limits. Mid motor we are just getting started, and from the look of things it might be a game changer.

The next few years should be really interesting for this hobby. All the major players have mid and rear set ups now, and with the wave of high bite tracks how long before rear motor goes the way of brushed motors and sub c batteries?

Only time and testing will tell.
Source: