- Team Durango DEX210 - Nathans Waters - Schumacher Indoor Masters - Worksop - 10.03.2013 -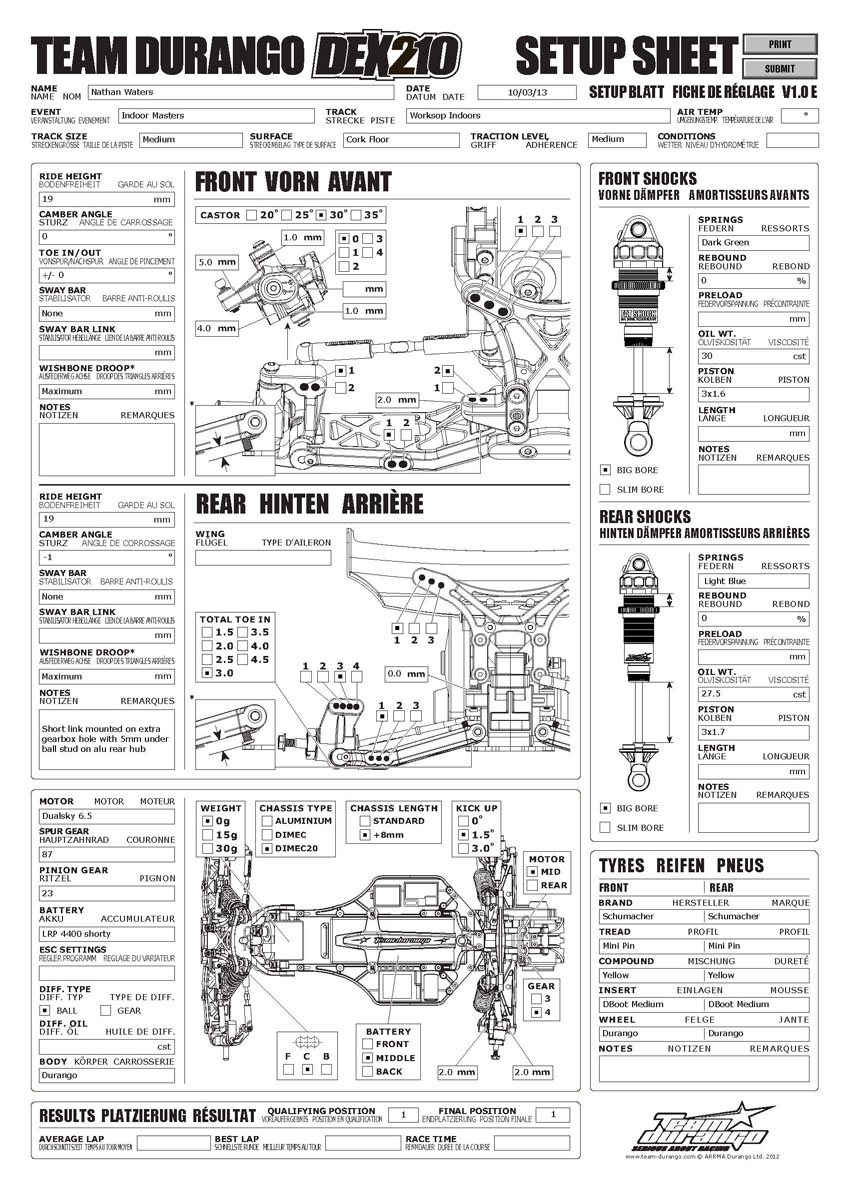 Team Durango racing stars were ready for the final round of the Worksop Masters series from the second they stepped into the venue. With a close battle in both classes over the proceeding rounds of racing, it was always going to be a closely fought series.

It was off-road fire cracker Nathan Waters who put his DEX210 into TQ position from the second round of qualifying, and then went on to dominate the 2WD class throughout the days racing to take first overall and conclude his series campaign as Masters Champion. Team Durango super racer Craig Collinson followed Nathan closely to take second overall in the series. Not content with the top two finishing spots across this six round series in 2WD, Chris Doughty piloted his DEX210 to a solid fourth overall. The DEX210 brushed off the competition and helped Nathan and his Team Durango team mates to a dominating conclusion of the top five 2WD finishing table.


Nathan Waters - DEX210 - 1st overall - Worksop Players




Team Durango drivers had been forging a comprehensive collection of 4WD results during the previous rounds of this star-studded race series. The DEX410v3 vehicles of Craig Collinson and Nathan Waters had already made a big impression in previous meetings at the Worksop venue. With the closing stages of this nationally renowned series coming to an action packed conclusion, Craig Collinson was to place his DEX410v3 in fifth overall. Nathan was pipped by Neil Cragg but was again a force to be reckoned with by securing second overall in a field that was as strong as any UK based off-road line-up.


Chris Doughty - DEX210 - Fourth overall


UK Team Manager, Adam Skelding had these inspiring words to share after the event.

"To have the team perform so well throughout the premier indoor series in the UK was a testament to how well the team work together to get the best out of their cars. I'm especially pleased that Nathan won the 2WD class which is considered the 'finesse' class in 10th scale RC, he's finally got a 'monkey off his back' by winning the series against some of the best 2WD drivers in the UK. With Craig and Chris backing him up with 2nd and 4th in the class shows how far the DEX210 has come in a year, and that's it's now the car to have indoors" Adam Skelding –Team Durango UK Team Manager

With this prestigious Worksop series now concluded until later this year, it would seem fitting to not just congratulate our team drivers for an awesome display of 10th off-road racing, but also congratulate our friends at Worksop for creating such an enjoyable racing series.

Nathan Waters, Craig Collinson and our resident European Champion Chris Doughty are 'Serious About Racing'. We feel honored to have them as part of our world-class team.
Source: