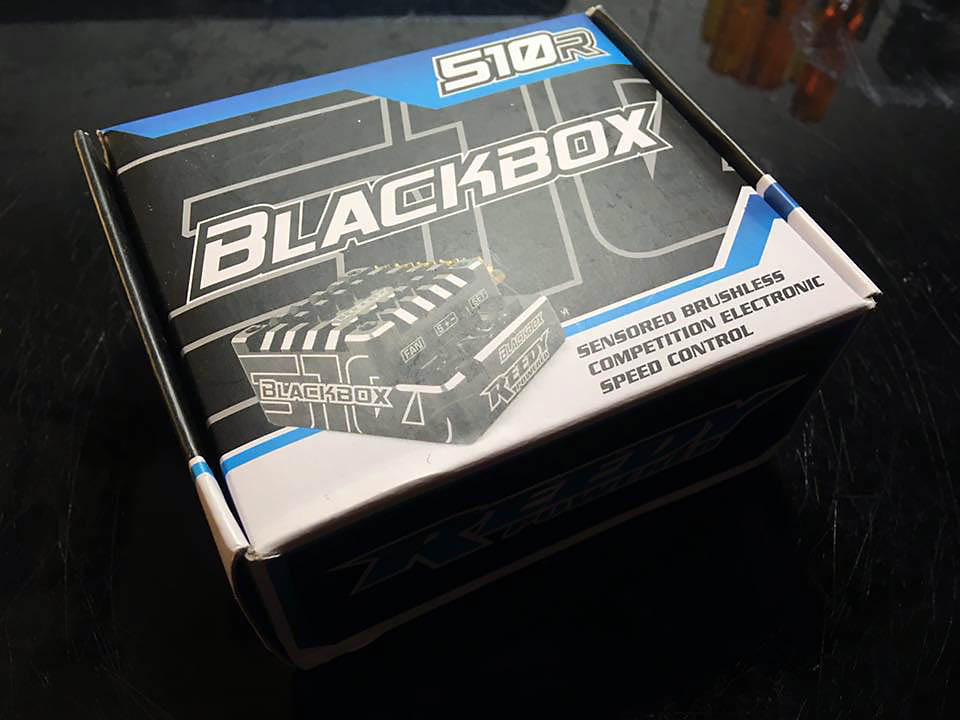 Out of box, ESC ready to be installed. I suggest to do some homework for a better result...

Le voici sorti de boîte, il est pret a etre pose sur un chassis. Je vous propose de pousser un peu la preparation pour obtenir un resultat plus soigne...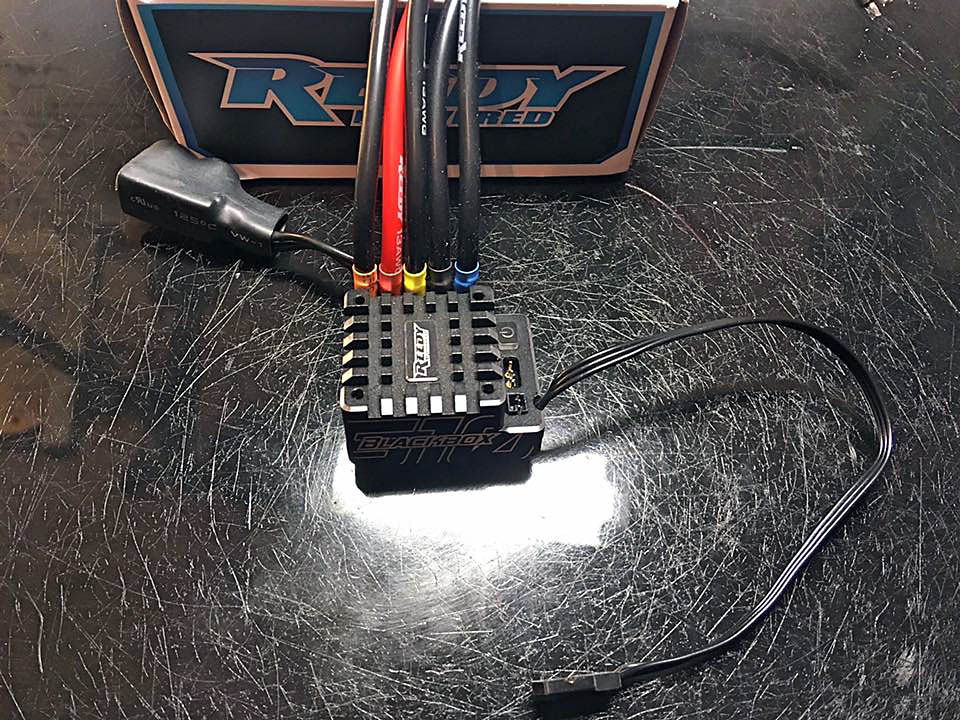 I use two different irons in term of sizes and powers, depending wire section and terminals.

J'utilise deux fers a souder de tailles et de puissances differentes, en fonction de la section de fils et des borniers.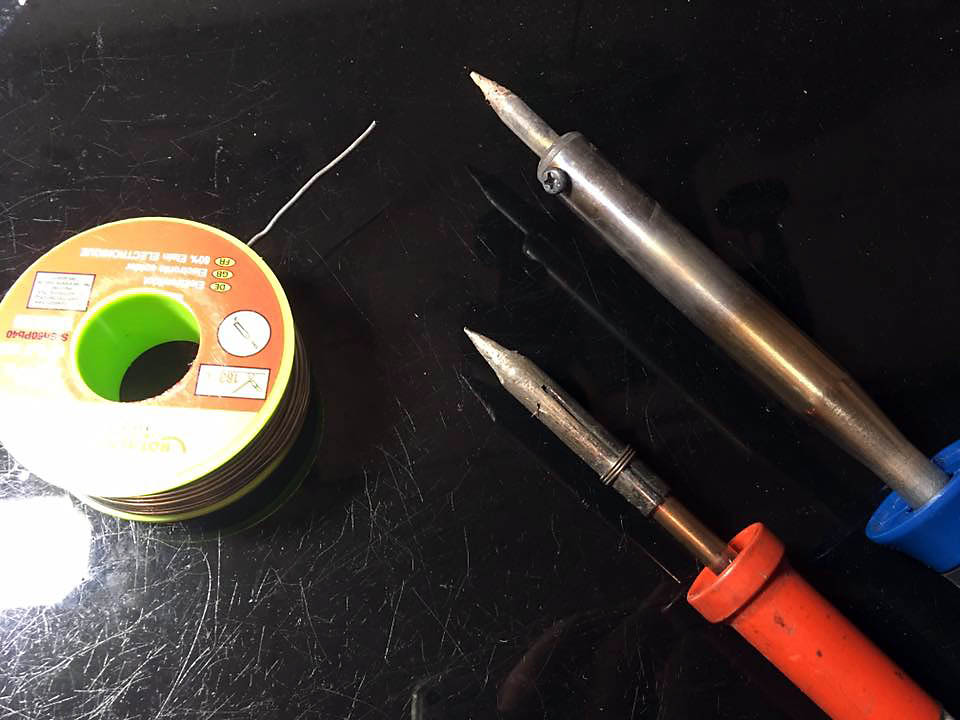 Needed tools.

Les outils necessaires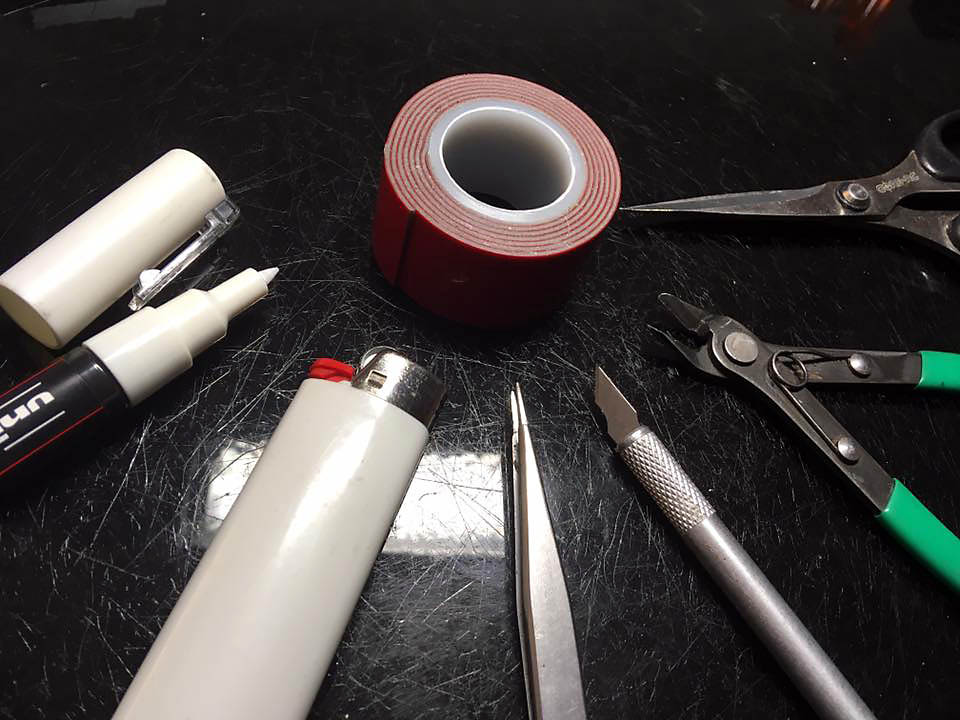 First, remove the colored heat shrink.

Je commence par retirer les gaines thermos de couleur.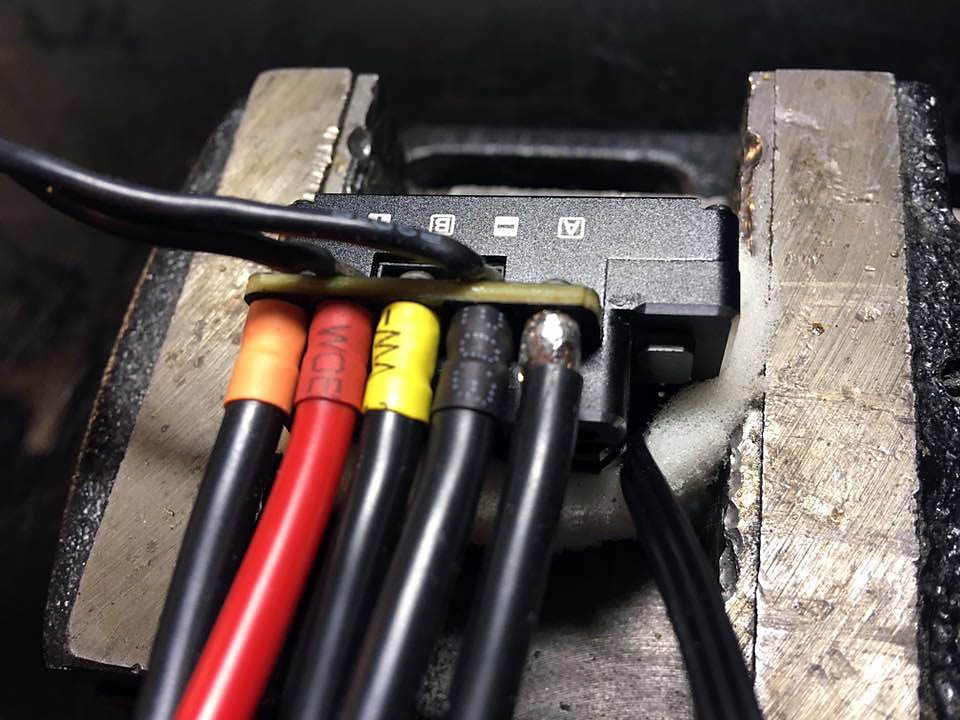 All wires are removed.
A vise and some foam are used to keep the ESC unscratched.

Je desoude tous les cables puissance.
J'utilise un etau pour maintenir le vario en utilisant une mousse pour ne pas endommager le boitier.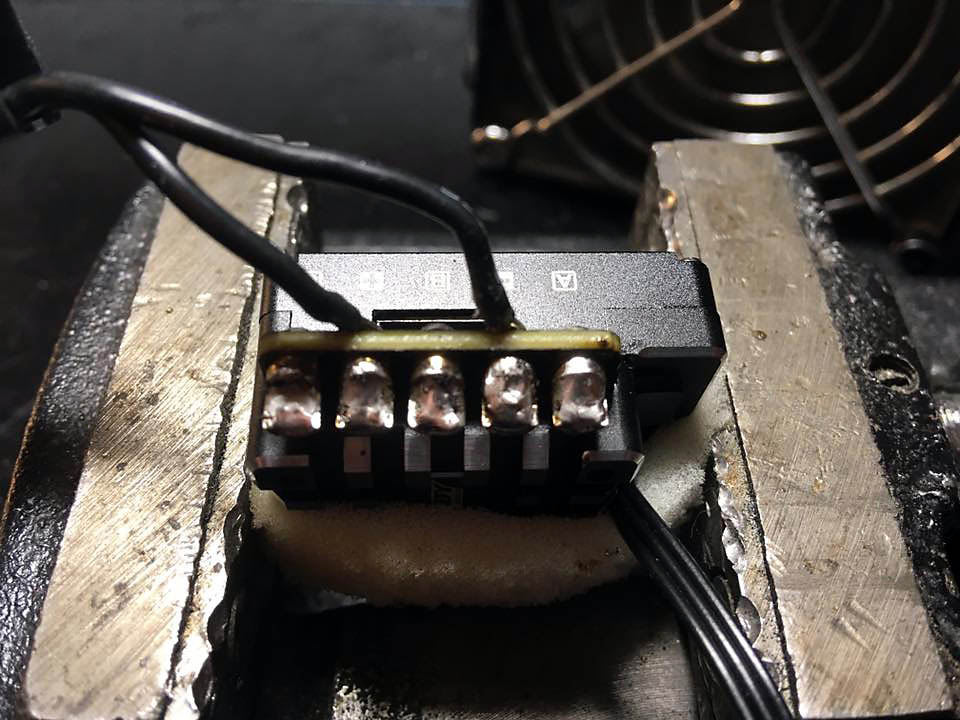 Then the capacitor.

Et ensuite le condensateur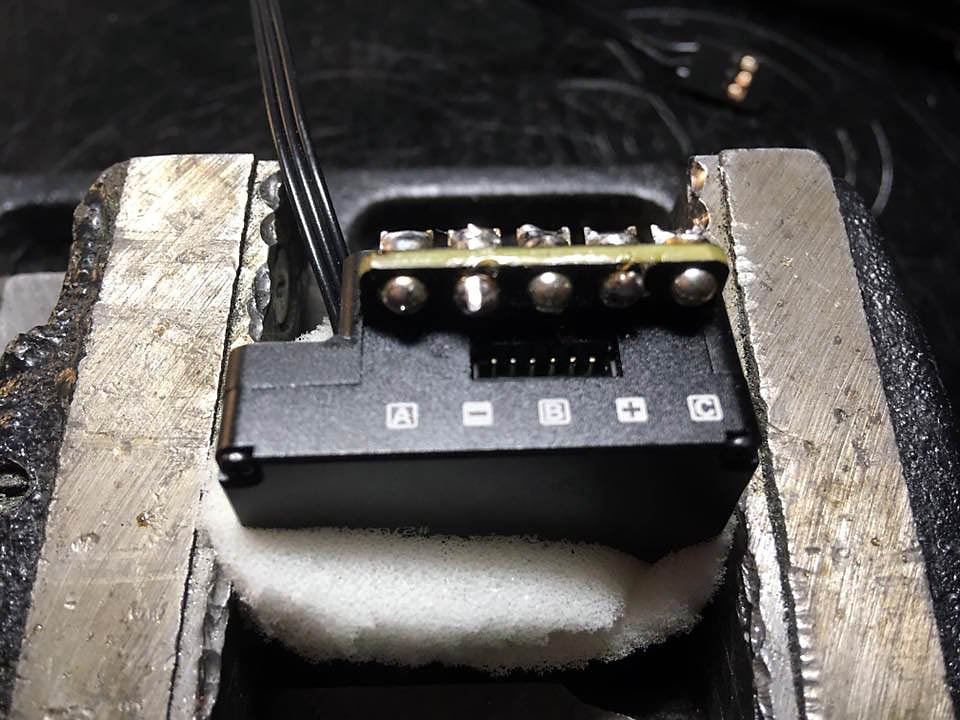 Just remains the BEC harness

Il ne reste plus que le cable BEC.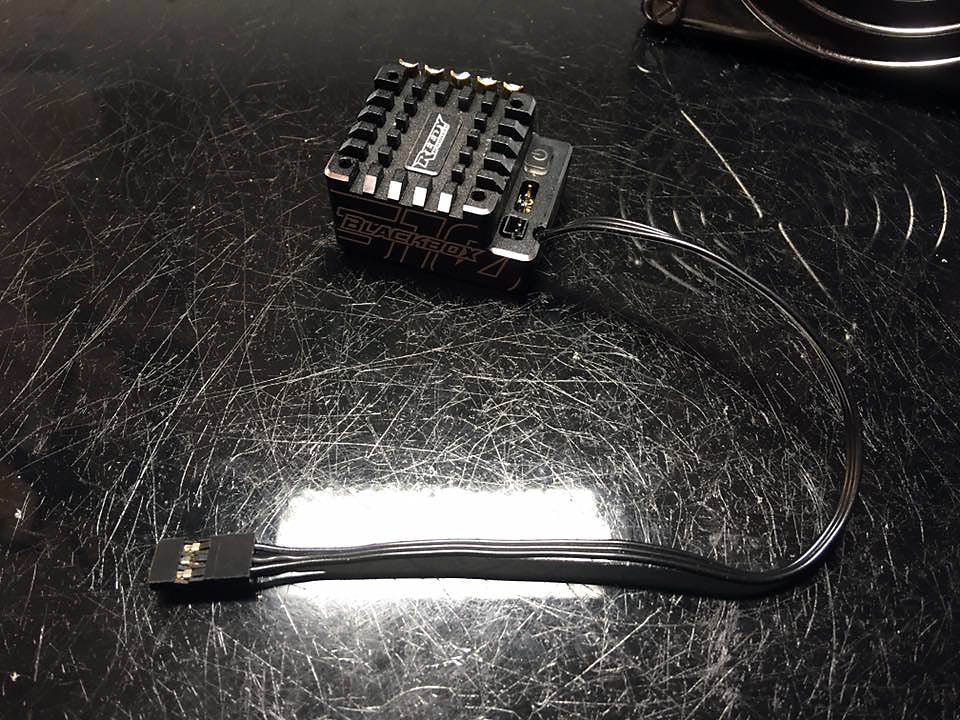 I skip this step, I advise you to use cutting pliers to shorten the hareness. Personaly, I will directly weld to the PCB (voiding the guarantee in the process).

Je passe sur cette operation, je vous conseille d'utiliser une pince a sertir pour raccourcir le fil BEC. Pour ma part, je ressoude directement les pistes (attention la garantie saute dans ce cas).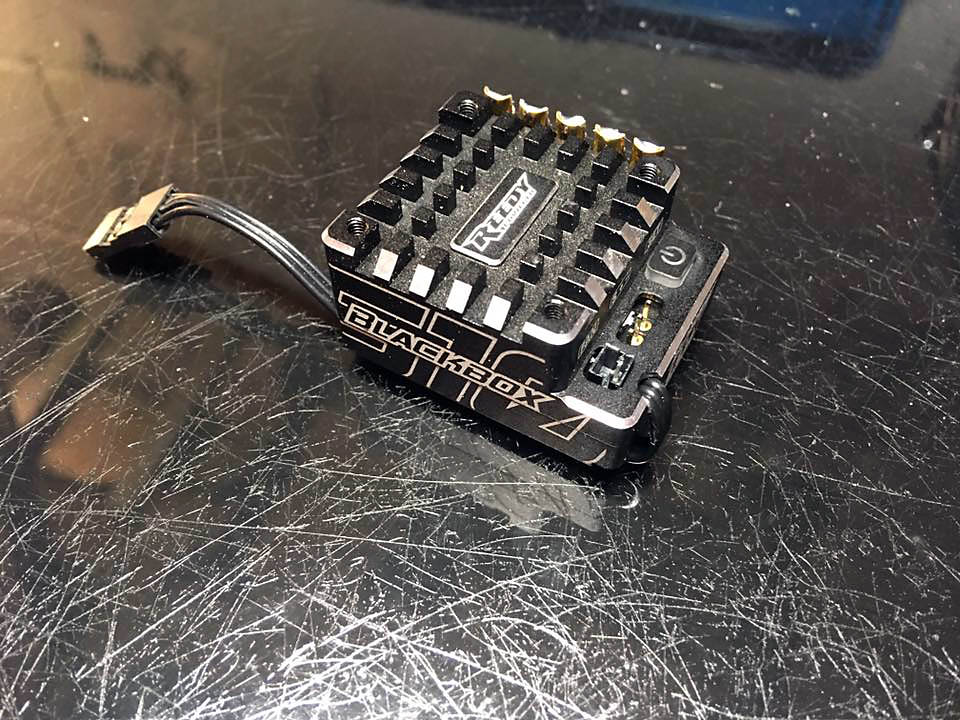 To get this harness under the ESC (aesthetic pleasing), two layers of double side tape is used. This will also help to absorb impacts during big landings...

Pour faire passer le cable BEC sous le variateur (plus esthetique), je double la couche de double face. Cela permettra egalement d'absorber les impacts lors des grosses receptions...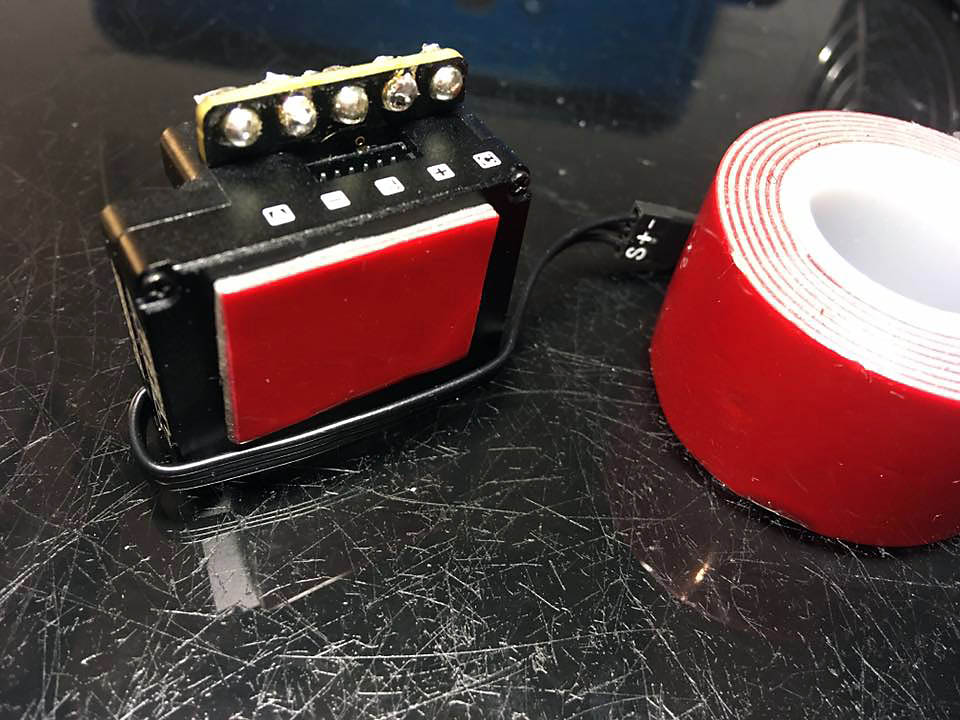 Capacitor as originally.

Le condensateur tel qu'a l'origine.
I work the capacitor's heat shrink to reduce its volume.

Je retravaille la gaine thermo au briquet pour reduire son volume.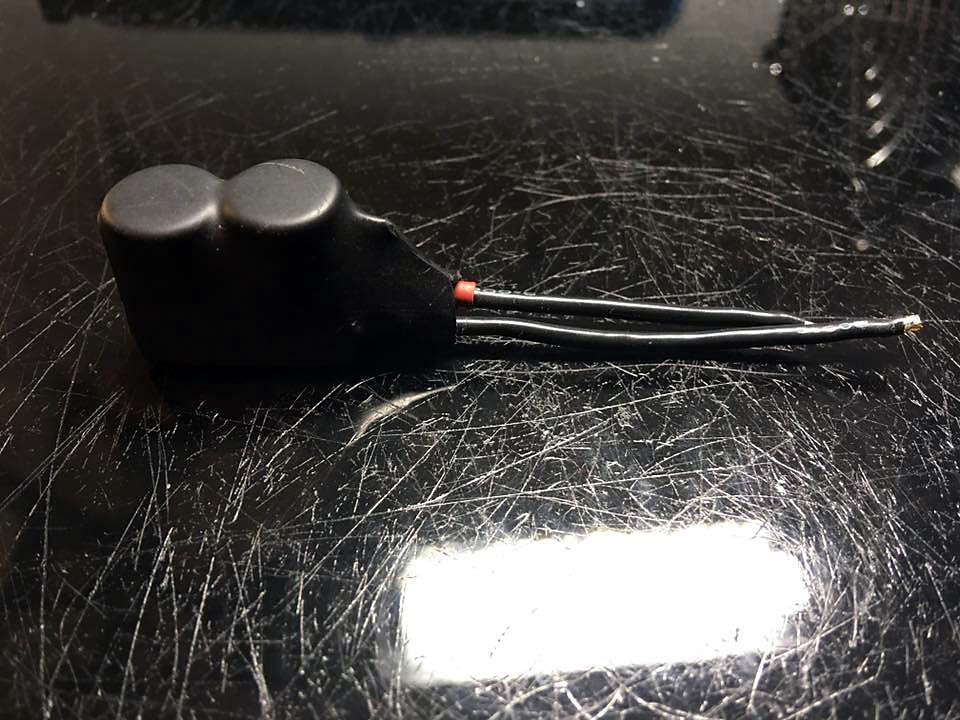 Capacitor is welded laying flat, in order to leave the terminal of the sensor cable free.
Je soude le condensateur a plat, en prennant soin de laisser libre le bornier du cable sensor.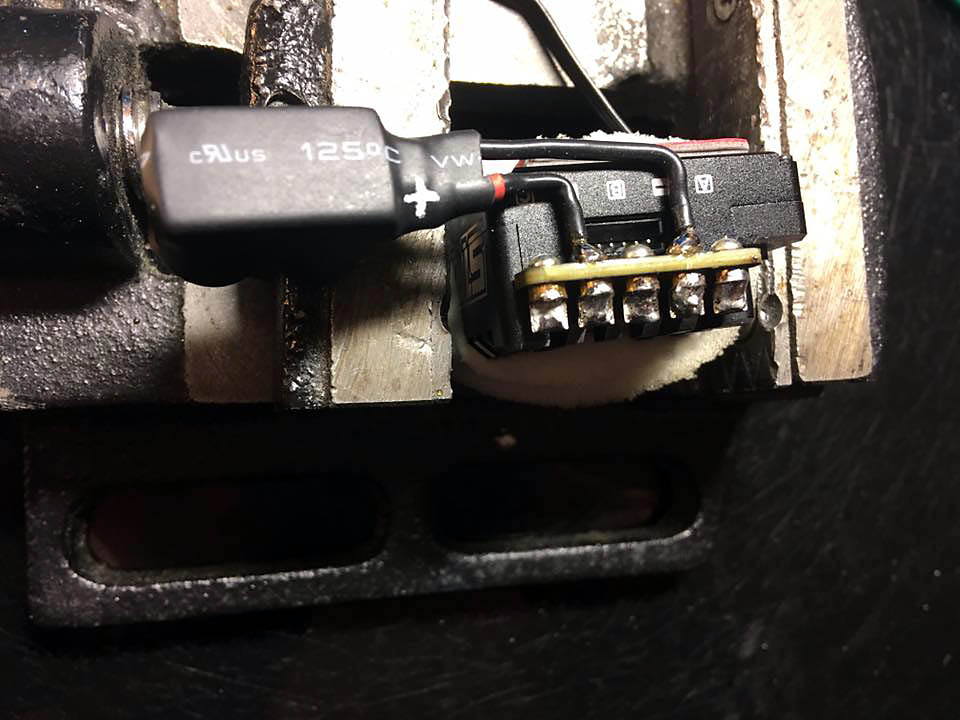 ESC volume is reduced...

Le volume du variateur s'est reduit...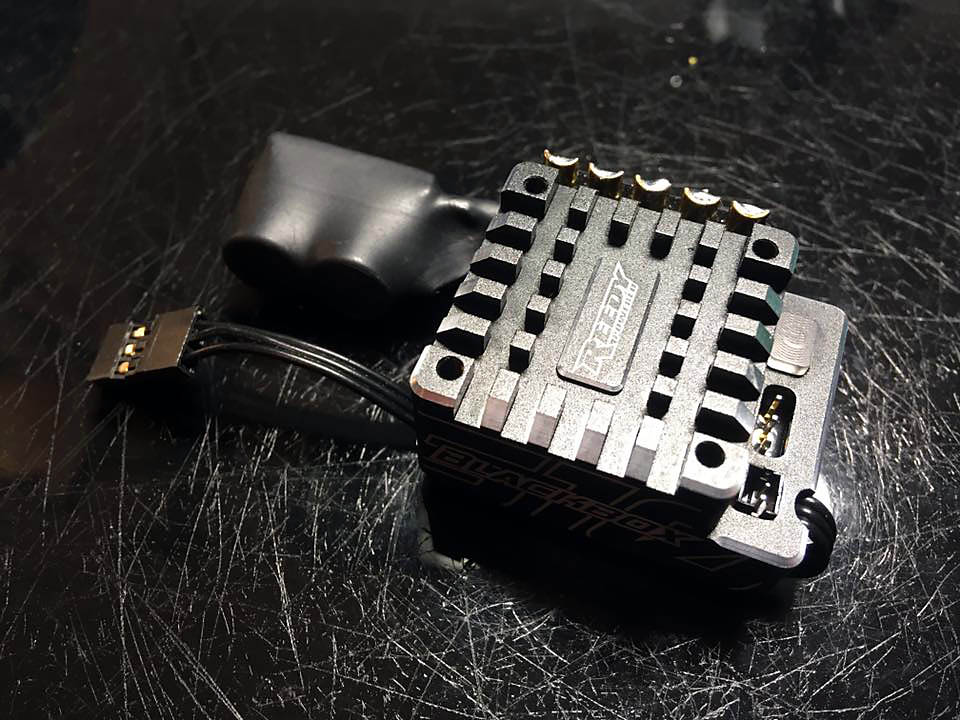 Cables are formed before been welded.

Je forme les cables avant de les souder.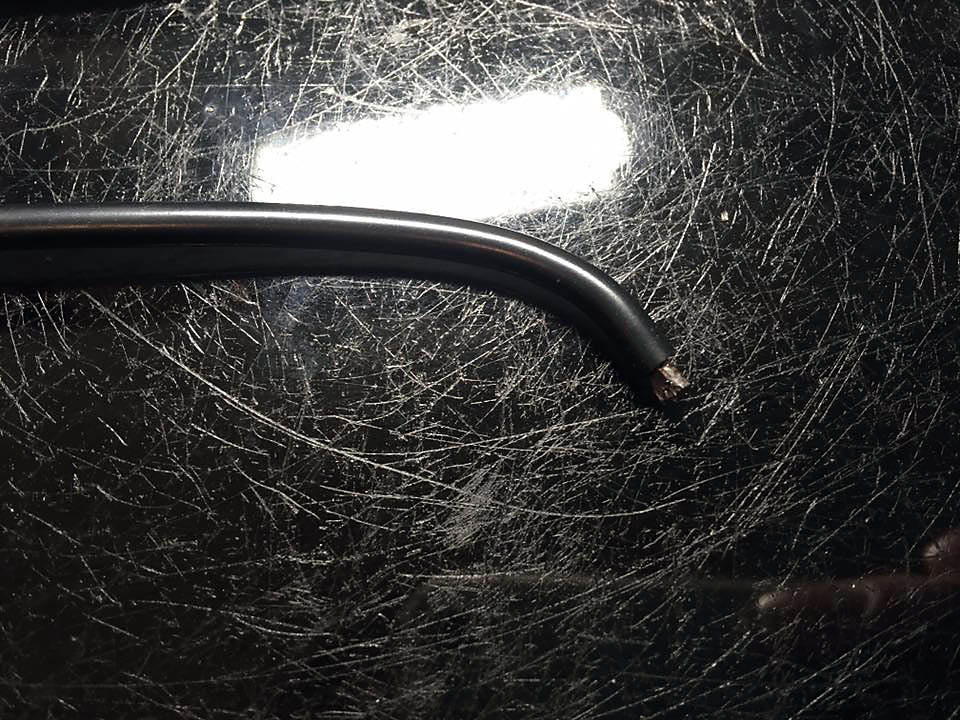 For the + battery cable, I remove some cable protection and install some red heat shrink. This allows you to spot the battery positive without using a complete red cable...

Pour le pole + , j'etame quelques mm du cable. Je coupe un morceau de gaîne du cable rouge pour le manchoner. Cela permet de reperer le pole + sans pour autant avoir le cable entierement rouge...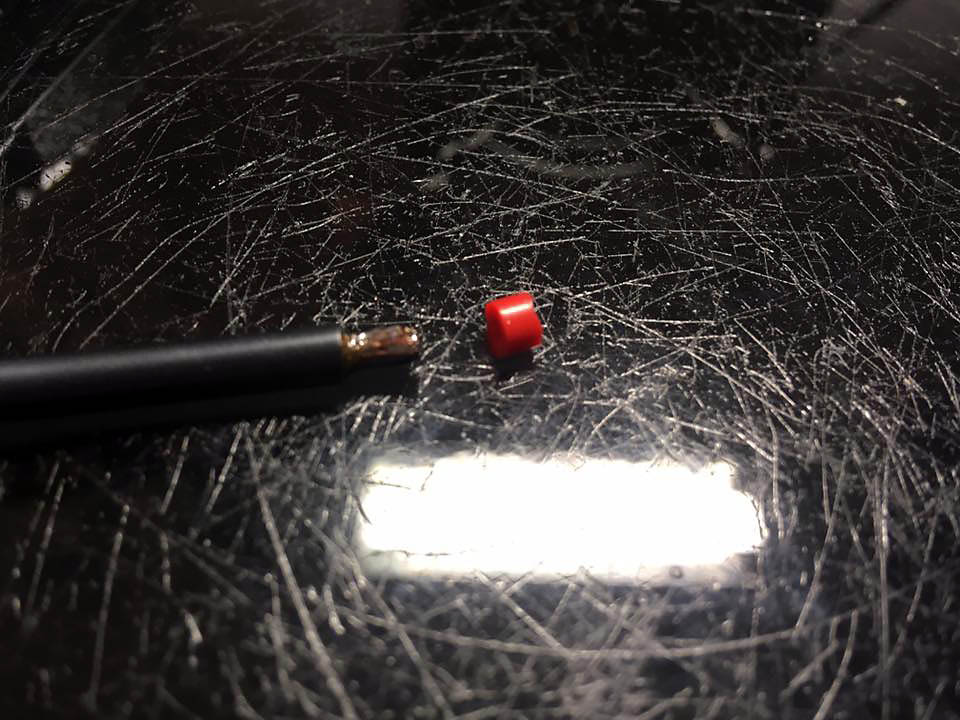 Connectors welded

Les prises cablees.
This shows cables' angle at terminals to get a pleasing result.
Note battery cables are located behind the motor cables, again for aesthetic reason.
The BB510 is now ready to be installed.
Cut cables to accommodate length to weld them to the motor's connector.
Make sure to install the sensor cable before doing so!

C'est l'angle des cables au niveau des bornes qui regle toute l'esthetique du cablage.
Notez que les cables des poles + et - passent derriere les poles du moteur, le but est de rendre le cablage plus esthetique.
Le variateur Reedy 510R est pret a etre installe.
Il ne reste plus qu'a couper les cables a longueur pour les souder aux poles moteurs.
Il ne faut pas oublier d'installer le cable Sensor avant de realiser ces operations!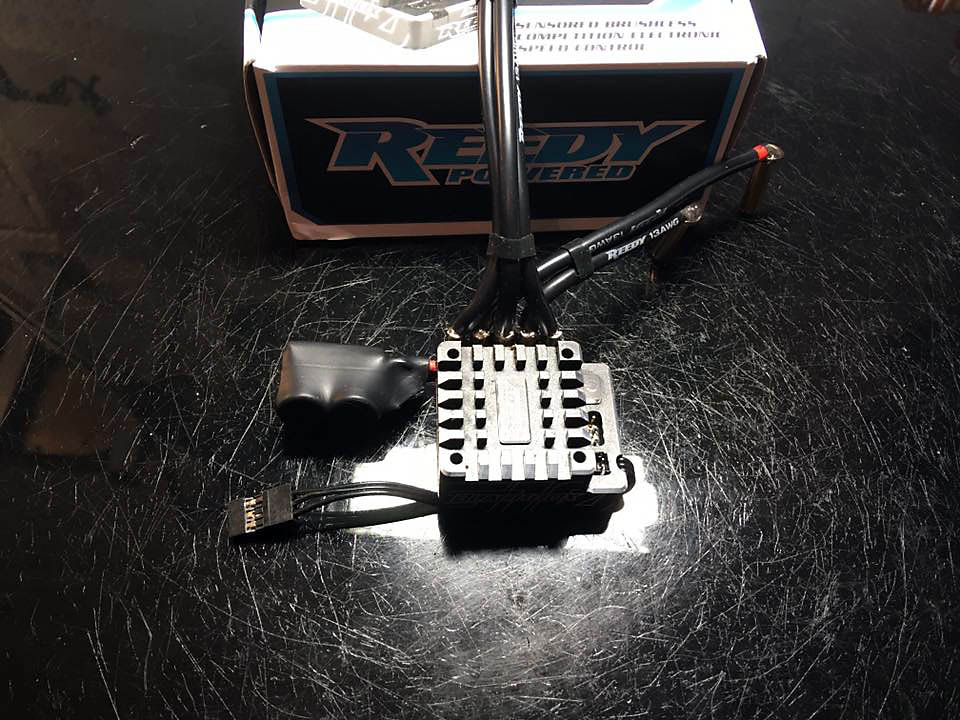 A little trick to avoid damaging the sensor cable when going under the battery: I use a sticker

Une petite astuce pour eviter d'endommager le cable sensor qui passe sous le pack sur le B6.1: j'utilise un sticker de chassis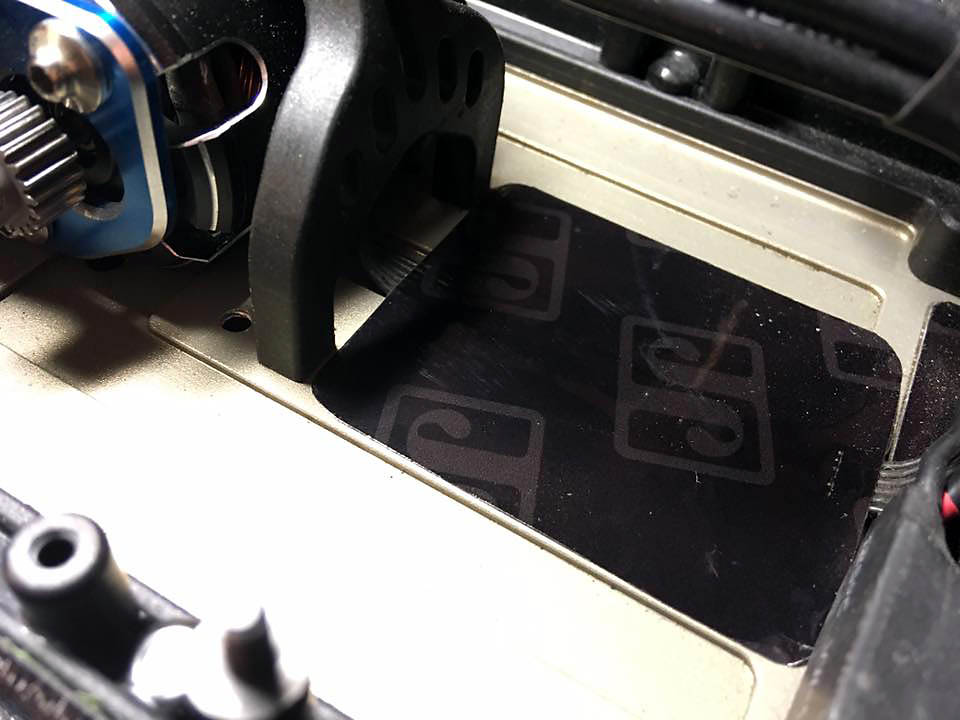 Some work but the result worth it.
Cela represente un peu de travail mais le resultat en vaut la chandelle.