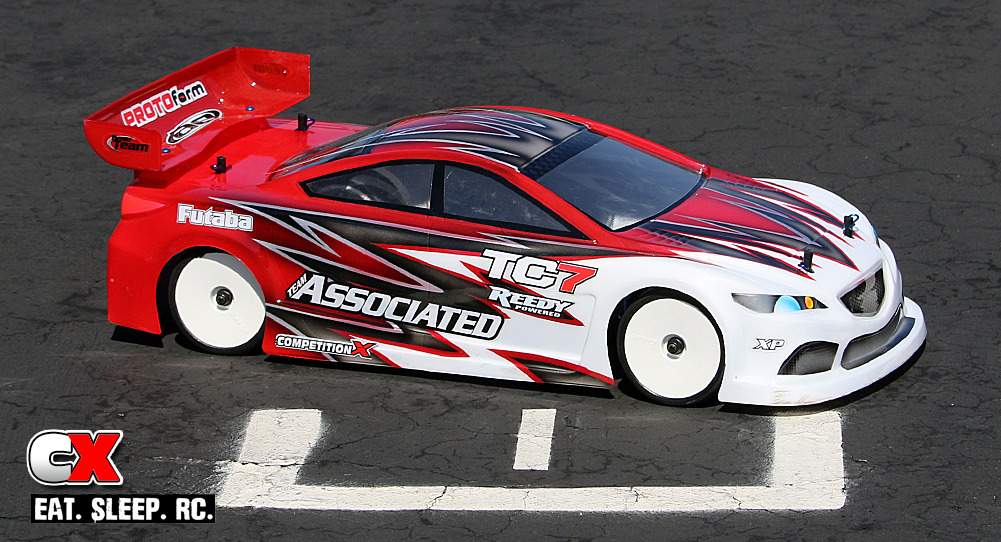 The A-Team's 7-Series TC is Top Notch
I'm a big touring car fan – I love the speed, the door-to-door racing and the precision driving it takes to make a pass with less than an inch to spare. I'm also a fan of the complexity involved and the fact that knowing how to tweak your ride to gain maximum performance can mean the difference between winning the A Main to even making the top 10. Naturally, I was excited to see the A-Team's new onroad rocketship and immediately made the call to get put on the 'cool guys' list. We made the cut and shortly after received the TC7 on our doorstep along with a full line of Reedy support equipment. Time to build, time to drive, time to review. Let's do this!
Specifics
Product: Team Associated TC7
Part #: 30120
Price: $459.99
Recommended For: Intermediate to Advanced Drivers
Features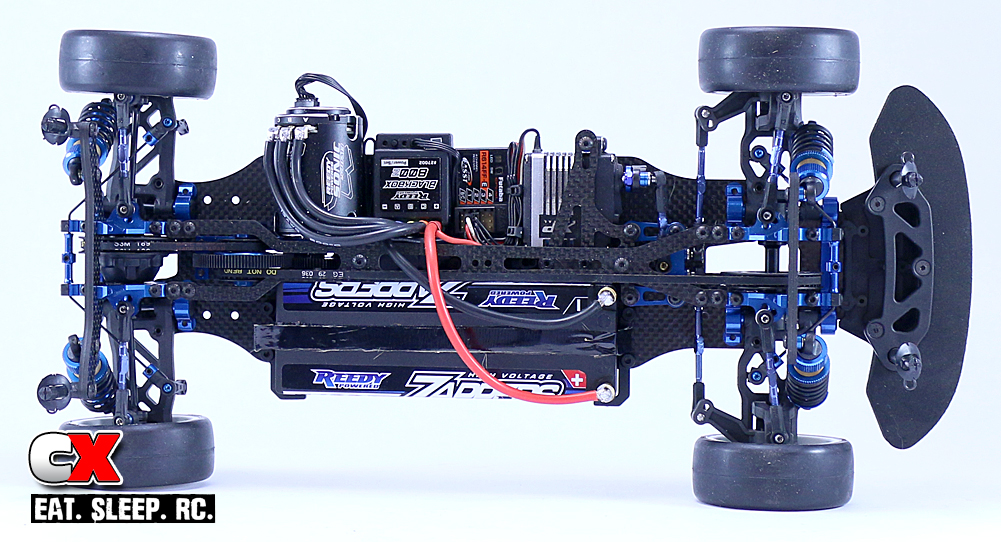 Chassis
The chassis of the TC7 is sleek and svelte. It's constructed of a 2.25mm carbon fiber laminate and is a mere 88mm wide, allowing the TC maximum roll characteristics in the corners while reducing the chance of touching. It's slender stance does limit the amount of room that is available, so you might need to be a little choosey when picking your electronics. I was able to squeeze in a full size servo, receiver and ESC as well as mounting the external capacitor board, and still had enough room to tie up the lead wires for a tidy install. Underneath, all the screw holes are countersunk, with 4 additional holes at each end of the car to mount ballast. A 2mm top deck stretches the length of the car to provide a nice, stiff backbone. Cutouts in the chassis allow the rotating parts (diffs and spur gear) enough clearance to sit as low as possible, and an additional pocket grants easy access to the pinion gear's set screw for easy installation or removal.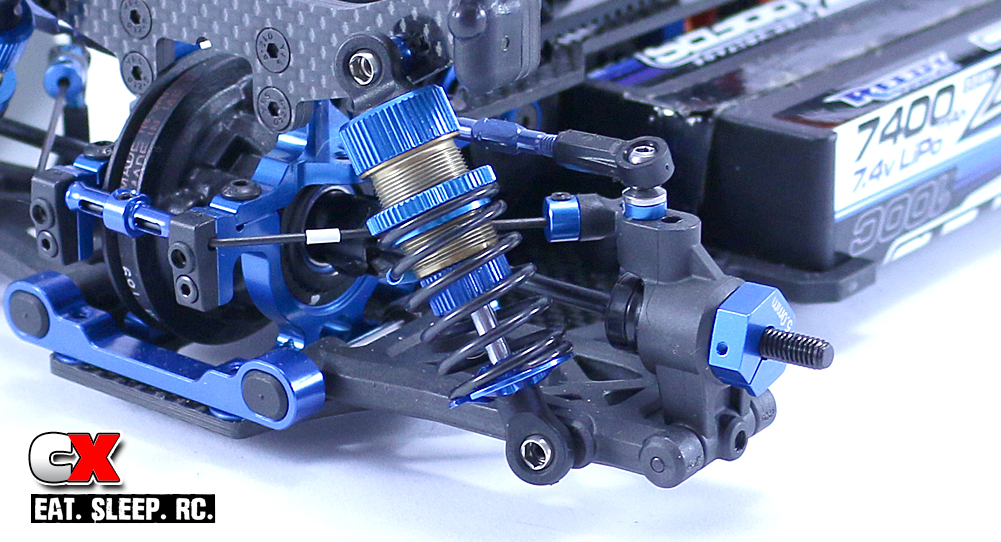 Suspension
The suspension from the TC6.2 rolls over to the 7-series, using aluminum arm mounts with separate inserts to control hinge pin angles. Pivot balls are used to allow free movement of the suspension arms regardless of toe or kickup angles. The suspension pieces have been molded in a carbon composite material, making the as extremely strong while allowing the designers to remove as much material as possible. It was nice to see that AE realizes the status of the TC7 and included the high-end FOX shocks with Genuine Kashima Coating as standard equipment. Machined pistons and an updated upper bladder are also included as are beefy, 4mm front and rear shock towers. Finally, the old-style anti-roll bar has returned complete with updated mounts. As far as tuning, you'll be happy to know there's certainly no shortage of options on this car!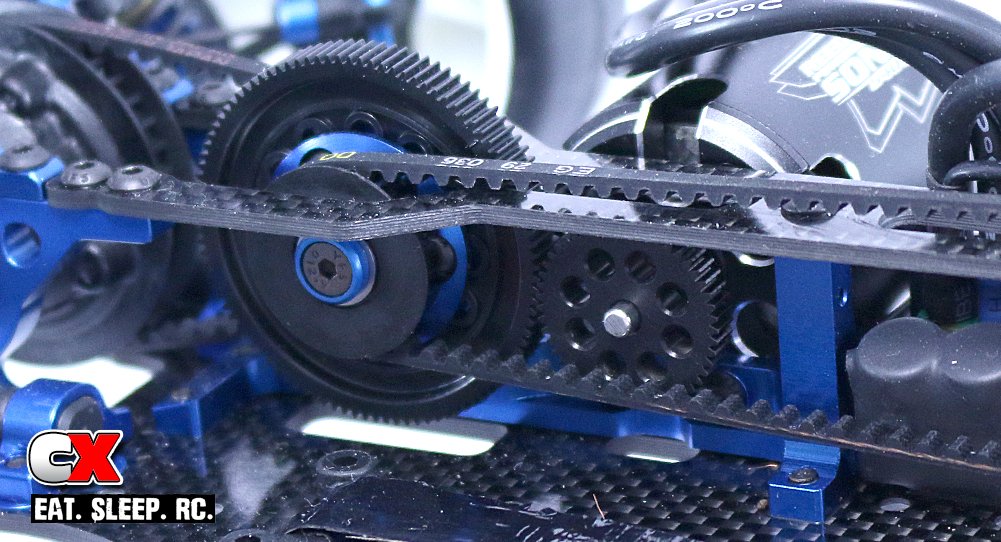 Drivetrain
The TC7's drivetrain has received a few refinements as well. An updated, one-piece motor mount is included that allows better alignment of the spur and pinion gear. The spur hangs off of a single-sided mounting point which, according to AE, allows a more consistent flex to the rear of the car. The drive belts have been optimized, now a little longer and made of a softer material. A front spool is included and uses composite outdrives, an inexpensive and easily replaceable part in the event of a failure. Out back, a fluid-filled gear diff resides between the rear bulkhead halves. That was something I was happy to see – four of the same, exact bulkheads – it made building a little easier since I didn't have to worry about mixing them up. Clamping hexes are included (12mm) and blades are used on all four of the 3mm CV axles to reduce wear. A 48P spur gear is included, however I swapped mine out to 64P. More on that later.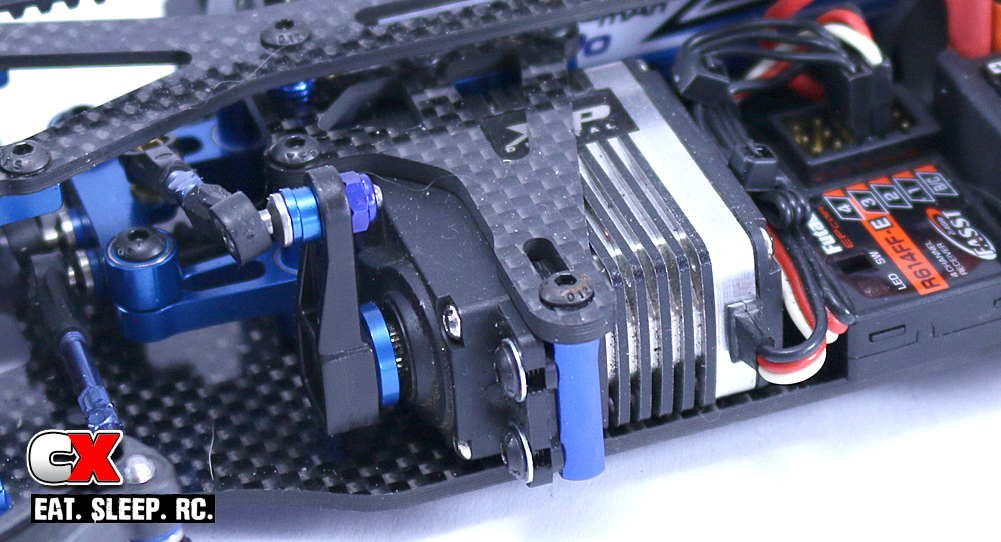 Steering
The floating servo mount remains, using a combination of aluminum posts and a carbon fiber top brace to mount it securely to the chassis. This system attaches near the centerline of the car only, allowing proper left-to-right chassis flex. This is unchanged from the TC6.2, however the steering rack has been flipped to provide a lower-profile CG as well as optimizing the Ackermann. It swings on 8 precision bearings and is incredibly smooth.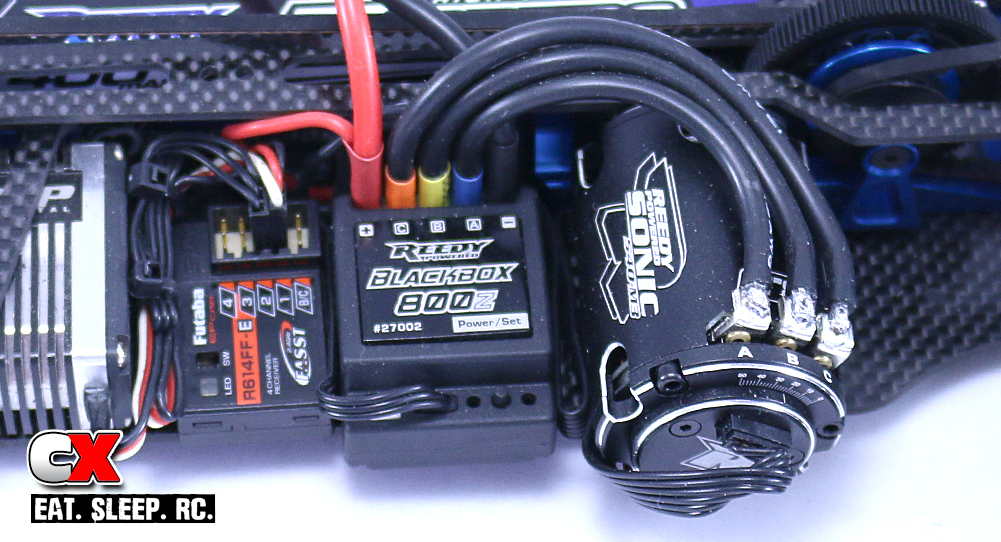 Battery Mount
The TC7 is a full-blown race car, so when it came to the battery mounting, AE made it as simple as possible. Three plastic mounts attach to the chassis; one 'bumpstop' right under the belt to keep the battery positioned as close to the centerline of the chassis as possible and two 'holders' at each end. Race tape (basically black strapping tape – not included) is wrapped around each holder and then over the battery to hold it in place. This system is as basic as it comes and does a great job, however I had to cut the tape slightly to get it to fit through the holder opening. An odd thing since I'm using MuchMore's Strapping Tape which, I'm assuming, is a standard width.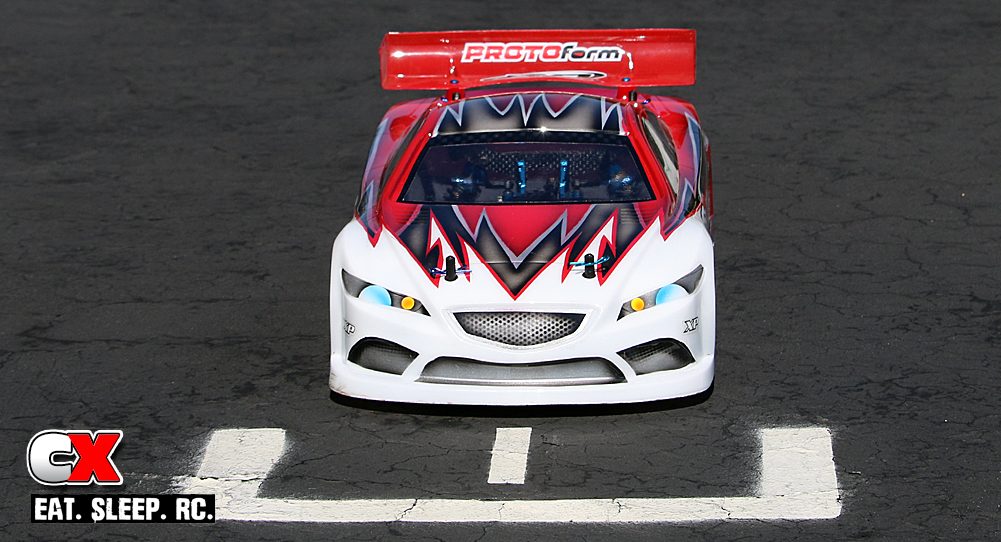 Body
I had just painted and mounted up a new Protoform Mazda6 GX lid for my TC6.2 as the announcement of the 7-series hit the internet, so before ordering a new body I inquired to find out if this body would be a direct fit on my new car. "Yes, no problems!" Great – that's what I wanted to hear. Well, in reality, the answer is yes, however there's a slight catch. The body mounts on the TC7 are new, not carry-overs from the TC6.2. This new design is slightly thicker than the old body mounts, so when you try to drop the body on, it just doesn't fit. After a few minutes of analyzing, I came up with three options; 1) paint a new body, 2) hog the holes out in the freshy body to make it fit or 3) install the TC6.2 body mounts on the TC7 … temporarily, of course. I chose option #3 because I'm impatient, but I also LOVE the look of the PF Mazda6. It's my precious.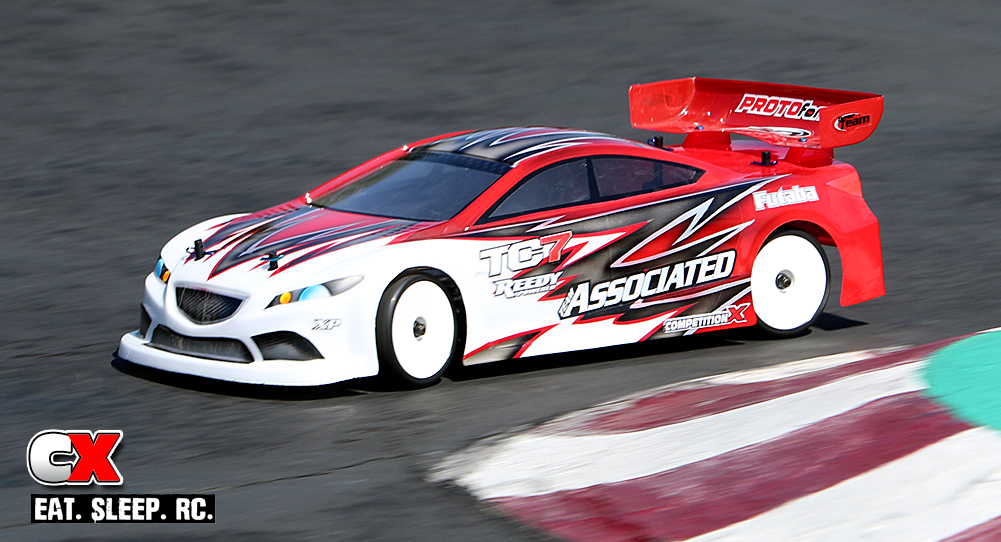 Performance
To test the TC7 in it's native environment, I was lucky to get a couple of hours in at the Tamiya track in Aliso Viejo, California. This track is home to the Tamiya Championship Series as well as the Reedy Touring Car Race of Champions, by far one of the best TC races you could ever witness. Along with the TC7, AE loaded the box with a Reedy Sonic 540-M3 13.5T motor, Blackbox 800Z ESC and one of their new 7400mAh Zappers LiPo packs. This combo is run at the Reedy Race and considered the 'modified' class, so I would have a good starting setup to see where this car would rank in the grand scheme of things. Time to drop the TC7 on the track and see what shes capable of.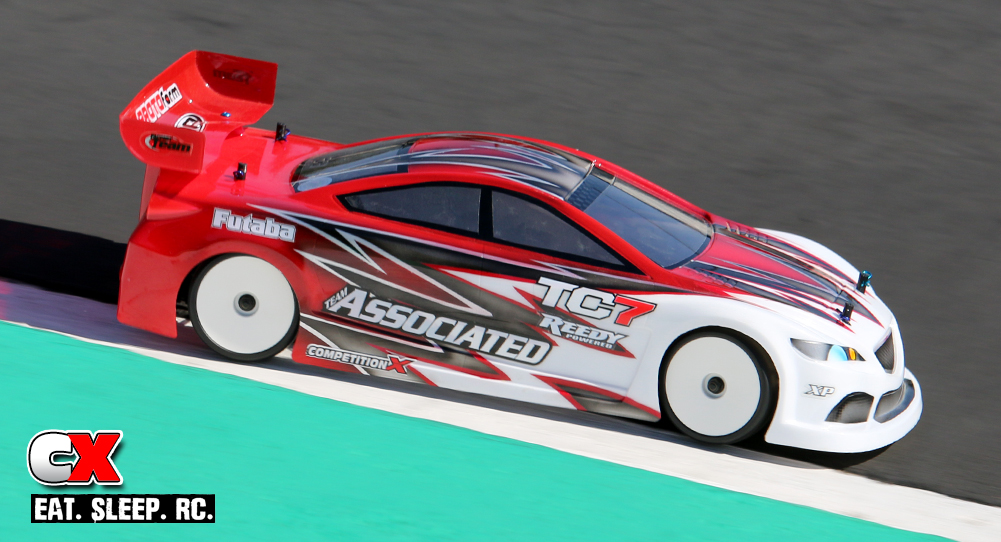 Speed and Braking
As I mentioned earlier, I had to swap out the 48P gears to 64P to fine tune my gearing for a 13.5T motor. Before doing so, I hit up my buddy Bob Stellflue, the designer of the TC7, to get a little more info on gearing. He suggested around a 4.09 FDR (Final Drive Ratio) with 45° of timing on the Reedy motor – that setup would turn out to be a really good starting point for this car! It had excellent acceleration, feeling very snappy out of all the corners. Some of that is due to gearing, some due to the Reedy 800Z Zero-Timing ESC. This ESC is designed for stock or 13.5T racing with all it's setting being programmable through the button on the ESC. Top speed on the straight felt pretty good but in a Reedy Race environment, I think it might need a little more top end. There's where the 64P gears come in handy. Moving one or two teeth on the pinion in either direction is a much finer adjustment than with 48P, so if you plan on getting serious with this car, I highly recommend 64P gears.

Under braking, the TC7 is as stable as they come. After the fast sweeper is a tight, 90° hairpin that is one of the favored passing zones on this track. I was able to keep the car tight off the sweeper and slam the brakes for an immediate stop – lap after lap. The only other place to use brakes was through the kink (straight line – same feeling as the hairpin) and entering the chicane – more of a trailing brake situation. Here the TC7, with the kit setup, has a little bit of push on entrance, but that's something that can be dialed out with a little tuning.
Steering and Handling
Team Associated's TCs are well known for their excellent track manners; I always loved how glued my TC6.2 was to the track! Expecting the same, I wasn't surprised to feel the 7-series just as planted. The steering was excellent in both the fast and medium corners, however like I mentioned above it did have just a slight push entering the chicane. After a few laps I started experiencing a little bit of wander upon hard acceleration, enough to make aiming the TC7 a bit on the scary side. Not wanting to wad the car up, I pulled it in and did a quick inspection. I noticed the servo horn had some play in it, so I tightened it up and gave it another go. That did fix the problem somewhat, but there was still a hint of the wander so I'll have to track it down.

Overall handling is on point as well. I was actually surprised at how well the TC7 survived the Tamiya track since it only had minor prep. It was completely hooked up through the sweeper and didn't show any signs of losing the rear end. Even through the famous make-it-or-break-it 'kink', the TC7 was like an arrow through and apple. It also switches directions very well and, as long as I didn't push it, would roll through the chicane with very minimal effort.

I also have to point out that this was the first time trying out the LRP G36 tires and have to say they were simply awesome – I'm definitely going to be using these on a regular basis!

Durability and Maintenance
While I didn't send the TC7 into any walls, I have to confess that I did tap the kink once or twice. While it didn't launch it into oblivion (where many a TC have gone), as those speeds it can be quite a jolt to every part of the car. Thankfully, other than a few minor marks on the bottom, everything has held up just fine – no loose screws, bent parts or delaminated carbon fiber.

Everything is very accessible so, as far as maintenance, a quick whisk with a brush or squirt of air will knock 95% of the grit off the chassis. For time testing, I did remove the front and rear diffs as well as the motor and center pulley assembly and gave them a closer look. Everything looked great, including the soft drive belts, composite suspension parts and outdrives.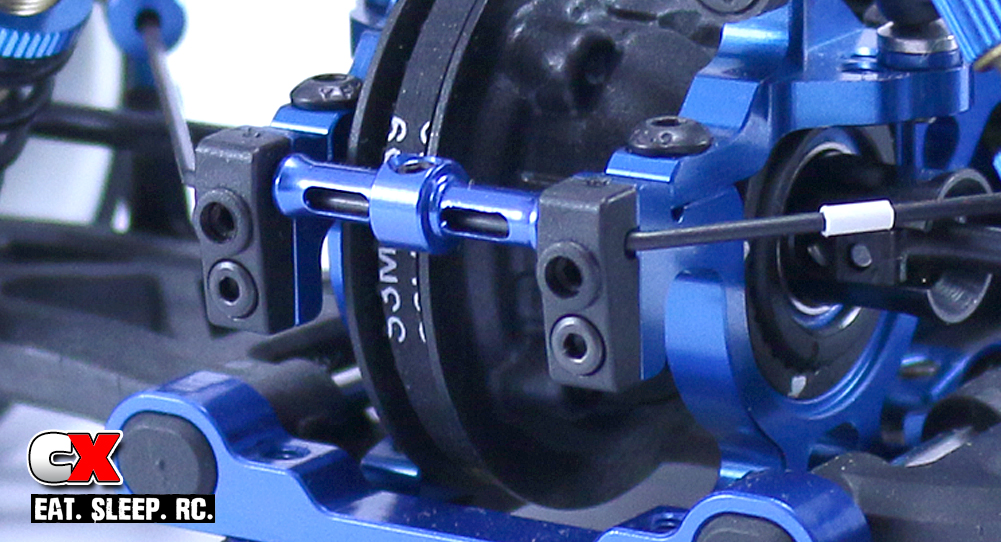 Tuning
Like all top touring cars, the TC7 is chock full of tuning options. The normal stuff is all here: caster, camber, Ackermann, roll centers, ride height, tow, wheelbase, etc. AE has made each of these very easy to modify by simply adding shims or moving mounting locations, so it's very easy to experiment. There's also options like diff height (using optional cam holders), belt tensioning (using cam inserts) and varying degrees of inner hinge pin angles (using different arm mount inserts). Be careful how much you tweak, though, as this car is pretty sensitive to change and you could easily find yourself chasing the handling. If all else fails, head back to the kit setup (included in the back of the manual) and start over.

Additional


Spec Data

General
Scale: 1:10
Power Source: Electric
Length: 14.2? (360mm)
Width: 7.5? (190mm)
Wheelbase: 10? (254mm)
Weight: Varies


Steering
Steering: Dual bellcrank
Turnbuckles: Adjustable turnbuckles


Chassis
Type: Flat plate
Thickness: 2.25mm
Material: Carbon fiber


Drivetrain
Type: 4WD
Transmission: Single speed
Clutch: None
Differentials: (F) Spool, (R) Gear differential
Bearings: 22, precision sealed
Gearing: 48P, optional pinion gears


Suspension
Type: 4-wheel independent
Camber: Adjustaable turnbuckles
Roll: Adjustable ballstud heights
Wheelbase: Hinge pin shims
Shocks: FOX Kashima Coated threaded aluminum


Body, Wheels, Tires
Body: Not included
Wheels: Not included
Wheel hex: 12mm hex
Tires: Not included


Pros
• Gorgeous looks
• FOX Shocks are better than silky smooth
• Easy tuning with arm mount inserts
• Back to the 'better' anti-roll bar system
• Race-oriented spool and gear diff combo
• Low-CG bellcrank steering system
• Titanium turnbuckles
• New motor mount system is nice and tidy
• Stock setup provides excellent grip

Cons
• 48P gears included, however 64P are suggested (and should be included) to fine tune for stock racing
• A few manual issues

Conclusion
Features - 9.7
Performance - Speed & Braking - 9
Performance - Steering and Handling - 10
Performance - Durability and Maintenance - 9.5
Performance - Tuning - 10
Overall Value - 9.8


Bottom Line: As you might expect, Team Associated's TC7 is quite the fabulous car. Aside from a few issues with the manual (see our Team Associated TC7 Online Build), it goes together great thanks to the updated parts. It's fast, precise and looks the high-end part, so if you're browsing for your next Touring Car, you should give the TC7 a good, hard look ... then buy one. When it's time to hit the track, you'll be ready for battle with one of the best out there.
Connect
Team Associated, www.RC10.com
Futaba, www.Futaba-RC.com
LRP, www.LRP-AmericaStore.com
Protoform, www.RacePF.com
Reedy, www.ReedyPower.com

Don't forget to check out our full build article as well – from start to finish in detailed steps: Team Associated TC7 Build