- Team Associated RC12R5.2 - Dave Berger - TQ - 11.09.2011 -
Setup update for running Lipo sideways (Not Inline).

After another day of testing at TQRC
For those looking for an "optional" setup.

The new longer - wider front end, chassis seems better (imho) with more weight on rear than 5.1, this increased steering, with improved balance for 8 mins.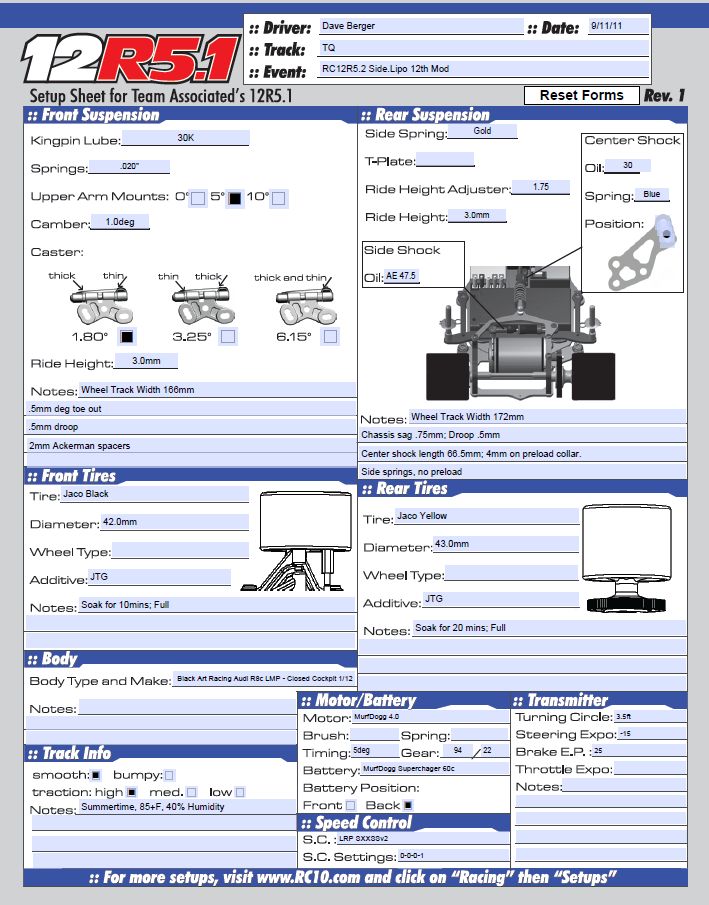 Pod Droop Vs Chassis Sag

So your using the inline chassis but with non-inline placement?

Lap times?
Same

Can you explain droop for front and back? Drawing?
I never remembered messing with droop with 12th at least not on purpose.
Spring not fully pre-loaded

What does Ride height adjuster mean? 1.75?
Axle ride height adjust block

What's the turnout for TQRC on fridays, sun?
Depends on the weekend, Fridays are cool due to the longer hours Sean keeps the track open, but hard to get to when you live 1+ hrs away without traffic

Did you give up on the inline?
No, my only experience with the new car has been inline, wanted to see how it reacted to the old sideways lipo. With so many changes, it's difficult to pinpoint what the inline lipo configuration affects, and what it does not.
This way I learned a lot about the rest of the refinements on the 5.2 chassis.
Source: