INTRO TO LIPO close look at the Orion LiPo capable Advantage Charger
SAY HELLO TO LIPO

LiPo has many benefits over other battery types, but a lot of dis-information and old wives tails surround it to, so we aim to help you see through all the negative hype and appreciate them for what they are, the future of R/C propulsion! The latest Orion 4800 mAh Platinum Edition is a Kokam Lithium Polymer with an excellent product reputation and company creditability. It comes packaged in a custom hard case ready to slot straight into almost any vehicle that will accept a NiMH stick pack, as the dimensions were based around exactly the same maximum package. Within performance parameters, the LiPo pack is rated for 1000 cycles, but the R/C race scene is a harsh environment for any power source and continued punishment will shorten their life span slightly, but try monitoring a NiMH pack over a period of time and see just how fast their best slips away after a few race meetings.
Track testing in various chassis and formulas all revealed a common theme, run time, such extreme run time. The motors were just whizzing away, enjoying the higher voltage hold up under load whilst at the same time showing signs of relief, being spared the high current draw offered by NiMH cells and as a result the commutator stayed cleaner for longer. Where the LiPo really scored was in a brushless set up which never try to pull the same current as a brushed motor when exiting a slow corner hard on the loud pedal. LiPo provide the higher wattage by offering a better voltage hold up under load, which is exactly what a brushless set up prefers. Volts equals revs!


OUT WITH SOME QUALITY THUMBS

When we reviewed and tested the MR4-BX Yokomo buggy, we ran the Orion LiPo for a session. Keith Robertson ran at lap record pace, in high grip conditions, on the Baginton full circuit, with a 9 double motor for over 10 minutes, and pulled off just to be safe, not only mindful of the LiPo 6 v cut off limit but because he was starting to really push and had no spares for the buggy with a National meeting to attend that weekend!!
When competing on road the extreme run times came with higher top speeds in a brushless equipped touring car. To see what a top-level driver made of the latest technology we gave Olly Jefferies a glimpse into the future. Our long term test Xray T1FK05 was equipped with a Nosram Brushless and the Orion LiPo, geared on 26/84 and equipped with the same Sorex tyres he set the FTQ at the Bedworth BTCC round, on a warm dry day. The outright speed put a smile across his face, wiping away the intense concentration that normally glares from his racing glasses. A few laps in and the pace was heating up, as the speed carried through the final turn onto the straight built with confidence he struggled to find enough turn-in at the end of the main straight. The gathering crowd of onlookers gasped each and every time he flashed past the rostrum, and Olly's neck was twisting to keep track of the Xray as it flew by.
Displaying plenty of punch available all the way past the 5- minute mark, with no discernable fade the performance was consistent throughout the session. Olly continued to run around Bedworth on lap record pace for just over 12 minutes, again, pulling off before any sign of fade, simply mindful of the 6 v cut off parameter. The grin said it all, he'd enjoyed that immensely. So can you; the technology is here and now.


PROS AND CONS

Olly's Dad, Adrian commentated that because LiPo had not been BRCA approved yet, meant people were buying them just to test with, running all day Saturday and in free practice Sunday morning, saving their precious NiMH race packs for the actual race, prolonging their life and improving their performance by using them just once per weekend instead of two or three times.
Another benefit of running LiPo in testing is that come race day your car feels slower and more predictable, your reflexes and focus was that little bit higher on LiPo so your hand to eye coordination had been further honed. The downside of running LiPo during testing is that the queue at the rostrum steps gets longer and longer, as the LiPo drivers stay out for 10 minutes at a time instead of 5, usually pulling in for lack of rubber rather than being limited for run time by cell capacity.


AN EASY PADDOCK LIFE

Being able to return from marshalling, plug the LiPo straight back into the charger and wander off is a luxury never before experienced. No discharging to monitor, no discharge balancing boards to fiddle with. Just bang it back on charge and know that it will be ready for the next round, with no re-peaking required at the last minute to ensure adequate punch off the start line.
There is no problem if the LiPo pack is ready half an hour before the next run as LiPos can live on the shelf for a month and lose only 10% of their capacity, so coming to full charge an hour or two early for the next race has absolutely no effect on performance. In fact once the current draw drops as the voltage reaches 8.4 v and levels off, you are ready to race. The final half hour charging top off, adds only 10% capacity and nothing to pack voltage, so has little benefit on track as you are using only 50-60% of the capacity in a 5 minute run anyway!!


A REAL HARD CASE

Where the Orion pack scores in its user friendly all encompassing hard case. Matching the maximum dimensions of a NiMH pack exactly means the box slots straight into almost any vehicle you care to name. We tried it in various Tamiya, Xray and Yoko touring cars, off road in the B4 and T4 and then the 4WD Yokomo buggy, not a problem.
Only vehicles with the saddle pack arrangement fail to comply, the Predator X10 like some touring cars, run a 3 and 3-cell saddle pack configuration across the chassis so couldn't accommodate the straight pack but I have a sneaky suspicion that as the market grows, LiPo packs will be developed to suit these saddle pack chassis, they'd be crazy not too!!
The down side of a hard case is that you never get to see the technology inside, and can't 'squidge' the packs occasionally to check for puffing. The first sign of failure in a LiPo pack is a puffed foil casing, at which point you should fully discharge and dispose of the pack in line with current legislation. Failure to comply, and continual charging and discharging could result in a complete failure, heat and smoke would be the next sign of failure, but way before that you'd notice a lack of performance, and the charger would be showing some crazy figures on charge. If you fail to spot any of the signs then you have only yourself to blame. You wouldn't keep charging a NiMH pack that had a couple of cells with split heat shrink, a high charging voltage, repeatedly false peaked and had a weeping cell vent would you? Of course not, well the same applies to LiPo, get to know and respect them and you'll be just fine. Avoid shorting the connections or puncturing the casing, never discharge below 6 v, and always store half charged or more between race meetings. It's as simple as that. Look after your LiPo and they will offer an amazing life cycle, performing all the way through with amazing consistency. If you ever find the performance lacking, check the voltage across each terminal and the balance port, if it differs by 0.2 v between cells you will probably get it back to full performance by balance charging the pack with a three-lead adaptor on a balance charger like the Scorpion, bringing the pack back to 100% capacity on both banks to perfection, and returning the pack to its former glory.
ORION ADVANTAGE, NOT JUST A PRETTY CASE

The latest generation of Orion Advantage chargers have been updated with not only a groovy carbon look casing, but also LiPo compatibility.
The main advantage of this multi-talented charger is that it can still charge your current NiMH, NiCad race cells, plus receiver packs for your nitro vehicles and even your transmitter of course.
Among its many features carried over from the previous edition, are flexible, linear and step charging, and as a bonus the Advantage charger also offers a manual lap counting function, so you can keep a sneaky eye on the opposition without being so obvious as to stand there with a stopwatch in your hand. Orion have also built in a regulated power supply which can be used to power a comm lathe or bed in new motor brushes after a skim and rebuild. To help keep track of your race day there is also a digital clock built in so you never have an excuse for not being ready for your next heat or final. The Orion charger utilises the two power plugs to charge the pack as a whole, which Orion assure us isn't a problem as the pack supplies enough power and capacity to only ever operate within 80% of its maximum capacity so the pack will never be stretched to its extremities.


ON THE MONITOR

We monitored the Advantage charger over time to see how it charges the LiPo pack, and were surprised to see the selected 4.8 A charge rate, which is a pre-set 1C determined by the capacity selected in the set up options, was fluctuating rather than holding steady, and this is one peculiarity of LiPo that might catch out new users, it prefers to monitor the voltage of the pack and charge accordingly. You will see the voltage rise over time, then as the pack nears capacity the charge rate will gradually reduce while the voltage remains steady. There is no peak voltage detect cut off, it simply monitors the point at which no more current can flow within the voltage parameters, dropping gradually from the initial 4.8 A selected and getting down to 0.2 A as it reaches capacity. If you refer to the charging charts you'll see that it takes only 50 minutes to put 4000 mAh in, but a further 30 minutes to achieve the last 800 mAh as the charge rate automatically reduces to keep the voltage constant, whereas the NiMH pack has a steady current flow and the voltage rises constantly until the slightest dip is detected which triggers the peak detect cut off.


THE FUTURE, HERE TODAY

I'm sure once LiPo has been checked and approved by the BRCA that the racing scene will change forever and we'll finally start to see the brushless age come to realise its full potential. Initially the prices may seem high, but when you consider that you need only one LiPo pack to race all day, instead of 6 or 7 NiMH packs, which to compete would have to be full team spec matched and zapped packs around £60 each, you will realise that LiPo offers a significant cost saving. When you also notice that even the best NiMH packs diminish within three months of regular use whereas some 6 months later the LiPo will still be banging out the same discharge curve as new, you will realise that your race performance has been enhanced by being more consistent over time.
Try not to be off put by horror stories from the flight boys, the early LiPo technology was nowhere near as robust as today's top Kokam technology, the charging systems weren't so dedicated and the education of the users wasn't complete, they learnt the hard way and we have benefited by their experiences. Along with comm. lathes, brushes, dischargers and balance boards, the next thing to be consigned to history is the chisel point 60 W soldering iron, essential for assembling individual cell packs and tagging low wind modified motors with high melting point solder. With the brushless and LiPo age your pit box will be considerably smaller and lighter, your racing faster and more consistent, the costs lower, the cars lighter and the races longer. All we need is BRCA approval to move out of the dark ages, the future is bright and it's here today.
ADVANTAGE CHARGER FEATURE LIST HIGHLIGHTS
Charge and Discharge 1-8 NiMH or NiCad cells from 1-10 A with cycling option
Linear, Flex and Step charging
New LiPo charge function
Input and output short circuit protection
Motor run-in feature, can also power commutator lathes
Manual lap counting function: Time elapsed, average lap and number of laps
Indigo blue backlight 2 x 16 characters display
Built in clock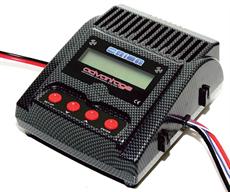 Advantage Orion, super flexible powerhouse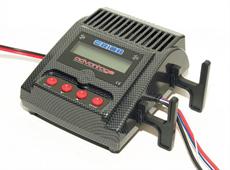 Included side mount keeps air circulating around cells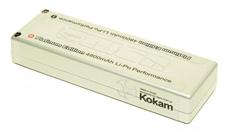 The future of electric power, Lithium Polymer from Kokam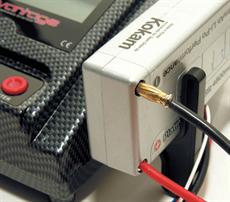 Corally type tube connectors built in for maximum efficiency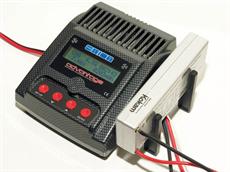 LiPo pack is the same external dimensions as a large NiMH so fits in the charger tray as well as most vehicles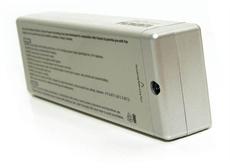 Extra balance port isn't utilised by Advantage charger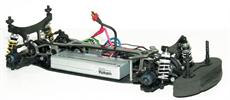 Installed in my T1FK05, you can see how easy it fits in the chassis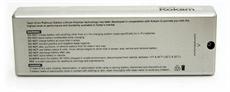 The warnings are there for all to read, understand fully to enjoy in complete safety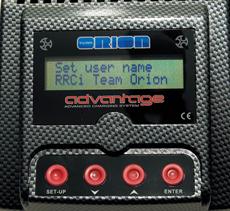 Programmable welcome message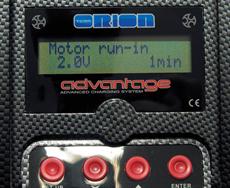 Power a comm. lathe or bed in a motor after skimming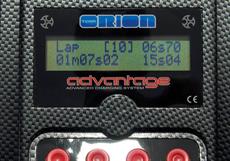 Keep an eye on the opposition with the manual lap counter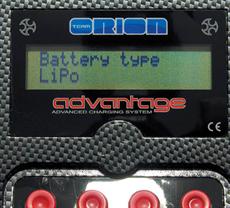 Latest version incorporates the latest technology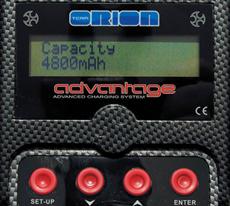 Set a capacity cut off for extra safety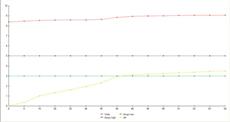 Charging NiMH sees steady current with a rising voltage with a discernible peak to indicate a full charge